Chicken Sausage & Peppers Frittata
This Chicken Sausage & Pepper Frittata is easy and cooks up quick! Plus it's full of big flavors to make your breakfast extra impactful.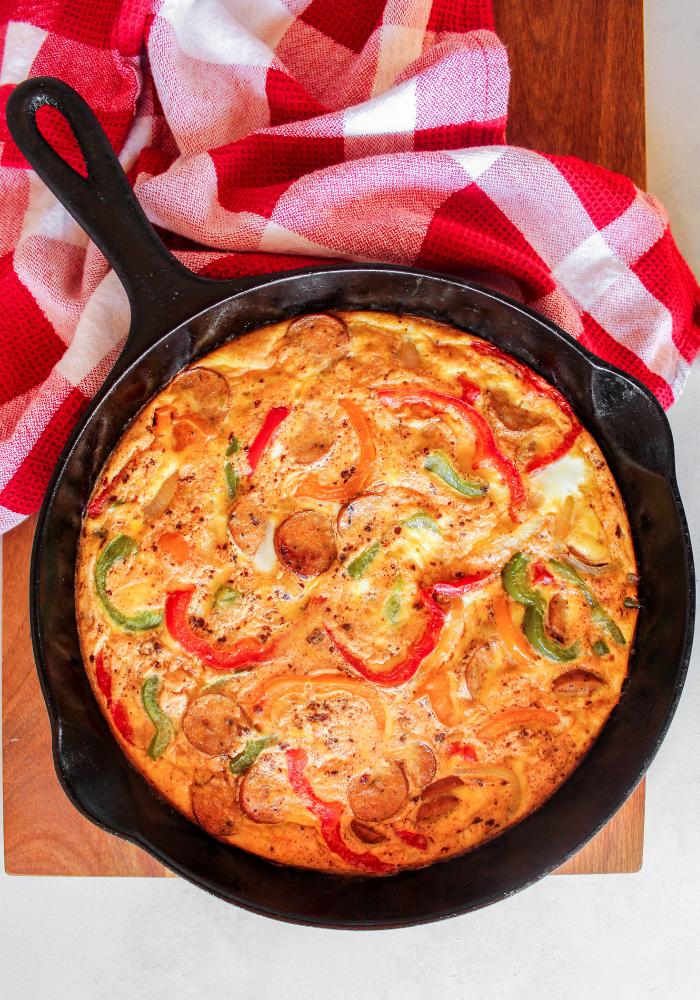 A good frittata (just like an omelet or breakfast casserole) always comes down to what ingredients you add to it. This is especially important when you're not using cheese.
So what makes this frittata yummy? The grand prize goes to the combination of chicken sausage, peppers, and onions. You can use whatever color bell peppers you prefer. I went with a mix of green, orange, and red.
I also use plenty of spices and a little Tabasco. Don't let that alarm you. This is not a spicy dish at all.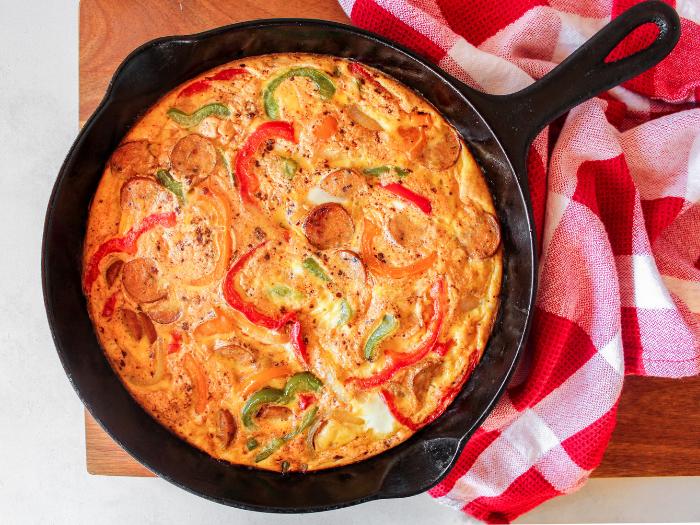 Plus it's so daggum pretty. It just feels fancier than making an omelet, doesn't it?
Want more frittata recipes? My Buffalo Chicken Frittata is also dairy free!
Tip: Cast iron is a natural non stick surface so if it's been seasoned correctly it won't stick. However, if you're not cooking with any fat (not an issue with this recipe) or if your cast iron isn't well cared for (meaning it's cleaned properly and seasoned) then sticking may be an issue. There are many resources to help you solve that dilemma including this article from Food & Wine.  I'd recommend re-seasoning your cast iron and even wiping in a very thin layer of olive oil after every use (that trick came courtesy of my mother in-law).
Chicken Sausage & Pepper Frittata
This Chicken Sausage & Pepper Frittata is a gorgeous breakfast or brunch dish. It's packed with flavor and includes no cheese!
Ingredients
1 1/2 bell peppers of choice, sliced (I use 1/2 green, 1/2 red, & 1/2 orange.)
1/2 onion, sliced
2 chicken sausages, sliced into thin circles
1 1/2 tablespoons cooking fat of choice, I use ghee, olive oil, or coconut oil.
9 eggs
1/2 tablespoon Tabasco
1/2 teaspoon garlic powder
1/2 teaspoon paprika
1/4 teaspoon salt
Instructions
Preheat oven to 425 degrees.

Add your cooking fat of choice to the cast iron skillet and place on the stove at medium high heat.

Toss in the sliced peppers, onion, and chicken sausages. Cook for approximately 5 minutes or until peppers and onions start to wilt.

In a large bowl whisk together your eggs, Tabasco, garlic powder, paprika, and salt. When thoroughly combined pour the mixture over your peppers, onions, and chicken sausages.

Place in the oven and bake for 10 - 12 minutes. (11 minutes is the sweet spot for my oven.) Check to make sure the center isn't very wiggly and then remove from the oven.

Slice and serve!