Dairy Free Chocolate Espresso Mousse
This Dairy Free Chocolate Espresso Mousse is creamy, thick, and naturally sweetened. It has a light chocolate and espresso flavor that is just so yummy! Plus it's made with only 4 ingredients!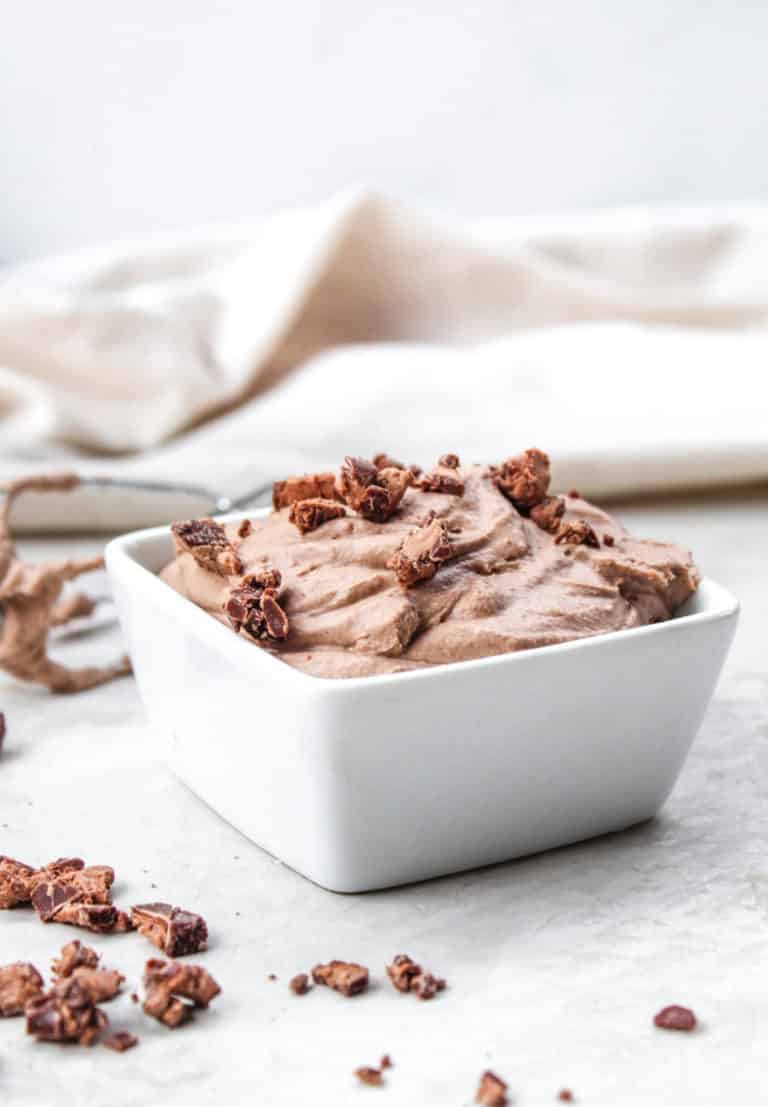 Last night I submitted my cookbook manuscript to my publisher and I AM SO EXCITED. I haven't discussed it here but if you follow along on Instagram then you've heard me talk about the cookbook process in stories. It's been quite an undertaking! I'm still wrapping up the photography and just beginning the editing so there's plenty more to do, but I am one step closer to bringing all those delicious recipes to you!
In the meantime, I am officially back to my regular blogging routine with this spectacular sweet treat today. Oooo it's a good one. I'm planning to serve it up at our annual Christmas party in a few weeks and I recommend you do the same.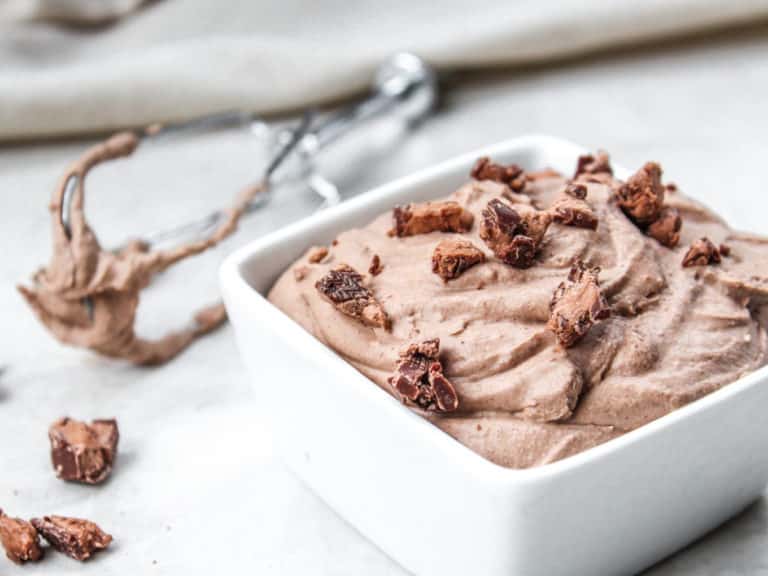 This delightful Dairy Free Chocolate Espresso Mousse recipe all started because I was working on a dairy free whipped cream. One thing led to another (that often happens when I start experimenting in the kitchen) and I ended up with the whipped cream (coming soon) as well as this mousse. I cannot get enough of it!
To achieve this fluffy perfection you need to refrigerate your canned coconut cream overnight. Don't try to skip this step, my friend. It's an important one. Canned coconut cream is typically found beside your canned coconut milk on the international foods aisle. The brand I use the most often is Thai Kitchen and it's pretty much available everywhere. (Psst if you're at a fancy healthy grocery store like Whole Foods you may also see the coconut cream on their baking aisle since they feature so many dairy free milk alternatives there too.)
After refrigerating overnight, scoop out the solid cream only (we're not using the liquid) and add it to a bowl. Use a beater or your stand mixer to beat the cream until it's silky smooth. Check for clumps before moving on to the next step because nobody wants lumpy mousse, my friend. Nobody.
Now toss in the other ingredients, stir to combine. You're done!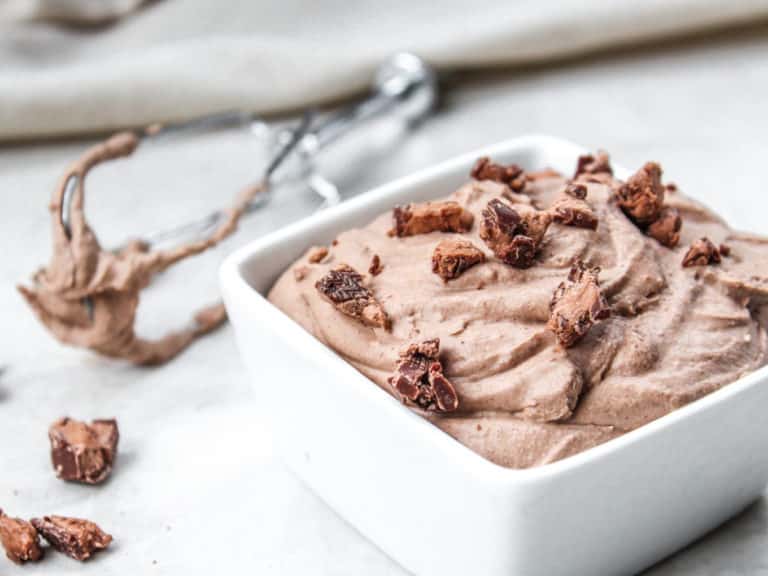 The flavor is mild with just the right amount of sweetness. A little chocolate. A little espresso. A whole lot of yummy.
Enjoy by adding a dollop on other desserts (imagine a brownie with this lusciousness on top) or pancakes. But my favorite way to serve it up is as a dip for fruit! It just makes that fruit a little bit naughty in the best possible way.
More sweet treats:
Dairy Free Pumpkin Oat Muffins
Dairy Free Chocolate Chip Cookies
Chocolate Chip Banana Oat Muffins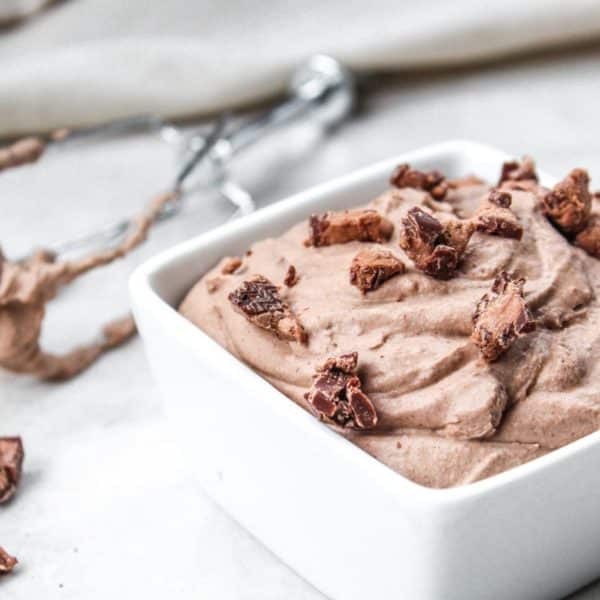 Dairy Free Chocolate Espresso Mousse
This Dairy Free Chocolate Espresso Mousse is creamy, thick, and naturally sweetened. It has a light chocolate and espresso flavor that is just so yummy! Plus it's made with only 4 ingredients!
Ingredients
2 13 1/2-ounce cans coconut cream, refrigerated overnight
2 tablespoons maple syrup or honey
2 tablespoons cocoa or cacao powder
2 teaspoons espresso powder
Instructions
Chill your coconut cream in the refrigerator overnight. Do not stir or shake it. We're trying to encourage separation of the the cream from the liquid.


After coconut cream has been refrigerated for at least 12 hours, carefully scoop out the solid coconut cream and add it a mixing bowl. (Leave the liquid in the can. We won't use it for this recipe!)

Beat hardened coconut cream with beater or stand mixer for 30 seconds or until creamy and smooth. Check for lumps and make sure you smooth those out before moving to the next step. (Or just remove any stingy clumps that refuse to cooperate.) Nobody wants a lumpy mousse!

Once cream is whipped, add cocoa powder, espresso powder, and maple syrup or honey. Mix with a spatula or your beater until thoroughly combined.

Taste. Add extra maple syrup or honey if desired. If you want to go sweeter just add a little at a time and don't go crazy with it or you'll lose that fluffiness.

My favorite way to serve this mousse is as a fruit dip. I add a chopped up candy bar on top to really make it look fun and festive when entertaining! You can also add a dollop of this whipped goodness to the top of another dessert or pancakes. Because why not, right?
Notes
You can use canned unsweetened coconut milk if you don't have coconut cream; however, you will not have as much solid cream in the can because the milk has a higher water content. This means you'll have less mousse and that's really quite unfortunate. If your coconut cream doesn't harden in the refrigerator that sadly means you got a bad can with not enough fat. I've only had this happen once in over five years of working with coconut milk and coconut cream so it's unlikely. If it does happen just use another can. Have leftover mousse? Refrigerate it in an airtight container and continue to enjoy for 1 to 2 weeks. It will continue to thicken in the fridge so just give it a good stir before using.