Egg Scramble with Air Fryer Potatoes
Try this Egg Scramble with Air Fryer Potatoes when you're wanting a savory breakfast that fills you up!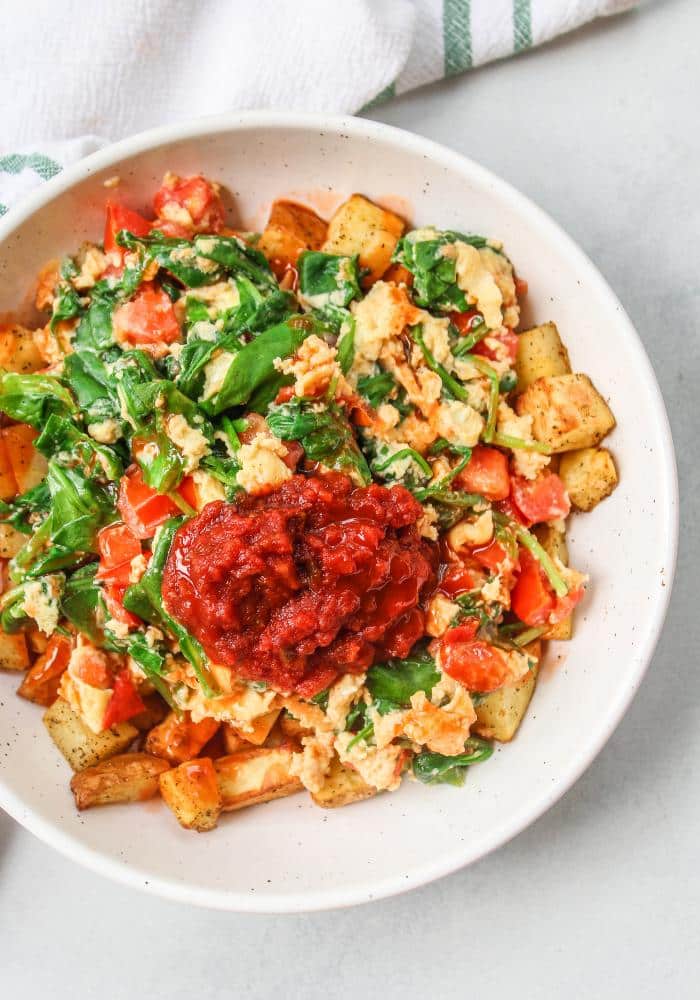 Anyone else obsessed with using their air fryer for potatoes? I've always been a potato makin' gal but I did it on the stovetop or in the oven. (See my Skillet Breakfast Potatoes or my Easy Seasoned Roasted Potatoes for some air fryer free potato goodness.) The stovetop does an excellent job of achieving tender potatoes (drool) and the oven does get them crispy but you'll need quite a bit of oil (or a silicone baking mat).
So why the air fryer? It's so dang easy! You use very little oil (or none), it's fast, and your potatoes come out perfectly crispy! Cue the hallelujah chorus, I'm one happy woman.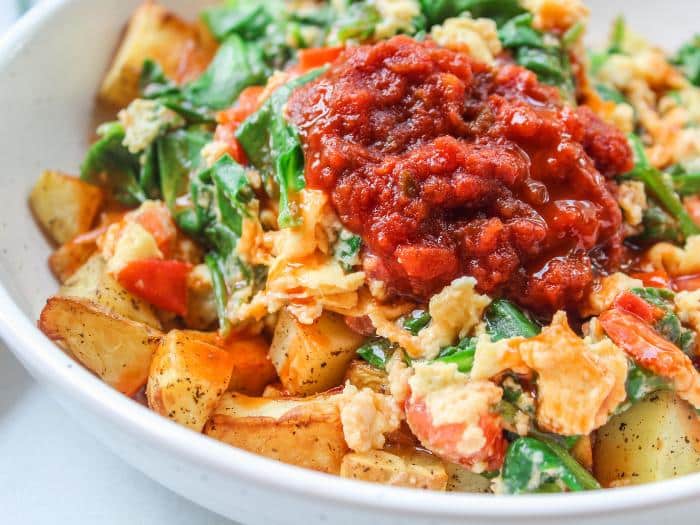 This Egg Scramble with Air Fryer Potatoes has been on repeat in my home for the last few weeks. I love a carb heavy breakfast because it's keeps me full until lunch. Otherwise I'm scrounging around the fridge one hour after eating on the hunt for more food.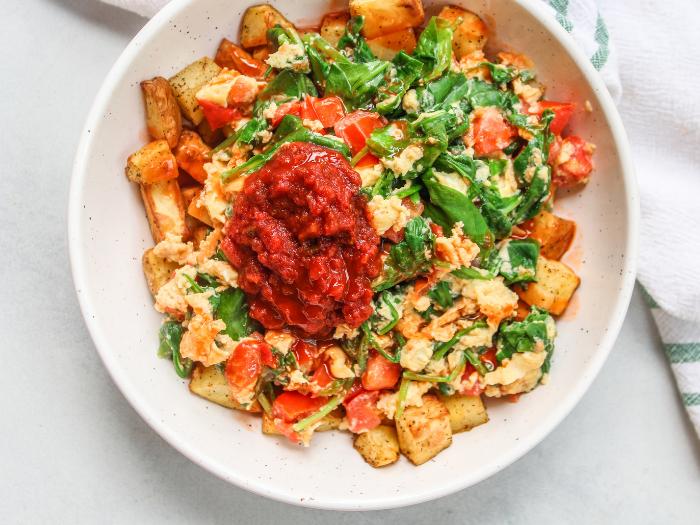 Crispy potatoes. Eggs scrambled with spinach and fresh tomatoes. Salsa. Hot sauce (if you like it spicy like this gal). Such an easy and tasty way to start the day!
What kind of air fryer should you use?
There are so many options out there and you do not need a pricey air fryer to achieve crispy potato perfection. I use a Bosh Compact Air Fryer and it was under $40. I found it at Sam's Club and the price tag appealed to me because at the time I wasn't sure how often I'd use it! I hated to waste money on an appliance that might get stuck in the back of a cabinet gathering dust. Needless to say, we use it all the time! You can find mine on Amazon in a variety of colors. (I have black.) You can absolutely splurge on a fancy air fryer if you want but just know that you can achieve great results with an inexpensive one as well!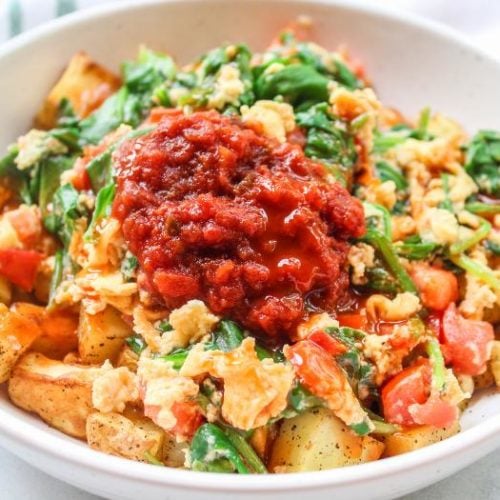 Egg Scramble with Air Fryer Potatoes
This Egg Scramble with Air Fryer Potatoes is a satisfying and savory way to start your day! Easy to make and so yummy.
Ingredients
Air Fryer Potatoes
2 cups diced potatoes, I prefer yellow or gold potatoes.
1/2 tsp olive oil, extra virgin, can omit
1/2 tsp salt
1/2 tsp pepper
Egg Scramble
cooking fat of choice, This is to prevent the eggs from sticking to the pan. I use an olive oil spray but ghee also works great if not dairy free.
2 eggs
2 cups spinach
1/2 medium tomato
salt and pepper
2 tbsp store-bought salsa
Optional: hot sauce
Instructions
Toss your diced potatoes in olive oil and season with salt and pepper. Place them in the air fryer at 400 degrees for 10 minutes. If your air fryer has a basket you'll want to stop cooking after 10 minutes and shake the potatoes. This keeps the potatoes at the bottom from becoming underdone. Place the basket back in the air fryer and cook for another 10 to 15 minutes. (Total air fryer cooking time is 20 to 25 minutes.) Potatoes should be crispy and fully cooked.

When your potatoes are almost finished, it's time to add your cooking fat of choice to the pan. I use a quick spray of olive oil but ghee (if not dairy free) also works great. Heat pan to medium or medium low heat.

In a bowl, whisk together your eggs with a splash of water. This helps make them fluffy!

Pour your egg mixture into the hot pan. Salt and pepper. When your eggs are close to done add your spinach and tomatoes. Reduce heat to low. Stir and cover for 1 – 2 minutes. Spinach should be wilted.

To eat, layer your potatoes on bottom. Top with the egg scramble. Add a scoop of your favorite salsa and a drizzle of hot sauce (optional). Enjoy!
Notes
Nutrition information assumes you are dividing this into 2 servings. If you, like me, enjoy a really big breakfast in the morning you may be unwilling to share. I personally can eat this entire thing myself. And I do. So to calculate my nutrition information I'd just double what's shown here. You can omit the oil completely when cooking potatoes in the air fryer. The end result is a little dry in my opinion but it really doesn't matter since you're layering so much yumminess on top. So, rest assured, if you want to limit your fat for this particular meal just leave the oil out.
Nutrition
Calories: 190kcal, Carbohydrates: 25g, Protein: 11g, Fat: 5g, Saturated Fat: 1g, Cholesterol: 163mg, Sodium: 813mg, Potassium: 1054mg, Fiber: 5g, Sugar: 1g, Vitamin A: 3395IU, Vitamin C: 32mg, Calcium: 111mg, Iron: 7.1mg