Flourless Lemon Blueberry Almond Cake
This delicious lemon blueberry almond cake is flourless, easy to make, and sweetened with honey. It's a simple dessert that always impresses! Perfect with a cup of coffee or tea.
I set out to create this almond cake with absolutely no all purpose flour and granulated sugar. After many rounds of testing I'm thrilled with where I landed. The texture is perfection and honey gives it plenty of sweetness. If you're wanting a cake to pair with coffee or tea, this is the cake for you!
Part of this almond cake's charm is its simplicity. You don't need a stand mixer (in fact I recommend not using one), everything gets stirred together in a bowl (no separating eggs), and we're using only truly feel good ingredients.
I adore the lemon and blueberry flavor we achieve with lemon juice, lemon zest, and fresh blueberries. Let's not forget that our sweetener in this delectable treat is honey instead of white sugar. Everything works together to create a showstopper of a dessert.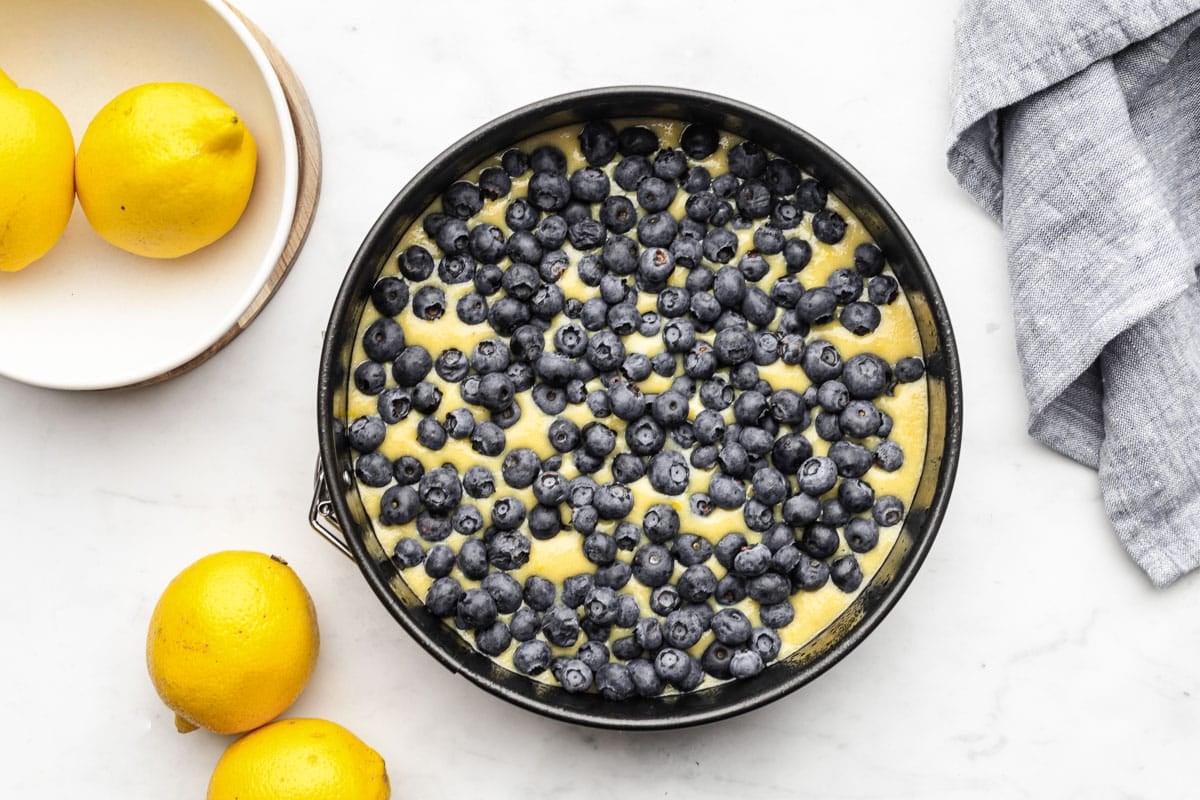 Flourless Lemon Blueberry Almond Cake Ingredients
Eggs: The eggs helps us achieve the perfect texture in our finished cake.
Honey: Honey is my sweetener of choice in this almond cake. It has anti-inflammatory properties and a lower glycemic index than sugar, meaning it won't spike your blood sugar levels as quickly.
Greek yogurt: Greek yogurt makes our cake moist and should not be swapped for regular yogurt which would make the batter too thin.
Lemon juice: This cake has lots of bright lemon flavor.
Almond extract: Almond extract helps amp up the taste of almond in this cake. I also just personally prefer it over vanilla extract. There's just something about that smell and flavor that makes me happy.
Almond flour: It's important to use a fine almond flour so you don't experience any graininess. My recommendations can be found below.
Baking powder: Baking powder helps to create air bubbles during the baking process which gives us a lighter finished texture.
Salt: Just a bit of salt helps balance out the sweetness of the cake.
Lemon zest: We really want the lemon flavor to come through in this cake so lemon zest helps bring that flavor forward. It's also a lovely addition to the top of the cake before serving.
Fresh blueberries: We're using so many fresh blueberries in the batter. You'll taste blueberries in every bite and they make the finished cake really wow!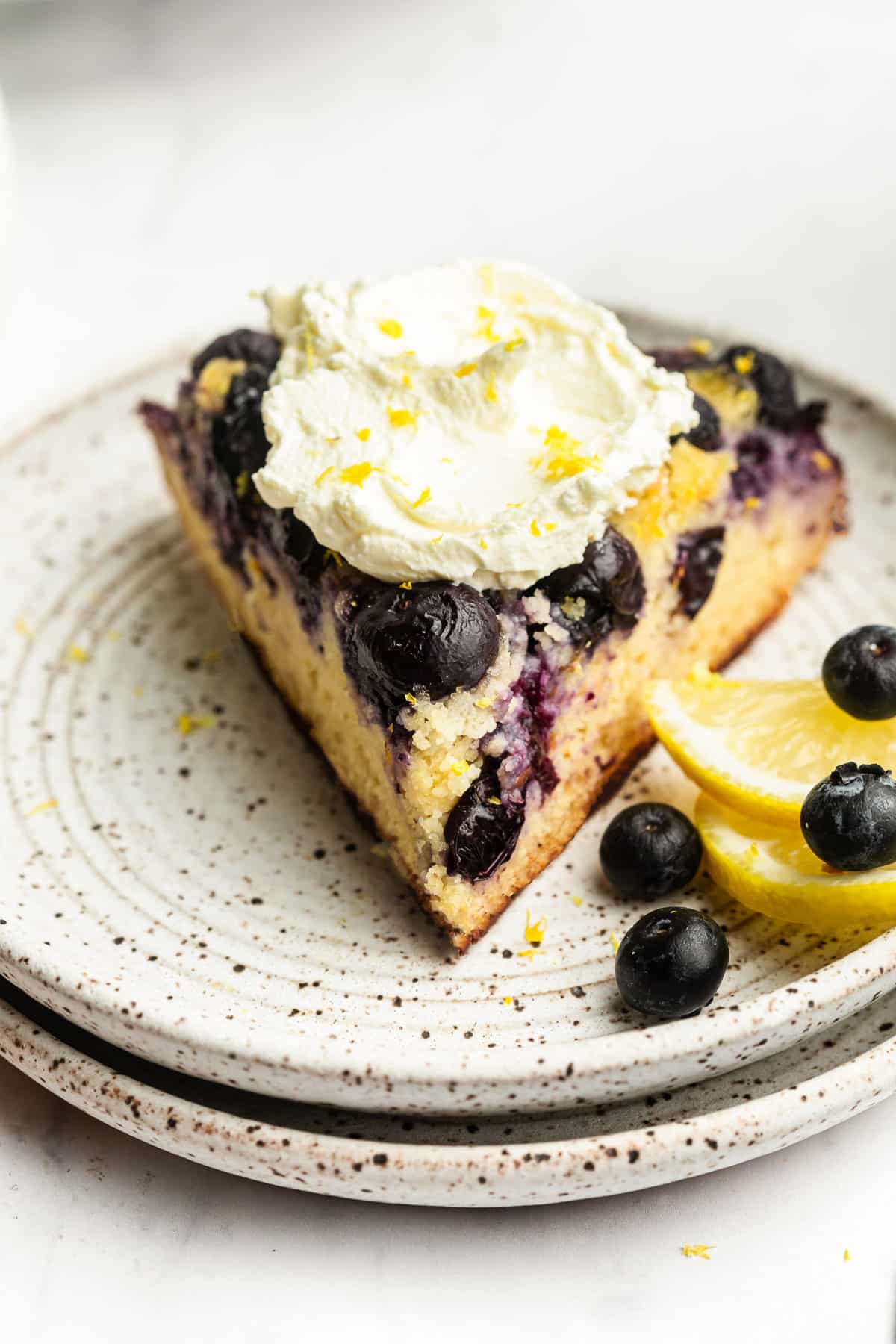 What almond flour is best to use?
There are several great brands to choose from when it comes to almond flour. Two of my favorites are Bob's Red Mill Super-Fine Almond Flour and Nature's Eats Almond Flour. Just make sure you get blanched almond flour because that means the skin has been removed.
Can you use a different flour?
No, you can't. Flours can rarely be subbed 1:1 so I do not recommend a flour substitution here. If you're looking for an almond cake recipe that uses a different flour I recommend googling for one that's been tested with that specific flour.
Can you use regular yogurt instead of greek yogurt?
Greek yogurt helps make our finished cake perfectly moist so it's an essential ingredient. It has a thicker consistency than regular yogurt so I don't recommend a swap because regular yogurt will make your batter too thin.
Can you use extra large eggs?
This recipe has been thoroughly tested with large eggs. Using a different size will change the texture of your batter so I recommend sticking with large eggs for the best result.
Can you use a regular non-springform cake pan?
A springform pan works best for this cake because it ensures we can easily remove it from the pan after baking and we won't need to flip our cake to get it out of the pan. The top of the cake is loaded with blueberries and oh so beautiful. If you flip it your cake may not have that lovely look we want. Having said that, you can use a regular cake pan if you prefer. Just remove the cake from the pan very carefully or cut the slices without removing the entire cake from the pan (my recommendation if not using springform).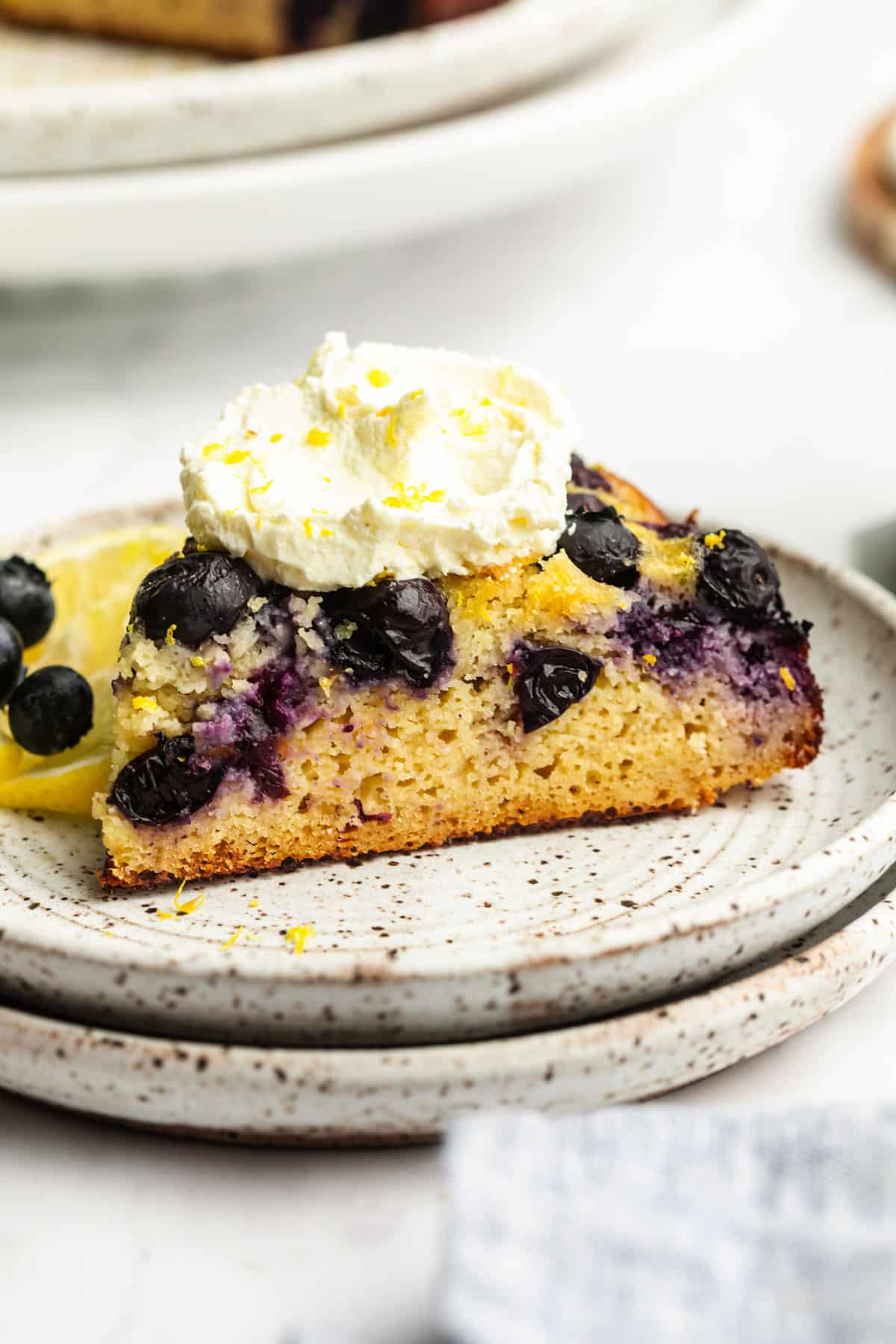 Tips for a Perfect Almond Cake
Measure your ingredients correctly. As with all baked good recipes, any modifications in measurements can drastically alter the finished texture. To measure almond flour correctly you'll want to scoop it into a measuring cup for dry ingredients and level it off with the flat edge of a knife. Do not press the flour into the measuring cup or you'll end up with too much.
Stir together the ingredients in the order specified using a whisk or spatula. Do not use a stand mixer (this can overwork our ingredients and make our cake less moist).
To prevent sticking, we're using a springform pan, parchment paper in the bottom of the pan, and oil or butter on the sides of the pan. These three strategies make it so easy to get a gorgeous end result.
Let the cake sit until its cooled after removing it from the oven. The center will continue to cook a bit during this time.
How to Serve
Serve as is or top with whipped cream and extra lemon zest. I enjoy a slice with coffee or tea.
Flourless Lemon Blueberry Almond Cake
This delicious lemon blueberry almond cake is flourless, easy to make, and sweetened with honey. It's a simple dessert that always impresses! Perfect with a cup of coffee or tea.
Ingredients
4 large eggs
½ cup honey
¼ cup greek yogurt
3 tablespoons lemon juice
1 teaspoon almond extract
1¾ cups almond flour
1 teaspoon baking powder
¼ teaspoon salt
zest of one lemon
1 pint blueberries
Instructions
Preheat oven to 350 degrees.

Line the bottom of a round 8-inch springform pan with parchment paper. (You can cut the parchment paper into a circle so it fits into the bottom of the pan by placing the pan on top of the paper, tracing it with a pencil, and then cutting it out with scissors.) Grease the sides of the pan with butter or oil to prevent sticking.

In a large bowl, whisk the eggs. Then stir in the honey, greek yogurt, lemon juice, and almond extract.

In another bowl whisk together the almond flour, baking powder, and salt.

Add the wet ingredients to the bowl with the dry ingredients. Stir until combined.

Stir in zest of one whole lemon.

Pour the cake batter into the prepared cake pan. Sprinkle the pint of blueberries over the top of the batter. Do not stir them in, some will settle as the cake cooks.

Bake for 45 minutes, until you see some gold color on the outsides and top is firm. Let the cake sit until cool.

Once the cake has cooled, gently run a knife around the edge of the pan. If you used a springform pan, release and remove the sides (you can keep it sitting on the bottom part). Unhook the latch to release the cake from the pan and remove the cake. Place the cake on a plate or cake stand. Slice into 8 pieces and serve. You can serve as is or with whipped cream and extra lemon zest. I enjoy a slice with coffee!
Nutrition
Serving: 1slice, Calories: 275kcal, Carbohydrates: 32g, Protein: 9g, Fat: 14g, Saturated Fat: 2g, Polyunsaturated Fat: 1g, Monounsaturated Fat: 1g, Trans Fat: 0.01g, Cholesterol: 82mg, Sodium: 161mg, Potassium: 102mg, Fiber: 4g, Sugar: 25g, Vitamin A: 151IU, Vitamin C: 8mg, Calcium: 105mg, Iron: 2mg