Parmesan Bacon Green Beans
Parmesan, crispy bacon, and minced garlic make these sautéed green beans extra special. Ready in only 25 minutes!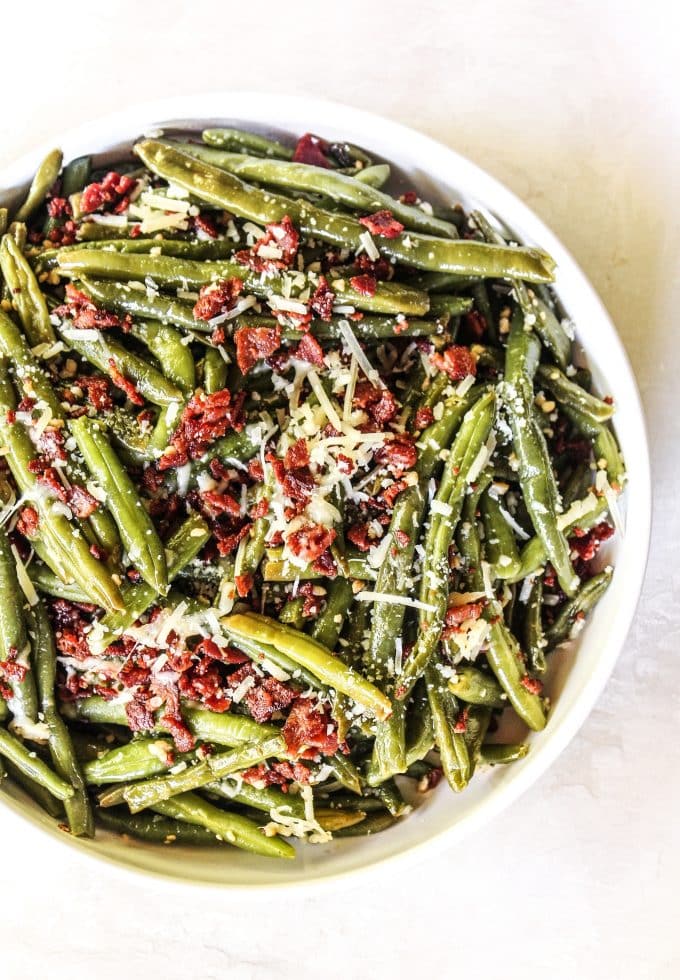 Garlic Green Beans are one of my family's all time favorite recipes. It's in the weekly rotation for good reason. So I knew right away that these Parmesan Bacon Green Beans would be a winner too! Quick, tender, and flavorful– you're going to love them.
When I'm sautéing green beans I like to start with frozen green beans instead of fresh. (I use fresh veggies when roasting like in my Roasted Green Beans with Almonds. I don't care what anyone says. Roasting frozen veggies is just not the best.)
So why do I recommend using frozen? Oh so many reasons but let's stick with the top 5. (1) Frozen veggies are pretty inexpensive. (2) They're just as nutritious as fresh veggies. (3) They're frozen at the peak of freshness. (4) Using frozen reduces your prep work. No washing and trimming! (5) My top reason for often choosing to use frozen — They're incredibly convenient to keep on hand because they're not going to go bad in a few days. And, friend, I'm all about making healthy meals convenient. I always keep plenty of bags in the freezer for quick meals!
Can you use fresh green beans? Of course. Your cooking time may need to be adjusted (increase it) and you may need a little water to help soften those veggies but fresh will work too.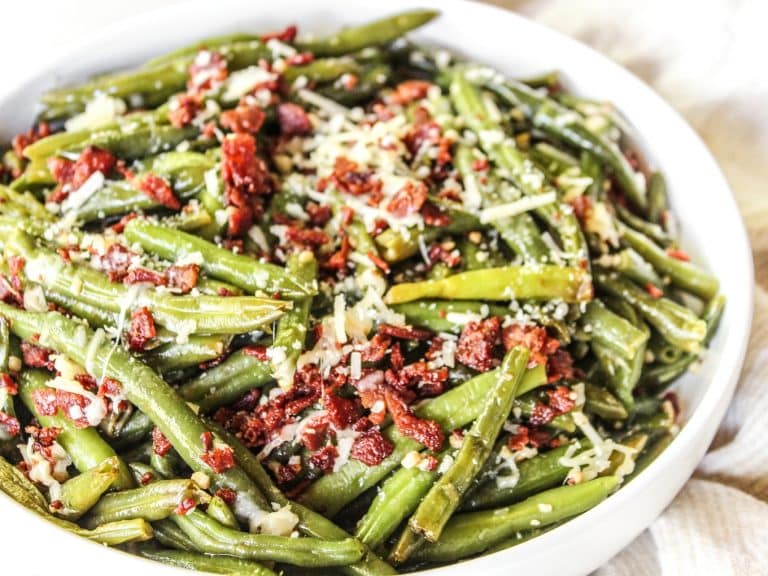 I use turkey bacon (either Wellshire or Applegate) for this recipe and any recipe with bacon. It gets perfectly crispy when sautéed with oil! You can use pork or turkey bacon with no problem. Recipe includes instructions for both so take your pick!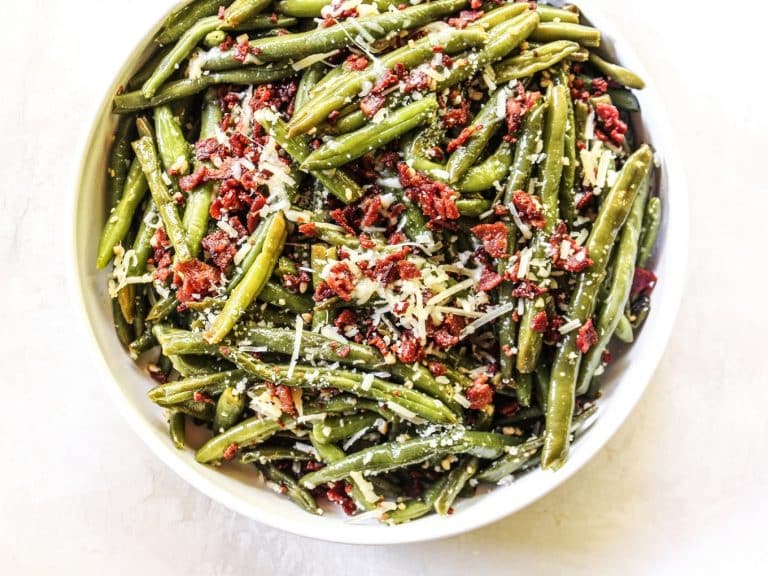 Give this easy side dish a try and let me know what you think!
More recipes like this:
Green Beans with Toasted Almonds
Garlic Crushed Red Pepper Chicken Stir Fry
Sheet Pan Sausage, Potatoes, & Green Beans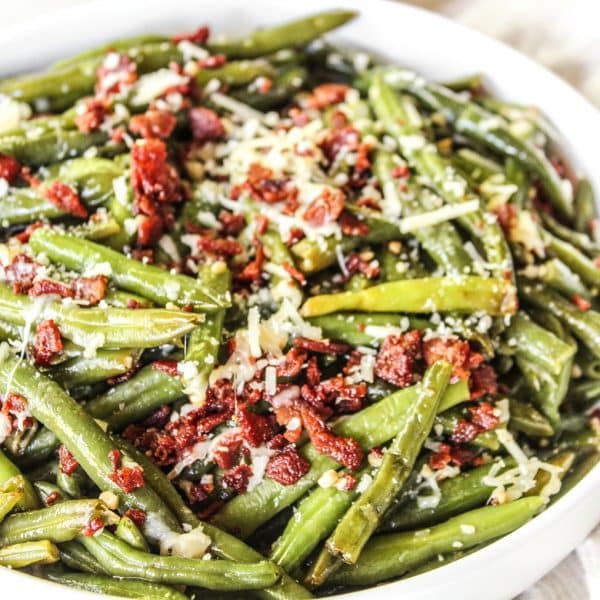 Parmesan Bacon Green Beans
Parmesan, bacon, and garlic make these sautéed green beans extra special. Ready in only 25 minutes!
Ingredients
4 slices bacon, diced, I prefer turkey bacon.
2 tbsp olive or avocado oil, extra virgin
16 oz green beans, frozen
salt to taste
1 tbsp garlic, minced
1/2 cup shredded parmesan
Instructions
Add diced bacon to a large skillet. Sauté on medium to medium-high heat until almost crispy, stirring occasionally. (Using turkey bacon? Add the oil here instead of when the green beans go in the skillet. The fat will help get the turkey bacon crispy.) Once bacon is crispy, remove from pan and set aside.

Add green beans and oil to skillet. (Use less oil if you have a lot in the skillet from the bacon.) Cover with a lid. Cook for 10-15 minutes on medium heat. Stir often as the green beans will stick to the pan. You want to continue to move those browned green beans to the top so that the others start to brown too.

Salt.

Reduce heat to low. Add diced bacon back to the skillet along with garlic. Stir. Top with shredded parmesan. Cover. Cook for another 2-4 minutes. You'll know they're done when the green beans have gone from that really bright green to a more darker shade.

Taste and add more salt if desired.
Notes
You can use fresh green beans if you prefer but you'll need to increase the cooking time. Both pork and turkey bacon work great. The only difference will be at what point you add the oil to the skillet since you need the cooking fat to get your turkey bacon crispy.
Nutrition
Calories: 135kcal, Carbohydrates: 6g, Protein: 7g, Fat: 10g, Saturated Fat: 3g, Cholesterol: 15mg, Sodium: 352mg, Potassium: 204mg, Fiber: 2g, Sugar: 3g, Vitamin A: 587IU, Vitamin C: 10mg, Calcium: 129mg, Iron: 1mg