Roasted Green Beans with Almonds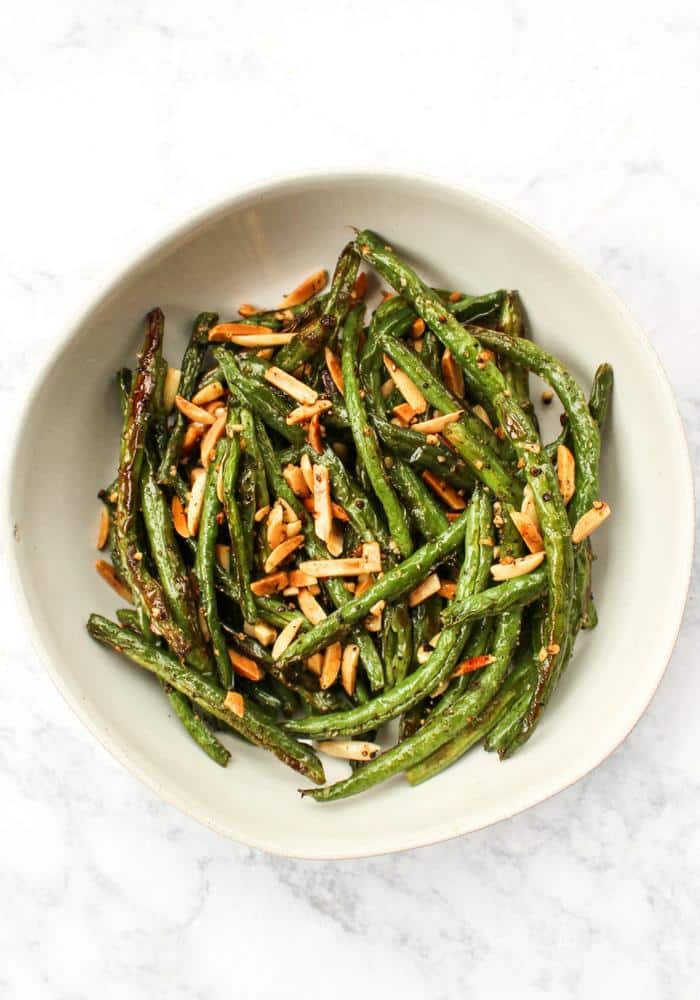 I am really excited about today's recipe, friends. I've been preparing green beans the same way (Garlic Green Beans) for years. I'm one of those people who can order the same thing at a restaurant 100 times in a row and not be bothered by it. If it's tasty then why not, right? Those green beans are a favorite in my house so I saw no need to experiment with other ways to make them.
Recently I did. OH MY GOODNESS IT IS SO GOOD.
Roasted Green Beans with Almonds have leapt to the top of the list of side dishes for me. There's no going back. This dish is incredible.
Roasting is hands down the best way to make veggies. It's simple and makes every vegetable just taste better. Roasting  green beans gives them a little char. Those browned bits are absolutely delicious.
Raw almonds can be a little bland. Toasting them is a whole other story. Suddenly the flavor is stronger and the crunch is a perfect against the softness of the green beans.
My family will be enjoying this side dish regularly and I bet you're going to feel the same after one taste.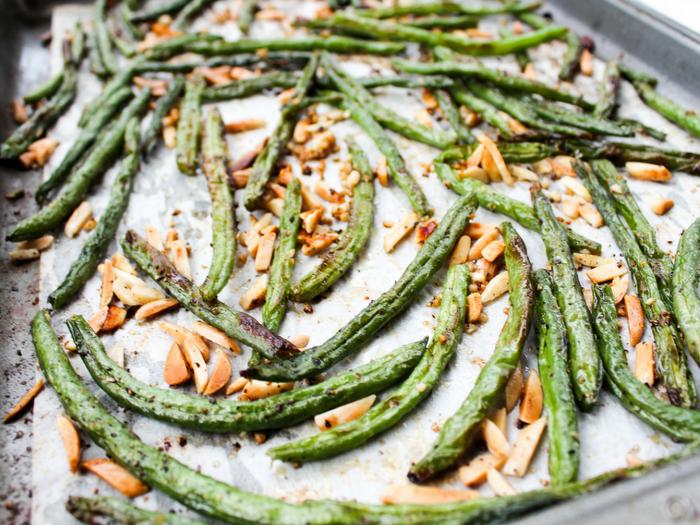 Green Beans with Toasted Almonds
Green Beans with Toasted Almonds have a yummy char that comes from roasting and the almonds give this dish the perfect crunch.

Ingredients
1 lb fresh green beans, trimmed
2 tbsp olive oil
salt & pepper to taste
1/4 cup slivered almonds
2 tsp minced garlic
Instructions
Preheat oven to 425 degrees.


Spread green beans in a single layer on baking sheet. Drizzle with olive oil. Roll the green beans in the olive oil so each one is nicely coated. Liberally salt and pepper. Bake for 15 minutes.


Remove from the oven. Flip green beans. Spread minced garlic and slivered almonds. Place back in the oven and bake for an additional 5 to 7 minutes. (Keep an eye on the almond slivers. You want them browned but not blackened. 7 minutes is the sweet spot for my oven.)


Serve immediately.

Nutrition
Calories: 137kcal, Carbohydrates: 9g, Protein: 3g, Fat: 10g, Saturated Fat: 1g, Sodium: 7mg, Potassium: 286mg, Fiber: 3g, Sugar: 3g, Vitamin A: 785IU, Vitamin C: 14.3mg, Calcium: 62mg, Iron: 1.4mg