Pesto Chicken Stuffed Potatoes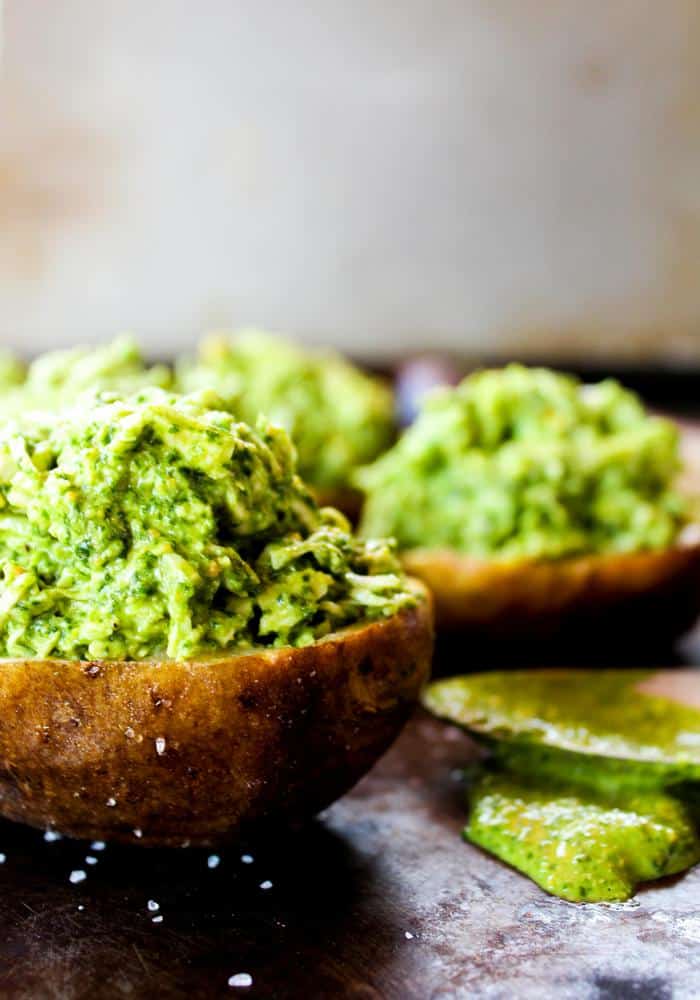 As I was photographing my Green Chile Chicken Dip recipe a few weeks ago (if you haven't made that one yet you really should) I scooped some into potato skins to illustrate how the dip can be used as an entree. That's when I realized I really needed to mix my Pistachio Lemon Pesto with shredded chicken and stuff them into potatoes.The idea hit me and I couldn't shake it until I did it. So I did it.
You can use any ole pesto but I gotta say I'm totally partial to my Pistachio Lemon Pesto.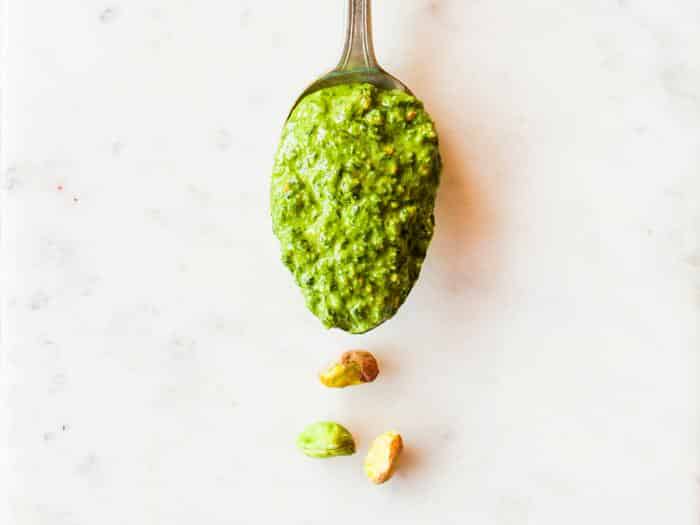 It's bright with plenty of citrus you can actually taste in each bite, fresh basil, and pistachios. It's a completely unique (and super delicious) way to do pesto.
Oh, and it's dairy free, gluten free, and Whole30 compliant. You're not even going to miss the parmesan that's in most pesto.
So naturally stirring into a shredded chicken will yield tasty results, right?
Friend, it really does.
Prepare your chicken however you like. I've tried both store-bought rotisserie chicken and sauteed chicken breasts. Either way you're going to love the final result. It's really just all about that pesto, isn't it?
Place a hearty scoop in the center of potatoes baked in olive oil and coarse salt. BOOM. Now you have a very flavorful entree.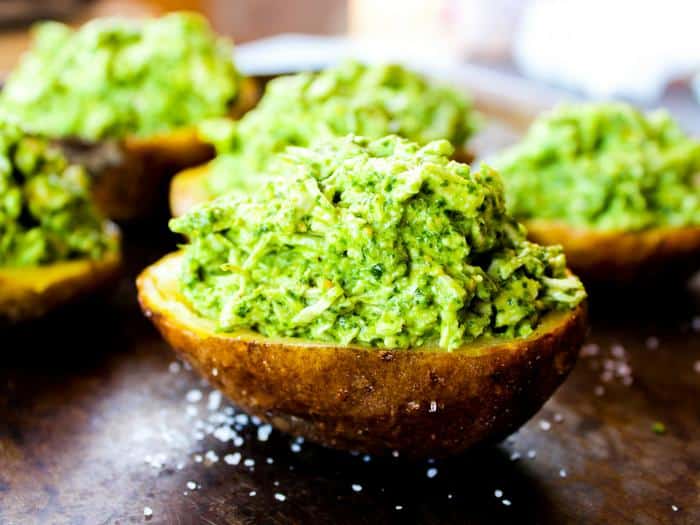 You can even serve up these Pesto Chicken Stuffed Potatoes as appetizers if you use small potatoes!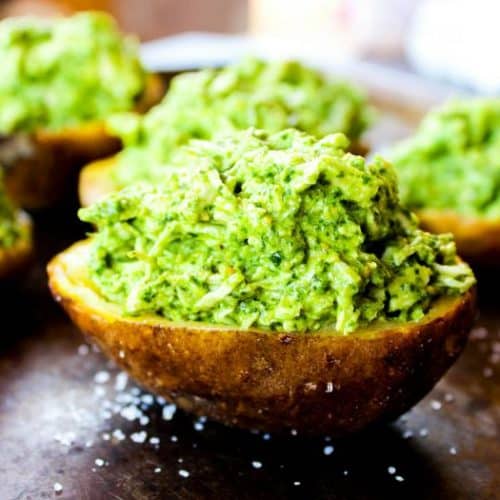 Pesto Chicken Stuffed Potatoes
These Pesto Chicken Stuffed Potatoes are a hearty and healthy entree perfect for lunch or dinner. You can also use smaller potatoes to serve these up as appetizers. Creamy Pistachio Lemon Pesto makes this recipe a winner! Plus it's all Whole30, dairy free, and gluten free.

Ingredients
Pistachio Lemon Pesto
3 cups packed fresh basil
1/4 cup shelled pistachios
3 tbsp lemon juice
1 clove garlic, or 1/2 tsp minced garlic
1/2 tsp salt
1/3 cup olive oil, extra virgin
Chicken
2 cups shredded or chopped cooked chicken, can use rotisserie chicken or chicken breasts that you've sauteed or boiled
Potatoes
4 medium potatoes
1 tbsp olive oil
1 tsp coarse salt
Instructions
Preheat oven to 400 degrees.


Wash and dry your potatoes. Rub olive oil on the outside of each and sprinkle with coarse salt.


Place potatoes on a baking sheet and bake for 1 hour. Potatoes will be crispy on the outside but soft and fully cooked on the inside. Remove from oven when done.

While potatoes are baking, place all ingredients for Pistachio Lemon Pesto in a blender. Blend until smooth.


Pour finished Pistachio Lemon Pesto into a large bowl with your shredded chicken. Stir until well combined. (If your chicken breasts are especially large you may want to use less than the recommended 3 breasts. I've found that 2 cups of shredded chicken works best to produce a filling that has plenty of pesto flavor and isn't dry.)


Once potatoes are cooked, slice each potato in half. Use a spoon to gently scoop out a little of the inside and discard (or set aside to make mashed potatoes with them later).


Add a hearty dollop of your pesto chicken mixture to each potato half. That's it! You're ready to chow down!

Nutrition
Serving: 1potato half + chicken pesto, Calories: 243kcal, Carbohydrates: 15g, Protein: 9g, Fat: 16g, Saturated Fat: 2g, Cholesterol: 21mg, Sodium: 467mg, Potassium: 564mg, Fiber: 3g, Vitamin A: 530IU, Vitamin C: 16.7mg, Calcium: 55mg, Iron: 4.2mg
Made these and love them? If you share a photo of your meal on Instagram tag me so I can check it out!
In the mood for another amazing stuffed potato idea? Check out my Broccoli Ranch Twice Baked Potatoes!