Roasted Brussels Sprouts
Sometimes simple is better. These easy Roasted Brussels Sprouts are proof of that!
I've been a brussels sprouts lover since I was a child. I know. I know. Not many kids feel that way. I grew up in a home where we had them all the time. My mom steamed them and I thought they were just perfect with a little salt and pepper.
As an adult my mother in-law introduced me to the idea of roasting them. Wow. Friends, if you're not roasting your brussels sprouts you're doing it wrong. Really. They're that good.
And if you're one of those people who doesn't like brussels sprouts at all (I know you're out there) I am solving your problem today. Make this. Tonight. Do it now. What are you doing still reading? Stop reading and go make this.
If you need more convincing let me tell you a bit more.
Roasting brussels sprouts brings out so much more flavor than when you steam them.
Roasting them makes them crispy and a little salty.
With only four ingredients it just doesn't much easier either!
Even my toddler loves these. She pops them like candy. That is not an exaggeration. There is no dish I can prepare that garners the same enthusiasm as when I pull a sheet of Roasted Brussels Sprouts out of my oven.
Now seriously go make these.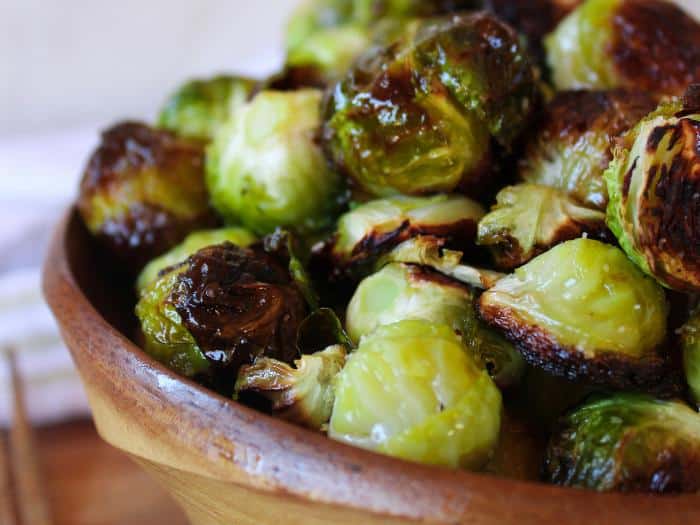 Want to try another simple roasted veggie recipe? These Roasted Parsley Carrots are extra yummy!
Roasted Brussels Sprouts
Roasted Brussels Sprouts are an amazingly simple and tasty side dish. You'll never cook brussels sprouts any other way after trying this!
Ingredients
16

oz

fresh brussels sprouts

2-3

tbsp

olive oil

salt & pepper
Instructions
Preheat oven to 400 degrees.

Trim the bottom of each brussels sprout and peel away the first layer of leaves. That's where you usually see the dirt and any brown sprouts. Once this is done you'll have beautiful little bright green sprouts.

Slice each sprout in half (unless it's already really small).

Throw your brussels sprouts on a baking sheet. You'll want a single layer. Don't pile them up one on top of the other or you won't get the beautiful browning from roasting that you desire.

Drizzle with olive oil. Move your brussels sprouts around so they all get coated by the oil.

Sprinkle with salt and pepper.

Place baking sheet in the oven for 25-30 minutes. The trick is to make sure you're seeing lots of browning on your brussels sprouts. This means they're soft AND crispy.

Serve!
Nutrition
Calories:
110
kcal
,
Carbohydrates:
10
g
,
Protein:
3
g
,
Fat:
7
g
,
Saturated Fat:
1
g
,
Sodium:
28
mg
,
Potassium:
441
mg
,
Fiber:
4
g
,
Sugar:
2
g
,
Vitamin A:
855
IU
,
Vitamin C:
96.4
mg
,
Calcium:
48
mg
,
Iron:
1.6
mg
Save
Save
Save
Save