Spicy Chipotle Chicken Chili
Spicy Chipotle Chicken Chili is thick, ready in 30 minutes, and brings the heat! It's got a punch of flavor that's perfect for my chipotle lovers.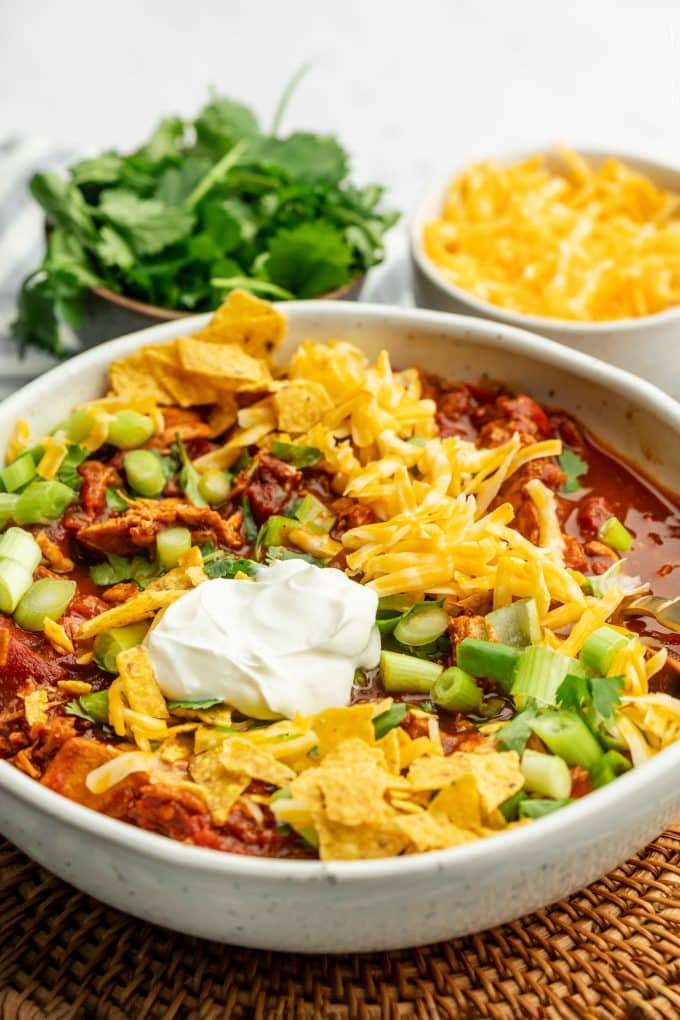 Update: This recipe was originally published in 2019 and has been republished with all new photos.
This will be my last soup recipe for this cold weather season and it's a really good one, friend. I've made it bean free, dairy free, gluten free, and Whole30 compliant. But the most important part is that it's delicious. Really delicious if you ask me.
This Spicy Chipotle Chicken Chili is definitely for the chipotle loving crowd. It's not mild, friend. If you're not a fan of heat stick with my 30 Minute Chicken Taco Soup or Slow Cooker White Chicken Chili. They're delicious too and much milder!
For this recipe you'll need (full list of ingredients and instructions are in the recipe card below):
Olive or avocado oil
Onion
Red bell pepper
Minced garlic
Chicken stock or broth
Chicken breasts
Canned diced tomatoes
Tomato paste
Seasoning
Add the oil to the soup pot (or separate skillet if you prefer) with onion and red bell pepper. Sauté until tender. Add the minced garlic and sauté until golden in color, about one minute.
Then add all remaining ingredients to the pot. Bring to a boil on high heat. Cover and reduce to a simmer at medium heat for 20 to 25 minutes or until chicken is cooked through. Carefully remove the chicken and shred or chop it. Add it back to the soup. Stir and serve!
Should the chicken be cooked before adding it to the soup?
We're adding raw chicken to this chili so that it adds even more flavor to your chicken stock (or broth) as it cooks. This is why we crank the heat up a bit in the beginning and then lower it. You'll find that it cooks beautifully in the allowed time so long as you let it all simmer.
How to top this chili
I love to add toppings to my chili so I'm listing some of my favorites here. You can of course enjoy this beautiful bowl of spicy goodness without any toppings at all if you like.
Cilantro
Sliced green onions
Diced red onion
Fresh jalapeno slices
Sliced avocado
Shredded cheddar
Sour cream
Tortilla chips, fritos, or Homemade Croutons
How to make this chili in the slow cooker
Add everything to your slow cooker. Cover. Cook for 6 to 8 hours on low or 4 hours on high. You'll know it's done when chicken shreds easily with a fork. Shred chicken and place back in the soup. Ladle into bowls and add desired toppings.
Does this chili freeze well?
Oh yes it does! This chili freezes, thaws, and reheats beautifully. Just add it to a pot on the stove over low to medium-low heat, stirring frequently. You can also reheat in the microwave after thawing. Feel free to double this recipe so you have plenty to freeze.
Spicy Chipotle Chicken Chili
Spicy Chipotle Chicken Chili is thick, ready in 30 minutes, and brings the heat!
Ingredients
1 tbsp olive or avocado oil
2 red bell peppers, diced
1 large white or yellow onion, diced
2 tsp garlic, minced
2 cups chicken stock, can use chicken broth
2 lbs chicken breasts, skinless and boneless
28 oz canned diced tomatoes
6 oz tomato paste
1 1/2 tbsp chili powder
1 1/2 tsp paprika
1 tsp chipotle chili powder
1 tsp salt
1 tsp pepper
3/4 tsp ground cumin
1/2 tsp onion powder
1/2 tsp garlic powder
Instructions
Add oil, red pepper, and onion to the soup pot on medium high heat. Stir and sauté until tender with some browning. Add the minced garlic and let everything sauté for another minute or less (until garlic turns a golden color). Watch it because it can burn quickly if you're not careful.

Add all other ingredients to the pot. Bring to a boil on high heat. Then cover and reduce to a simmer (medium high or medium heat) for 20 to 25 minutes. Chicken should be cooked through when done.

Shred or chop up your chicken. Taste and add extra salt or pepper if you like. Serve as is or garnish with recommended toppings.
Nutrition
Serving: 1cup, Calories: 208kcal, Carbohydrates: 15g, Protein: 25g, Fat: 5g, Saturated Fat: 2g, Cholesterol: 65mg, Sodium: 702mg, Potassium: 960mg, Fiber: 3g, Sugar: 7g, Vitamin A: 2160IU, Vitamin C: 54.5mg, Calcium: 58mg, Iron: 2.8mg