BBQ Grilled Chicken
This BBQ Grilled Chicken is easy to make and slathered with the tastiest homemade sauce! Only 5 minutes of prep time!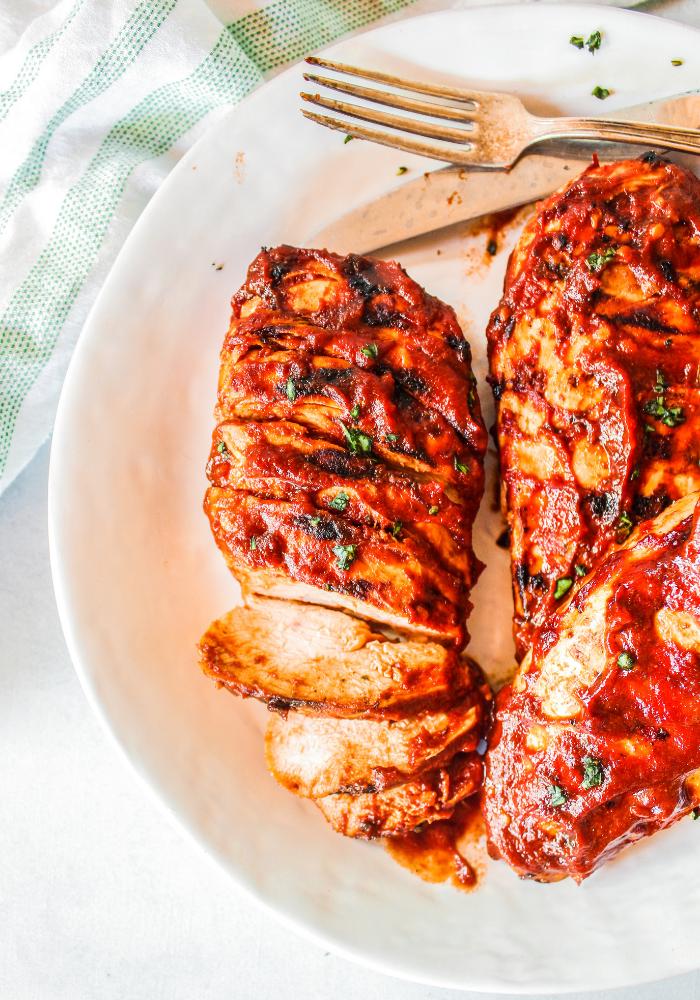 Today I'm going to show you how easy it is to create a flavorful sauce from items you already have in your home. And this version isn't loaded with sugar like the ones you'll find in the store.
This BBQ sauce is made from simple ingredients. No blender required. (But of course you can use one if you prefer.) Just add everything to a bowl and stir until well combined. Then it's time to grill!
I'll let you in on a secret. This sauce was originally used in my Oven Baked BBQ Chicken a few years ago and I'm finally getting around to adapting it for the grill. The same sauce it used in both recipes and they're equally delicious. It's really all a matter of how you want to cook your chicken.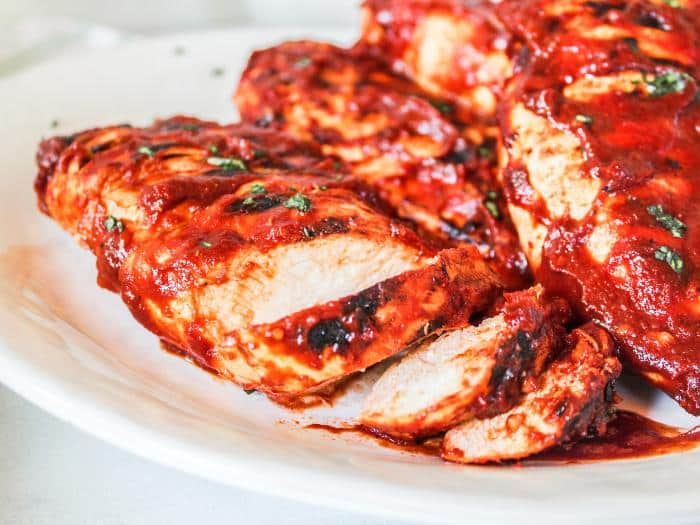 Can this sauce be sugar free?
Use your favorite sugar free ketchup to make this barbecue sauce sugar free.
When do I add my sauce?
One common mistake is that people baste their chicken with sauce before they start grilling. Don't do that, friend. Wait until after you've flipped the chicken the first time. This way the sauce doesn't burn off or just fall between the grates. No, ma'am! I want as much of that yummy sauce as possible on my finished chicken.
How to prevent chicken from sticking to the grill?
A little olive oil makes a big difference. Since we don't add the sauce until AFTER flipping the chicken you'll want to coat the chicken with a layer of oil before grilling. If you try to flip your chicken and you notice it's sticking a bit just give it another minute before flipping and the chicken will usually release better.
More recipes like this:
Ultimate Marinated Grilled Chicken
Garlic Balsamic Chicken Kabobs
Tropical Salsa Grilled Chicken
Pesto Steak Kabobs with Blistered Tomatoes & Peppers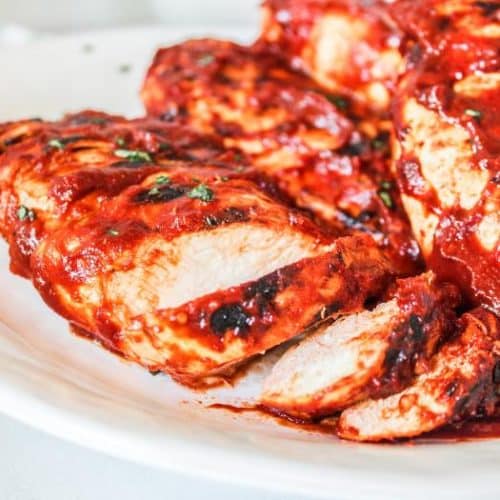 Sugar Free BBQ Grilled Chicken
This Sugar Free BBQ Grilled Chicken is easy to make and slathered with the tastiest homemade sauce! Only 5 minutes of prep time!
Ingredients
Chicken
4 – 5 chicken breasts
1 tbsp olive oil, extra virgin
salt & pepper
BBQ Sauce
½ cup ketchup
⅓ cup coconut aminos
1 tsp apple cider vinegar
1 tsp chili powder
1 tsp ground mustard
1 tsp salt
½ tsp black pepper
¼ tsp garlic powder
¼ tsp onion powder
Instructions
Preheat grill to medium high heat.

Add all BBQ sauce ingredients to a small bowl. Stir together until well combined. Set aside until you're ready to use.

Brush chicken with olive oil and season with salt and pepper. Add chicken to grill.

Grill chicken until you can easily flip it without any sticking. (Usually in 3 to 5 minutes.) Flip the chicken and brush 1/3 of the sauce over top. Reduce heat to medium.

Grill for another 3 to 5 minutes. Flip the chicken and brush another 1/3 sauce over the top.

Flip chicken one final time. Brush remaining sauce on top and let it grill for another 3 or so minutes. Chicken should be cooked through when done. (Grilling time can vary based on how hot your grill gets and the thickness of the chicken.)
Notes
Make sure you're using a clean brush or spoon when adding sauce to the chicken as it grills. You do not want to have any contamination issues so don't let a utensil that touched raw chicken then be used on cooked chicken. You also don't want to dip a utensil that touched raw chicken into your bbq sauce. To shorten your grilling time, slice your chicken horizontally to create thin cutlets before placing on the grill. These cutlets will cook faster than thick breasts!
Nutrition
Serving: 1chicken breast, Calories: 360kcal, Carbohydrates: 14g, Protein: 50g, Fat: 9g, Saturated Fat: 1g, Cholesterol: 144mg, Sodium: 1874mg, Potassium: 1287mg, Fiber: 2g, Sugar: 5g, Vitamin A: 1015IU, Vitamin C: 12.2mg, Calcium: 30mg, Iron: 2.3mg