Sweet Potato Casserole with Pecan Crumble
This Sweet Potato Casserole with Pecan Crumble is going to steal the show whenever you serve it. It's impressive enough to add to your holiday menu but so simple you could make it any night of the week.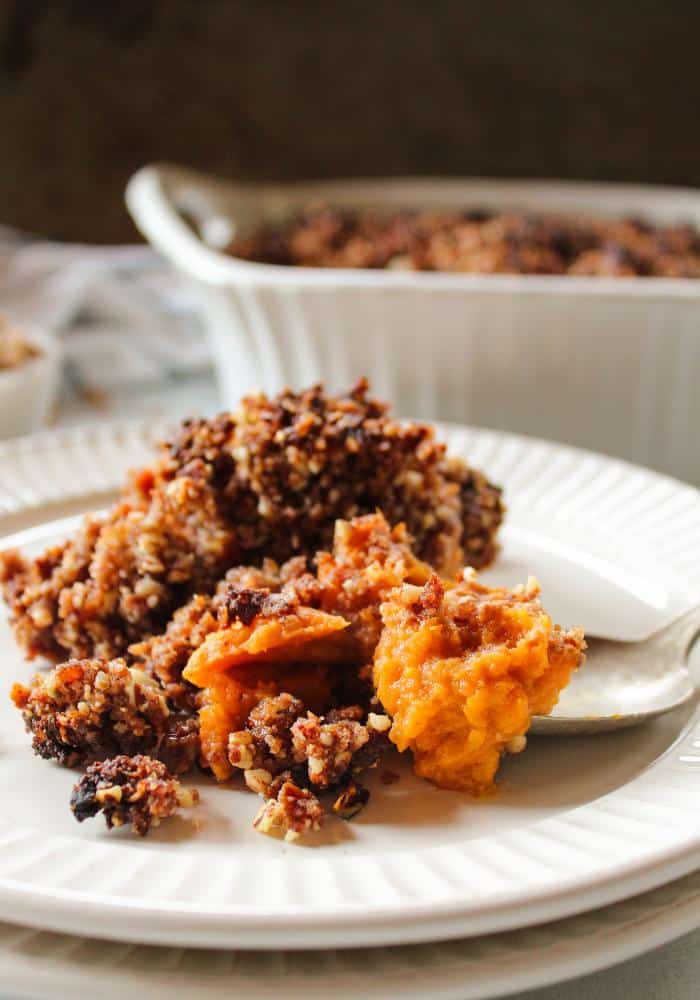 Since we're only four weeks away from Thanksgiving and a little over eight weeks away from Christmas (gasp!) I thought now would be a good time to tackle the classic Sweet Potato Casserole. Of course you know my version is going to be healthier than the butter and sugar filled kind you'll find everywhere else.
We really didn't have sweet potatoes often in my house growing up. I think I first learned how tasty they were when I was a waitress in college. Customers could order a baked sweet potato with butter and brown sugar as a side for their steak. Unclaimed potatoes could go home with the staff so you better believe I took full advantage of that. (I am not nor have I ever been a person who turns down food.) I knew the sweet potato and I were going to be fast friends after my very first bite. We've been in a hot n heavy love affair ever since.
Just wait until you try this Sweet Potato Casserole with Pecan Crumble. It tastes indulgent. You know it had to, right? Yet there's no added sugar (just the sugar God put in dates). No butter. No dairy of any kind. It's simple and so dang good.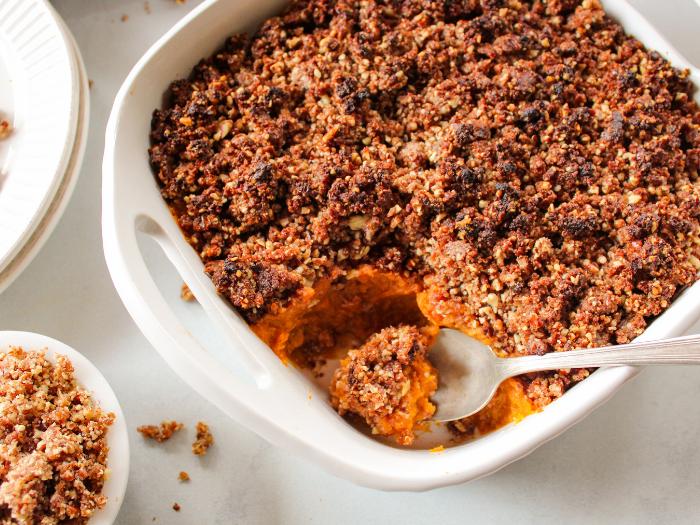 First, you'll mash the sweet potatoes with just the right amount of almond milk and cinnamon. You won't taste the almond milk at all so even your dairy loving guests will enjoy every single spoonful.
I always appreciate how easy it is to get smooth mashed sweet potatoes. You can use a hand mixer but since they're so soft I often find myself just going for my potato masher. Both work.
These potatoes are incredibly delicious on their own. Let's take them up a notch, shall we?
About this crumble. Oh my goodness it is a game changer for sweet potatoes. Pecans, dates, and coconut oil are all you need. The dates are naturally sweet so they elevate everything and really make sugar completely unnecessary. The pecans toast beautifully in the oven. Together they are magical.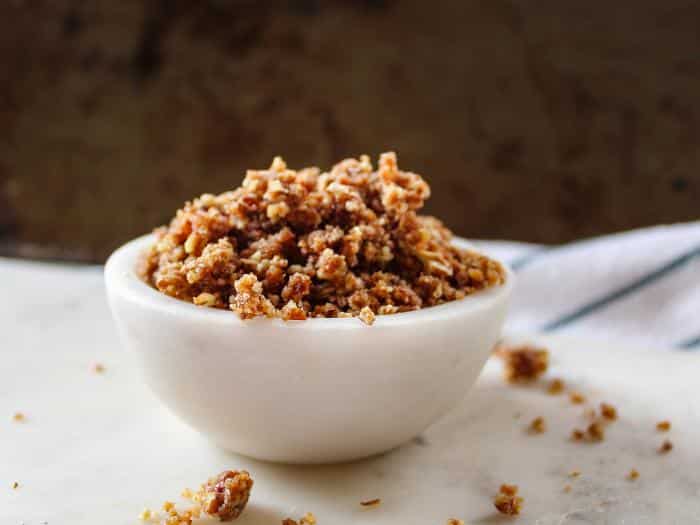 The combination of creamy sweet potatoes with this soft (but still crunchy) pecan crumble is… well I already said magical. I don't know, friend. There aren't words for it. It's just that good.
It's hard to believe it's all dairy free, gluten free, and refined sugar free. Oh but it is. Just another example of how whole healthy ingredients can produce really amazing food.
Made it and loved it? If you share a photo of your finished dish on Instagram tag me so I can check it out and share it in my stories.
Pssst I know I have a lot of readers who may be doing a round of Whole30. While all ingredients in this recipe are compliant I'd consider this SWYPO since it is so sweet. Instead you may want to just stick with the mashed sweet potatoes (directions included in recipe below) so you don't trigger any sugar cravings during your 30 days on Whole30.
Sweet Potato Casserole with Pecan Crumble
This Sweet Potato Casserole with Pecan Crumble is creamy with some crunch. It tastes so indulgent but it's dairy free, gluten free, and refined sugar free!

Ingredients
Mashed Sweet Potatoes
8 cups sweet potatoes cut into large chunks, peeled, about 4 large sweet potatoes or 7 medium sweet potatoes
water
1/2 cup almond milk, unsweetened
3/4 tsp cinnamon
Pecan Crumble
2 cups pecans, shelled and halved
8 large medjool dates, pitted
1 tbsp coconut oil
Instructions
Preheat oven to 375 degrees.


Add 8 cups of sweet potatoes (peeled and chopped into large chunks) to a pot on the stove with enough water to cover potatoes. Bring water to a boil and cook until potatoes are tender when punctured with a fork (approximately 10 to 15 minutes).


While potatoes are cooking on the stove add your Pecan Crumble ingredients to a high powered blender. Blend until dates and pecans are thoroughly chopped. Dates can get stuck at the bottom to you may need to pause your blending to move them around a small spatula. Once you have the right crumbly consistency set it aside.


Remove pot of sweet potatoes from heat. Drain water from potatoes. Add almond milk. Use a hand mixer or potato masher to blend potatoes until smooth.


Stir in cinnamon.


Spread mashed sweet potatoes into an 8 x 8 baking dish. (It does not need to be greased.)


Add the Pecan Crumble on top of the sweet potatoes and spread in an even layer.


Bake for 20 minutes. Serve!

Notes
This can be made in advance but I'd recommend leaving the mashed sweet potatoes and crumble separate until you're ready to bake. That way the crumble won't get too soft. Just add the crumble to the top of the potatoes when you're ready to pop it in the oven.
Nutrition
Calories: 368kcal, Carbohydrates: 48g, Protein: 4g, Fat: 19g, Saturated Fat: 3g, Sodium: 93mg, Potassium: 716mg, Fiber: 8g, Sugar: 22g, Vitamin A: 18900IU, Vitamin C: 4.4mg, Calcium: 94mg, Iron: 1.6mg