Easy Pesto Chicken Salad
This pesto chicken salad is delicious and requires only 6 ingredients. It's an easy lunch recipe plus you'll also love this for meal prep or healthy snacking!
I'm a big fan of chicken salad. This Pesto Chicken Salad is so flavorful and includes pesto for an extra fun punch of flavor. Feel free to use any store-bought pesto or use my recipe for Pistachio Lemon Pesto if you'd prefer to make it from scratch.
Serve in a sandwich, in lettuce cups, or with crackers. The flavors get stronger as it sits which also makes this chicken salad a great option to make ahead of time and store in the fridge. That way you have a high protein snack always ready to enjoy!
If you'd like to try other chicken salad variations check out my Healthy Buffalo Chicken Salad (which is made with greek yogurt), my Healthy Curry Chicken Salad (also made with greek yogurt and loaded with curry flavor), and my Ultimate Chicken Salad (this one is inspired by Waldorf chicken salad).
For more recipes that include pesto (because who can have too many of those?!) try my Sheet Pan Pesto Chicken with Vegetables, Dairy Free Pesto Chicken, Pesto Steak Kabobs, and Pesto Potatoes and Brussels Sprouts.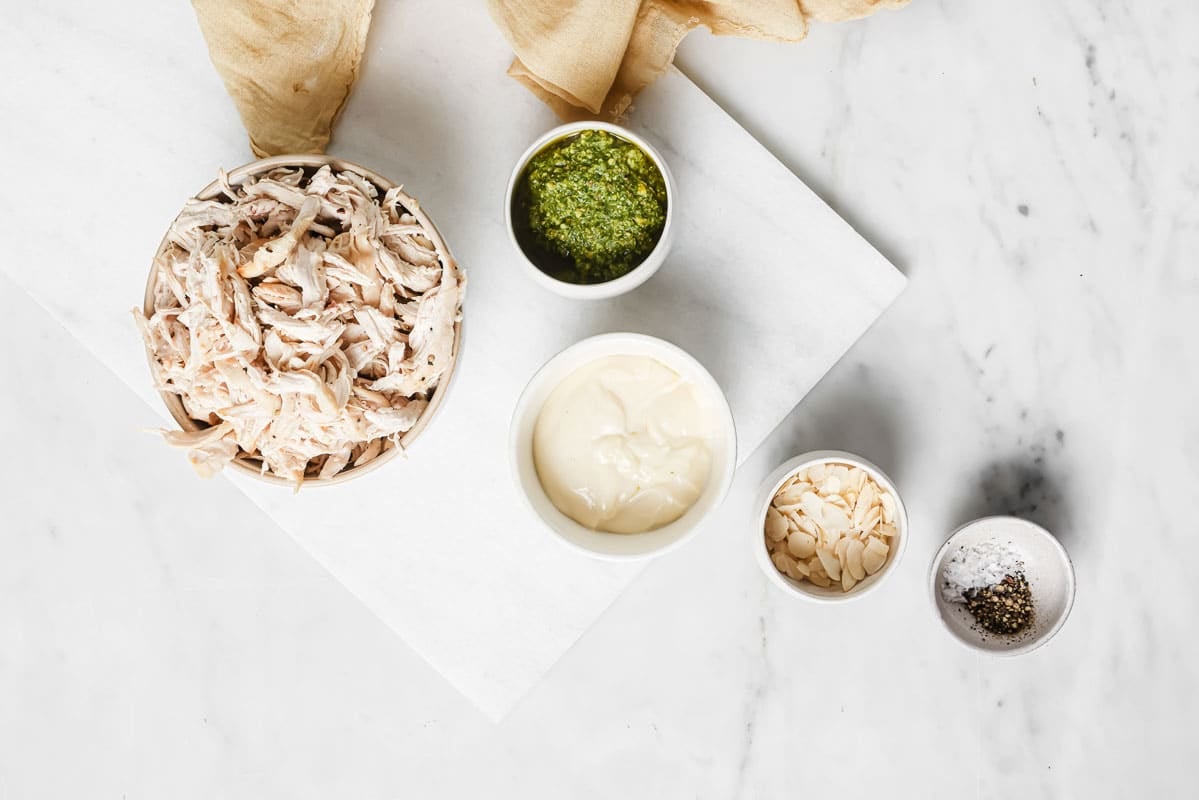 Pesto Chicken Salad Ingredients
Mayonnaise: Use regular mayo or a light mayo. Both work well in this chicken salad. You can also sub plain nonfat greek yogurt.
Pesto: Use your favorite store-bought pesto to keep things super simple!
Shredded fully cooked chicken: Any fully cooked shredded or chopped chicken works beautifully here. To save time I like to purchase a store-bought rotisserie chicken and just give it a quick chop.
Sliced almonds: You can use sliced or slivered almonds to add crunch to this dish. I prefer sliced almonds because they're thin so they don't overwhelm the rest of the ingredients.
Salt and pepper: These are the only seasonings you need because the pesto already provides this chicken salad with great flavor!
What chicken is best to use?
Any fully cooked chicken works great. So boneless and skinless chicken breasts or thighs are both good options. I typically either boil chicken breasts or shred a store-bought rotisserie chicken (to save time). The flavor in this dish doesn't come from the chicken so how you cook it truly doesn't matter.
What pesto is best to use?
Use any store-bought pesto you enjoy. You can find it in the grocery store aisle located by other pasta sauces plus there are usually a few brands in the refrigerated section by the bagged pasta.
If you'd like to make your own pesto, I have a yummy Pistachio Lemon Pesto you can make.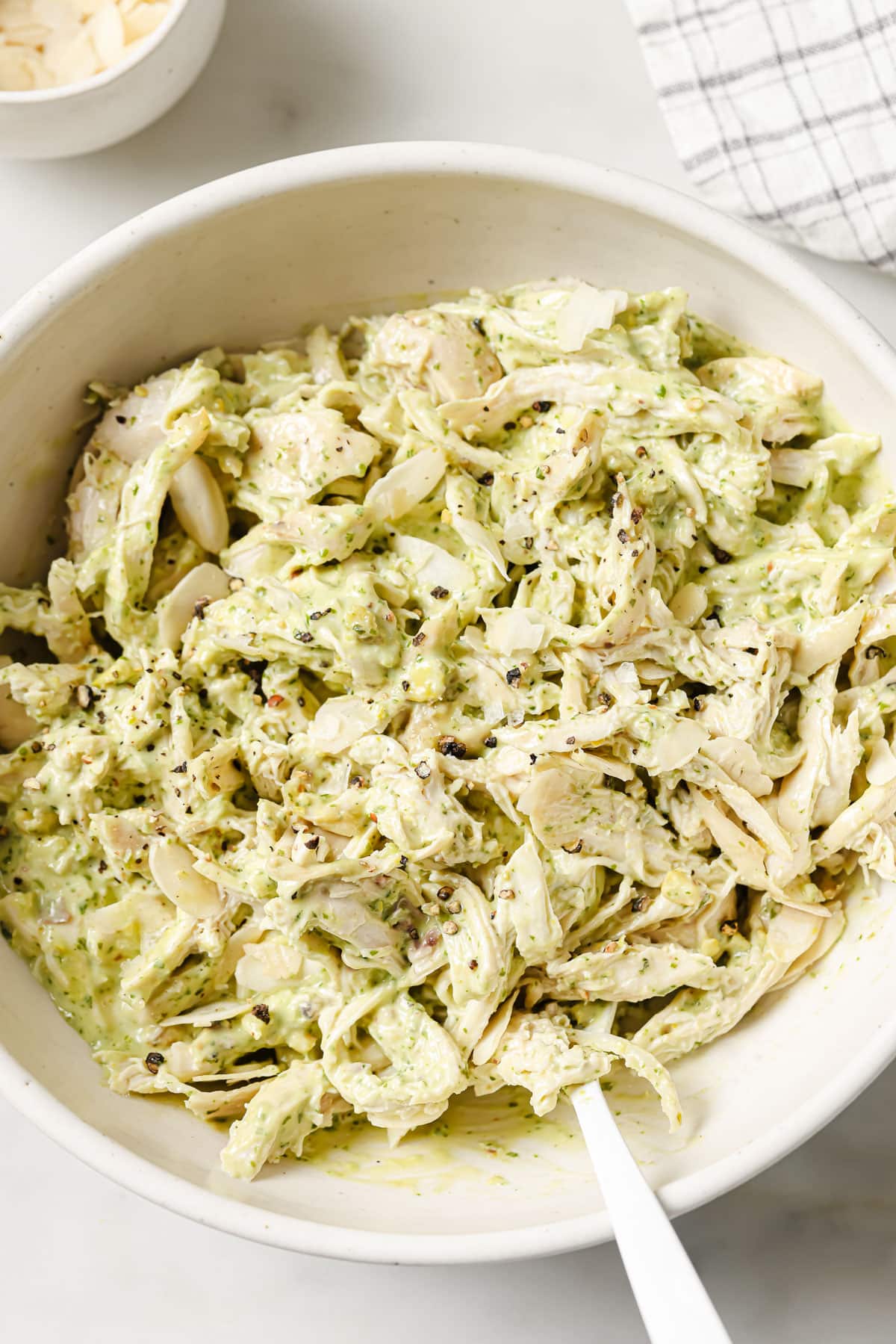 Can you make this in advance?
Absolutely. In fact the flavor gets even better as it sits in the refrigerator so you'll enjoy it more if you prepare it a few hours or a day ahead of time.
How to Store This Chicken Salad
This chicken salad is great for meal prep! Store in an airtight container in the refrigerator for up to 3 to 5 days.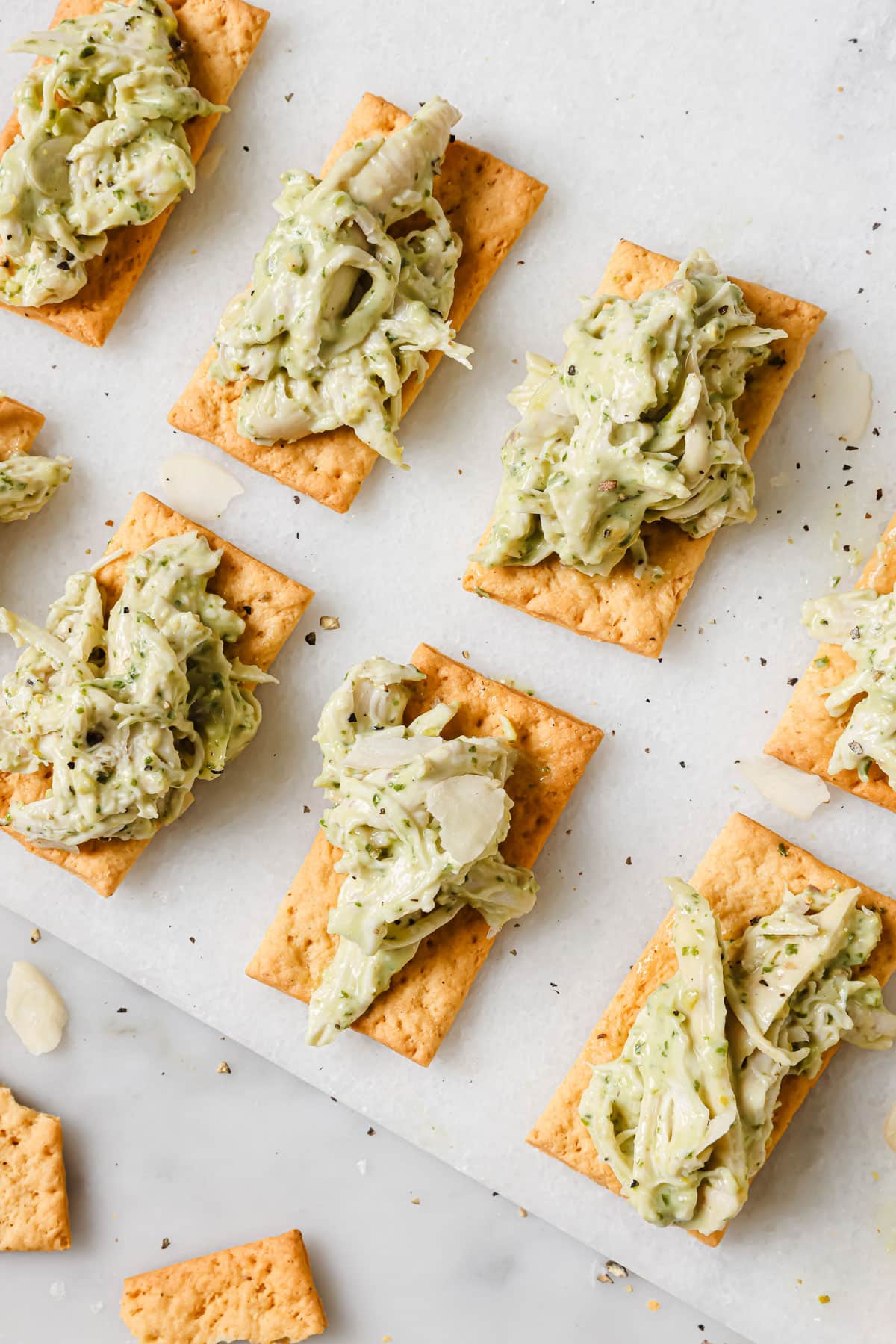 How to Serve This Chicken Salad
Pesto Chicken Salad is delicious in between two slices of toasted bread, scooped into a croissant, or spread in a wrap.
To keep this dish light, enjoy on romaine leaves, with fresh veggies like broccoli and carrots, or on bibb lettuce. I also love this served with a simple salad or fresh fruit! My Fruit Salad with Lemon Poppy Seed Dressing would be a perfect accompaniment.
If serving at a party, I recommend using smaller croissants for little two-bite sandwiches! You can also scoop this chicken salad with crackers for easy portable eating!
Easy Pesto Chicken Salad
This pesto chicken salad is delicious and requires only 6 ingredients. It's an easy lunch recipe plus you'll also love this for meal prep or healthy snacking!
Ingredients
½ cup mayonnaise, can sub plain nonfat greek yogurt
½ cup + 2 tbsp pesto
4 cups shredded fully cooked chicken
¼ cup sliced almonds
salt and pepper to taste
Instructions
In a large bowl (we'll use the same bowl for the other ingredients), stir together the mayo and pesto.

Then stir in (to the same bowl) the shredded fully cooked chicken and sliced almonds. Taste and add as much salt and pepper as desired.

Pair with crackers if serving as an appetizer. You can enjoy this chicken salad between two slices of bread or in a croissant as a sandwich. To keep this low carb, simply scoop onto bibb lettuce or romaine leaves.
Notes
Nutrition information assumes you use a light mayo. If you're starting with raw chicken, you'll want 2 lbs of skinless and boneless chicken breasts. Add to a pot of boiling water. Simmer on medium heat until cooked through, about 10 minutes. Remove the chicken from the water and set aside so it can cool. Then use two forks to shred the fully cooked chicken. You can also use a sharp knife to chop the chicken if you prefer. Measure the finished chicken to make sure you have 4 cups.  
Nutrition
Serving: 0.5cup, Calories: 224kcal, Carbohydrates: 4g, Protein: 18g, Fat: 15g, Saturated Fat: 2g, Polyunsaturated Fat: 2g, Monounsaturated Fat: 2g, Trans Fat: 0.02g, Cholesterol: 52mg, Sodium: 417mg, Potassium: 303mg, Fiber: 1g, Sugar: 1g, Vitamin A: 494IU, Vitamin C: 1mg, Calcium: 49mg, Iron: 1mg