Spicy Sausage & Cabbage Soup
This Spicy & Cabbage Soup is light but very big on flavor. A total winner for anyone who wants some heat!
When I visit my parents my dad often makes his Pinto Bean Soup. It's a favorite because it really packs the heat and it's loaded with beef sausage. I had three bowls in one sitting last week. Don't judge me. I can't tell you how many times I've suggested that he make a big batch for me to take home and freeze. (Hint, hint, Dad. Feel free to do that next time I'm in town.)
I wanted to take his genius and make a version without beans. The ingredients are simple. They work together to create a thick soup that's good for you and tasty. Do a little chopping, add it all to your pot, and you're ready to go.
I used a beef sausage but pork or chicken could work just as well if that's your preference. If you use a sausage that's already spicy start with less Cajun or Creole seasoning than the recipe calls for. My parents use 1 tablespoon and I use 1 1/4 tablespoons. Taste it as you go until you get exactly what you want!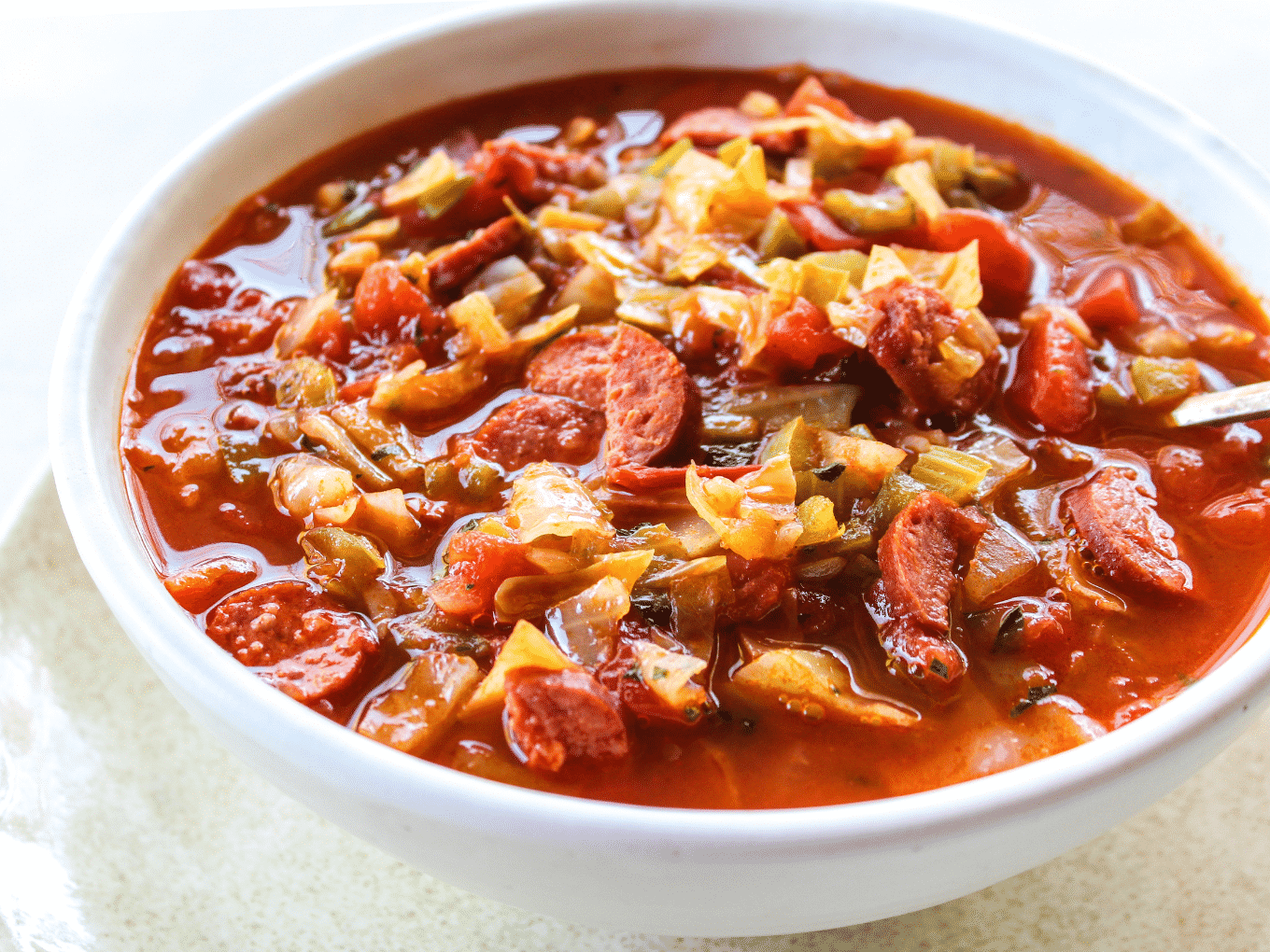 More recipes like this:
Spicy Sausage & Cabbage Soup
This Spicy Sausage & Cabbage Soup is light on calories but big on flavor. It will heat you from the inside out on a chilly evening.
Ingredients
2 tablespoons olive or avocado oil
1 lb beef sausage, Cut into half-circles. Chicken or Pork would also work.
2 medium white or yellow onions, finely diced
4 ribs celery, chopped
2 green bell peppers, finely diced
1 head of cabbage, chopped
2 28 oz cans of diced tomatoes
32 oz chicken stock
1 1/4 tablespoon of Cajun or Creole seasoning
salt & pepper to taste
4 green onions, thinly sliced
1/2 cup fresh cilantro, chopped
Instructions
Heat oil over medium heat in a large pot. Add sausage, onion, and celery. Sauté for approximately 5 minutes, stirring frequently.

Add bell pepper, stir, and sauté for an additional 3 minutes.

Add cabbage, diced tomatoes, chicken stock, and Cajun seasoning (I like Tony Chachere's Original Creole Seasoning). If your sausage is already spicy start with less Cajun seasoning and taste before adding more.

Stir. Bring to a boil. Reduce heat, cover, and simmer for 15 minutes.

Salt and pepper to taste.

Stir in green onion and cilantro a few minutes before you're ready to serve.
Nutrition
Calories: 310kcal, Carbohydrates: 20g, Protein: 12g, Fat: 20g, Saturated Fat: 8g, Cholesterol: 43mg, Sodium: 820mg, Potassium: 753mg, Fiber: 5g, Sugar: 10g, Vitamin A: 805IU, Vitamin C: 79.6mg, Calcium: 99mg, Iron: 2.7mg