Bacon Ranch Pasta Salad
This pasta salad is loaded with veggies, cheese, bacon, and all the ranch flavor you love. It is truly THE BEST and so easy to make! Perfect for feeding a crowd or just enjoying as a side or entree.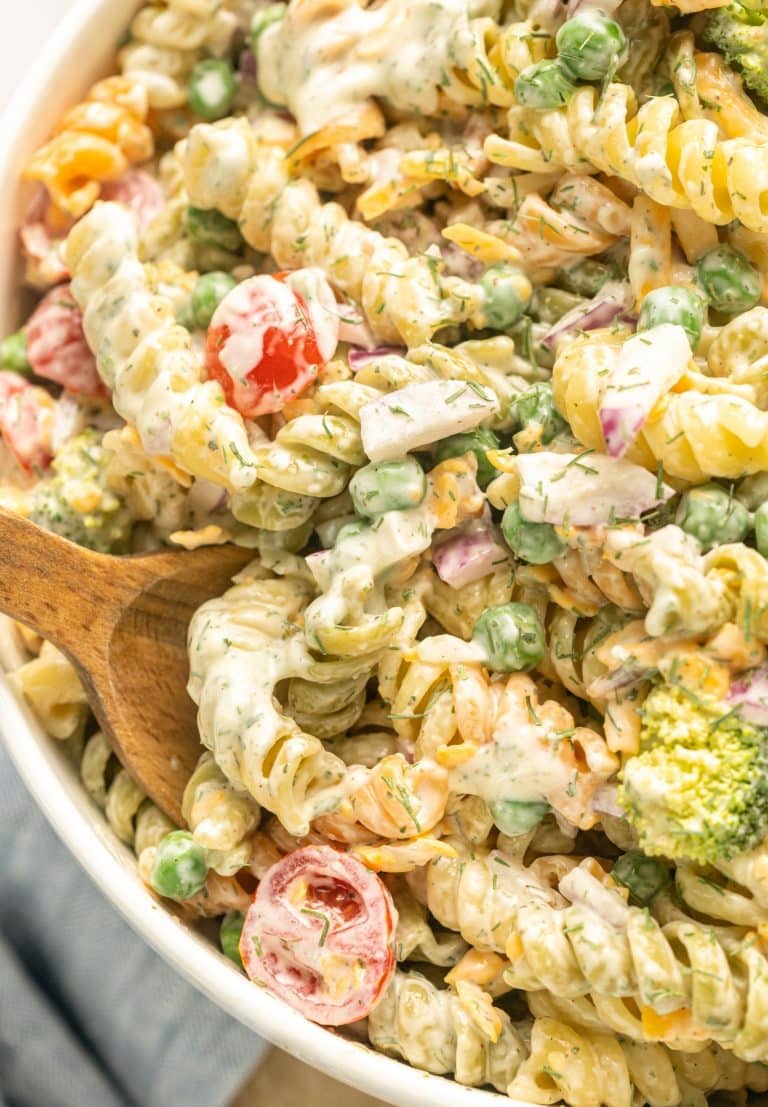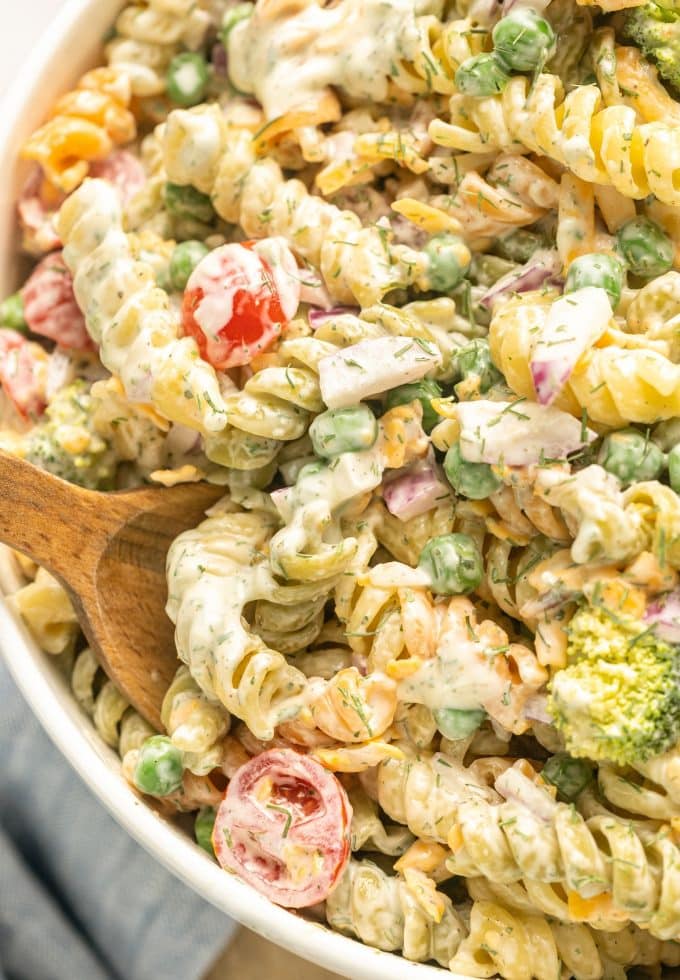 Oh baby, this Bacon Ranch Pasta Salad is my favorite pasta salad recipe yet!
I love anything with ranch dressing in it. My son asked me last week what my favorite sauce is. His was buffalo (nothing surprising about that) and I told him my choice is a tie between Comeback Sauce and Ranch Dressing (I have two: one made with mayo and one made with eggs.) I could happily eat pretty much any dish with Comeback Sauce or Ranch Dressing.
This pasta salad is inspired by all the ranch love that fills my heart. We're making it from scratch here because it's so easy to do and I swear it's better when it's loaded with herbs. Worth it every single time!
The finished pasta is creamy (thank you, ranch dressing) and fully loaded with veggies. Plus a little cheddar and bacon of course. It is unbelievably good. I already told you this is my new favorite so really that shouldn't surprise you.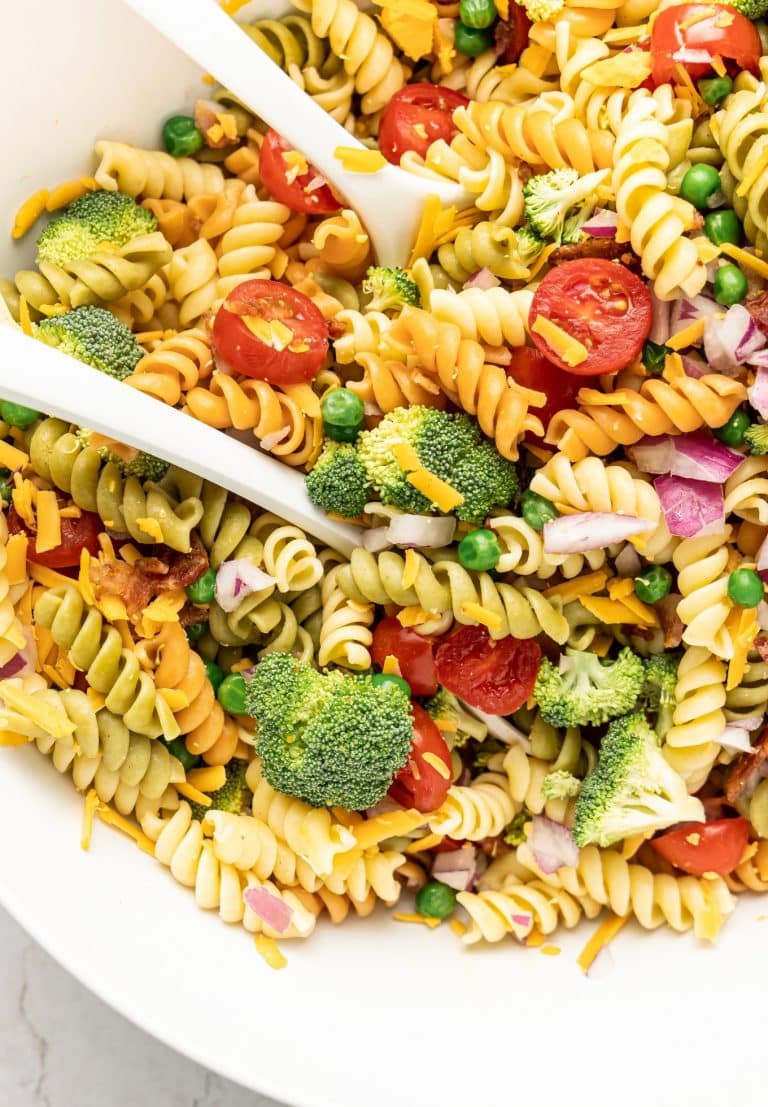 For this recipe you'll need (full list of ingredients and instructions are in the recipe card below):
Tri-color rotini pasta
Bacon
Broccoli
Grape tomatoes
Green peas
Red onion
Cheddar cheese
Mayonnaise
Milk
Dried herbs and seasonings
To make this delicious pasta salad, start by getting that bacon crispy in a skillet. Then chop it up.
Cook your rotini pasta per package instructions. Drain the water from the finished pasta. Stir in the bacon, broccoli, tomatoes, peas, red onion, and cheddar cheese.
In a separate bowl stir together mayo, milk, dried herbs and seasonings.
Add the finished ranch dressing to the pasta. Stir to combine.
Serve immediately or store in an airtight container in the refrigerator until you're ready to enjoy.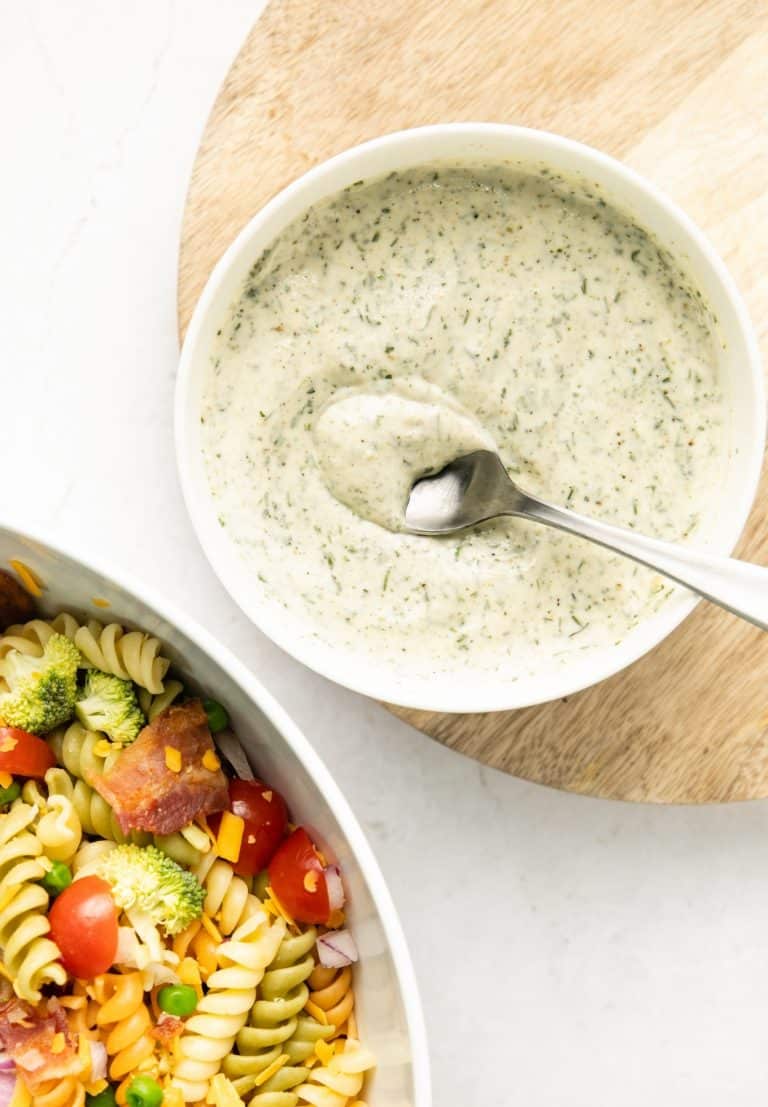 What kind of pasta is best?
Rotini is my favorite because it has lots of little crevices for the ranch dressing to get caught up in. That makes every bite more flavorful! Elbow or penne would also work well.
Can this be made gluten-free?
Easily! Use a gluten-free pasta and prepare per package instructions.
Turkey bacon vs pork bacon
Use whatever bacon you prefer.
We use turkey bacon in my house because I don't eat pork and my husband is allergic to all red meat (thank you, alpha-gal). Turkey bacon can be really poorly done though so I recommend Wellshire or Applegate Turkey Bacon. Both are thick and minimally processed. We're huge fans!
Can you use frozen peas?
Yes and I usually do. Just be sure to thaw the peas completely (no need to cook them) before combining with the other pasta ingredients.
Can you use frozen broccoli?
No. While peas maintain their texture after thawing, broccoli does not. Thawed broccoli is a lot mushier than it's fresh counterpart so definitely stick with fresh broccoli florets for this recipe.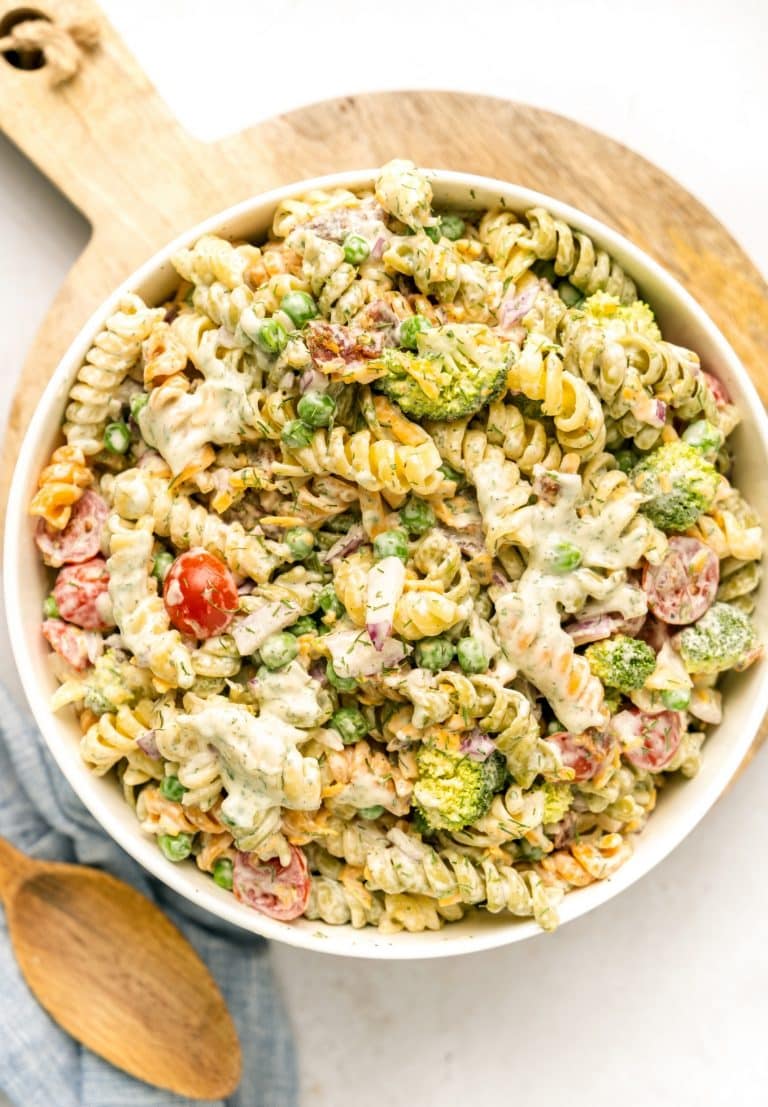 Want to add more protein?
If you're looking to make this dish a bit heartier just add shredded rotisserie chicken or diced sautéed chicken breasts.
Can this be made dairy-free or vegan?
Absolutely! You can omit the bacon. You can also use a dairy-free shredded cheddar, dairy-free milk (stick with one that doesn't have much flavor like an unsweetened almond milk), and vegan mayo. I recommend tasting your ranch dressing before incorporating it into the pasta salad because ingredient swaps like this often alter the finished taste. Increase your seasonings or herbs if necessary until you're happy with the end result.
Can you make this in advance?
Yes! Just like with all pasta salads, the flavors get more pronounced as it sits so making this a few hours before you plan to enjoy it is a good idea (but not mandatory). Refrigerate in an airtight container. Give it a good stir before serving.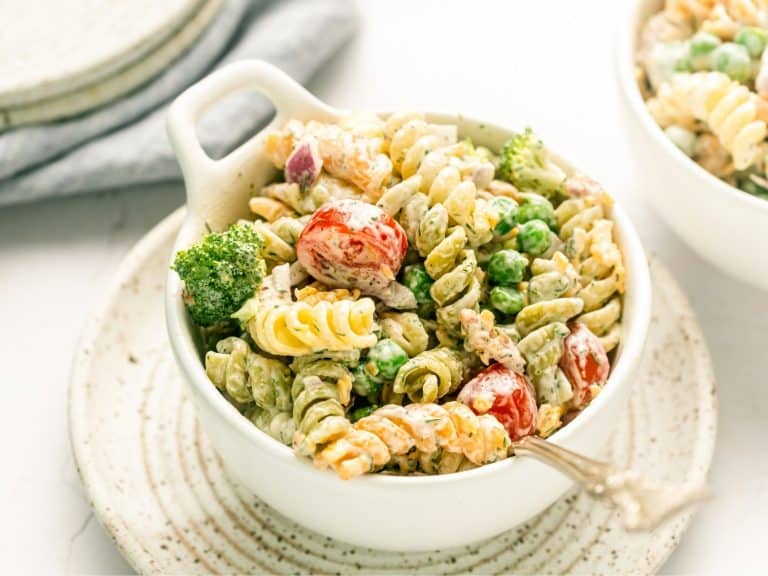 Is this pasta salad good for meal prep?
This is actually a pretty perfect entree for meal prep since the flavors get stronger over time.
More recipes like this:
Make Ahead Italian Pasta Salad
Creamy Homemade Macaroni & Cheese
Bacon Ranch Pasta Salad
This pasta salad is loaded with veggies, cheese, bacon, and all the ranch flavor you love. It is truly THE BEST and so easy to make! Perfect for feeding a crowd or just enjoying as a side or entree.
Ingredients
1 lb tri-color rotini pasta
10 – 12 slices of bacon
1 cup fresh broccoli, chopped
1 cup peas, if using frozen, thaw first
1 cup grape tomatoes, sliced into thirds
1/2 medium red onion, diced
1 cup shredded cheddar cheese
1 1/4 cup mayonnaise
1/4 cup milk
1 tbsp dried dill
1 tbsp dried parsley
3/4 tsp garlic powder
3/4 tsp onion powder
3/4 tsp salt
1/2 tsp black pepper
Instructions
Add bacon to a skillet and cook until crispy. (If using turkey bacon you may want to add a little oil to the skillet too to achieve desired crispiness.) Chop bacon once cooled and set aside.

Cook your pasta per package directions. 

Drain water from pasta and stir in bacon, broccoli, peas, tomatoes, red onion, and cheddar cheese.

In a bowl stir together mayo, milk, dill, parsley, garlic powder, onion powder, salt, and black pepper.

Pour the ranch dressing over the pasta and stir until well combined.

Refrigerate the finished pasta until you're ready to serve. Before serving, give it a good stir so the dressing isn't settled on the bottom.
Nutrition
Serving: 1cup, Calories: 457kcal, Carbohydrates: 33g, Protein: 16g, Fat: 29g, Saturated Fat: 7g, Trans Fat: 1g, Cholesterol: 45mg, Sodium: 948mg, Potassium: 313mg, Fiber: 2g, Sugar: 3g, Vitamin A: 379IU, Vitamin C: 14mg, Calcium: 102mg, Iron: 2mg