Baked Herb Potato Rounds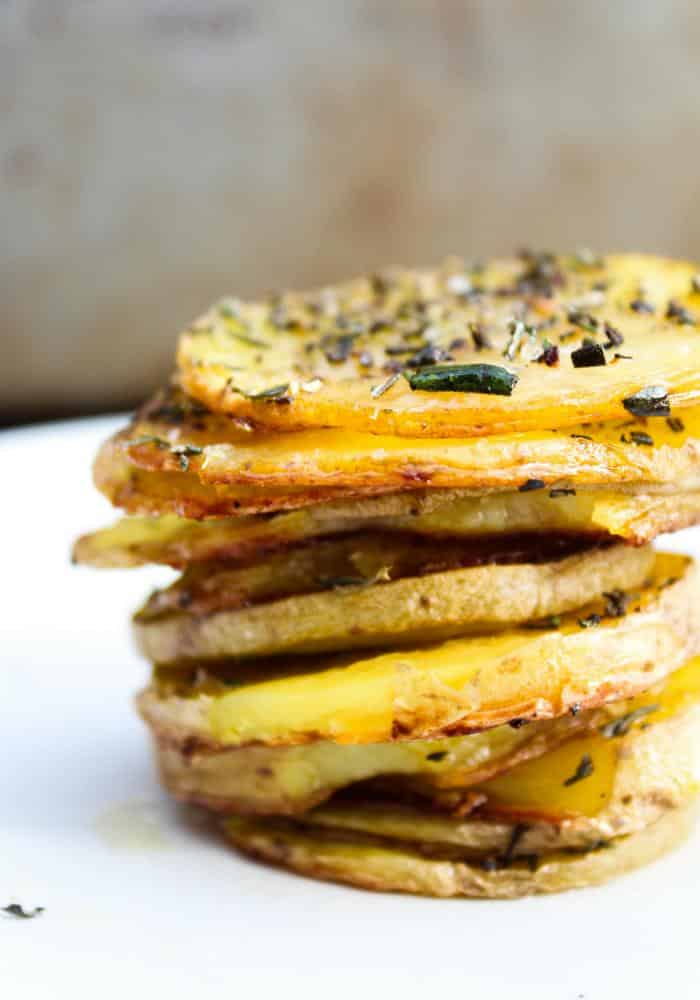 A few days ago I shared my Orange Herb Roasted Chicken with Potatoes and part of what makes that recipe so yummy is the potatoes you tuck around the chicken. In testing (and retesting and retesting… there's a lot of testing that happens over here) I decided I needed to craft a way to make those potatoes without the chicken for those nights when you just need a good dish.
These Baked Herb Potato Rounds are easy. Obviously. You know that's what I like, friends. But really the prep is minimal. Cut. Drizzle. Sprinkle. Eat. BOOM.
They taste so buttery but there's zero butter (or dairy of any kind). The combination of using gold or yellow potatoes with olive oil produces that buttery goodness. It's like foodie magic.
Be consistent with how you slice so that each round is close to 1/4 inch thick. Definitely no thicker. Thicker potatoes will take longer to cook and if you go too thin you'll end up burning them. Don't do that. There will be tears.
I experimented with a few ways of baking these rounds. You can of course spread them out so they're not overlapping but then you're not able to make very many at a time. Since they're so good that's a problem. In the end I decided to let the rounds overlap each other a bit. Most of each round should be uncovered because you want to get a lot of salt, pepper, and herbs on each.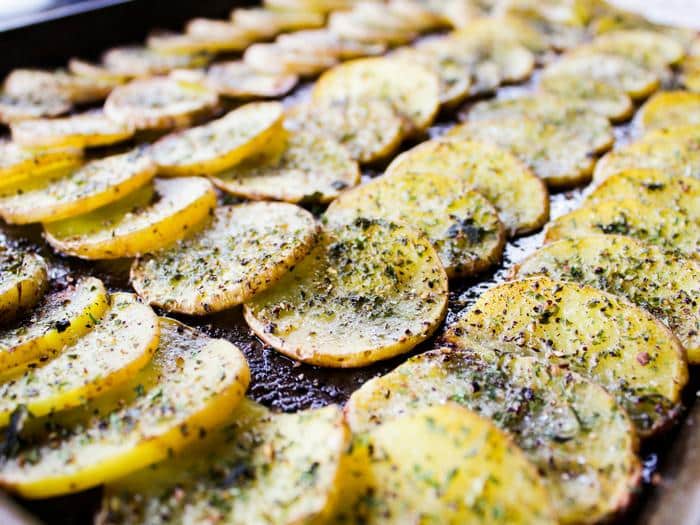 Cooking for two and don't want a huge mountain o' potatoes? First, WHY THE HECK NOT? These are potatoes, ya'll. Is there such a thing as too many? I think not. Second, these reheat beautifully. I recommend making the full recipe and just using your leftovers for the next few meals. And if I haven't convinced you that more is better, of course you can always half the recipe.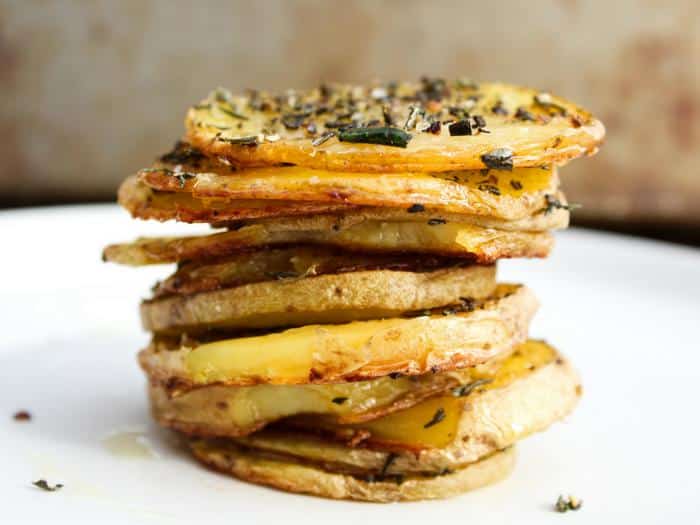 More roasted potato recipes:
Smashed & Roasted Rosemary Garlic Potatoes
Easy Seasoned Roasted Potatoes
Smashed & Roasted Italian Potatoes
Garlic Rosemary Baby Hasselback Potatoes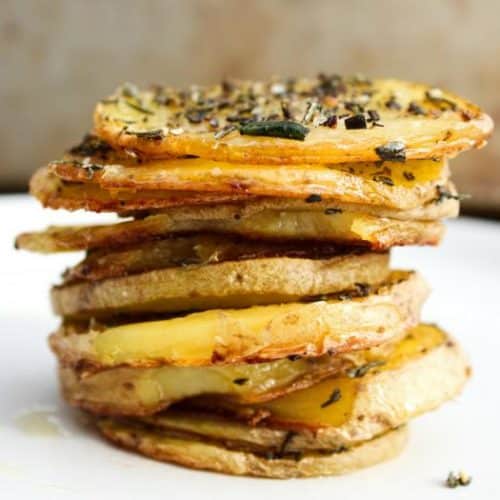 Baked Herb Potato Rounds
Baked Herb Potato Rounds are tender and they taste buttery (but there's absolutely no butter). This is an easy side dish you're going to want to make weekly! Perfect for breakfast or dinner!

Ingredients
6 medium gold or yellow potatoes
4 tbsp olive oil, extra virgin
fresh rosemary, thyme, parsley, or oregano, I prefer a mix of rosemary and thyme.
salt & pepper to taste
Instructions
Preheat oven to 425 degrees.


Pour 2 tbsp extra virgin olive oil on baking sheet. Use your fingers to spread the oil so that it's coated the entire sheet.


Slice potatoes into thin circles (1/4 inch in thickness). Lay them on the baking sheet so they slightly overlap each other.


Drizzle remaining 2 tbsp over all potato rounds. Liberally salt and pepper.


Chop your fresh herbs and sprinkle over potatoes.


Bake for 20 to 25 minutes. I like to check mine at 20 minutes but typically end up leaving them in for the full 25 minutes. Finished potatoes should be tender. You may see some browned edges anywhere where potatoes were cut especially thin.

Notes
Use enough potatoes to fill your baking sheet. Sometimes a "medium" potato looks a little different from one person to the next so if 6 isn't enough for your baking sheet just slice up another one. I always prefer fresh herbs but you can certainly use dried herbs if that's what you have on hand. I've done it and it still works great!
Nutrition
Calories: 181kcal, Carbohydrates: 21g, Protein: 4g, Fat: 9g, Saturated Fat: 1g, Sodium: 17mg, Potassium: 702mg, Fiber: 4g, Vitamin C: 19.4mg, Calcium: 51mg, Iron: 5.6mg