Orange Herb Roasted Chicken with Potatoes
This Orange Herb Roasted Chicken is simply flavored with fresh ingredients like orange, rosemary, and thyme. Then it's browned to golden perfection along with thinly sliced potatoes.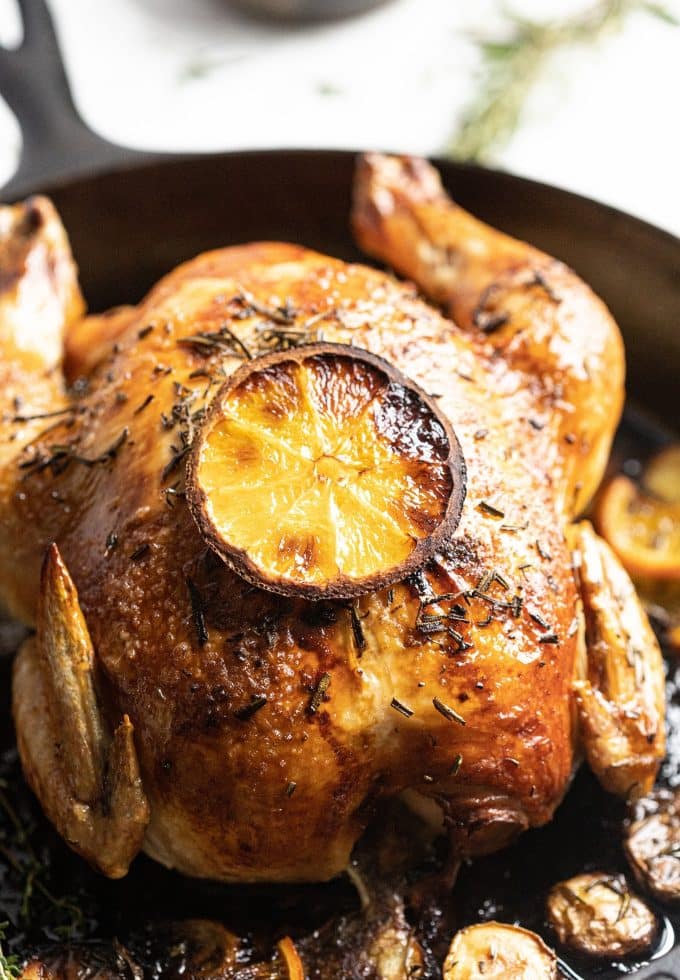 Update: This recipe was originally published in 2018 and has been republished with all new photos.
Hello, Orange Herb Roasted Chicken.
Do you find the idea of roasting a whole chicken a little intimidating? I'm here to tell you it's not hard. Really. A quick baste and after that the oven does all the work for you.
I lost my roasting pan somewhere along our last move but I've discovered that I really enjoy roasting chicken in my cast iron skillet. My largest skillet is 12 inches and there's plenty of room for a 3 1/2 to 4 1/2 pound chicken. There's even room to cook a side dish at the same time. Why waste all those incredible juices, right? You can add whatever veggies you prefer but I strongly recommend these potatoes.
Oh, friend. These potatoes were such a revelation for me. I was worried that an hour in the oven would be too long for them since they're not very thick. Nope. They soak up all that juicy goodness and it is glorious. The finished potatoes have crispy edges and are so very tender.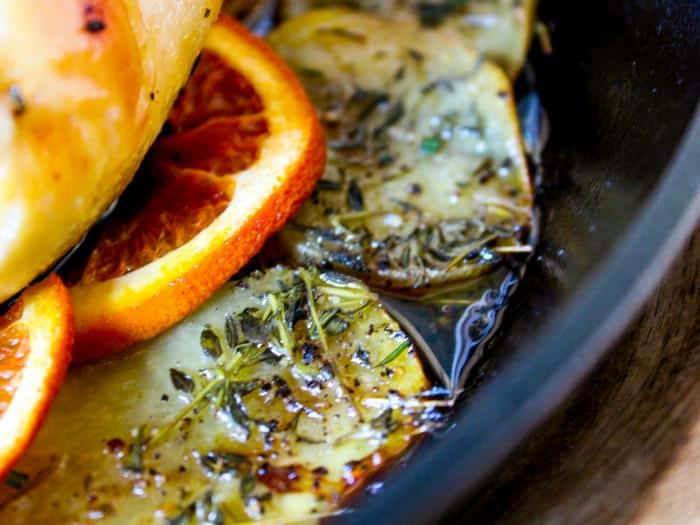 Everything in this roasted chicken dinner is Whole30 compliant and gluten free. You can serve this up knowing that it won't compromise your healthy lifestyle.
Now imagine pulling this feast out of oven. The finished product is far juicier than if you'd just made chicken breasts and it has a lot of wow factor. You'll look like a professional chef when you bring this gorgeousness to the table! Enjoy!
For this recipe you'll need (full list of ingredients and instructions are in the recipe card below):
Whole chicken
Ghee or butter
Oranges
Potatoes
Fresh rosemary
Fresh thyme
Salt
Pepper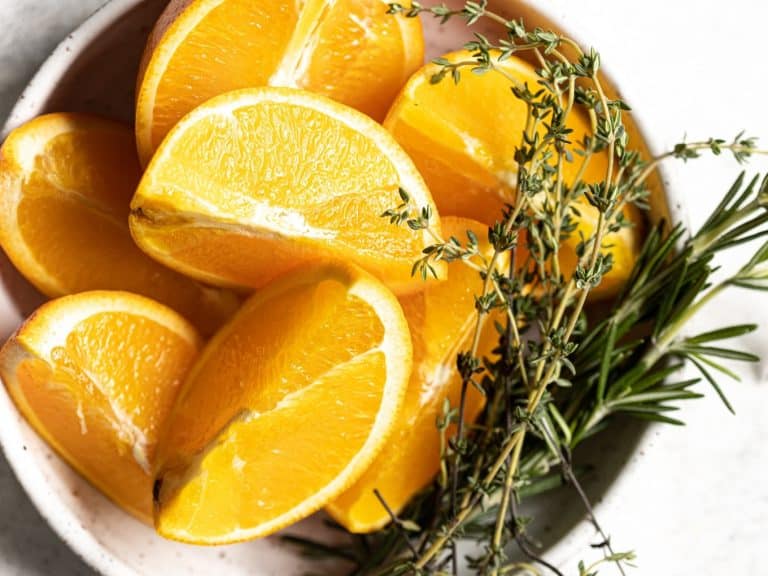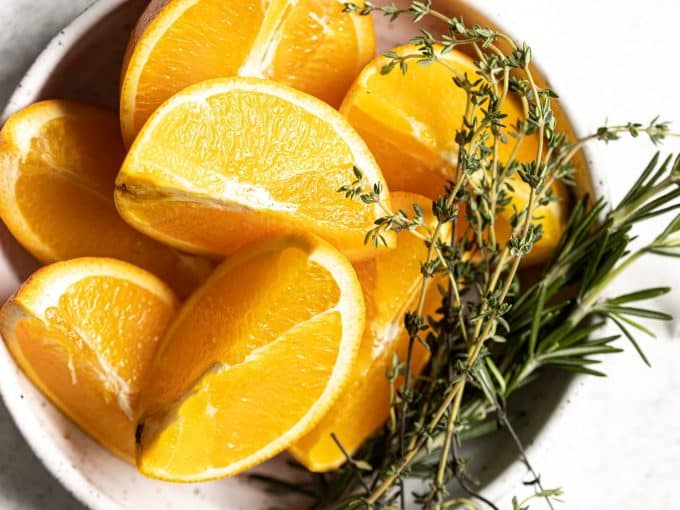 What size chicken should you purchase?
You don't need a giant one as it will take longer to cook. 3 1/2 to 4 1/2 lbs is plenty and cooks beautifully.
What type of potatoes are best to use?
I recommend yellow, gold, or russet potatoes. I usually use organic yellow potatoes because I love the naturally buttery flavor they have.
What size skillet is ideal?
What if you don't have kitchen twine?
You can easily truss a chicken with dental floss or even it's own skin.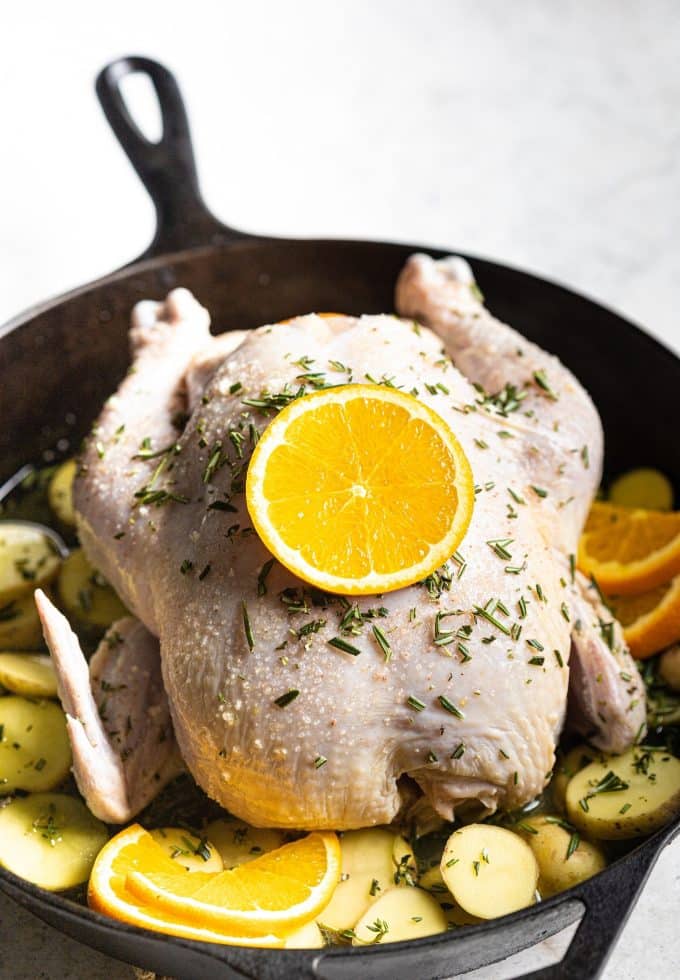 What gives this chicken flavor?
For this chicken we're relying on a few key flavors here. Primarily it's all about the orange juice, ghee or butter, herbs, and salt and pepper. They can deliver plenty of flavor but you'll want to be generous with your salt and pepper on the outside of the chicken. That salt is what really amplifies the flavors of orange and fresh herb!
How thick should the potatoes be?
Since we're cooking this chicken for at least an hour you'll want the potatoes to be thick enough to withstand that cooking time. I've found that slicing my potatoes to be about 1/2 inch in thickness if perfect. If your potatoes are too thin they'll burn (especially if you're cooking a larger bird that requires extra time).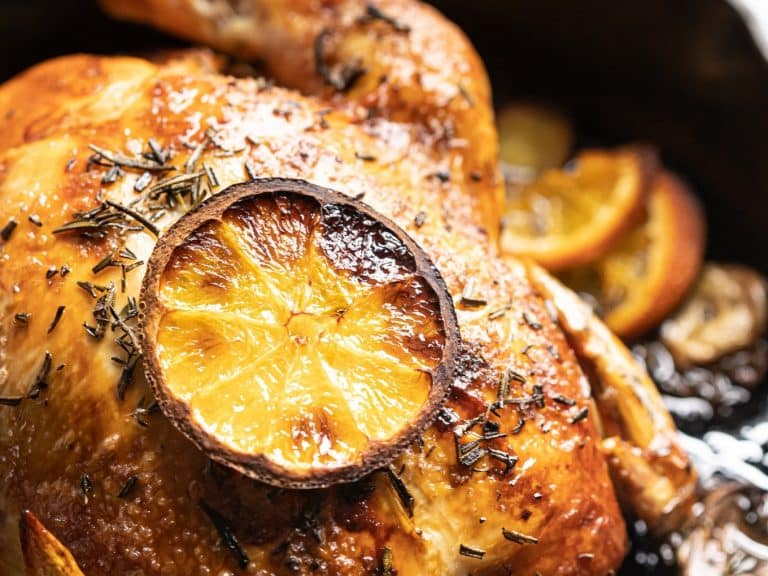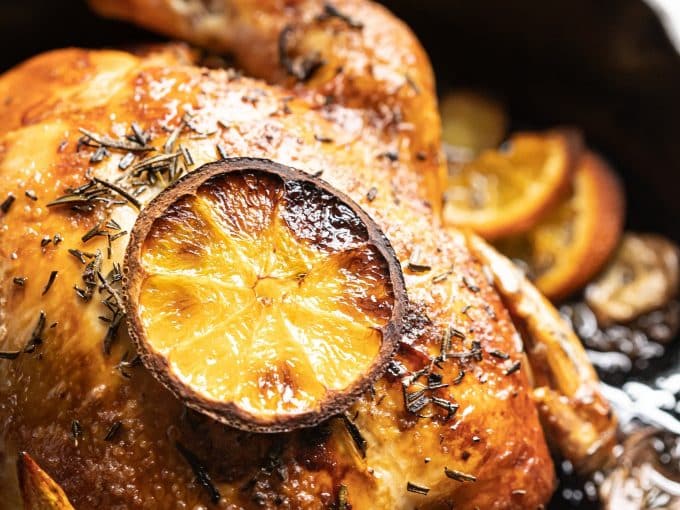 How to serve this
This gorgeous recipe gives you both a protein and a satisfying carb so all we're missing is something green! Add a side of Garlic Green Beans or Easy Roasted Broccoli and you have a pretty amazing meal! A simple side salad with Homemade Croutons would also be perfect.
More recipes like this:
Sheet Pan Chicken with Potatoes & Zucchini
Oregano Lemon Chicken & Potatoes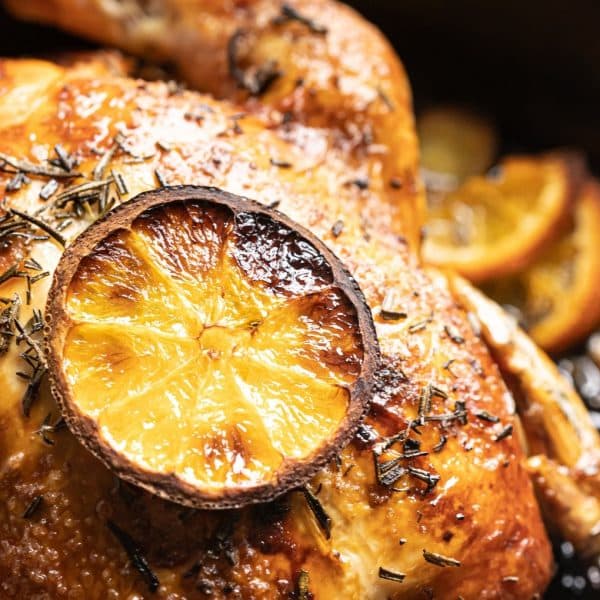 Orange Herb Roasted Chicken with Potatoes
This roasted chicken is surprisingly simple to make! It's roasted in an easy orange sauce with fresh herbs. The potatoes cook right in all that juicy goodness so they are incredibly tender with crispy edges. This dish is an absolute winner!

Ingredients
1 whole chicken, 3 1/2 – 4 1/2 lbs
1/4 cup ghee or butter
1 orange
1/2 cup orange juice, or juice from two oranges
3 medium gold or yellow potatoes
2 stems of fresh rosemary
6 stems of fresh thyme
salt & pepper to taste
Optional: additional 1/2 orange for garnish
Instructions
Place cast iron skillet inside the oven while it preheats to 425 degrees. Rack should be in the upper third of your oven so that when you cook the chicken later it's getting plenty of direct heat to make it nice and golden on top.


While oven is preheating rinse the chicken inside and out. Pat dry with paper towels.


Pierce holes in one orange with a fork and place inside cavity. Not only does this make for a great presentation but it also helps the bird cook evenly. Tie legs together with kitchen twine.

On stove top or in the microwave melt 1/4 cup ghee or butter and combine with orange juice. Stir together.

When the oven has reached 425 degrees carefully remove the skillet (use an oven mit so you don't touch the handle directly). Pour half of your melted butter/orange juice mixture into the hot skillet. (It will sizzle so be careful.) This will help prevent sticking.

Place the chicken in the skillet breast side up. Tuck the tips of the wings under the bird. Drizzle the remaining half of the melted butter/orange juice all over your chicken. Generously salt and pepper the chicken. (I salt pretty liberally on the chicken because the salt is what really amplifies the flavors of orange and fresh herb!)

Slice your potatoes into circles about 1/2 inch thick. Layer them around your chicken.

Remove the leaves from your sprigs of thyme and rosemary. (Hold each sprig at the top and gently slide your finger down it to remove leaves.) Chop the rosemary leaves so they're smaller. (Thyme leaves are already very small.) Sprinkle both herbs on top of the chicken and potatoes.


If you want to really make this dish gorgeous cut a thin circle from an orange and place on top of the chicken. Slice a few semicircles of orange and place them around the front of your chicken.

Bake for 1 to 1 1/2 hours. I typically get a chicken that's 4 1/2 pounds and it take the full hour and a half. If you insert a meat thermometer in the thickest part of the chicken it should read 165 degrees.


Let chicken rest at least 20 minutes before cutting.

Notes
Check the size of the bird before purchasing. You don't need a giant one as it will take longer to cook! 3 1/2 to 4 1/2 lbs is plenty and cooks beautifully.
Don't have kitchen twine? You can easily truss a chicken with dental floss or even it's own skin.
Roasted chicken can look perfectly brown on the outside and still be under cooked on the inside. Don't just rely on the color of the chicken to tell you if it's fully cooked. I typically purchase a chicken that's 4 1/2 lbs and it takes an hour and a half or close to it. If your chicken is 3 1/2 to 4 lbs you may find that it's done in an hour. The way to know for sure that your chicken is done is to use a meat thermometer and confirm that the thickest part is 165 degrees.