Cajun Shrimp & Cauliflower Rice
This low carb one pot dish includes spicy seasoned shrimp and cauliflower rice. It's incredibly flavorful and ready in under 20 minutes!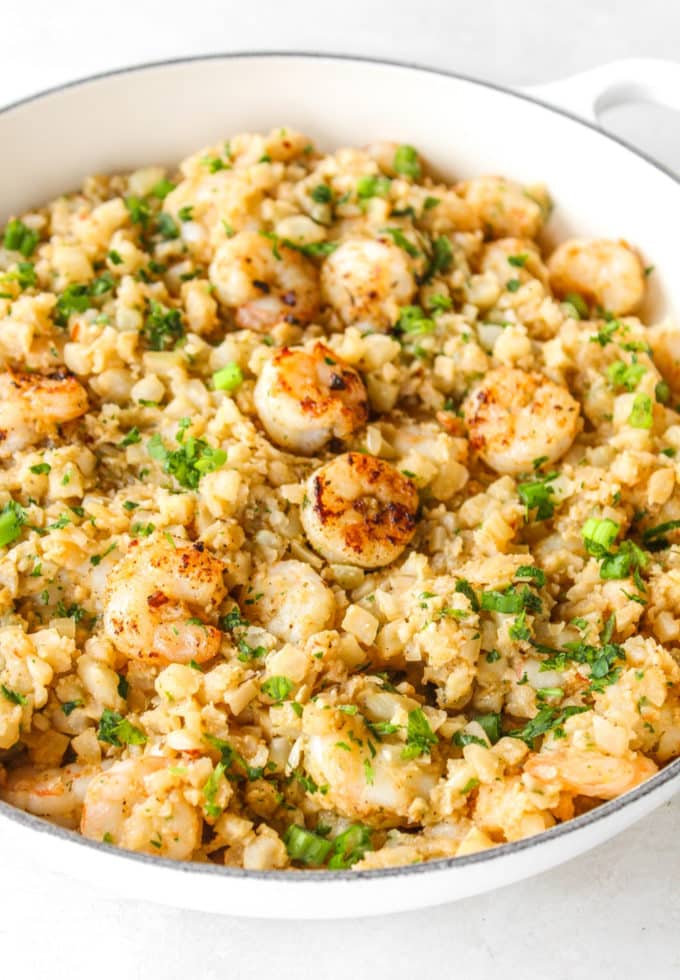 Cajun Shrimp & Cauliflower Rice is my idea of great fast food! The prep is so unbelievably minimal. The only thing you need to chop is parsley. Easy!
Cook your cauliflower rice in a little oil with garlic and half of the cajun seasonings. Toss the shrimp in the remaining seasoning. Combine everything together, cover, and eat as soon as it's done!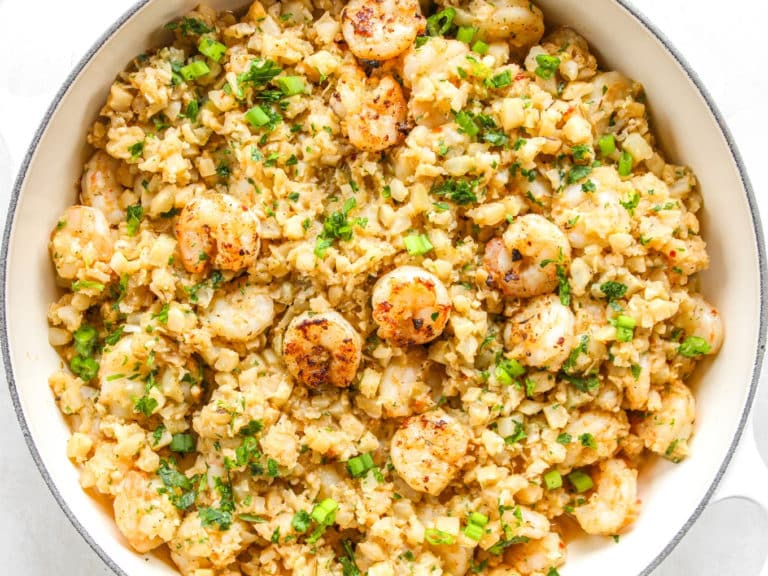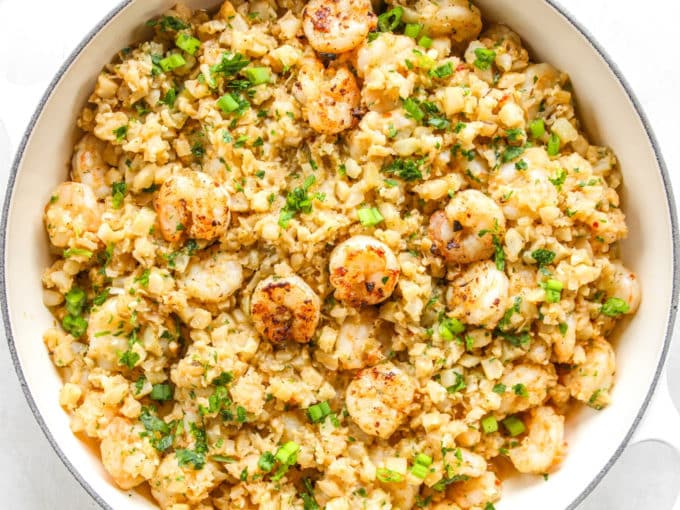 This dish definitely has some heat but it's not the burn your mouth kind of heat. My nine year old son (who doesn't go a single day without hot sauce) rates the spiciness a 5/6 out of 10. Of course it's still spicy enough that you should skip this one if you're someone who is sensitive to spice. Stick to the Chicken Fried Cauliflower Rice instead!
How to make your own cauliflower rice
These days it's so easy to find cauliflower rice in your grocery store. I love how convenient it's become! But of course you can always make your own. To create the "rice" chop a head of cauliflower into florets. (For this recipe you may need 2 heads of cauliflower to get 6 cups of cauliflower rice.) Add florets to a high powered blender. Blend until cauliflower is a very small rice-like texture.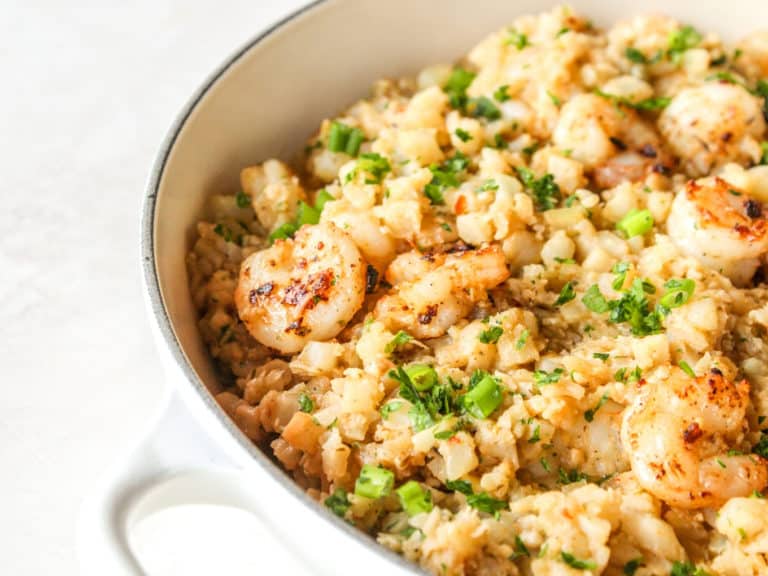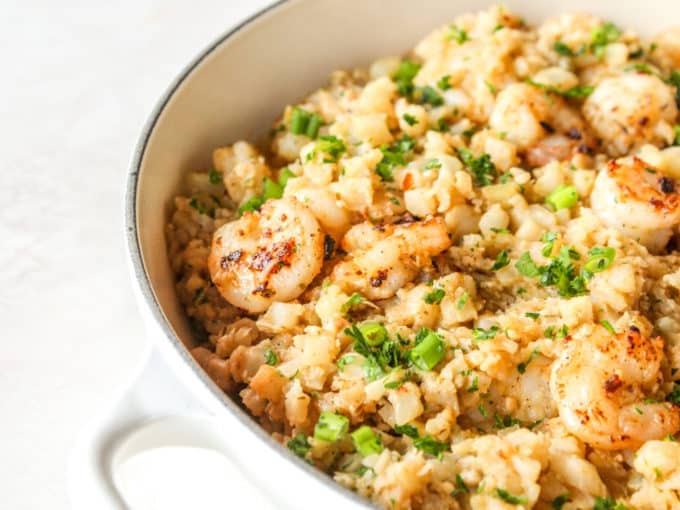 More recipes like this:
Chicken Fried Cauliflower Rice
Sheet Pan Balsamic Basil Cauliflower Rice Bowls
Chicken Satay Cauliflower Rice Bowls
Mexican Chicken Fried Cauliflower Rice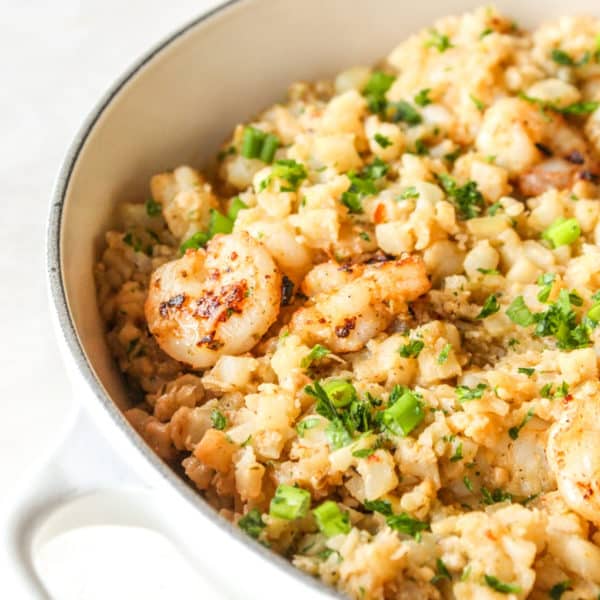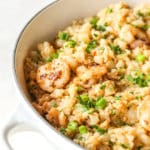 Cajun Shrimp & Cauliflower Rice
This low carb one pot dish includes spicy seasoned shrimp and cauliflower rice. It's incredibly flavorful and is ready in under 20 minutes!
Ingredients
Cajun Seasoning
1 tsp paprika
1 tsp garlic powder
1 tsp salt
1/2 tsp cayenne pepper
1/2 tsp black pepper
1/2 tsp dried thyme
1/2 tsp dried oregano
1/2 tsp onion powder
1/4 tsp crushed red pepper flakes
Rice
2 tbsp olive oil, extra virgin
24 oz cauliflower rice, fresh, about 6 cups
2 tsp garlic, minced
2 tbsp fresh parsley, chopped
Shrimp
1 1/2 lbs medium shrimp, uncooked, peeled, deveined, tails can be on or off
1 tbsp olive oil or ghee (melted)
Optional: 1 to 2 chopped green onions for garnish
Instructions
Stir together cajun seasoning ingredients in a small bowl. Set aside.

Add 2 tablespoons of olive oil to a large skillet over medium heat. Stir in cauliflower rice, minced garlic, and half of the cajun seasoning. Cover and cook for 5 to 7 minutes, stirring occasionally. Cauliflower should be tender and close to done.

While cauliflower is cooking, combine shrimp, 1 tablespoon oil, and remaining 1/2 of the cajun seasoning in a bowl or ziploc bag. Shrimp should be coated in seasoning.

Stir seasoned shrimp into the cauliflower rice. Cover and cook until shrimp is pink and cooked through, about 4 to 5 minutes.

Stir chopped parsley or green onions into your finished dish before serving.
Notes
Instructions for how to create your own cauliflower rice are included above this recipe card. I purchase mine already riced from the produce section of my grocery store to save myself the trouble. You can use frozen cauliflower rice if you like. You may find that it's a bit watery so I'd recommend using less oil when cooking it. Want to add more veggies to this one pot meal? Go for it! I recommend choosing something fast cooking like broccoli. You can steam separately and stir it in or chop it into smaller florets and add it when your cauliflower rice is close to done. If cut small it will steam quickly once the lid is on. If you want to brown your shrimp you'll need to sauté it before cooking the rice. Then remove it from the pan and incorporate back in when the rice is finished. 
Nutrition
Calories: 316kcal, Carbohydrates: 11g, Protein: 38g, Fat: 13g, Saturated Fat: 2g, Cholesterol: 429mg, Sodium: 1959mg, Potassium: 676mg, Fiber: 4g, Sugar: 3g, Vitamin A: 556IU, Vitamin C: 92mg, Calcium: 294mg, Iron: 5mg