Chicken Fried Cauliflower Rice
Are you on board with cauliflower rice yet? This Chicken Fried Cauliflower Rice is my favorite way to enjoy it. (Pineapple Cauliflower Rice is a close second.)
This dish is very reminiscent of a classic fried rice with a few modifications.
It's Whole 30 compliant, Paleo, gluten free, grain free, and dairy free (egg isn't dairy, y'all).
Cauliflower can be quickly blended to create a rice-like texture.
You can even find riced cauliflower in most grocery store now! I'd still recommend throwing it in the blender because I prefer smaller pieces than what I've seen in those cauliflower rice bags though.
Instead of soy sauce I'm using Coconut Aminos. Have you tried it before? You can buy it at most natural food stores and it looks so much like soy sauce. The flavor is remarkably similar too but much milder. And there's a lot less salt! I use it as a marinade for everything these days.
Traditional fried rice often includes peas. I've swapped those out for diced green beans along with carrots and onions. I like to soften the onion but leave the green beans and carrots pretty crunchy. It's a really nice contrast to the soft "rice".
This recipe includes three eggs. Don't you hate when you have to pick through fried rice to find the eggs? I do. More eggs please! I wanted the eggs to be a prominent part of this dish and they are.
I've included chicken which means this dish is hearty enough to enjoy for dinner. You and always leave the chicken out and make it as a side dish too.
I hope you enjoy this recipe as much as we do! If you make it and share your dish on Instagram I'd love it if you'd tag me so I can check it out!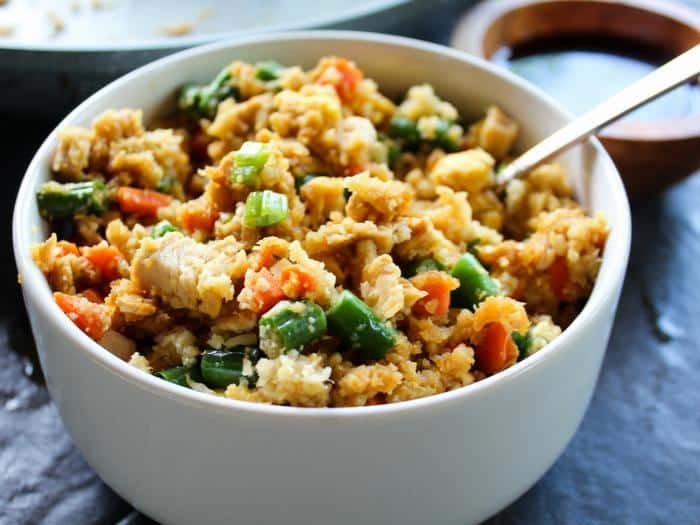 Chicken Fried Cauliflower Rice
This Chicken Fried Cauliflower Rice is a lightened up version of a classic fried rice. So flavorful and hearty! Plus it's gluten free, dairy free, and Whole30!

Ingredients
2 tbsp olive oil
3 chicken breasts
1 cup green beans, diced
1/2 cup carrots, diced
1/2 onion, diced
2 tbsp garlic, minced
3 eggs
1 head of cauliflower
1/2 cup Coconut Aminos, Original
1 tsp salt
1/2 tsp garlic powder
1/2 teaspoon black pepper
1/4 cup green onions
Instructions
Add your olive oil to a large skillet and heat to medium high heat.

Add the chicken breasts. Saute chicken until browned and cooked through. Approximately 4 to 5 minutes per side.

Remove the chicken from the pan and set aside.

Reduce heat to medium.

In the same pan (with all the juices and brown bits from cooking the chicken) add your onions. Cook for approximately 3-5 minutes until onions are translucent.

Add your green beans, carrots, and garlic to the pan. I like to leave the green beans and carrots a little crunchy so I prefer to give them a quick saute for about 3 minutes. You can cook them longer if you want them soft.

In a separate bowl whisk the eggs then pour into the pan. Stir. They'll cook quickly (maybe 2 minutes).

To create the "rice" chop the cauliflower florets into large chunks and place in a high powered blender. Blend until cauliflower is a very small rice-like texture.

Slice up your cooked chicken.

Add the chicken, cauliflower rice, Coconut Aminos, salt, garlic powder, and black pepper to the pan and stir. Cover for 3-5 minutes and then remove from heat. The cauliflower rice cooks very quickly!

Add additional salt, pepper, and Coconut Aminos to taste. Garnish with green onions and serve!
Notes
You can use 2 cups of store-bought riced cauliflower to save time if you prefer. I find that the cauliflower isn't riced as small I prefer when I buy those bags so I recommend still giving it a quick blend.
Nutrition
Calories: 369kcal, Carbohydrates: 14g, Protein: 41g, Fat: 14g, Saturated Fat: 3g, Cholesterol: 231mg, Sodium: 1526mg, Potassium: 915mg, Fiber: 2g, Sugar: 3g, Vitamin A: 3155IU, Vitamin C: 22.7mg, Calcium: 63mg, Iron: 1.8mg