Pineapple Cauliflower Rice
Are you a fan of cauliflower rice yet? It's such a creative way to eat your veggies! On it's own cauliflower has such a mild taste so it really takes on whatever flavors you mix with it. That's why it's perfect for a "fried rice". My Cilantro Lime Cauliflower Rice is ideal for lettuce wraps and rice bowls, but today we're talking about a new version, Pineapple Cauliflower Rice. It's a little sweeter and pairs beautifully with chicken.
When I first had cauliflower rice you couldn't find bags of riced cauliflower in the grocery store. Everybody had to rice their own. How awesome is it that riced cauliflower is readily available now? You know I love a good time saver! You can still rice your own or use the bags. Whatever you prefer. Just make sure you're not using frozen cauliflower. As it cooks it will release too much water in your baking sheet.
To rice your own cauliflower simply take a fresh head of cauliflower, remove the leaves, and remove some of the excess stems. Cut your cauliflower into short stems (much like broccoli). Toss these florets in a high powered blender. (I swear by my Vitamix.) Blend until cauliflower has a rice like texture. To me they look like tiny balls more than rice if that makes sense. That's it! Now you're ready to make Pineapple Cauliflower Rice!
Coconut Aminos bring that soy flavor to the dish. Haven't use Coconut Aminos yet? It really does taste remarkably like soy sauce but it's actually free of soy and instead it's made from coconut tree sap. The one I buy has 73% less sodium than soy sauce. What a big difference, right?
I bet you're going to fall in love with this healthy side dish. You won't believe you're enjoying a big bowl of vegetables!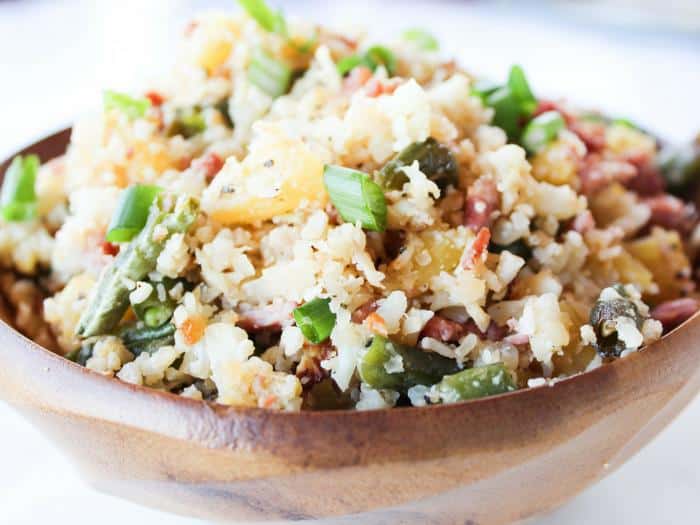 Pineapple Cauliflower Rice
Pineapple Cauliflower Rice is a delicious and completely healthy side dish that's big on veggies!
Ingredients
3 cups cauliflower rice, uncooked
1 cup diced pineapple
3 strips turkey bacon, chopped
1/2 cup green beans, chopped
1/4 cup Coconut Aminos
1/4 teaspoon garlic powder
salt & pepper to taste
1/4 cup green onions, chopped
Instructions
Preheat oven to 400 degrees.

Spread all ingredients except the green onions in an even layer on the baking sheet. My pineapple is diced small and I even dice the green beans into thirds or fourths. The bacon I prefer here is turkey and I also chop it small. (If you want crispy bacon you can cook it separately and combine at the end. I bake mine with everything else because I love how it infuses everything with flavor.)

Sprinkle with salt and pepper.

Bake for 15 minutes.

Stir everything and spread it out again.

Bake for additional 10 minutes.

Remove from the oven. Feel free to add more salt, pepper, and Coconut Aminos if you prefer a stronger taste. Stir in a little chopped green onion for crunch. Enjoy!
Nutrition
Serving: 1cup, Calories: 150kcal, Carbohydrates: 21g, Protein: 8g, Fat: 4g, Saturated Fat: 1g, Cholesterol: 13mg, Sodium: 823mg, Potassium: 655mg, Fiber: 4g, Sugar: 9g, Vitamin A: 240IU, Vitamin C: 107.3mg, Calcium: 55mg, Iron: 1.4mg
Made this? If you share it on Instagram I'd love to see it! Just tag me so I can check it out!
My Cilantro Lime Cauliflower Rice is another winner if you'd like to see more!