Chicken and Rice Soup
This homemade chicken and rice soup is healthy and comforting on a chilly evening.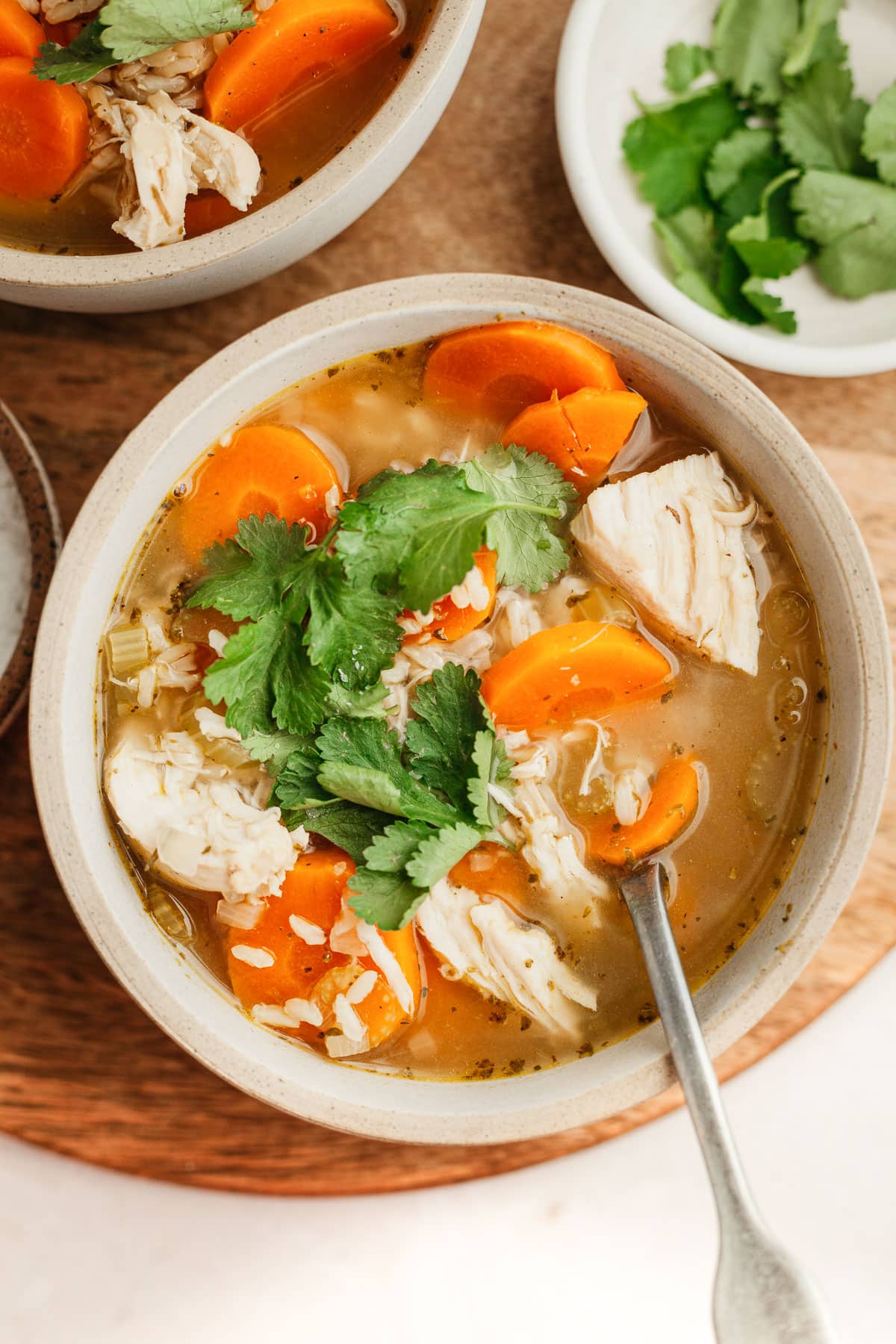 This classic soup is easy to make and perfectly cozy. It's loaded with the simple flavors of chicken and vegetables. Plus it contains brown rice so it's hearty enough to satisfy.
I love to make this on weeknights because it's fast but it's a crowd pleaser worthy of whipping up when entertaining too.
For this recipe you'll need (full list of ingredients and instructions are in the recipe card below):
Olive or avocado oil
Onion
Celery
Minced garlic
Chicken stock
Chicken breasts
Carrots
Brown rice
Lemon juice
Seasonings
To make this soup you'll first sauté the onion and celery until tender. Then add the garlic so its golden in color. Finally, add the remaining ingredients and simmer until the rice and chicken are cooked through. Shred or chop the finished chicken before stirring it back into the soup.
Can you use a different rice?
White rice cooks faster than brown rice so if using white rice you'll want to add it to the pot later. Follow the instructions as written until you add the chicken breasts, carrots, lemon juice, and seasonings. Don't add the white rice here. Let those things cook for 10 to 15 minutes. Then stir in the white rice. Continue cooking for 15 to 20 minutes.
If you're wanting to use cauliflower rice I recommend trying my Chicken and Cauliflower Rice Soup.
Should the chicken be cooked before adding to the soup?
We're adding raw chicken to this soup so that it adds even more flavor to your chicken stock (or broth) as it cooks.
Can you use cooked leftover chicken or store bought rotisserie chicken?
Yes. I recommend cooking the chicken in the soup because it flavors the broth, but sometimes you just want to use what you have on hand already. If that's cooked chicken then go for it! Since it's already cooked you can wait to add it to the soup in the last 10 minutes of the cooking time.
Does this soup freeze well?
Oh yes it does! This soup freezes, thaws, and reheats beautifully. Just add it to a pot on the stove over low to medium-low heat, stirring frequently. You can also reheat in the microwave after thawing. Feel free to double this recipe so you have plenty to freeze.
Chicken and Rice Soup
This homemade soup is comforting on a chilly evening. It's loaded with the simple flavors of chicken, vegetables, and brown rice.
Ingredients
1 tablespoon olive or avocado oil
½ white or yellow onion, diced
3 stalks of celery, chopped
2 teaspoons garlic, minced
64 ounces chicken stock, 8 cups
1 pound chicken breasts, boneless and skinless, about two chicken breasts
1 cup brown rice
4 carrots, peeled and cut into circles
1 tablespoon lemon juice
1½ teaspoon salt
1 teaspoon dried thyme
1 teaspoon dried oregano
½ teaspoon black pepper
Instructions
Add oil, onion, and celery to a soup pot. Sauté on medium high heat, stirring frequently, until onion is tender. Then add minced garlic and sauté until golden in color, about one minute.

Add the chicken stock and bring to a quick boil.

Reduce heat to simmer, medium or medium low heat. Add the chicken breasts, brown rice, carrots, lemon juice, salt, thyme, oregano, and pepper to the pot. Simmer for 30 minutes, until rice is tender and chicken is cooked through.

Carefully remove the chicken breasts from the pot. Shred or chop. Add the chicken back to the soup and stir. Taste and add extra salt or pepper if you like. Ladle into bowls and top with fresh chopped parsley (optional).