Grilled Vegetables
Grilled vegetables are the easiest and most delicious side dish for any warm weather meal. They're ready quickly with lots of flavor!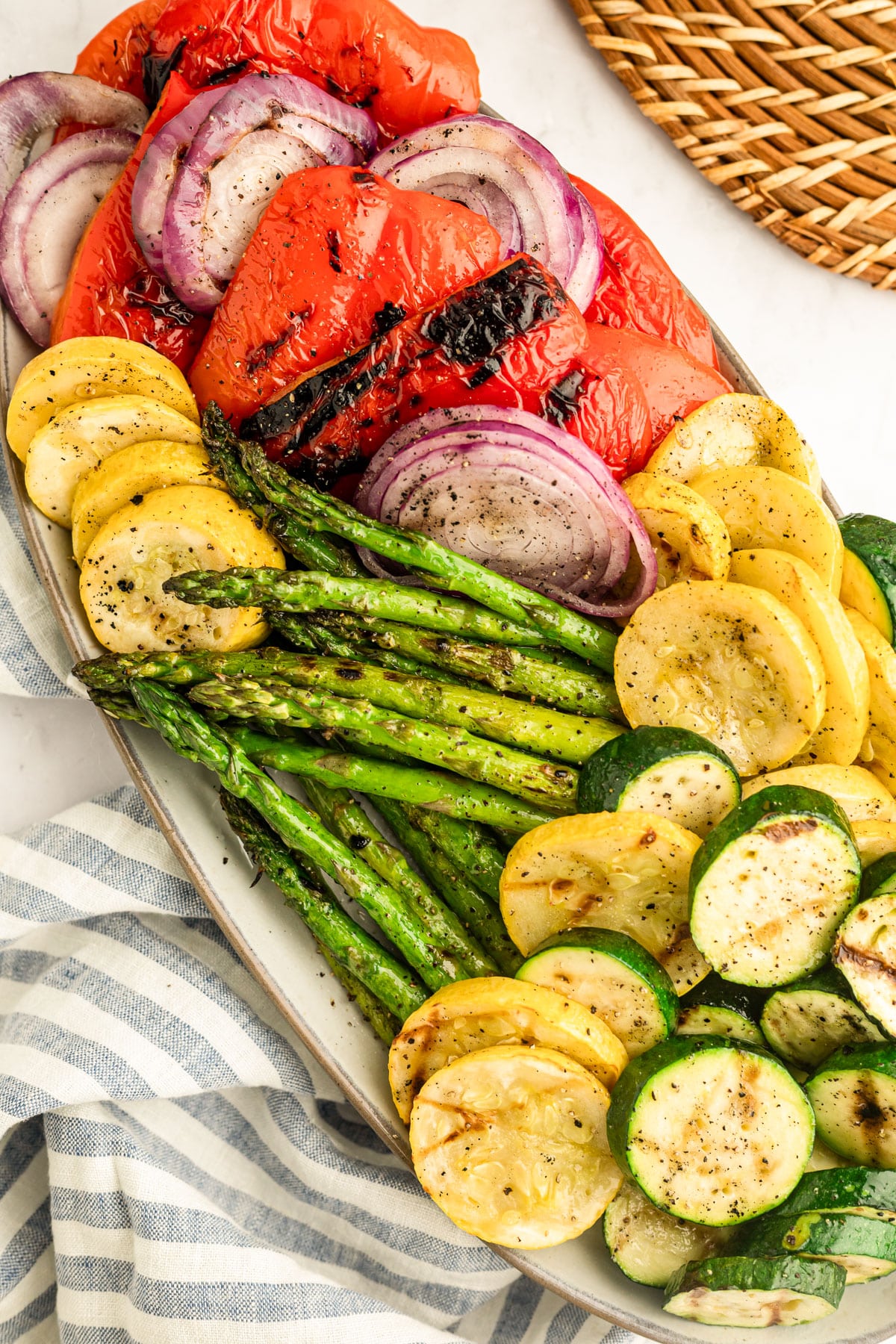 It's finally grilling season and your girl is here for it! While grilling meat is the obvious choice you can toss your veggies on the grill too! There really isn't a better summertime meal than any grilled protein paired with grilled veggies.
Today I'm going to show you to make a beautiful mix of colorful veggies. While there are lots of vegetables you can prepare on the grill, these are my favorites.
For this recipe you'll need (full list of ingredients and instructions are in the recipe card below):
Zucchini
Squash
Bell pepper
Red onion
Asparagus
Olive oil
Salt and pepper
To make this you'll first slice your veggies. Then toss them until they're lightly coated in the oil, salt, and pepper.
Add the veggies to a pre-heated grill on medium heat. Cook, flipping once, until vegetables are tender.
Remove from the grill and add lemon juice and/or fresh herbs (both are optional) before serving.
Should you marinade your vegetables before grilling?
I recommend not marinating the vegetables. If they sit too long in the marinade they can start to break down and soften. I find that drizzling with olive oil and seasonings is the perfect way to infuse flavor while still keeping that crispness.
Can you use different herbs and seasonings?
Absolutely! I use dried parsley in this recipe but basil or oregano would also be fantastic. If you're wanting a little kick try adding chili powder or paprika too.
Tips for the best grilled vegetables
Don't skip the olive oil. Olive oil prevents sticking so it's important!
Because every grill is different, keep an eye on the veggies as they cook. Don't be afraid to reduce the temperature or move vegetables around the grill if you're noticing that one section is cooking faster than the others.
Flip vegetables so they cook evenly on both sides. Onions and red peppers are the exception to the rule. They generally cook evenly without flipping.
How to serve this
These tender veggies pair perfectly with chicken, steak, turkey, pork, or fish. Add a simple salad and you have a beautiful summer meal!
More delicious sides like this:
Herb Roasted Brussels Sprouts and Broccoli
Grilled Vegetables
Grilled vegetables are the easiest and most delicious side dish for any warm weather meal. They're ready quickly with lots of flavor!
Ingredients
1 lb asparagus, trimmed, I recommend thicker stalks so they don't cook too quickly.
1 red onion, sliced into circles
2 bell pepper, any color, cored and quartered
2 medium squash, sliced into circles
2 medium zucchini, sliced into circles
5-6 tbsp olive oil, extra virgin
salt and pepper to taste
Optional: lemon juice and/or fresh herbs
Instructions
Preheat grill to medium heat, between 350 and 425 degrees.

Toss all veggies in olive oil, salt, and pepper. I do this by spreading the veggies on a large sheet pan so I have room to move them around so they're evenly coated.

Add your veggies to the grill and grill until you've achieved desired doneness, flipping once. Time recommendations are below.Asparagus: 8 minutes, rotate halfwayOnion: 8 to 10 minutes, depending on how thick your rings areZucchini: 8 to 10 minutes, flipping halfwaySquash: 8 to 10 minutes, flipping halfwayBell pepper: 8 to 10 minutes, skin side up, don't flip

When vegetables are done, remove from grill. Optional: Add lemon juice and/or fresh herbs before serving.
Notes
If your asparagus has very thin stalks they'll cook fast so keep an eye on them. I recommend using asparagus with thicker stalks for grilling.