Healthy Peach Steel Cut Oats are lightly sweetened with date syrup and only include 3 ingredients! A delicious and satiating breakfast to start your day off right!
Some mornings my breakfast is savory. A good mix of protein, carbs, and fats. Usually heavy on the protein and fat. Some mornings my breakfast looks like carbs on carbs on carbs. These Healthy Peach Steel Cut Oats are for those mornings, my friend.
This simple breakfast includes only 3 ingredients: peaches (fresh or frozen), steel cut oats, and date syrup.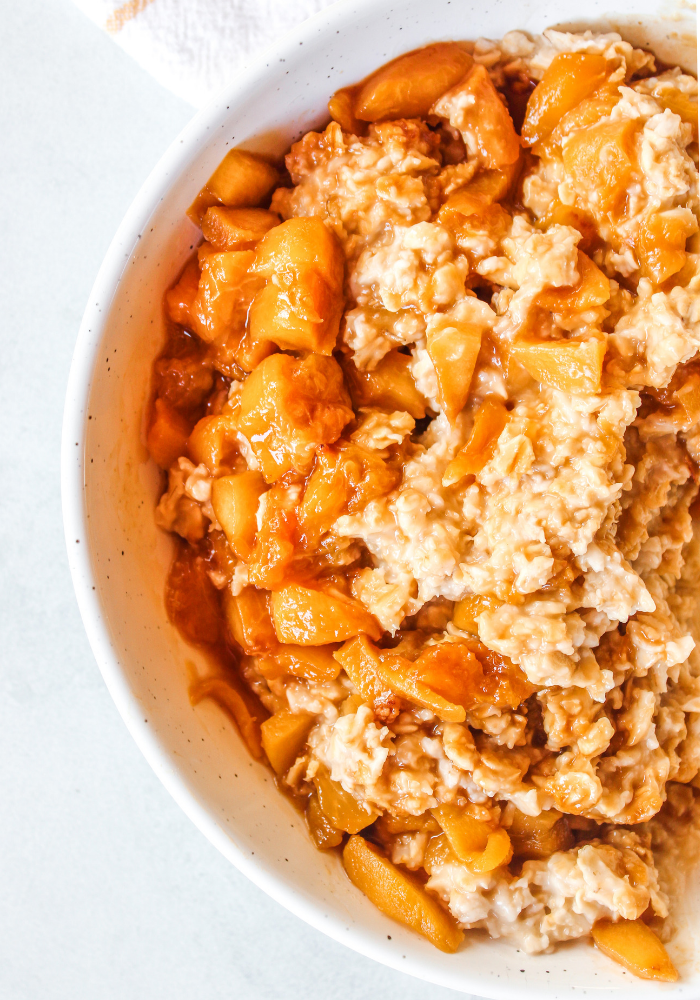 I use frozen peaches more often than not because I can easily keep a bag on hand at all times and they're always reliably sweet. Fresh peaches obviously also work beautifully when they're in season and ripe!
Why steel cut oats?
Steel cut oats have a much richer and nuttier taste than the rolled variety. They're also the least processed form of oat grains since they're not flattened (or rolled). This means they retain some bran.
Of course rolled oats do have nutritional value too! My feeling is that while I prefer steel cut oats in oatmeal, rolled oats will do the trick. Plus they cook so fast! Feel free to use them (I have included alternate cooking directions).
What is date syrup?
Date syrup is a natural sweetener that's a perfect replacement for sugar or honey in drinks, baked goods, and 1,001 other places. My preferred brand is Just Date Syrup. Guess what they're made from? Just organic Medjool dates! Boom. Who would have guessed it? It's low on the glycemic index and really yummy. I buy mine at Whole Foods but you can check their website for a location near you. You can also purchase through their website or Amazon. (PS this is not an ad. This is just me being psyched about this product and sharing what I love with you.)
Are oats gluten free?
Oats naturally don't contain gluten; however, they can easily become contaminated with gluten during the manufacturing process. If you're avoiding gluten, look for a certified gluten free label on your oats. Two popular brands that do offer this are Bob's Red Mill and Arrowhead Mills.
Ingredients
1

cup

steel cut oats

Look for certified gluten free if needed.

4

cups

water or milk of choice

For thicker results use 3 to 3 1/2 cups. 4 cups makes it extra creamy!

1

cup

fresh or frozen ripe peaches

diced

2

tbsp

date syrup

I use Just Date Syrup.
Instructions
If using frozen peaches, let them thaw in a bowl in the fridge for at least one hour. Can also microwave a bowl of frozen peaches for 45 seconds to 1 minute if you need to thaw quickly.

Bring water (or milk of choice) to a boil in a medium saucepan.

Stir in oats. Reduce heat to medium low. Simmer uncovered, stirring occasionally, for 15 to 20 minutes.

Once oats have finished cooking, remove pan from heat. Let oats sit for 5 minutes so they can continue to thicken.

Stir your diced peaches (should no longer be frozen) into your cooked steel cut oats. Scoop into bowls. Drizzle with date syrup before serving. Add more if you like it extra sweet. Enjoy!
Notes
Nutrition information assumes you used 4 cups of water. If you use milk of any kind instead of water it will alter your nutrition info. This recipe makes 4 servings. If you're a big oatmeal lover like me you may only get 2 out of it. (My bowl of oatmeal is giant. I have no regrets.) Nutrition information assumes 4 servings so double the numbers if you, like me, can down a lot of oatmeal in one sitting. Want to use old-fashioned rolled oats? For one cup of rolled oats you'll want only 1 3/4 cup of water. Bring water to a boil. Stir in oats. Reduce heat to medium. Simmer uncovered, stirring occasionally, for about 5 minutes. Most of the liquid should be absorbed. Remove from heat and let stand 1 minute before serving.
Nutrition
Calories:
199
kcal
|
Carbohydrates:
37
g
|
Protein:
6
g
|
Fat:
2
g
|
Sodium:
12
mg
|
Potassium:
150
mg
|
Fiber:
4
g
|
Sugar:
9
g
|
Vitamin A:
2.5
%
|
Vitamin C:
3.1
%
|
Calcium:
7.3
%
|
Iron:
9.7
%