Broccoli Cheddar Frittata
This deliciously cheesy frittata is loaded with broccoli and so easy to make! My family loves this for a weekend breakfast or brunch. Serve with a side of bacon, potatoes, fruit, or a simple salad.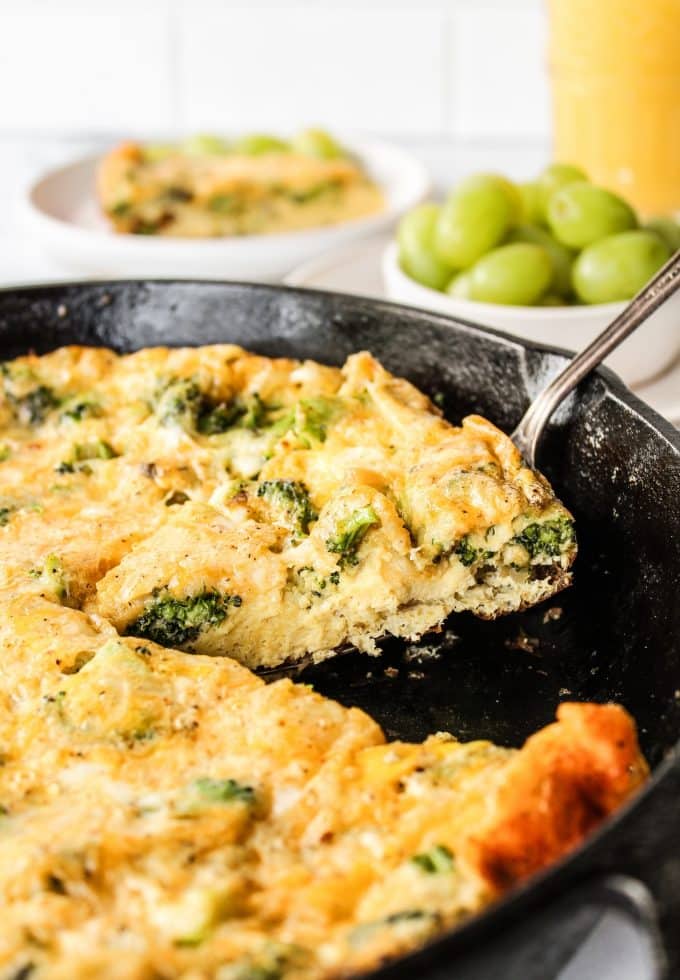 A frittata is a lot like a spanish omelet. It generally consists of scrambled eggs whisked with milk (or salsa if you're using one of my Whole30/Paleo frittata recipes) and combined with cheese, veggies, and seasonings. It all bakes together for a quick entree that's always impressive!
This Broccoli Cheddar Frittata reminds me of a great broccoli cheddar soup. But it's for breakfast. (Sort of. I love a frittata for lunch and dinner too if we're all being completely transparent here.
Oh baby it smells amazing coming out of the oven too!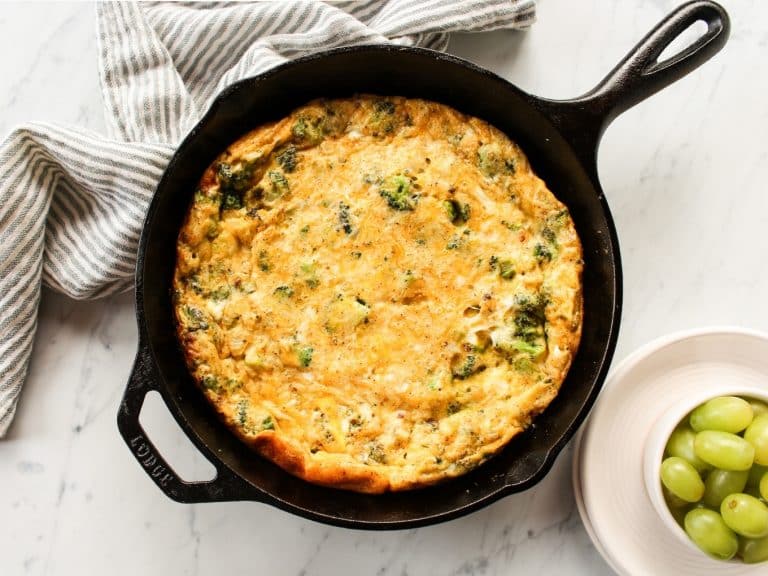 For this recipe you'll need (full list of ingredients and instructions are in the recipe card below):
Olive oil
Broccoli
Onion
Cheddar cheese
Eggs
Milk of your choice
Seasonings
For this recipe we'll start by sautéing the broccoli and onion in a cast iron skillet with a little oil. While that's cooking, whisk together the eggs, milk, and seasonings. Then spread the finished broccoli and onion in the skillet. Top with shredded cheese. Pour in the egg mixture. Now it's time to bake! It's that simple!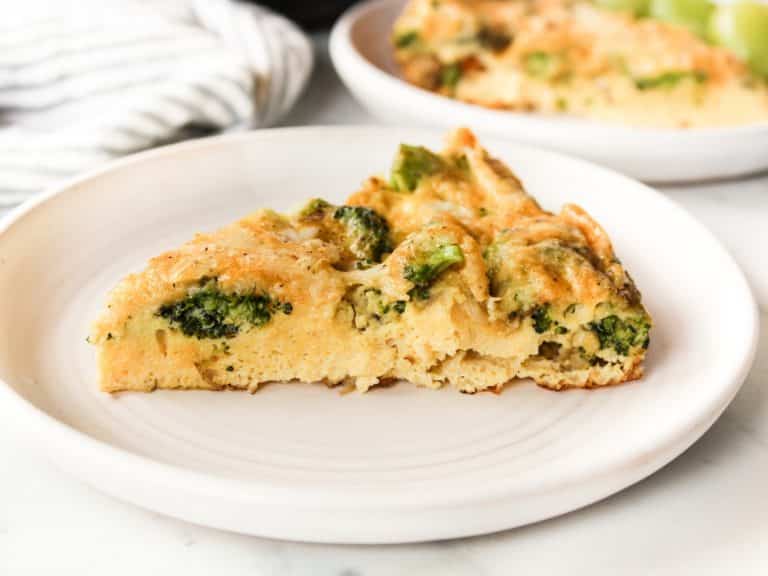 What size cast iron skillet is best?
Cast iron skillets come in a variety of sizes but the most common are the 10-inch and 12-inch. I use and recommend a 10-inch cast iron skillet for frittata recipes. While I love my 12-inch for making bacon, it can make your frittata way too thin so I strongly suggest sticking with the 10-inch here.
Cast Iron Skillet Care
Cast iron is a naturally nonstick surface, so if it's been seasoned correctly food won't stick. However, if your cast iron isn't well cared for then sticking may be an issue. If you're concerned about the state of your skillet, wipe it down with olive oil before using it for this frittata recipe.
After each use, wipe the inside of your skillet with a very thin layer of olive oil, just enough that the skillet is glossy. You don't want any oil to pool and settle when you put the skillet away or it will get sticky. You'll soon start to love your cast iron skillet again!
Can you use a pie plate or other baking dish?
The great thing about using cast iron for this recipe is that it can be used both on the stovetop AND in the oven! I do love not dirtying extra dishes! Having said that, you can absolutely use a pie plate or 10 x 10 baking dish instead. (I do not recommend a baking dish larger than 10 x 10 because the egg mixture will spread too far resulting in a very thin and likely overcooked frittata.)
Since they can't be used on the stovetop you'll need to sauté the broccoli and onion in a skillet first and then transfer it to your baking dish once cooked.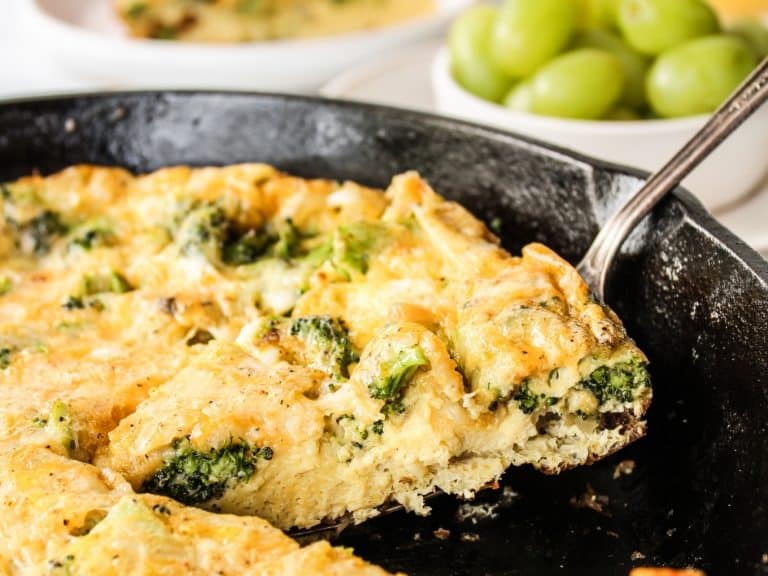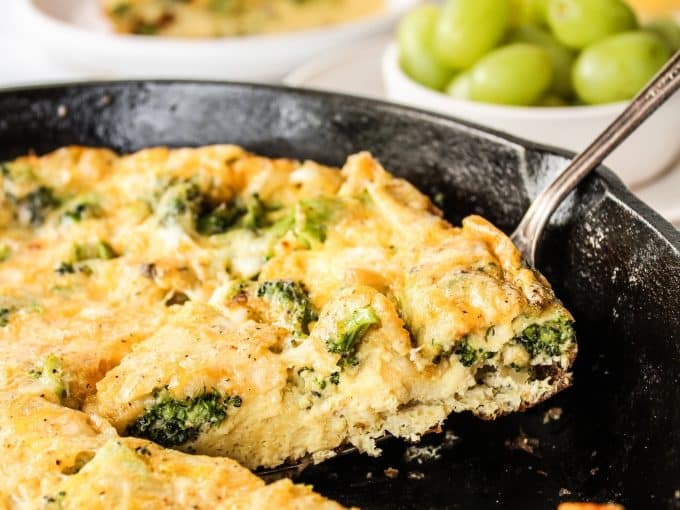 Can you use frozen broccoli?
Yes, if chopped. No need to thaw that frozen broccoli either! It will still sauté quickly and work well in the frittata.
How to customize this frittata
Looking to use a different cheese? Shredded mozzarella or a four cheese blend will also work beautifully.
Want to maximize your nutrition? Fresh spinach leaves or halved grape tomatoes are a delicious addition.
Thinking about more protein? Fully cooked rotisserie chicken (shredded) or any leftover shredded chicken would be yummy! I also suggest deli turkey, deli ham, or sliced sausages!
Can you prep this in advance?
Yes! You can make it the night before, refrigerate overnight covered with a lid or foil, and bake the next morning (without the lid or foil).
Can you freeze this frittata?
Absolutely. Some people don't like reheated eggs so whether you do or not is just a matter of personal preference. I personally think the texture of a frittata is excellent whether fresh or reheated (but that's just my opinion). If you do choose to freeze this, slice it and let it cool. Once cooled, store the frittata slices in an airtight container or freezer bag. Thaw when you're ready to eat. Reheat in the microwave or in the oven at 350 degrees until warmed through.
How to store leftovers
Leftovers can be stored in an airtight container in the refrigerator for up to 4 days.
How to serve this
Serve with a side of bacon, potatoes, fruit, or a simple salad.
More recipes like this:
Dairy Free Taco Breakfast Casserole
Sheet Pan Sweet Potato Breakfast
Spinach Arugula Breakfast Hash
Dairy Free Chicken Sausage Breakfast Casserole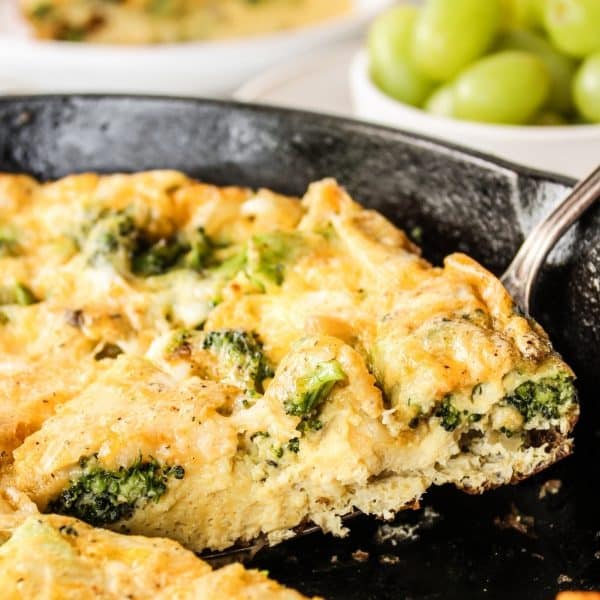 Broccoli Cheddar Frittata
This deliciously cheesy frittata is loaded with broccoli and so easy to make! My family loves this for a weekend breakfast or brunch. Serve with a side of bacon, potatoes, fruit, or a simple salad.
Ingredients
1 tbsp olive oil, extra virgin
2 cups broccoli, chopped
1/2 white or yellow onion, diced
8 eggs
1/2 cup milk of choice
1 cup shredded cheddar cheese, can use mozzarella or a four cheese blend
1 tsp salt
1/2 tsp garlic powder
1/4 tsp ground mustard
1/4 tsp cayenne pepper
1/4 tsp black pepper
Instructions
Preheat the oven to 425 degrees.

Heat oil in a cast iron skillet on medium to medium-high heat. Once hot, add chopped broccoli and onion. Sauté until tender, stirring frequently, 3 to 5 minutes.

Meanwhile, whisk together the eggs, milk, salt, garlic powder, ground mustard, cayenne pepper, and black pepper.

When the broccoli and onion are done, turn off the stove. Spread the broccoli and onion mixture across the bottom of the skillet so they're evenly distributed. Layer the shredded cheese on top. Pour your egg mixture over everything.

Bake until the center is just set, 12 to 15 minutes. Check to make sure the center isn't very wiggly and then remove from the oven. Let it rest for a few minutes before serving. The frittata will bubble a lot in the oven and settle down as it rests.
Nutrition
Serving: 1slice, Calories: 156kcal, Carbohydrates: 4g, Protein: 10g, Fat: 11g, Saturated Fat: 5g, Trans Fat: 1g, Cholesterol: 180mg, Sodium: 455mg, Potassium: 181mg, Fiber: 1g, Sugar: 2g, Vitamin A: 572IU, Vitamin C: 21mg, Calcium: 157mg, Iron: 1mg