Pesto Potatoes & Brussels Sprouts
I recently shared my Pistachio Lemon Pesto and if you haven't made it yet you really need to. It's dairy free but holy moly you won't be able to tell. Low on calories and very very big on taste! There are so many ways to enjoy it! On chicken, steak, or fish. Over noodles, zoodles, or spagetti squash. Today we're talking about slathering it on roasted potatoes and brussels sprouts. Good grief, it's good.
I made these Pesto Potatoes & Brussels Sprouts a few weeks ago for myself because my kids were enjoying pesto on tortellini. I wanted my pesto fix but I'm not big on pasta. This recipe did the trick beautifully.
Roasting brussels sprouts and potatoes makes them infinitely better than steaming or sauteing does. All that browning in the oven produces some crispiness on the outside that complements the softness of the inside perfectly. And it's so simple! Just throw them in the oven with a little olive oil, salt, and pepper! BOOM.
Once they come out of the oven toss those magnificent morsels in the homemade Pistachio Lemon Pesto. That's it!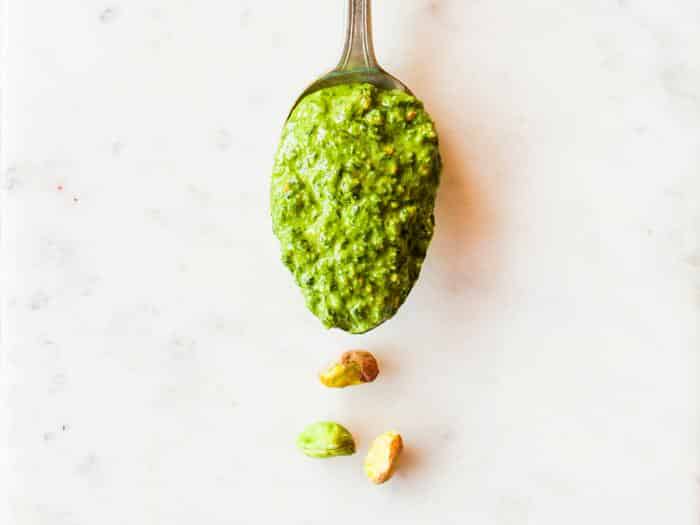 You're going to love these Pesto Potatoes & Brussels Sprouts as a side dish or entree. (I enjoy a meatless entree several times a week and this is a fantastic option.)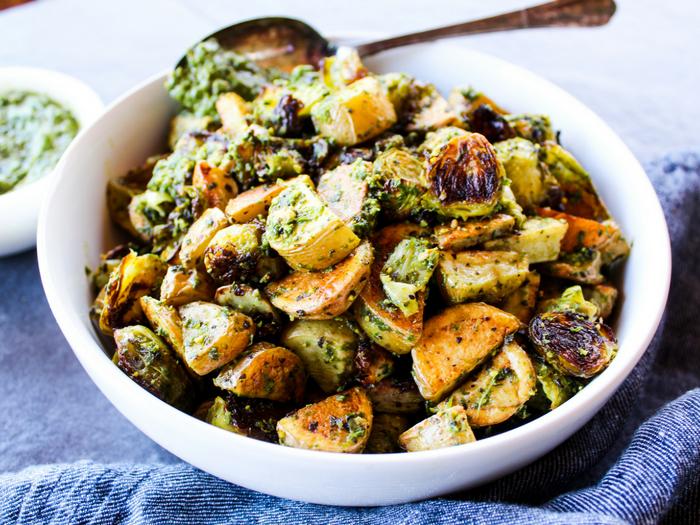 Pesto Potatoes & Brussels Sprouts
Pesto Potatoes & Brussels Sprouts are a hearty and rich side dish (or entree) that's really big on flavor. I use my homemade Pistachio Lemon Pesto to make it dairy free. Oh my goodness it is incredible!

Ingredients
1 1/2 lbs baby dutch yellow potatoes
16 oz fresh brussels sprouts
3 tbsp olive oil, extra virgin
1/2 tsp salt
1/2 tsp pepper
1 tsp dried basil
3 - 4 tbsp Pistachio Lemon Pesto
Instructions
Preheat oven to 425 degrees.


Trim the bottom of each brussels sprout and peel away the first layer of leaves. That's where you usually see the dirt and any brown sprouts. Once this is done you'll have beautiful little bright green sprouts.

Slice each sprout in half (unless it's already really small).

Throw your brussels sprouts on a baking sheet. You'll want a single layer. Don't pile them up one on top of the other or you won't get the beautiful browning from roasting that you desire.

Slice your dutch baby yellow potatoes in half lengthwise. Slice each half horizontally a few times to create half circles.


Drizzle with olive oil. Use your hands or a spatula to move the potatoes and brussels sprouts around in the oil so that all get coated evenly.


Sprinkle with salt, pepper, and dried basil.


Bake for 20 to 25 minutes.


Remove from oven. Place finished brussels sprouts and potatoes in a large bowl.


Add 3 to 4 tablespoons of Pistachio Lemon Pesto. Gently stir so that everything gets covered in pesto. Serve!

Notes
If you don't have a baking sheet large enough to fit all the potatoes and brussels sprouts in a single layer use a second baking sheet or just leave some veggies off. You definitely don't want to pile everything on top of each other or you won't get as much browning. You're welcome to use other veggies; however, it's important to select vegetables that cook in the same amount of time. For example, asparagus cooks in under 10 minutes so don't add those with potatoes or brussels sprouts. Otherwise you'll have some very sadly burned asparagus.
Nutrition
Calories: 202kcal, Carbohydrates: 21g, Protein: 5g, Fat: 11g, Saturated Fat: 1g, Sodium: 282mg, Potassium: 790mg, Fiber: 5g, Sugar: 1g, Vitamin A: 770IU, Vitamin C: 78.9mg, Calcium: 76mg, Iron: 5.1mg
Made this? If you share a photo on Instagram tag me and I'll check it out!
Interested in another side dish? Check out these Baked Herb Potato Rounds!