Sugar Free Sautéed Apples
These Sugar Free Sautéed Apples are naturally sweet and prepared simply with coconut oil, cinnamon, and raisins. They're a hit with children and adults alike.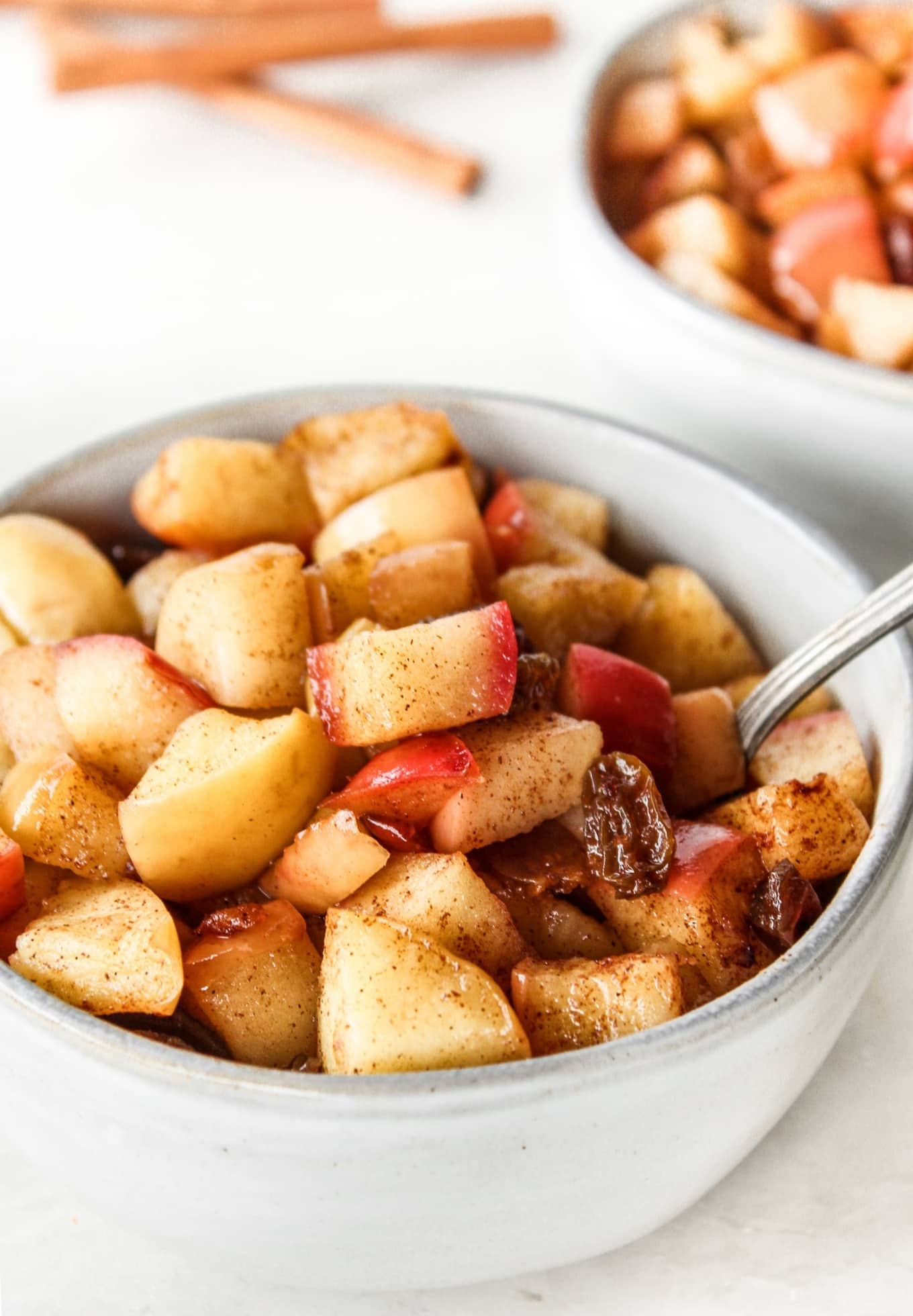 Cracker Barrel was once a regular stop for my family when we traveled long distances in the car. I especially appreciated it when my son was young because it's always noisy so I never had to worry about a busy two year old disturbing other diners. He'd happily play the golf tee fame, chatter endlessly, and gobble down the fried apples at every visit. Those fried apples are the inspiration for these Sugar Free Sautéed Apples we now make at home.
I'm sure you can guess that the Cracker Barrel kind are full of butter and sugar. Not mine. No butter. No sugar. No, sir.
Honestly they don't need sugar anyway. Apples are naturally sweet all on their own. Why do we insist on putting sugar on all the things??? We've been trained that what's naturally sweet isn't sweet enough. Well I'm not buying it. Apples on their own are perfect as they are. If you agree then you'll really love them when they've softened a bit in coconut oil and are mixed with raisins and cinnamon.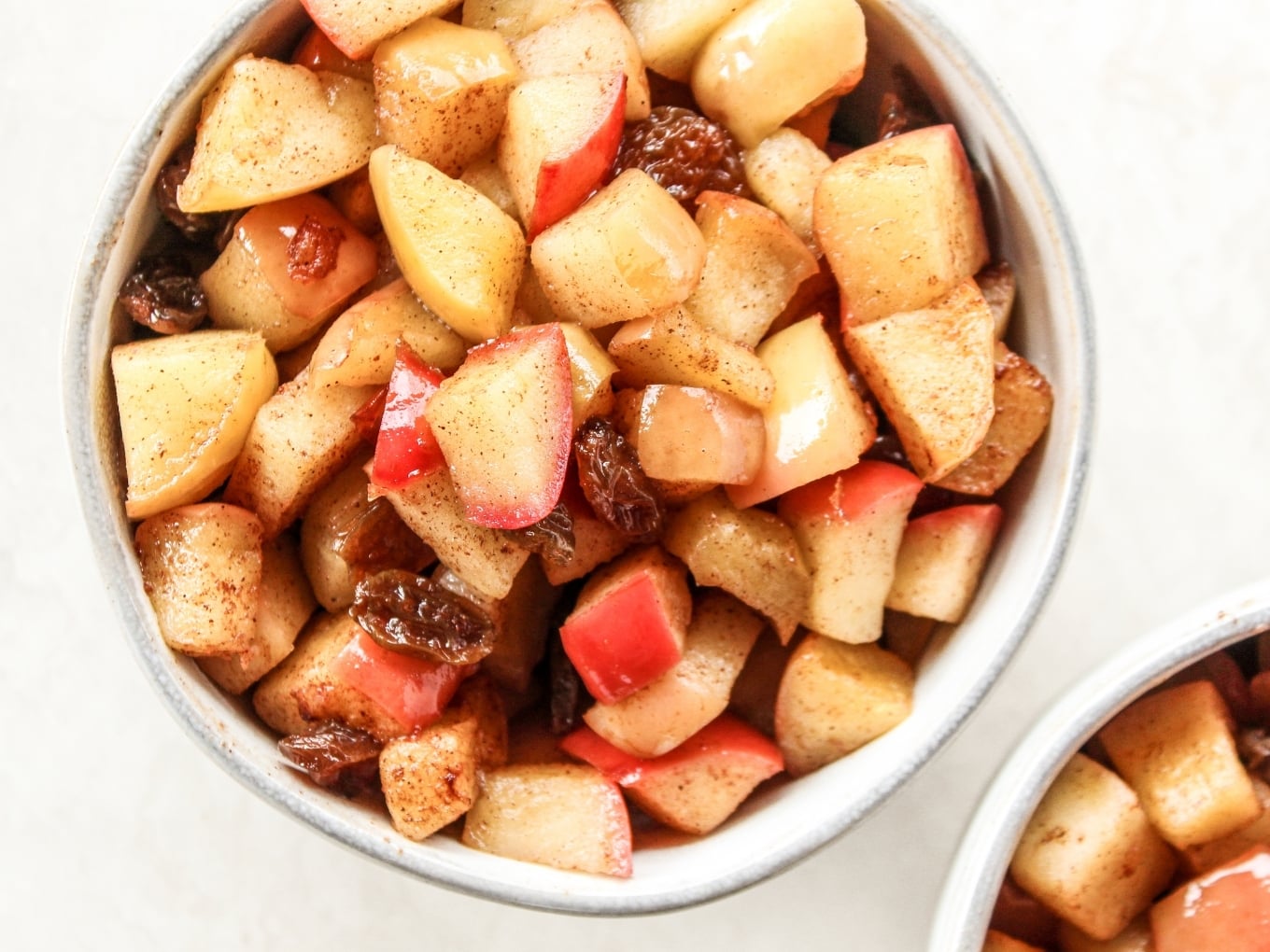 Coconut oil helps make the apples tender and brings out their natural flavor. It's mild and not oily. We don't use enough to give any coconut flavor to the dish.
Raisins give this dish additional sweetness. They plump and soften as they're sautéed so they compliment the tender apples beautifully.
That's it, friends. Simple. Easy. Yummy.
For this recipe you'll need (full list of ingredients and instructions are in the recipe card below):
Coconut oil
Apples
Cinnamon
Raisins (optional)
What kind of apples should you use?
Choose apples that are already naturally sweet. I prefer gala, fuji, pink lady, or honey crisp apples in this particular recipe. Green apples will likely be too tart.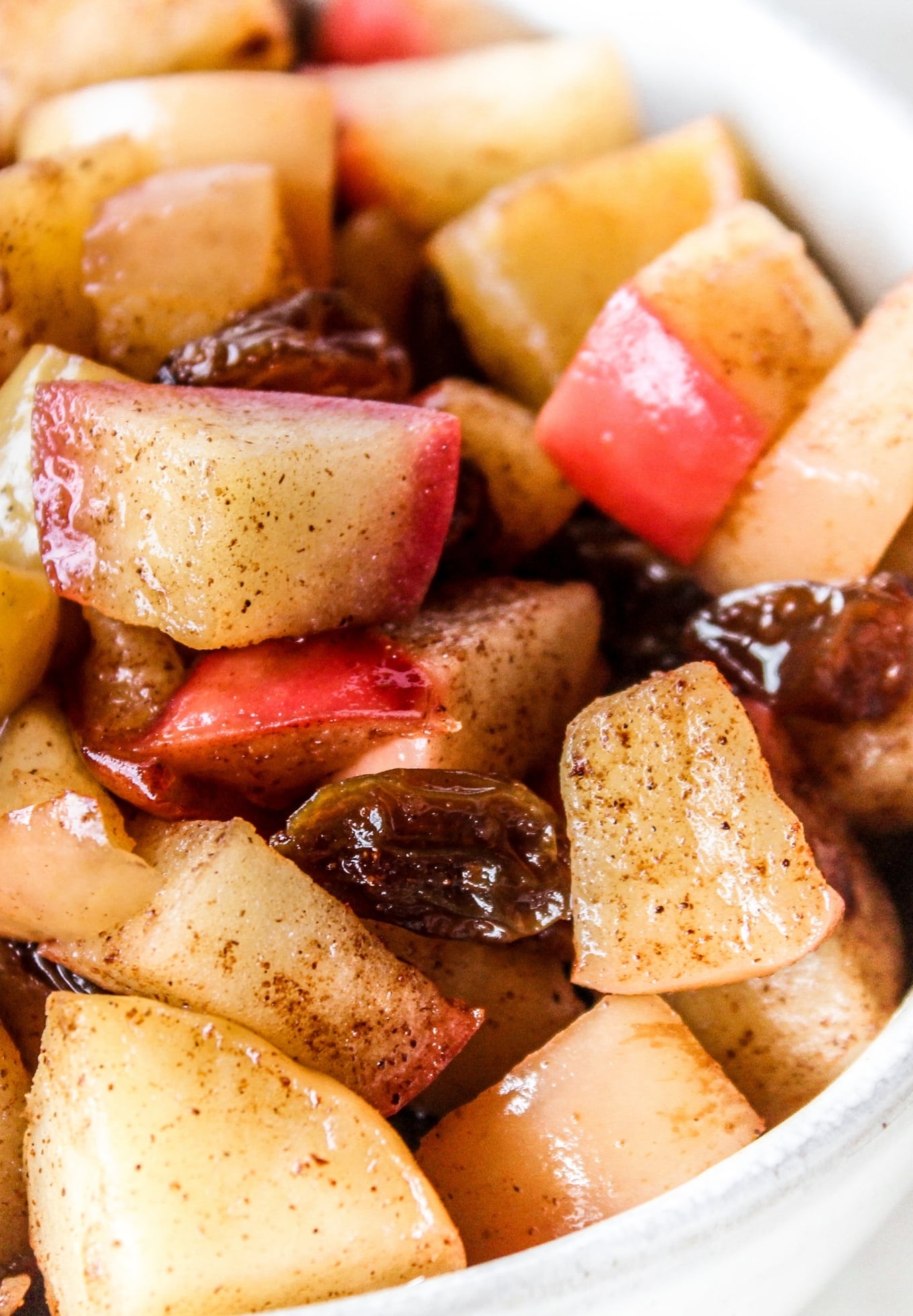 Can you use a different fat instead of coconut oil?
Feel free to use ghee or butter if you like.
Can these sautéed apples be nut free?
Yes. Use ghee or butter instead of coconut oil.
How small should you dice your apples?
I like a fairly small dice for these apples so I stick to around 1/2-inch. You are welcome to slice your apples bigger if you like and increase the cooking time a bit to accommodate that change.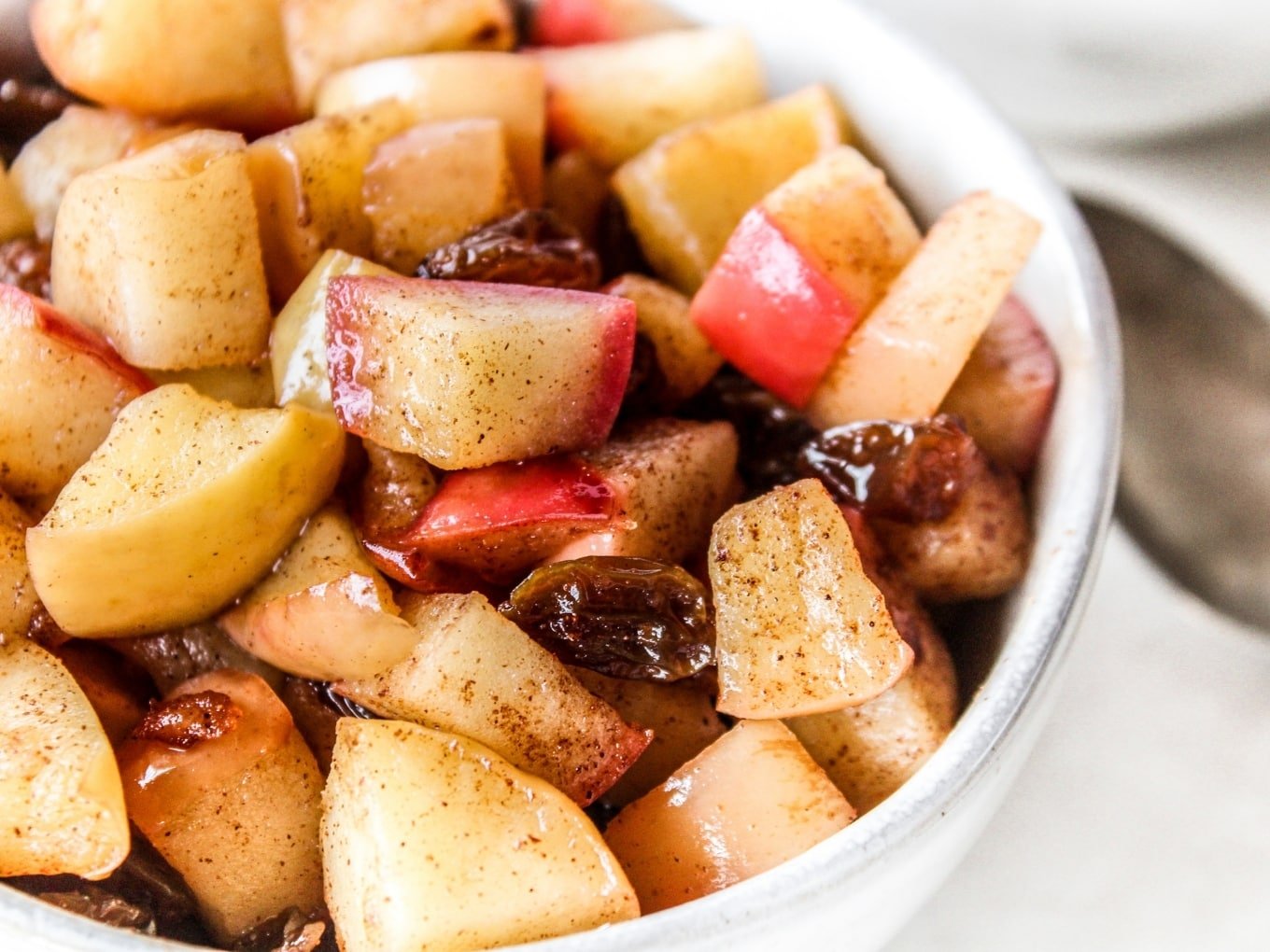 Should you peel your apples?
Definitely leave the peel on. The peel softens as you sauté the apples and helps to keep the apples from dissolving into mush. We're not going for apple sauce here.
Can you freeze these apples?
These apples freeze beautifully. Feel free to make extra to freeze until you're ready to eat them. Then thaw and reheat in a skillet on the stovetop or in the microwave.
More sweet recipes:
Chocolate Chip Banana Oat Muffins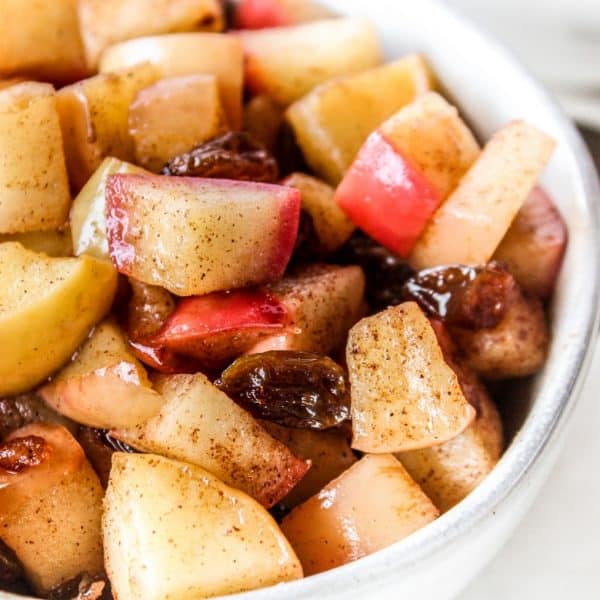 Sugar Free Sautéed Apples
These tender apples are naturally sweet and prepared simply with coconut oil, cinnamon, and raisins. They're a hit with children and adults alike.
Ingredients
2 tbsp coconut oil
4 cups apples, diced, unpeeled
1/4 cup raisins (optional)
1/2 tsp ground cinnamon
Instructions
Add the coconut oil to a skillet over medium-high heat until mostly melted.

Add the apples and sauté, stirring occasionally, for 5 minutes or until close to softened.

Stir in the raisins and cook for another 3 to 4 minutes or until apples are tender.

Stir in the cinnamon. Serve warm or at room temperature.
Nutrition
Calories: 153kcal, Carbohydrates: 25g, Protein: 1g, Fat: 7g, Saturated Fat: 6g, Sodium: 4mg, Potassium: 209mg, Fiber: 4g, Sugar: 13g, Vitamin A: 68IU, Vitamin C: 6mg, Calcium: 13mg, Iron: 1mg