Baked Feta Chicken
This easy chicken dish is sure to become a favorite in your home! The chicken is so flavorful and bakes in the dreamiest feta sauce with plenty of tomatoes and garlic. A truly restaurant-quality entree you'll want to make again and again!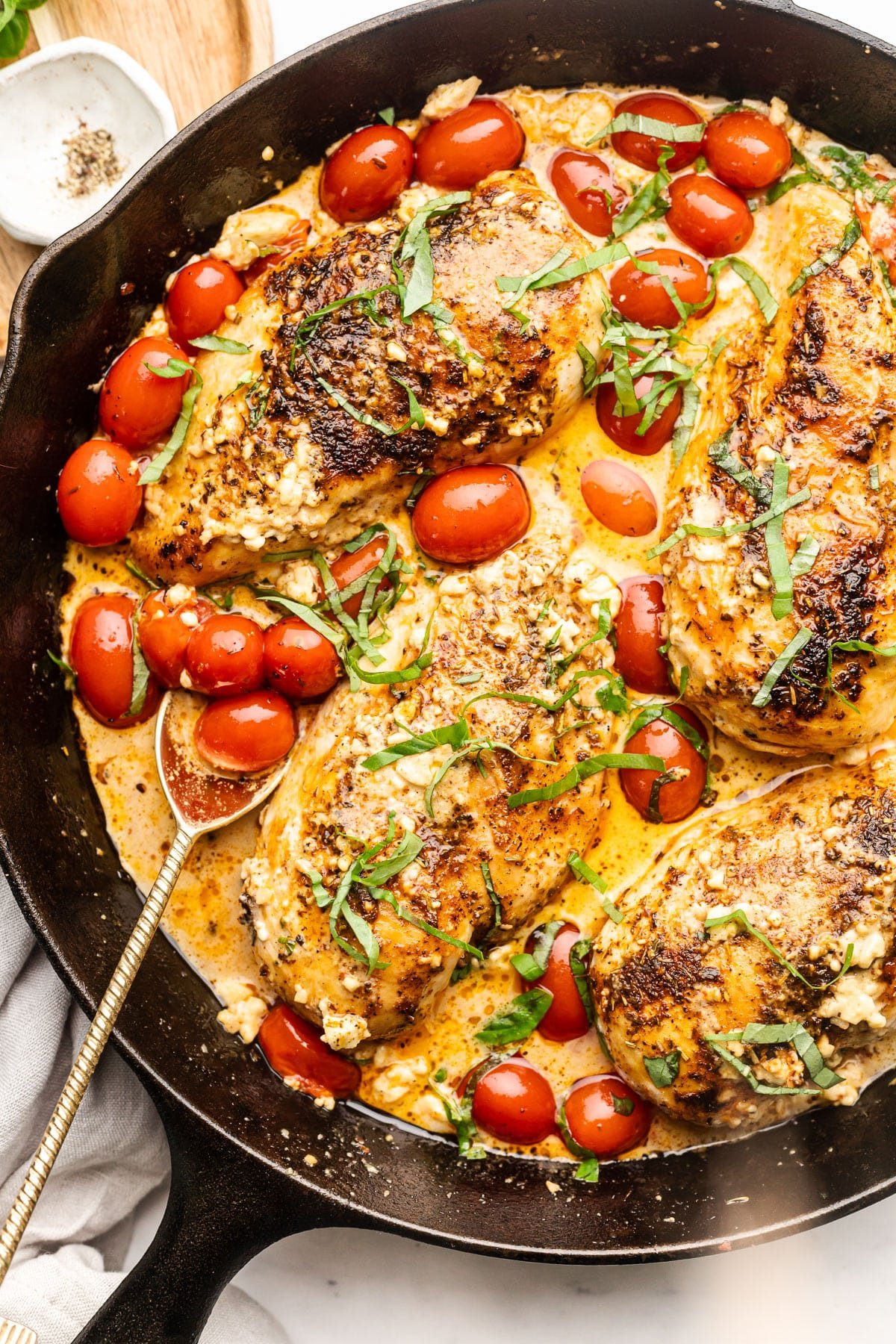 My inspiration for this entree is an incredible appetizer I had at a restaurant a few weeks ago. It had so much baked creamy feta in it that it basically has haunted my dreams in the best possible way. I'm sure the chef was inspired by the viral TikTok baked feta pasta and I'm oh so glad he was.
Since I like to incorporate a lot of high protein entrees in my own eating, I knew my version wasn't going to be an appetizer or pasta. Nah, I came home ready to create an incredible entree instead. So here we are.
The best news? Everything cooks in one pan. So while it looks, feels, and tastes like an extra special entree it's shockingly easy to make.
This is quite possibly my favorite entree on the website right now. I'm always a sucker for roasted tomatoes with basil and garlic. Those three ingredients just belong together, don't they? Plus we have beautifully browned chicken and a creamy sauce I could eat with a spoon. This is a dish I can't get enough of and I believe you'll feel the same.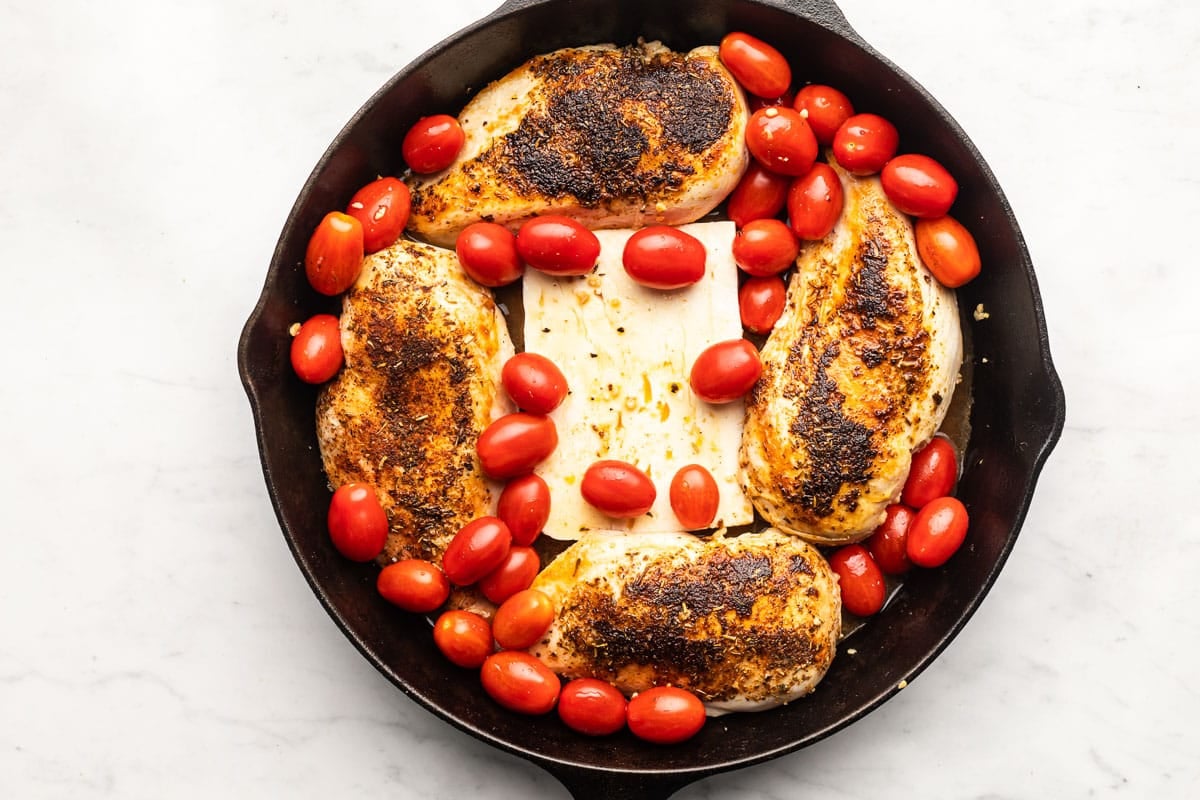 Baked Feta Chicken Ingredients
Chicken breasts: We're using boneless and skinless chicken breasts in this entree.
Olive oil: Before baking the chicken breasts we first sear them in extra virgin olive oil to achieve a beautifully golden color.
Minced garlic: You can mince your own garlic or use a jarred variety.
Chicken stock: The chicken stock helps create the sauce for this chicken. You can use chicken stock or broth.
Lemon juice: The bright flavor of lemon pairs so well with the garlic.
Feta cheese: This salty crumbly cheese originates from Greece and was originally made from goat's or sheep's milk. Today it's often made with cow's milk instead. Either way it adds a rich salty flavor to our entree and makes for a creamy sauce.
Grape tomatoes: Grape tomatoes are the perfect bite sized addition. You can use cherry tomatoes if you slice them in half.
Basil: Fresh basil and tomatoes are a match made in heaven. For this recipe you'll slice the basil into thin ribbons and add to the dish just before serving.
Seasonings: Italian seasoning, chili powder, salt, and pepper are all you need for tons of flavor and a gorgeous crust on the chicken breasts.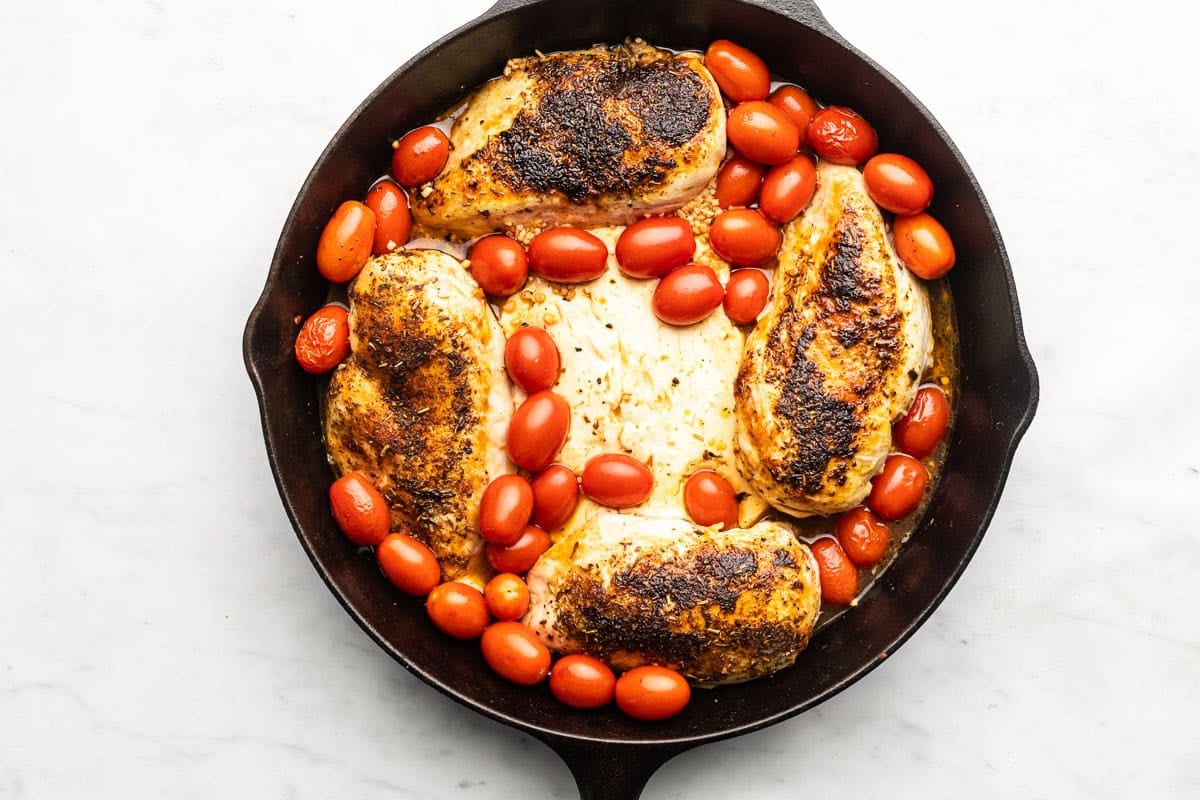 Can you use crumbled feta?
Yes, both a block of feta and crumbled feta work great. Use whichever is most accessible for you.
What size cast iron skillet is best for this entree?
The great thing about using cast iron for this recipe is that it can be used both on the stovetop AND in the oven! This is why I recommend it for any recipe where we're using both cooking methods. This entree and all of my frittatas qualify.
Cast iron skillets come in a variety of sizes but the most common are the 10-inch and 12-inch. Both work for this delicious entree.
Cast Iron Skillet Care
Cast iron is a naturally nonstick surface, so if it's been seasoned correctly food won't stick. However, if your cast iron isn't well cared for then sticking may be an issue. If you're concerned about the state of your skillet, wipe it down with olive oil before using it again.
After each use, wipe the inside of your skillet with a very thin layer of olive oil, just enough that the skillet is glossy. You don't want any oil to pool and settle when you put the skillet away or it will get sticky. You'll soon start to love your cast iron skillet again!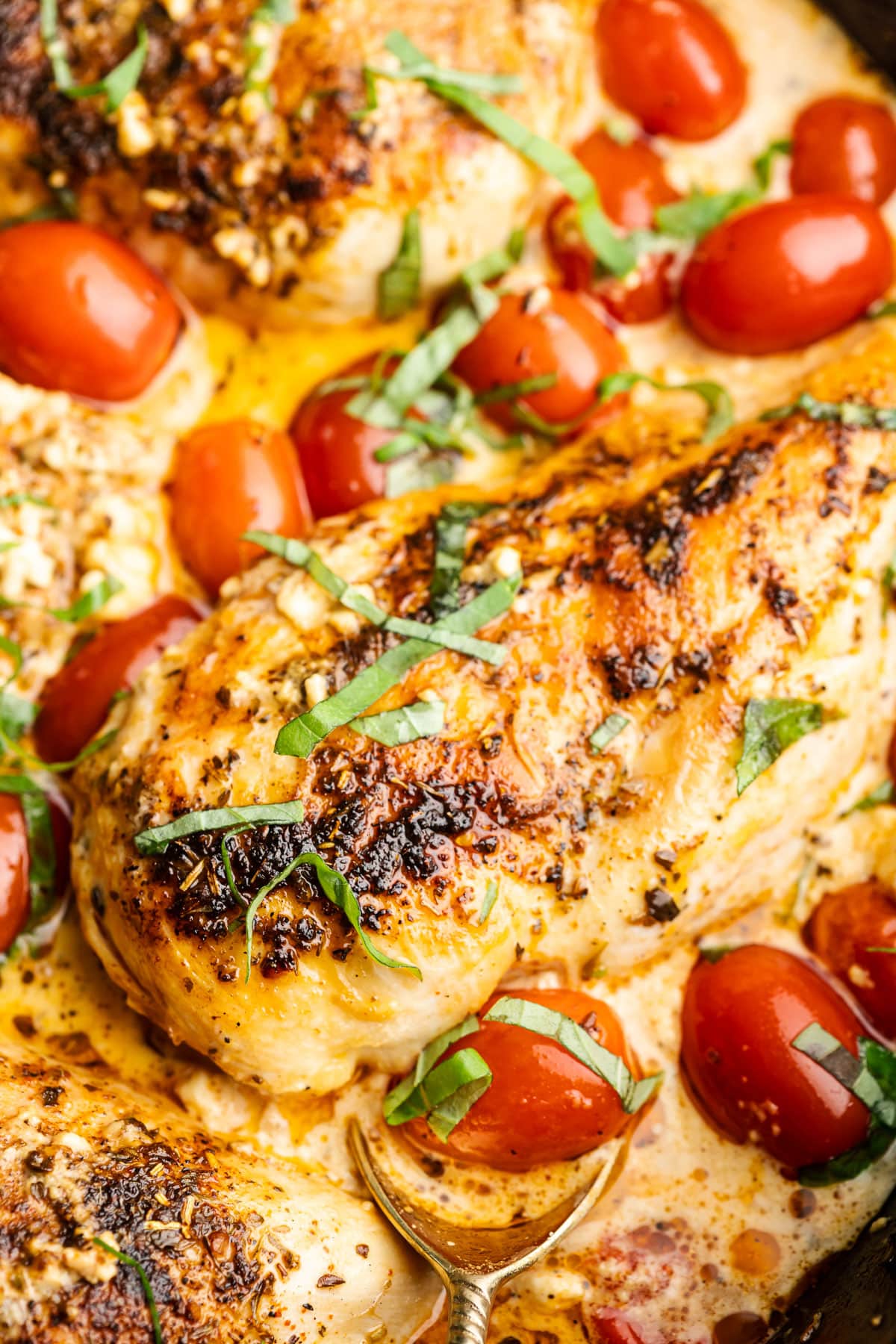 How to Store Leftovers
Store leftovers in an airtight container in the refrigerator for 3 to 4 days.
How to Serve this Chicken
Serve with veggies, rice, potatoes, and/or a side salad. My Easy Roasted Broccoli and Garlic Green Beans will pair beautifully with this chicken.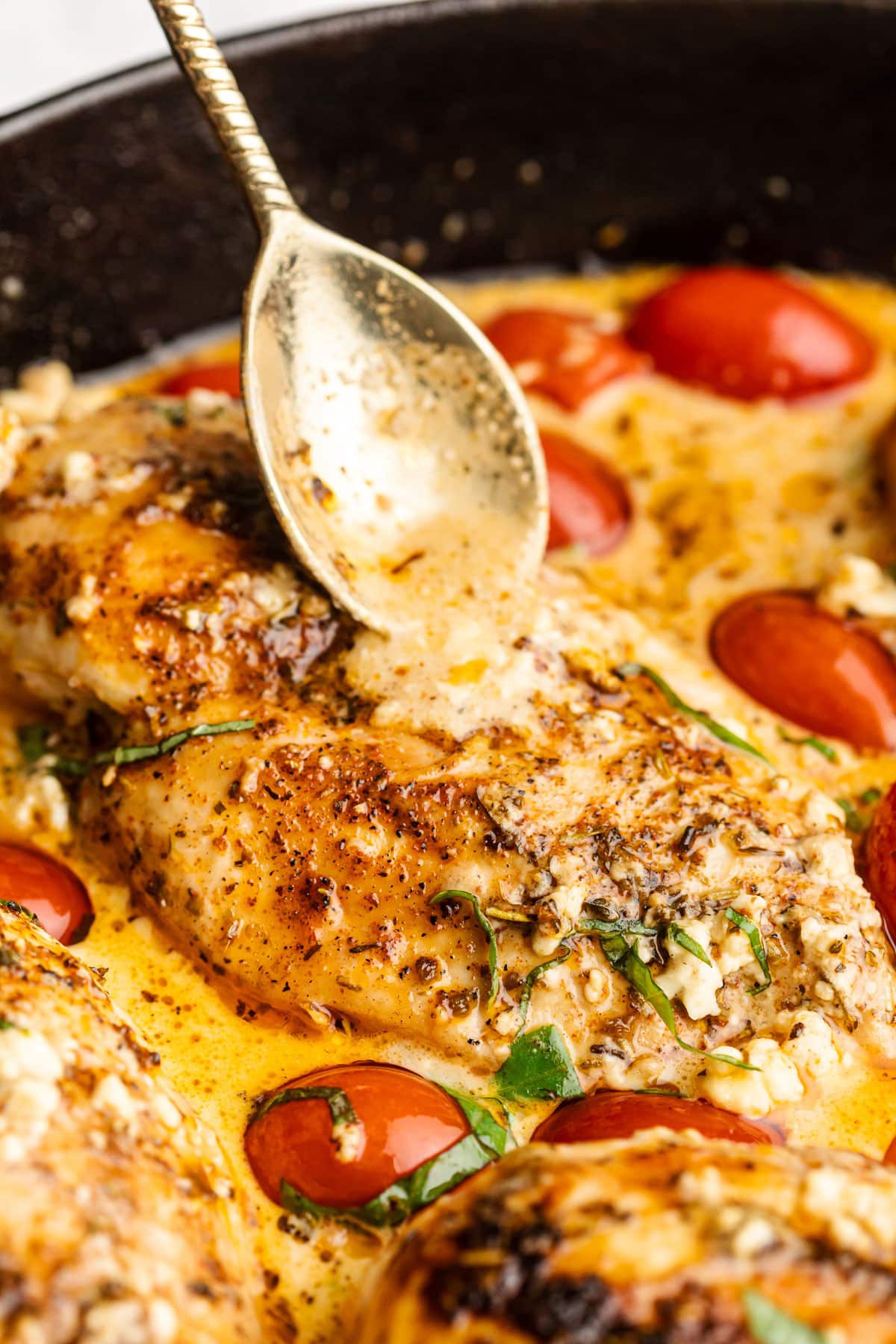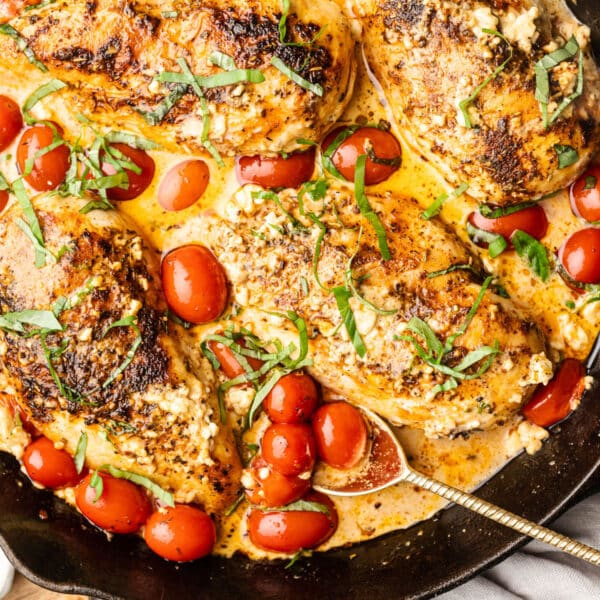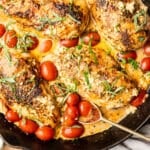 Baked Feta Chicken
This easy chicken dish is sure to become a favorite in your home! The chicken is flavorful and bakes in the dreamiest feta sauce with plenty of tomatoes and garlic. A truly restaurant-quality entree you'll want to make again and again!
Ingredients
1½ – 2 pounds chicken breasts, boneless and skinless, 4 chicken breasts
2 teaspoons italian seasoning
½ teaspoon chili powder
½ teaspoon salt
¼ teaspoon black pepper
2 tablespoons olive oil, extra virgin
1 tablespoon garlic, minced
½ cup chicken stock
2 tablespoons lemon juice
8 ounces block of feta cheese
1 pint grape tomatoes
5 – 6 fresh basil leaves, thinly sliced into ribbons
Instructions
Preheat oven to 350 degrees.

Add italian seasoning, chili powder, salt, and pepper to a small bowl. Stir together seasonings. Then press seasoning blend into both sides of chicken.

Add oil to cast iron skillet on the stovetop. Heat to medium-high heat. Once skillet is hot, add all 4 chicken breasts to the oil. Sear until browned, about 4 to 5 minutes. Chicken will not be fully cooked. We're just looking for some good browning at this step. Flip. Sear the other side. (This is more oil than you need to brown the chicken but we want to get that oil flavorful with the chicken juices because it will become incorporated into the sauce.)

Once both sides of the chicken breasts are browned, add minced garlic to the skillet. Sauté until golden in color, about 1 minute.

Add chicken stock and lemon juice to the skillet. Move the chicken to the outside of the skillet and then place the block of feta in the center of the skillet. Add tomatoes to the skillet. Spoon some of the liquid over the feta and tomatoes.

Place the cast iron skillet in the oven. Bake for 20 – 25 minutes, until the internal temperature reaches 165 F. Cooking time depends on how long you sear the chicken the skillet and how thick your chicken is. It takes 25 minutes for the chicken to cook through in my oven. Once chicken is cooked through, remove from the oven and let it rest for 5 minutes.

Remove chicken from skillet and set aside. Use a fork or spoon to stir the feta and tomatoes into the sauce. Add the chicken back to the skillet and spoon sauce over top. Top everything with thinly sliced fresh basil.
Nutrition
Serving: 1chicken breast + sauce, Calories: 511kcal, Carbohydrates: 10g, Protein: 58g, Fat: 26g, Saturated Fat: 10g, Polyunsaturated Fat: 2g, Monounsaturated Fat: 10g, Trans Fat: 0.03g, Cholesterol: 197mg, Sodium: 1254mg, Potassium: 1224mg, Fiber: 2g, Sugar: 4g, Vitamin A: 1444IU, Vitamin C: 23mg, Calcium: 327mg, Iron: 2mg