Beef & Cheese Egg Muffins
Love beef and cheddar cheese? Oh these egg muffins are for you! They're the perfect portable breakfast you can even make ahead of time!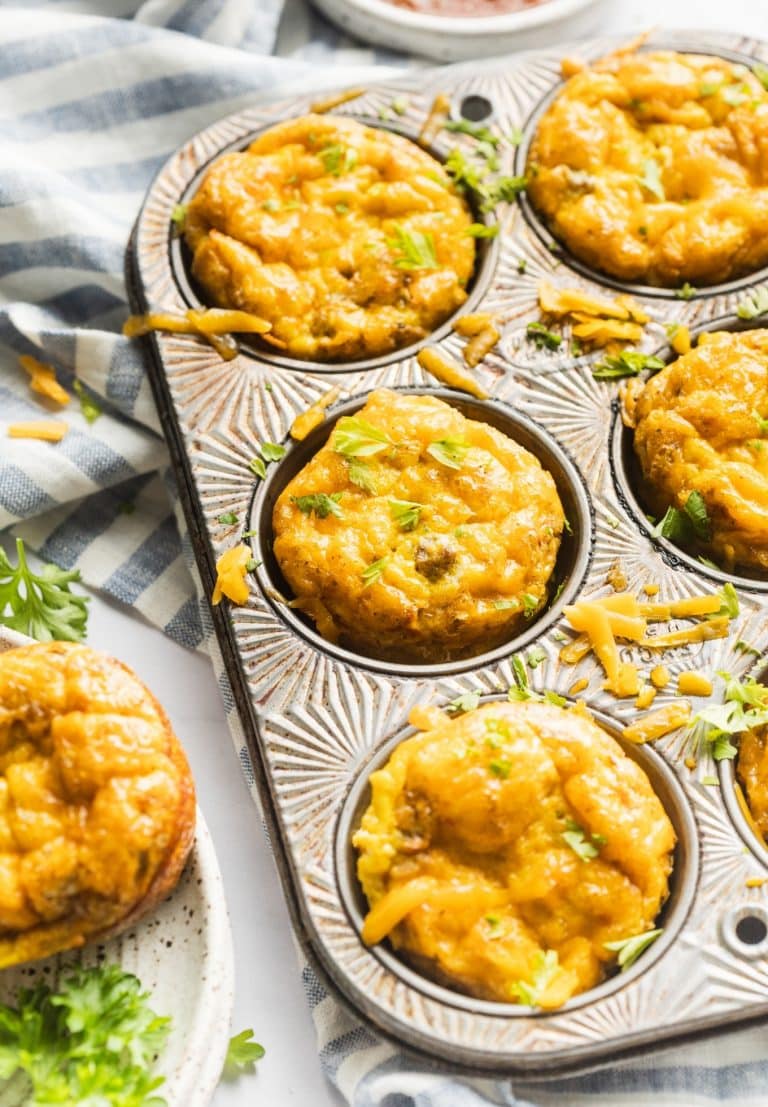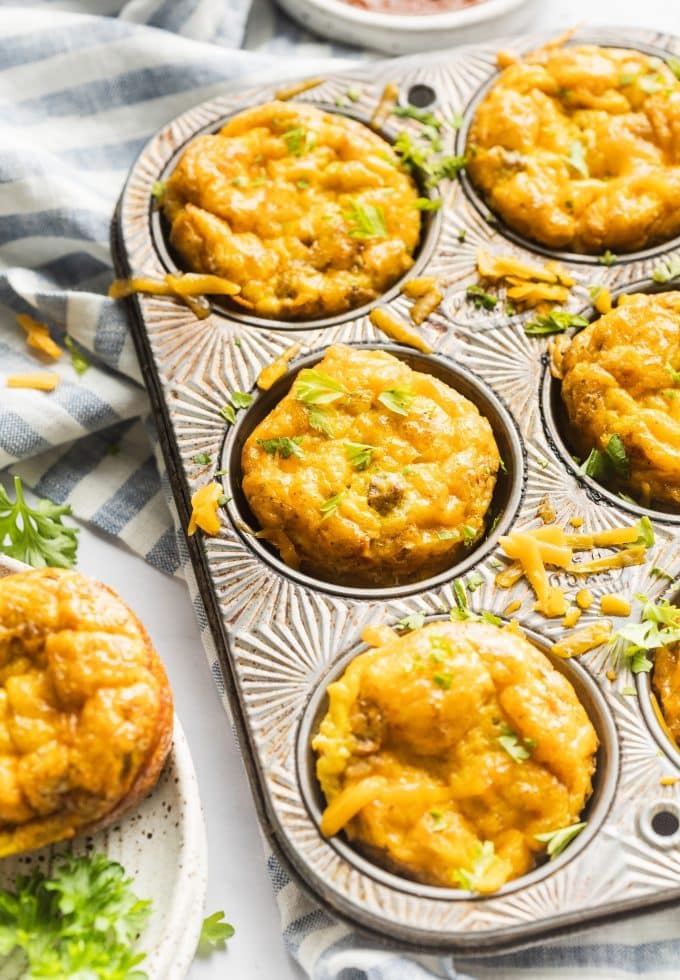 If you've been here long you know I'm a big believer in breakfast. Whatever time you have it – whether it's the crack of dawn, brunch, or even if it's dinner. Breakfast foods are just too yummy to skip!
Remember back when frozen breakfast burritos or breakfast sandwiches felt like a big deal? When I was a kid if we could get our hands on a microwaveable breakfast sandwich we were the fanciest. It didn't happen often but when it did… Oh boy.
So these Beef and Cheddar Egg Muffins are basically the healthier and much more delicious on the go breakfast you've been craving. They're low carb and gluten free too. Way better than anything you could reheat from Jimmy Dean, my friend. (Sorry, Jimmy. I don't know you but I'm sure you're lovely.)
I love that you can quickly make these for meal prep. In fact, you can even take one in the car with you when you're in a rush!
Or if you have the time, sit down and enjoy this savory breakfast straight out of the oven with fresh fruit and/or crispy potatoes.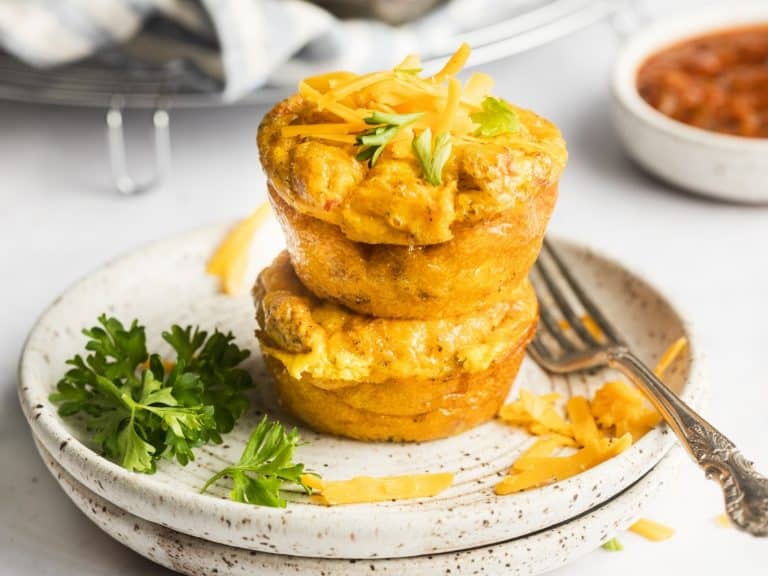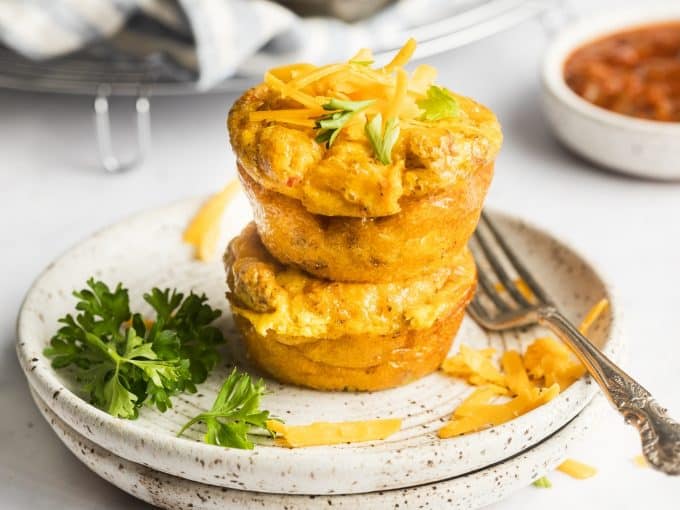 For this recipe you'll need (full list of ingredients and instructions are in the recipe card below):
Ground beef
Onion
Minced garlic
Olive oil
Eggs
Salsa
Shredded cheddar cheese
Seasonings
To make these egg muffins, start by sautéing ground beef and onion. When it's almost done, add the minced garlic and seasonings.
In a large bowl, whisk eggs, salsa, salt, and pepper.
Grease your muffin tin with olive oil. Add the beef mixture to each cup. Pour in the whisked eggs. Top with shredded cheese. Bake and you're done!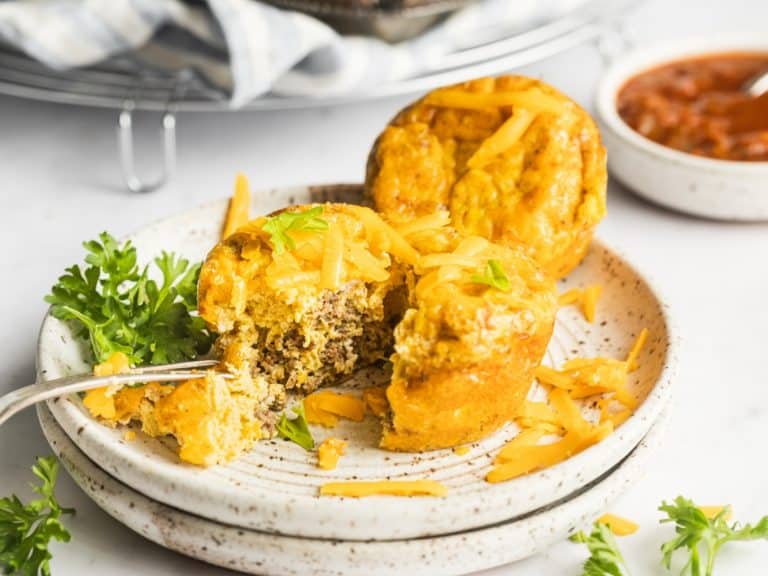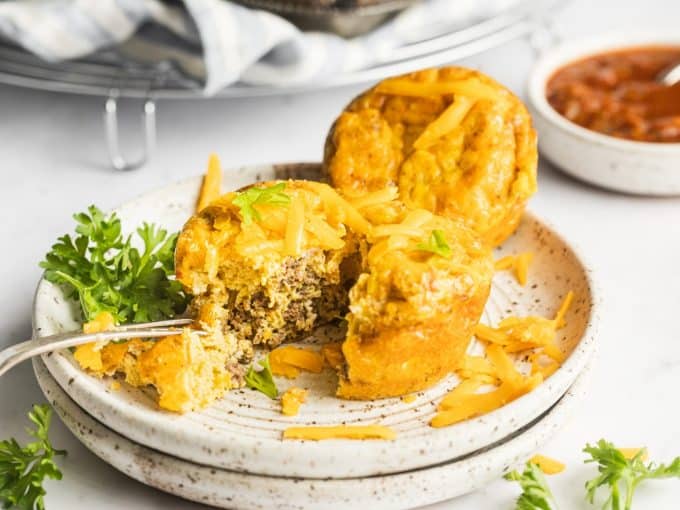 What kind of salsa should you use?
As you can imagine, the salsa adds tons of flavor to these. Use your favorite brand! Both thin or chunky salsas will work. Spicy or mild. I've used several varieties in egg muffins and have never had a problem.
Can you use a different cheese?
I prefer cheddar in this particular recipe because it has a strong flavor that pairs so well with ground beef. Mozzarella, colby jack, or pepper jack would do well too!
Can you use ground turkey?
Absolutely! I like to season my ground turkey more aggressively than beef. If using turkey I suggest amping up the chili powder and incorporating garlic powder and onion powder in step 3.
How to prevent sticking
Egg muffins love to stick to muffin tins BUT this is easily avoided. I recommend swiping a generous amount of olive oil along the inside of the each muffin cup in the tin. You can use a nonstick spray if you prefer too but I'd caution you not to skimp on it!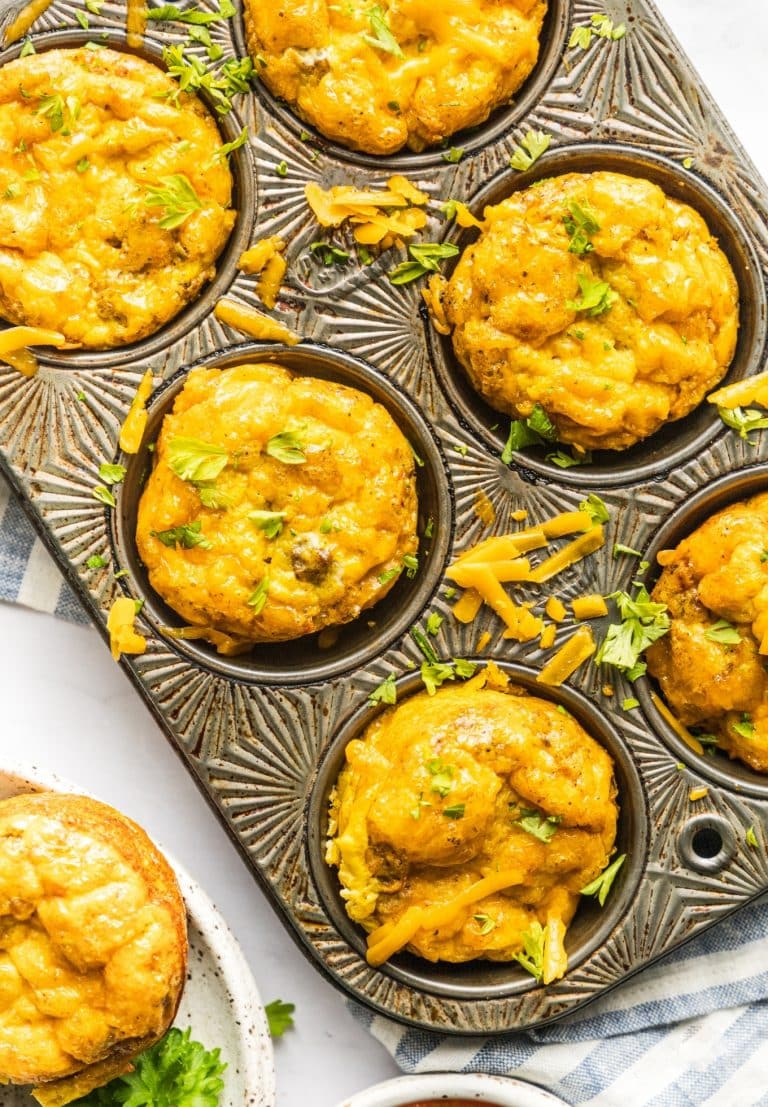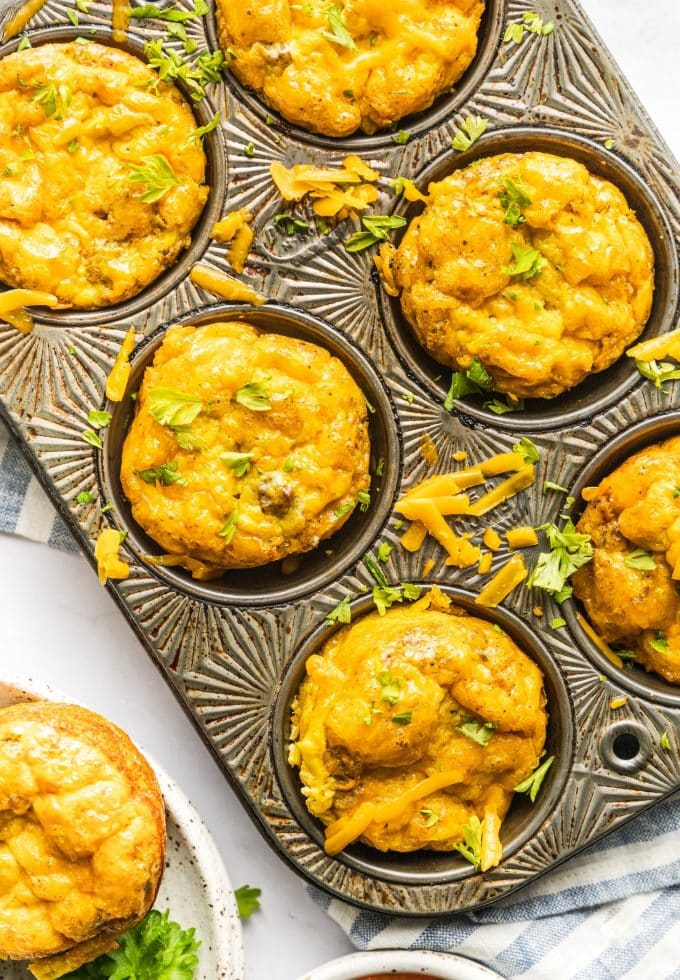 How to freeze egg muffins
Once your egg muffins are completely cooled just pop them into a ziplock bag and place them in the freezer. When you're ready to reheat you can wrap each muffin in a wet paper towel (to help hold in the moisture) and heat in the microwave for about 30 seconds. Add more time if necessary.
How to serve this
Egg muffins can be enjoyed as is with no sides at all. Especially if you're gobbling these up as a grab and go breakfast!
Sitting down to eat? Serve these Beef and Cheese Egg Muffins with fresh fruit and potatoes. I recommend my Easy Diced Air Fryer Potatoes or my Southwestern Skillet Potatoes.
More recipes like this:
Turkey Apple Breakfast Meatballs
Dairy Free Mexican Breakfast Casserole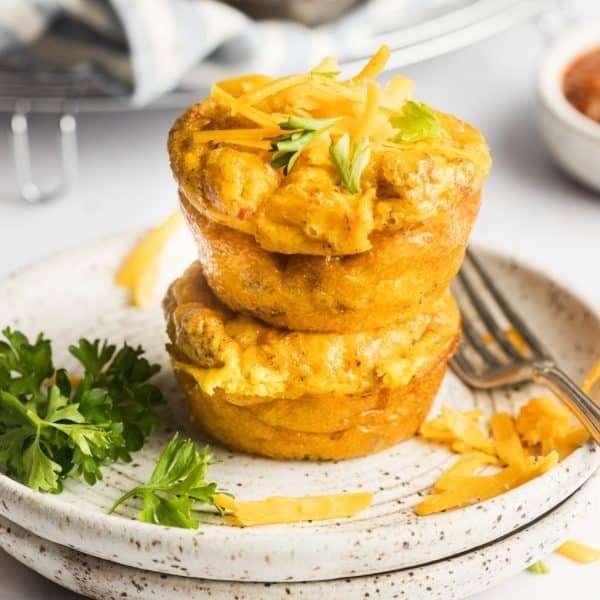 Beef and Cheese Egg Muffins
Love beef and cheddar cheese? Oh these egg muffins are for you! They're the perfect portable breakfast you can even make ahead of time!
Ingredients
Beef + Onion
½ lb ground beef, can sub ground turkey
½ white or yellow onion, diced
1 tsp garlic, minced
½ tsp chili powder
½ tsp salt
½ tsp black pepper
Egg + Cheese
1½ tbsp olive oil, This is to grease the muffin pan and prevent sticking.
12 eggs
½ cup salsa, I use mild but you can certainly use medium or hot if you prefer.
½ tsp salt
½ tsp black pepper
¾ cup shredded cheddar cheese
Instructions
Preheat oven to 350 degrees.

Add your ground beef (or turkey) to a large skillet on the stovetop along with diced onion. Use a spatula to crumble the meat. Cook on medium-high heat, stirring occasionally, until browned.

Stir in minced garlic, chili powder, salt, and pepper. Sauté for one more minute so garlic is golden in color.

Grease a 12-cup muffin tin with the olive oil (or use a spray). Don't skimp on this or your eggs will stick. Make sure you grease both the sides and bottom of each muffin cup.

Divide the beef/onion mixture and add to the bottom of each muffin cup.

In a large bowl, whisk eggs with salsa, salt, and pepper until well combined.

Pour the egg mixture into each muffin cup.

Sprinkle shredded cheese in each cup.

Bake for 20 to 22 minutes or until egg is firm. Remove from the oven and set aside to cool. The egg muffins will puff up a lot while baking. They'll settle down over the next 5 minutes as they cool. Once cooled, use a fork or small spatula to gently pull the egg muffins from the pan and serve. 
Nutrition
Serving: 1egg muffin, Calories: 161kcal, Carbohydrates: 2g, Protein: 11g, Fat: 12g, Saturated Fat: 5g, Trans Fat: 1g, Cholesterol: 185mg, Sodium: 391mg, Potassium: 161mg, Fiber: 1g, Sugar: 1g, Vitamin A: 386IU, Vitamin C: 1mg, Calcium: 85mg, Iron: 1mg