Salsa Chicken Egg Muffins
Salsa Chicken Egg Muffins are perfect for meal prep or when you want a healthy breakfast option for a crowd. Keep them stocked in the fridge for a grab and go breakfast!
Don't let the word "muffin" mislead you. These aren't muffins. They're baked eggs that cook in a muffin pan so they take the shape of muffins. If you're a fan of baked eggs you'll be a fan of these!
It's easy to load them up with all kind of flavor combinations but these Salsa Chicken Egg Muffins are a favorite in my home. Use a precooked shredded chicken to save time. 99% of the time I go with store-bought rotisserie chicken. You can even save money by buying a chicken prepared in store the day before. Another time saving option is to use leftover chicken from the previous night's dinner.
When you first pull the pan from the oven you'll notice the egg muffins puff up a lot while cooking. Just set the pan aside to cool and you'll see the eggs settle down over the next 5 minutes.
I use a mild salsa so these aren't spicy and even my four year old daughter can enjoy them. I put fresh jalapeño slices on top of half of the muffins because my husband and son really appreciate the heat. I leave half without the jalapeño. You can do it however you prefer depending on who will be eating these grab and go cuties!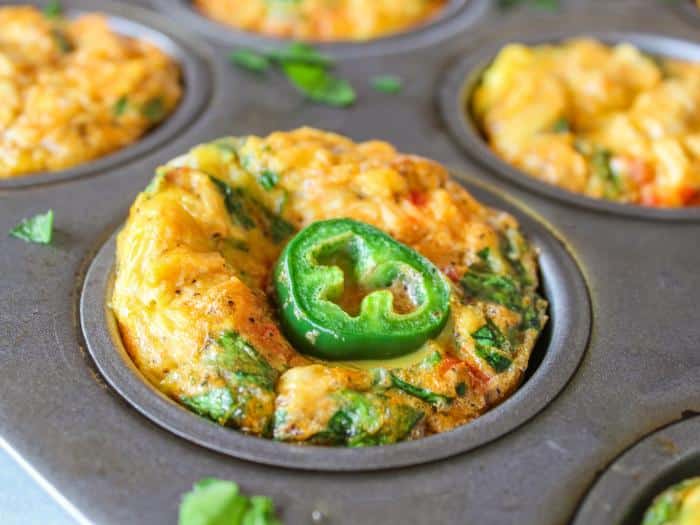 Meal prepping and plan to enjoy these in the next 5 days? Store your muffins in an airtight container. Refrigerate and pull them out as needed. Microwave each muffin for around 15 seconds. Add more time if necessary.
Want to freeze these? Once your egg muffins are completely cooled just pop them into a ziplock bag and place them in the freezer. When you're ready to reheat you can wrap each muffin in a wet paper towel (to help hold in the moisture) and heat in the microwave for about 30 seconds. Add more time if necessary.
If you're interested in more egg muffin goodness check out my Turkey Pizza Egg Muffins!
Salsa Chicken Egg Muffins
Salsa Chicken Egg Muffins are perfect for meal prep or when you want a healthy breakfast option for a crowd.
Ingredients
1 1/2 tbsp olive oil, This is to grease the muffin pan and prevent sticking.
12 eggs
1/2 cup salsa, I use mild but you can certainly use medium or hot if you prefer.
1/2 tsp salt
1/2 tsp pepper
1/4 cup fresh spinach, chopped
3/4 cup shredded chicken, cooked
Optional: fresh jalapeño slices
Instructions
Preheat oven to 350 degrees.

Grease the muffin tin with the olive oil (or use a spray). Don't skimp on this or your eggs will stick. Make sure you grease both the sides and bottom of each muffin cup.

In a large bowl, whisk your eggs with salsa, salt, and pepper until well combined.

Pour the egg mixture into your muffin pan so that each cup is about 3/4 of the way full (or a little more).

Add the chopped fresh spinach and use a fork to push the spinach down a bit. Add the cooked shredded chicken to each muffin cup.

Optional: Add a slice of fresh jalapeño to the top of your muffins. I do this for half of my egg muffins so that I have six that are spicy and six that aren't. It just depends on how much heat you like.

Bake for 20 minutes. Remove from the oven and set aside to cool. The egg muffins will puff up a lot while baking. They'll settle down over the next 5 minutes as they cool. Once cooled, use a fork or small spatula to gently pull the egg muffins from the pan and serve. You can top with salsa or guacamole if you're not enjoying them on the go. (Instructions for meal prep and/or freezing these egg muffins can be found in the blog post right above this recipe.)
Notes
Don't skimp on greasing the muffin pan. The egg muffins will stick to the pan if you don't use a fairly heavy hand with the oil. You can use a spray oil if you prefer but make sure you have thoroughly greased each cup, both the bottoms and the sides. Optional additional ingredients include shredded cheddar cheese, onion, diced peppers, or fresh cilantro. If I'm not eating these on the go I top my finished egg muffins with salsa but guacamole is another yummy choice!
Nutrition
Serving: 1muffin, Calories: 96kcal, Carbohydrates: 1g, Protein: 7g, Fat: 6g, Saturated Fat: 1g, Cholesterol: 170mg, Sodium: 242mg, Potassium: 115mg, Vitamin A: 350IU, Vitamin C: 0.4mg, Calcium: 29mg, Iron: 0.9mg