BLT Breakfast Casserole
This BLT Breakfast Casserole is inspired by the classic BLT so you know it's going to be yummy. It's surprisingly dairy free and big enough to feed a crowd!
I don't know about you but I wake up ready to eat. (I also require a giant coffee if I'm being honest.) So I love coming up with creative breakfast solutions! My BLT Breakfast Casserole has everything you love about a BLT sandwich.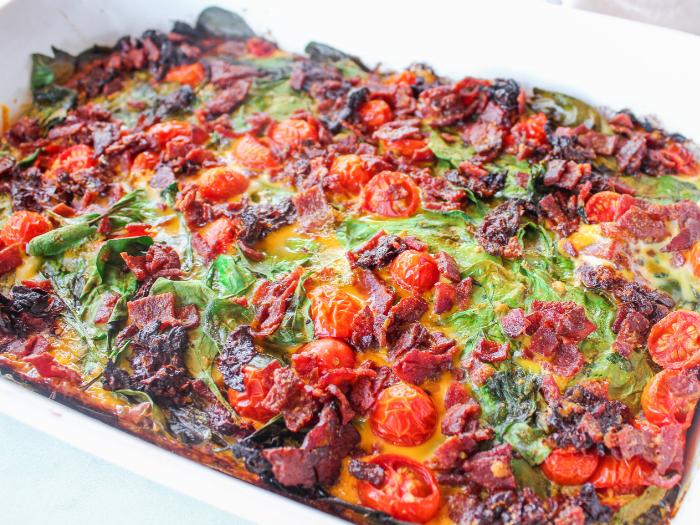 There's bacon. I use Wellshire Turkey Bacon but you can of course use your favorite turkey or pork bacon. If you're using turkey bacon I recommend sautéing it in a little olive oil to get it perfectly crispy.
There's tomato. Actually there are two types of tomatoes! I'm using cherry tomatoes and sun-dried tomatoes. Are sun-dried tomatoes ever a bad idea? Umm no. They have so much dang flavor!
There's lettuce. Okay, there's not. Instead we're including spinach to give it that lettuce vibe.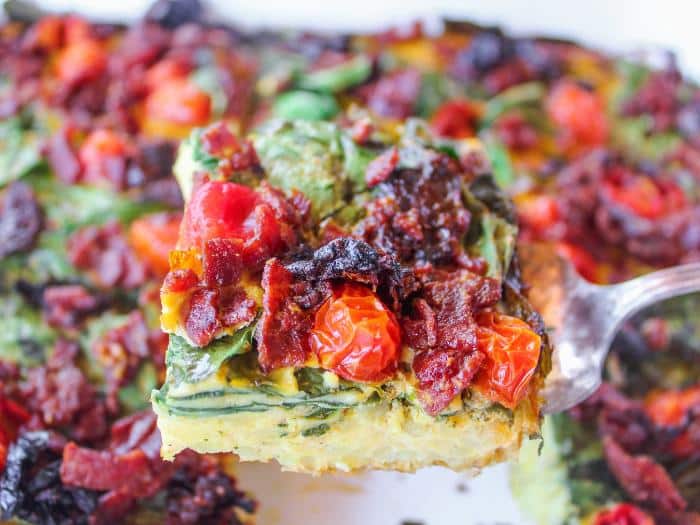 It all goes in an easy egg mixture and into the oven for a delicious breakfast you're going to want to put on repeat!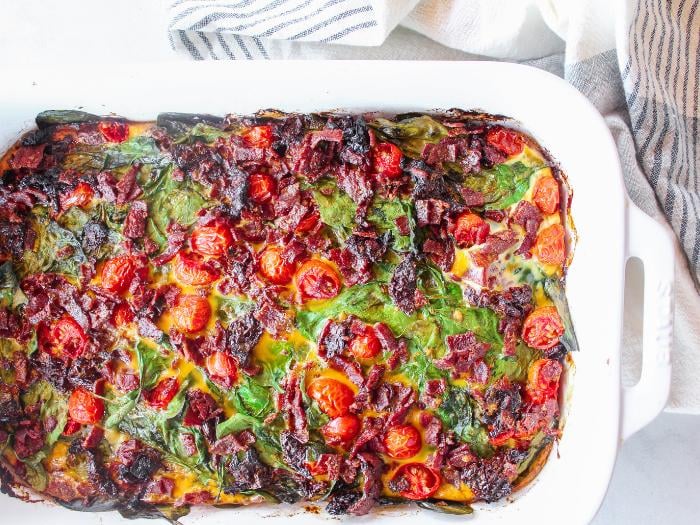 Craving more breakfast goodness? My Dairy Free Taco Breakfast Casserole is super easy and yummy! The Salsa Chicken Egg Muffins and Turkey Pizza Egg Muffins are perfect for a grab and go breakfast plus you can make them ahead of time!
BLT Breakfast Casserole
This BLT Breakfast Casserole is inspired by the classic BLT. Plus it's dairy free, gluten free, Whole30, and big enough to feed a crowd!

Ingredients
Egg Mixture
12 eggs
1/3 cup water
1/4 cup nutritional yeast, Can substitute shredded cheese if not avoiding dairy.
1 tsp salt
1/2 tsp pepper
1/2 tsp ground mustard
1/2 tsp garlic powder
1/2 tsp onion powder
Casserole Fillings
6 slices of bacon, I use Wellshire Turkey Bacon.
2.5 oz fresh spinach, about two handfuls
5 oz cherry tomatoes, halved
8 sun-dried tomatoes, chopped
1 lb shredded hash brown potatoes, Can buy a package at the grocery store or shred your own.
1 1/2 – 2 tbsp olive oil, This is for greasing the inside of the baking dish. You can use coconut oil if you prefer.
Instructions
Preheat oven to 350 degrees.

Grease the bottom and sides of a 9×13 baking dish with olive oil.

Chop your bacon and sauté it in a skillet on the stove until crispy. (If using turkey bacon I like to add a little olive oil to the pan to get the crispiness I want.)

Spread your shredded potatoes in the bottom of your greased baking dish. Top with spinach, halved cherry tomatoes, chopped sun-dried tomatoes, and crispy chopped bacon.

In a large bowl whisk your eggs, water, nutritional yeast, salt, pepper, ground mustard, garlic powder, and onions powder until well combined. Pour the egg mixture over everything in the baking dish.

Bake for 55 to 60 minutes or until egg mixture is set in the center. (60 minutes is the perfect baking time for my oven.) Let casserole sit for a few minutes before slicing.
Notes
I love and use Wellshire Turkey Bacon in any and every recipe where recipe is an ingredient. In my opinion it's far superior to other turkey bacon and has an exceptional ingredient list. They have a sugar free version that's perfect for anyone completing a Whole30. We use that one or the classic or the pepper one. All are delicious in this recipe but you can of course use a pork bacon or whatever bacon you prefer!  
Nutrition
Serving: 1slice, Calories: 147kcal, Carbohydrates: 9g, Protein: 9g, Fat: 8g, Saturated Fat: 2g, Cholesterol: 170mg, Sodium: 434mg, Potassium: 318mg, Fiber: 1g, Vitamin A: 860IU, Vitamin C: 8mg, Calcium: 37mg, Iron: 1.7mg