Easy Chicken & Broccoli Stir Fry
This Easy Chicken & Broccoli Stir Fry is a light and very satisfying meal. It has a mild flavor that's very family friendly.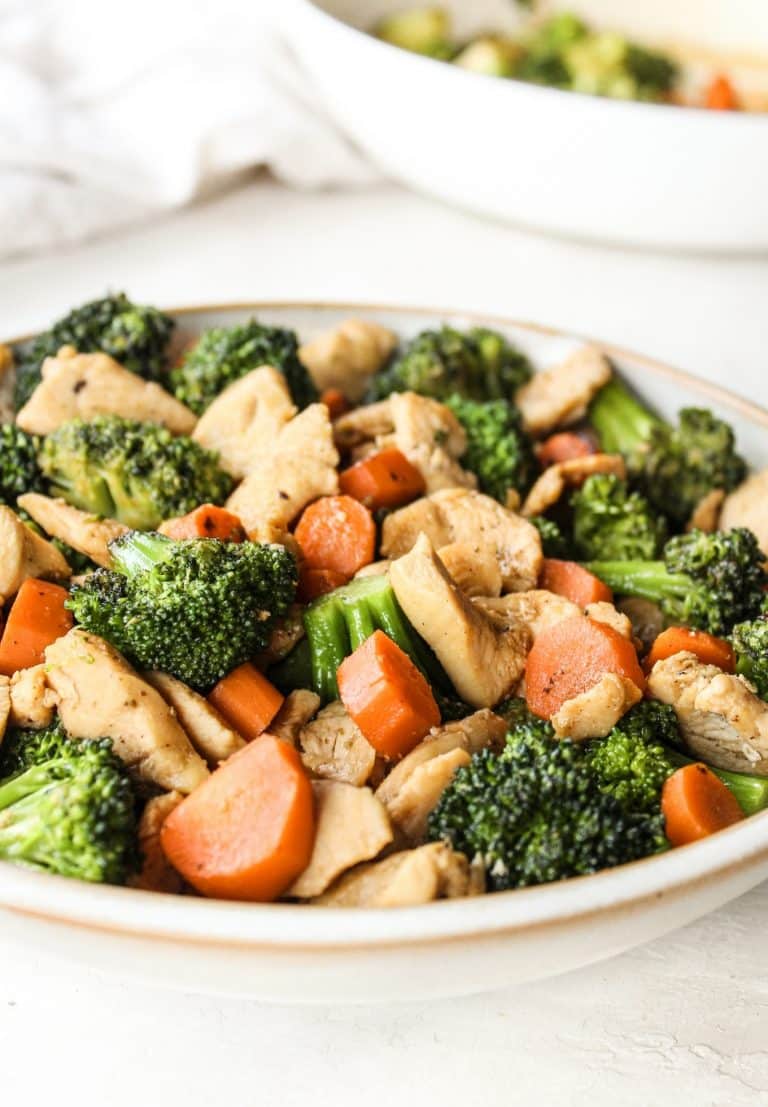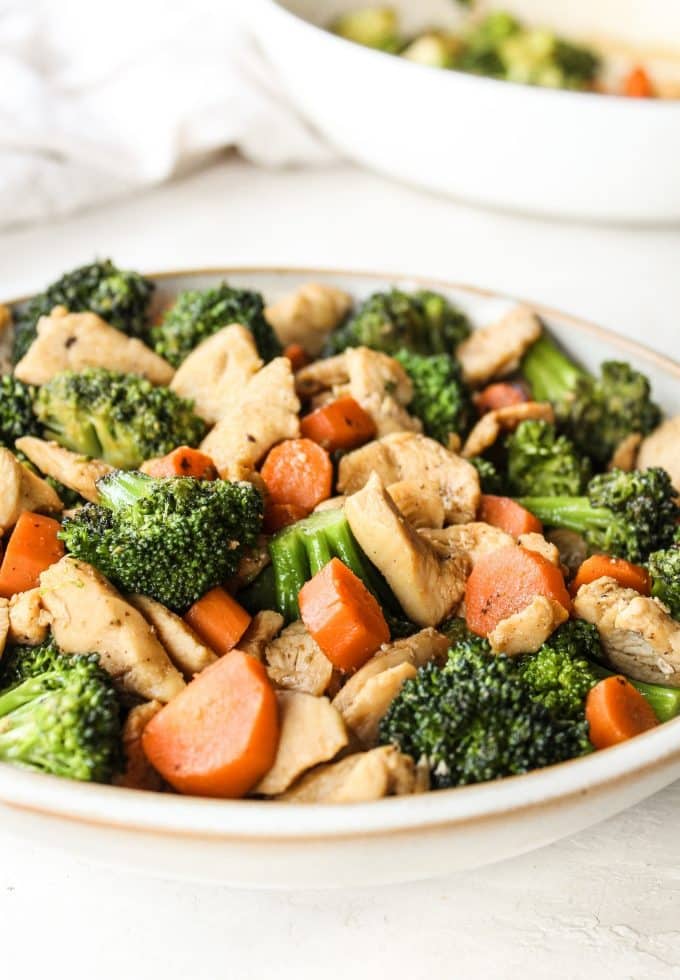 Today I'm coming at ya with another fast and easy dinner. Those are the best, aren't they? I'm up for anything that saves me time and requires that I wash less dishes. Dirty dishes may very well be the death of me.
My tombstone might read something like "Here lies Christina who is just grateful she won't have to look at another sink of dishes again".
Everything in this Easy Chicken & Broccoli Stir Fry cooks in one pan. That's what I'm trying to say, friends. Less dishes.
Tender chunks of chicken breasts, fresh broccoli, and carrots. You get a protein and two veggies so your dinner is complete! Of course you can always toss this over cauliflower rice, traditional rice, or sauteed spinach (I just did that for my lunch today) if you like.
I use coconut aminos and a combination of mild spices to bring out the natural sweetness of the veggies. It's very simply seasoned so everyone in the whole family (including little ones) can enjoy it.
The broccoli and carrots don't take long to cook. I like to leave mine a little crunchy.
Since this entire recipe only takes 30 minutes you can whip this up for lunch or dinner. It's especially perfect for evenings when you suddenly realize you don't have a dinner plan. You know what I'm talking about, don't you? Suddenly it's 5:00 and you have no idea what everyone will be eating. This Easy Chicken & Broccoli Stir Fry is the answer.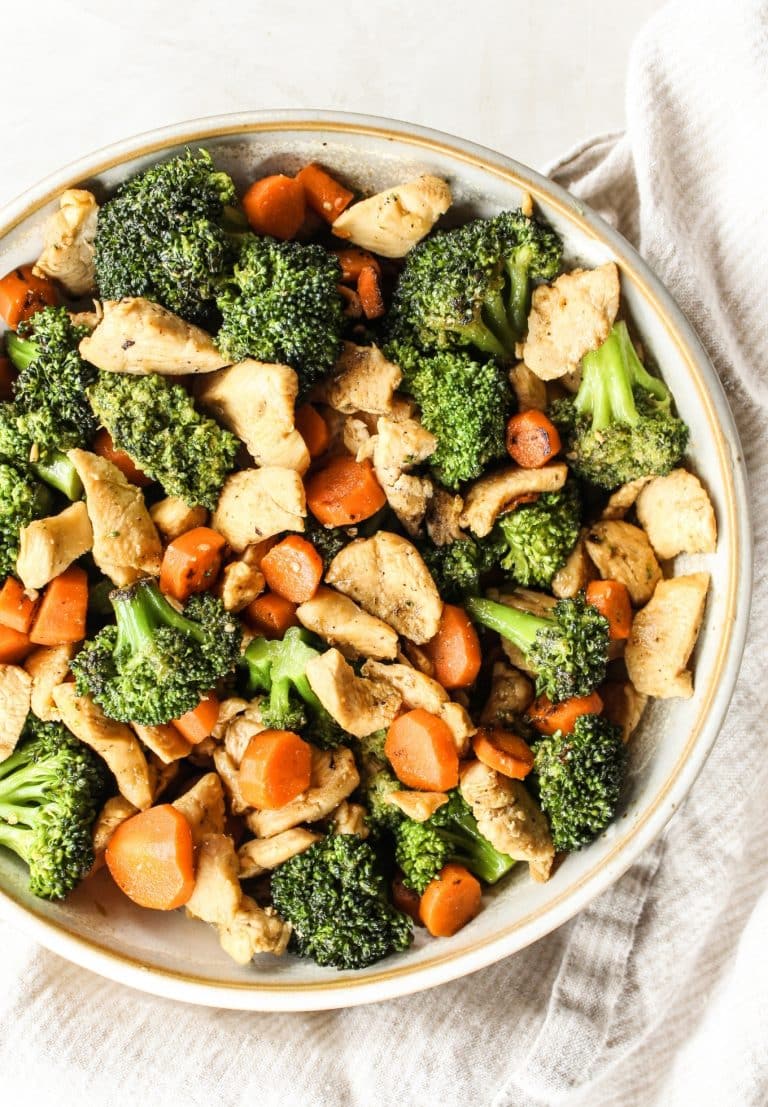 For this recipe you'll need (full list of ingredients and instructions are in the recipe card below):
Olive oil
Chicken breasts
Broccoli
Carrots
Coconut aminos
Sesame oil
Minced garlic
A few simple seasonings
What is coconut aminos?
Coconut aminos is a soy sauce substitute that has a lot less sodium and contains no soy. It truly tastes like a slightly sweet soy sauce! Learn more about what it is and why it's so popular in healthy recipes here.
What size skillet should you use?
I recommend an 11 or 12″ skillet for all my skillet meals. You'll be able to accommodate more food in the pan this way which ensures quick and even cooking. Using a skillet that's too small increases your cooking time. It also makes it much more difficult to achieve the browning we want.
Is this stir fry spicy?
This is a very mild dish and suitable for anyone.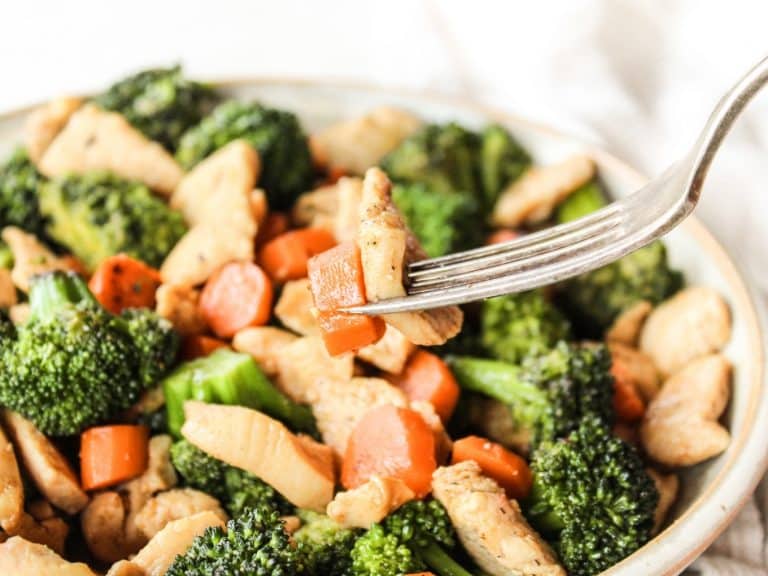 Is this stir fryer good for meal prep?
This recipe is delicious for meal prep because both the chicken and green beans hold up well after reheating. You can refrigerate in airtight containers in your refrigerator until ready to eat. Warm on the stovetop or in the microwave.
Is this stir fry freezer friendly?
Yes! You can freeze in an airtight container. When you're ready to enjoy just thaw and reheat on the stovetop or in the microwave.
How to serve this
This recipe is a complete meal; however, I always enjoy serving stir-fries over traditional or cauliflower rice. It will make your dinner more satiating!
More recipes like this:
Garlic Crushed Red Pepper Chicken Stir Fry
15-Minute Italian Chicken & Peas
20 Minute Skillet Sausage & Zucchini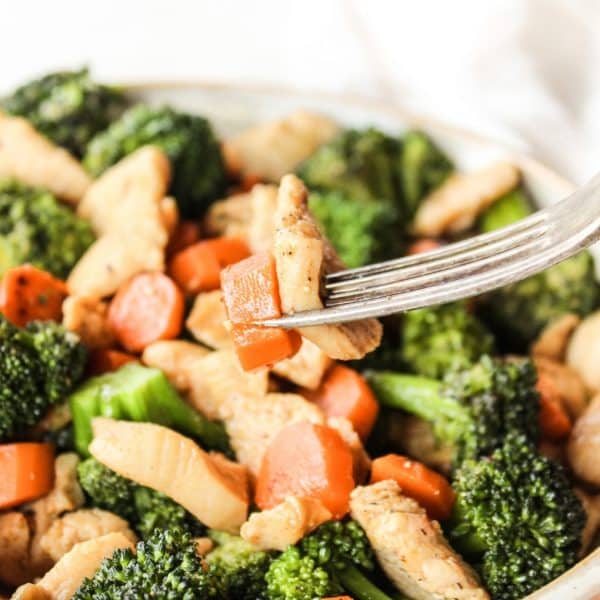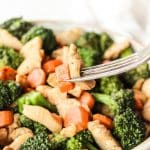 Easy Chicken & Broccoli Stir Fry
This Easy Chicken & Broccoli Stir Fry is a light and very satisfying meal. It has a mild flavor that's very family friendly.
Ingredients
Chicken
1 tbsp olive oil, extra virgin
1 1/2 lb chicken breasts, 3 to 4 chicken breasts, cut into 1-inch pieces
1/2 tsp salt
1/2 tsp ground ginger
1/2 tsp onion powder
1/4 tsp black pepper
1 tsp garlic, minced
Veggies
16 oz broccoli florets
1 cup carrots, cut into circles
1/4 cup coconut aminos
1 tbsp sesame oil
1/2 tsp salt
Instructions
Heat 1 tablespoon oil in a large skillet (I use my 12") over medium-high heat. Once oil is hot, add chicken pieces. Season with salt, ginger, onion powder, and pepper. Sauté, flipping occasionally, for 4 to 5 minutes or until chicken has some browning. Remove chicken from pan and set aside when done. Leave any oil remaining in the skillet.

Add 1 additional tablespoon of oil along with broccoli and carrots. Season with salt. Sauté, stirring frequently, on medium-high heat for 3 to 4 minutes until veggies are a bit tender with some browning. Add minced garlic to skillet and sauté until golden, about 1 minute.

Add coconut aminos and sesame oil. Stir. Return chicken to the skillet. Reduce heat to medium and simmer for 3 to 4 or until everything is warmed. Broccoli and carrots should still have a little crunch. (If you prefer very soft veggies you can cover the skillet.)
Notes
Feel free to use boneless chicken thighs instead of breasts if that's your preference.
Nutrition
Serving: 1chicken breast + 1/4 of veggies, Calories: 326kcal, Carbohydrates: 14g, Protein: 40g, Fat: 12g, Saturated Fat: 2g, Trans Fat: 1g, Cholesterol: 109mg, Sodium: 1178mg, Potassium: 1101mg, Fiber: 4g, Sugar: 3g, Vitamin A: 6104IU, Vitamin C: 105mg, Calcium: 76mg, Iron: 2mg