Garlic Shrimp Stir Fry
Quickly sauté shrimp with vibrant veggies and a homemade garlic sauce for a simple meal ready in just 20 minutes!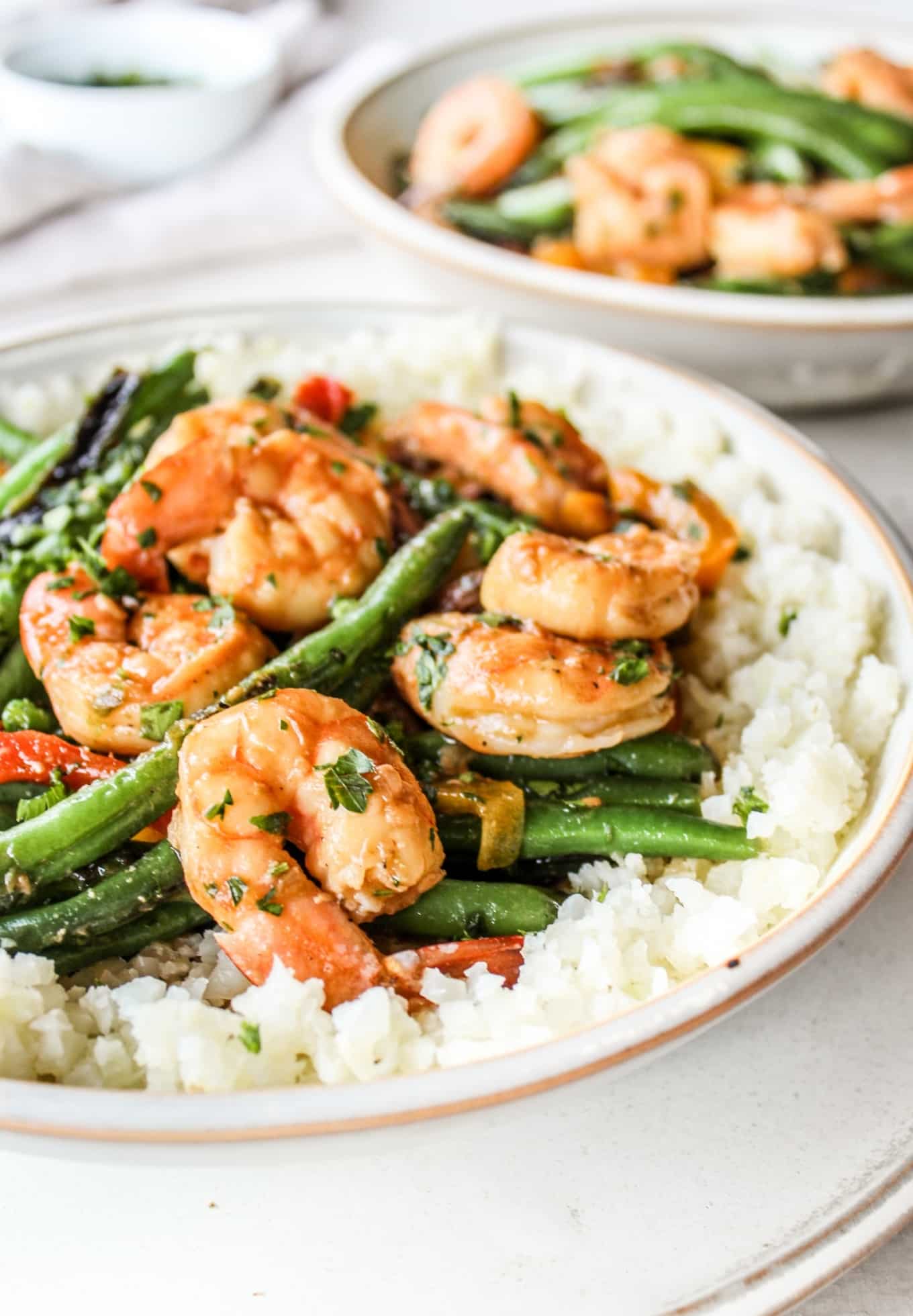 I love a great stir fry for dinner because they're fast. But not only that, they can be so very flavorful.
And let's not forget how easy it is to create a stir fry using what you have on hand. If you have a protein and a fresh veggie you can always create something incredible.
This Garlic Shrimp Stir Fry is especially speedy since shrimp cooks in under 5 minutes.
Green beans and bell pepper give this meal some crunch.
Oooo and the 5-ingredient garlic sauce. It is dreamy!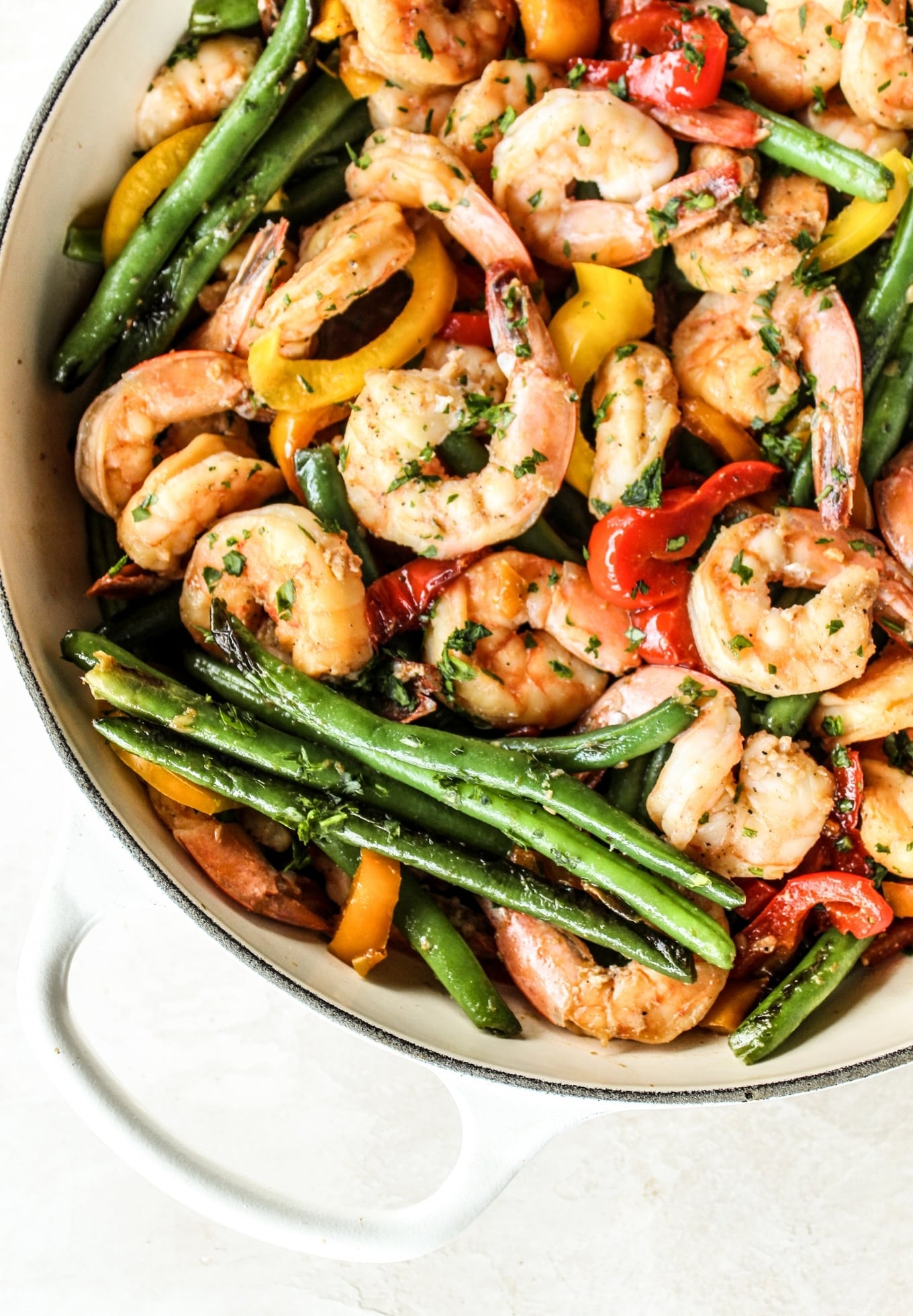 To make this recipe you'll need (full list of ingredients and instructions are in the recipe card below):
Olive or avocado oil
Fresh green beans
Bell pepper
Garlic
Coconut aminos
Sesame oil
Shrimp
A few simple seasonings
Cook the green beans and bell pepper for a few minutes to keep them a bit crunchy with some blistered spots. Add the minced garlic to get it beautifully golden in color.
Add sauce ingredients to the skillet. Season the shrimp and add it to the skillet too. Let everything cook together until shrimp is pink. Garnish with fresh parsley if you like!
Can you use frozen shrimp?
Do not add frozen shrimp directly to the skillet. You're welcome to use frozen shrimp but you'll need to thaw it first. There are two ways to do this:
Place the bag of frozen shrimp in a bowl in the refrigerator to thaw naturally.
If you're short on time, an alternative method for thawing is to run cold water (never warm or hot water) over the bag of shrimp. It only takes about 10 to 15 minutes to thaw them this way.
What size shrimp is best for a stir fry?
I suggest opting for larger shrimp so you're more likely to avoid overcooking. Shrimp cook quickly and it's easy to go too long if you're not paying attention!
Should you leave the tails on this shrimp?
Leave the tails on or remove them. It's really just a matter of personal preference.
Is this stir fry spicy?
Not at all. If you want to add some heat, use a little sriracha in your sauce or top everything with crushed red pepper flakes.
How to get crispy stir fry veggies
One of the most important parts of a great stir-fry is that crunch you can get from the veggies. So we don't want to overcook the green beans. The goal is to blister them on a fairly high heat (we're using medium-high) so we see some browned spots. Do this for about 5 minutes and no more. Keep in mind that the green beans will continue to cook with the shrimp and sauce.
How to serve this stir fry
I love a veggie-loaded stir fry like this one with rice (white, brown, or cauliflower).
More seafood recipes like this:
Cajun Shrimp & Cauliflower Rice
Pan Seared Chipotle Lime Salmon
Sheet Pan Greek Shrimp & Broccoli
Pistachio Herb Crusted Salmon with Asparagus
Sheet Pan Lemon Herb Salmon with Veggies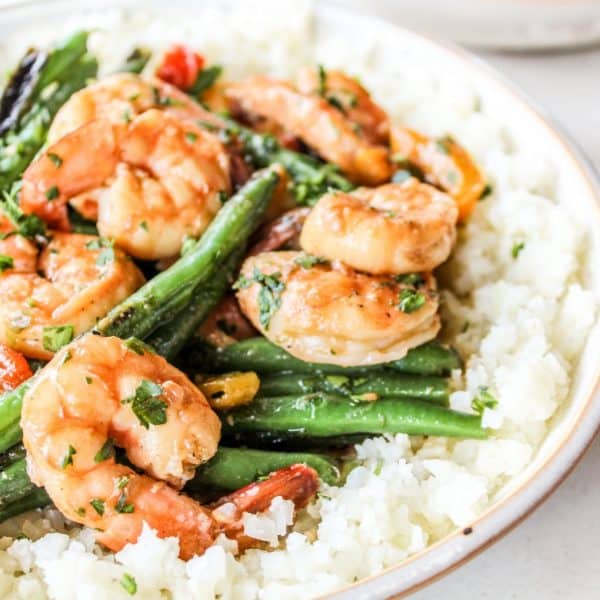 Garlic Shrimp Stir Fry
Quickly sauté shrimp with vibrant veggies and a homemade garlic sauce for a simple meal ready in just 20 minutes!
Ingredients
Veggies
1 1/2 tbsp olive or avocado oil
12 oz green beans
1 bell pepper, thinly sliced, any color, I do 1/2 red and 1/2 yellow or orange
Garlic Sauce
1 tbsp garlic, minced
1/3 cup coconut aminos
1 tsp sesame oil
1/4 tsp salt
1/4 tsp ground ginger
Shrimp
1 lb shrimp, peeled and deveined, tails on or off
1/4 tsp salt
1/4 tsp black pepper
1/4 tsp garlic powder
Optional garnish: fresh chopped parsley
Instructions
Heat oil in a large skillet on medium-high heat. (I recommend a 12" skillet so you have room for everything.) Once oil is hot, add the green beans and sliced bell pepper. Sauté for 5 to 7 minutes, stirring frequently, until green beans have some browning but are still crispy. Do not cover. You do not want your veggies to be tender at this point because they'll continue to cook with our shrimp later.

Stir in the minced garlic. Sauté for 1 minute or until garlic is golden in color.

While veggies are sautéing, season shrimp with salt, pepper, and garlic powder. Set aside.

Add all sauce ingredients to the skillet with your vegetables. Stir. Add the seasoned shrimp. Cook everything uncovered for 3 to 4 minutes or until shrimp is pink.

Taste veggies and add more salt and pepper if desired. Garnish with chopped fresh parsley (optional).
Nutrition
Calories: 229kcal, Carbohydrates: 13g, Protein: 25g, Fat: 8g, Saturated Fat: 1g, Cholesterol: 286mg, Sodium: 1631mg, Potassium: 346mg, Fiber: 3g, Sugar: 4g, Vitamin A: 1519IU, Vitamin C: 54mg, Calcium: 203mg, Iron: 4mg