Steak & Sweet Potato Breakfast Hash
How do you feel about sweet versus savory breakfasts? I like both which always floors my husband. He's firmly in the savory breakfast camp and completely appalled when I make something really sweet. I can go either way though. Some days I want eggs, potatoes, and turkey bacon. Some days I want Chocolate Chip Banana Oat Muffins.
My favorite breakfast though is probably any kind of hash. I make a lot of breakfast hash in my house. I like it because they're really fast, everything just goes in one skillet, and you can always mix it up by switching up your ingredients.
The recipe I'm sharing today is for Steak & Sweet Potato Breakfast Hash. I think it's a really lovely mix of both sweet and savory. Plus it's ready in 20 minutes or less so it's fast enough to do on a weekday or weekend.
Let's talk about a few breakfast hash tricks.
An important part of a great hash is dicing your potatoes really small. They cook quickly that way and they can get a nice brown on the outside (especially when you're using white or gold potatoes). That's what you're going for.
Cook the potatoes with the lid off. If you cover your pan your potatoes will become mushy so if you need to cover save it for the very end.
When you add your eggs you just make a little hole for each egg, break your egg into it, and then cover. The whites of your eggs will cook through and the yolks will remain nice runny.
Get creative with hash! I use diced pears to amp up the sweetness in this particular dish. I love pears in savory recipes because they're mildly sweet so they don't overpower everything else.
Don't forget something green. Arugula and spinach are often featured in my breakfast hash but in this recipe I just did a little green onion. It gives a nice bite to balance out the sweetness of the sweet potatoes and pears.
That's it! If you make this recipe I'd love to see it. If you share it to Instagram tag me and I'll come check it out!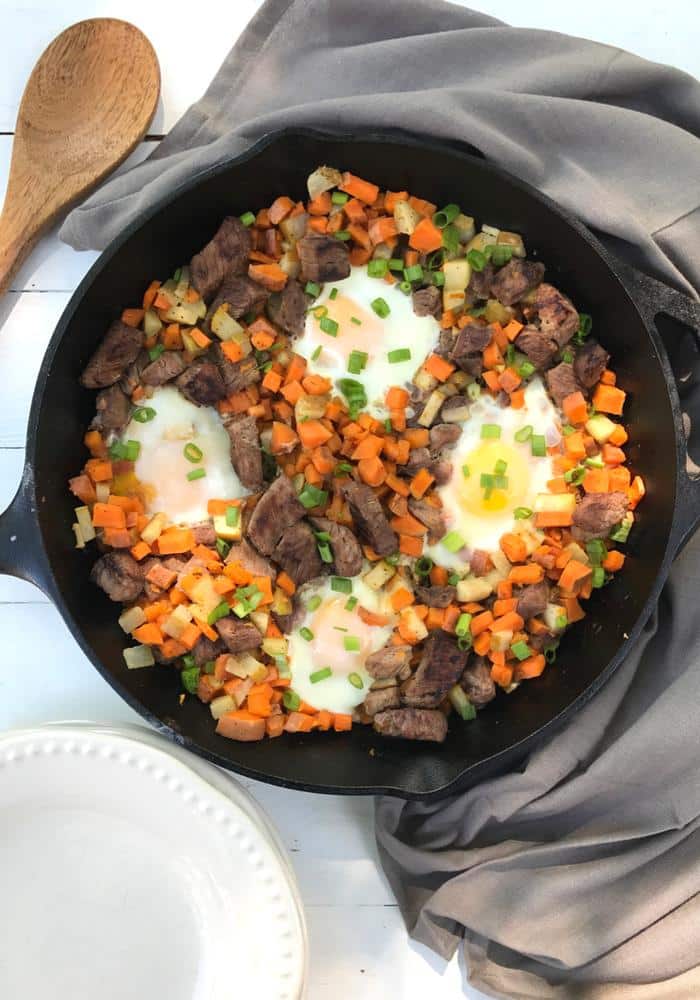 Steak & Sweet Potato Breakfast Hash
This Steak & Sweet Potato Breakfast Hash combines sweet and savory into a hearty dish to start the day.
Christina Shoemaker:
The Whole Cook
Cuisine:
Whole 30, Paleo, Gluten Free, Sugar Free
Ingredients
2 sweet potatoes, diced
2 tablespoons olive oil
1- 1.5 lb top sirloin steak or cut of choice
1 pear, diced
4 eggs
1 teaspoon salt
½ teaspoon pepper
1 green onion stem, diced
Instructions
Add the oil to your skillet and heat to medium high. Cut your steak into pieces and add to the skillet once oil is hot. Quickly sear the outside of your steak. You do not want it to cook through. Just let it brown on one side, flip, remove from skillet and set aside. This takes about 1 - 2 minutes if your skillet was hot to start. *If you prefer your steak more rare skip this step.
Now that the steak is no longer in the skillet add your diced sweet potatoes. Stir frequently. Cook for approximately 5 minutes. You want the potatoes to have some brown on the outside. They do not need to be cooked through yet.
Reduce heat to medium.
Stir in diced pears and steak.
Using your spatula create four "holes" and crack your eggs into them. Cover and cook for 4-7 minutes or until the whites of eggs are no longer translucent.
Season with salt and pepper.
Sprinkle diced green onions on top and serve!