Crustless Summer Vegetable Quiche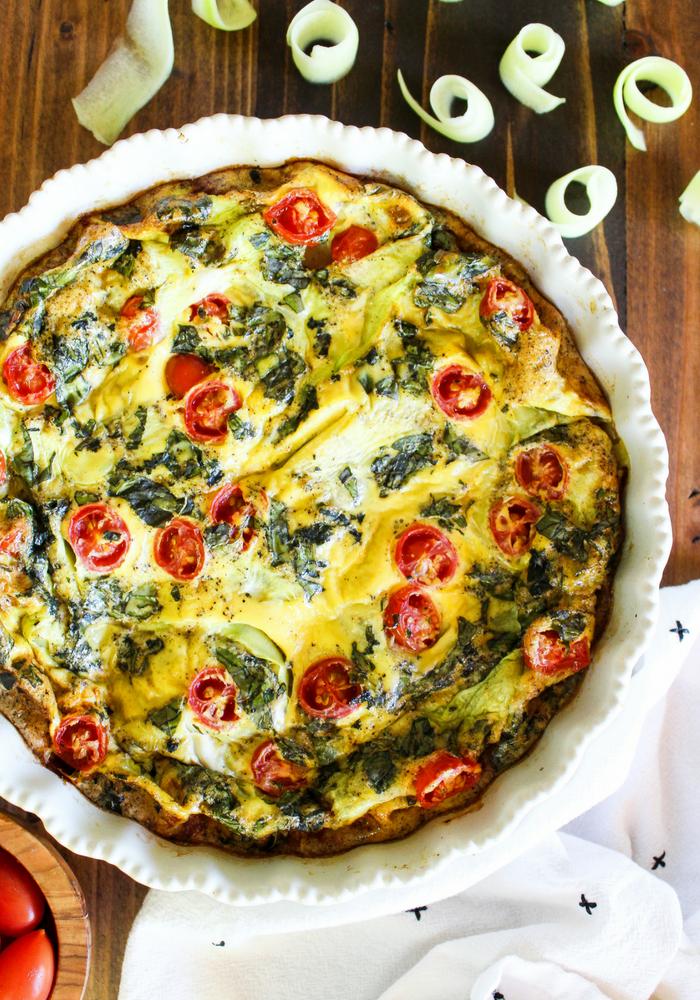 Summer is in full swing over here and I'm afraid it's going to be over before I know it. Isn't that always how it is? You wait and wait for it. Then you blink and it's gone.
This week we're visiting my sister in Alabama. Our kids play 24/7, stay up late, and basically have the best time ever together. This morning we'll head to the pool and my sister has informed me she's whipping up a s'mores pizza this afternoon. I have no idea what that is but my goodness doesn't that sounds like a fun dessert?
Next week it's off to the beach with even more family. My sister's family, my in-laws, my sister in-law's family, and my parents. It's quite a crew right? We laugh hard, split meal duties, chase crabs, and soak up the sunshine. It's my favorite part of every summer for good reason.
Another big part of summer to me is my garden. It took a few years to really get the hang of growing things and not killing it all. Honestly it didn't come naturally to me. I would plant so many things and it was just too much. I don't think I've decreased what I plant. I think I've just learned what I can do well with and what I can't. Plus my kids have turned into big helpers when it comes to watering.
We plant tons of flowers of all kinds so the backyard feels to me like a little oasis. I have one corner of the backyard dedicated to a vegetable and herb garden. This year I planted zucchini, squash, four kinds of tomatoes, basil, and cilantro. The tomato plants are HUGE this year. I've been documenting their growth in my Instastories. They are taller than me. No joke. I had so many green and orange tomatoes when I left home so I'm anxious to see what they look like when we finally get back!
Today's Crustless Summer Vegetable Quiche features some of those special things from my garden. It's a light dish to start the day off right.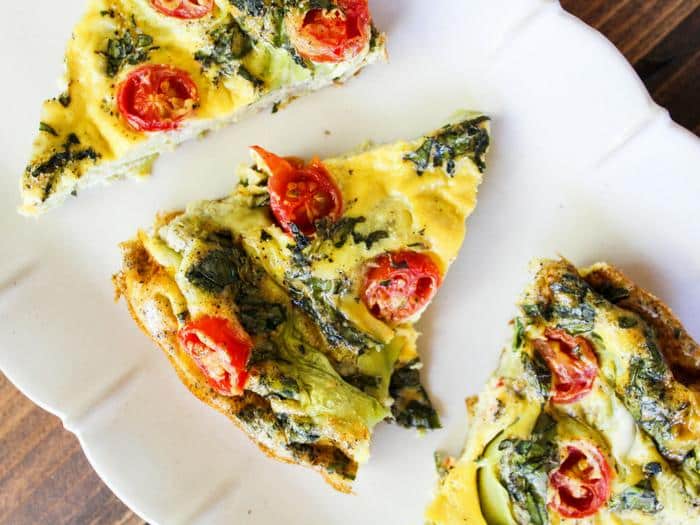 No dairy. (If you decide to add cheese I'd go with feta or goat cheese.) No gluten. No sugar or junk. No long list of complicated ingredients.
Just simple summer flavors and lots of tasty vegetables. Plus it's really pretty so it's a lovely addition to brunch when you're entertaining.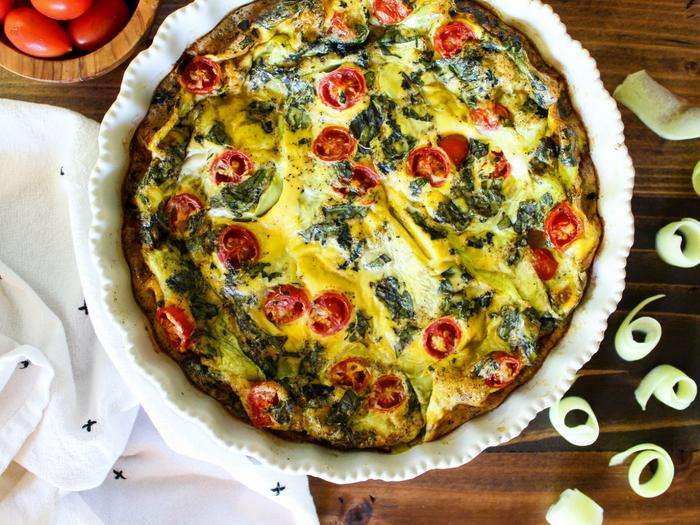 The finished product is soft and fluffy. Yes, even without milk. The water does the trick every single time. (I use a splash of water in my scrambled eggs and omelets too. No milk needed!)
Other vegetables also work well in this quiche. I recommend artichokes, spinach, squash, and arugula. Feel free to incorporate what you like!
Serve with my Skillet Breakfast Potatoes or fresh fruit for a complete meal.
Want other dairy free breakfast dishes? Try my Sheet Pan Sweet Potato Hash & Eggs, Dairy Free Taco Breakfast Casserole, or Spinach Arugula Breakfast Hash.
Made this dish and love it? If you share your photo on Instagram tag me so I can check it out!
Crustless Summer Vegetable Quiche
This Crustless Summer Vegetable Quiche is a light dish and the perfect way to celebrate all the beautiful flavors of summer!

Ingredients
1 tbsp olive oil
9 eggs
1/2 cup water
3/4 tsp salt
1/2 tsp pepper
1/2 tsp garlic powder
1 small zucchini
handful grape or cherry tomatoes
handful fresh basil
Instructions
Preheat oven to 400 degrees.


Spread the olive oil around the bottom and sides of a pie dish to prevent the quiche from sticking. I use my fingers or a paper towel to make sure it's evenly coated.


Add eggs, water, salt, pepper, and garlic powder to a bowl. Whisk together until thoroughly combined.


Pour egg mixture into your greased pie dish.


Cut the stem off your zucchini. Peel the dark green skin and discard. Use your vegetable peeler to create zucchini ribbons. Stop when you reach the middle of the zucchini as it tends to be very seedy and may be too soft to produce ribbons.


Place the zucchini ribbons in the egg mixture. I like to roll mine up into little spirals. They won't all stay put but some of them will. That way they're not all lying flat in the dish.

Cut your grape tomatoes in half. If using cherry tomatoes instead you may want to cut into thirds. Give your basil a nice chop (I leave mine pretty big).


Add tomatoes and basil to egg mixture.

Bake for 30 minutes. Let the quiche cool a bit and serve.

Nutrition
Serving: 1slice, Calories: 91kcal, Carbohydrates: 1g, Protein: 6g, Fat: 6g, Saturated Fat: 1g, Cholesterol: 184mg, Sodium: 291mg, Potassium: 132mg, Vitamin A: 315IU, Vitamin C: 4.4mg, Calcium: 32mg, Iron: 1mg