Easy Red Beans and Rice
This Easy Red Beans and Rice is ready in only 35 minutes but has all the big flavor of the classic dish. It's fast enough to enjoy on a busy weeknight!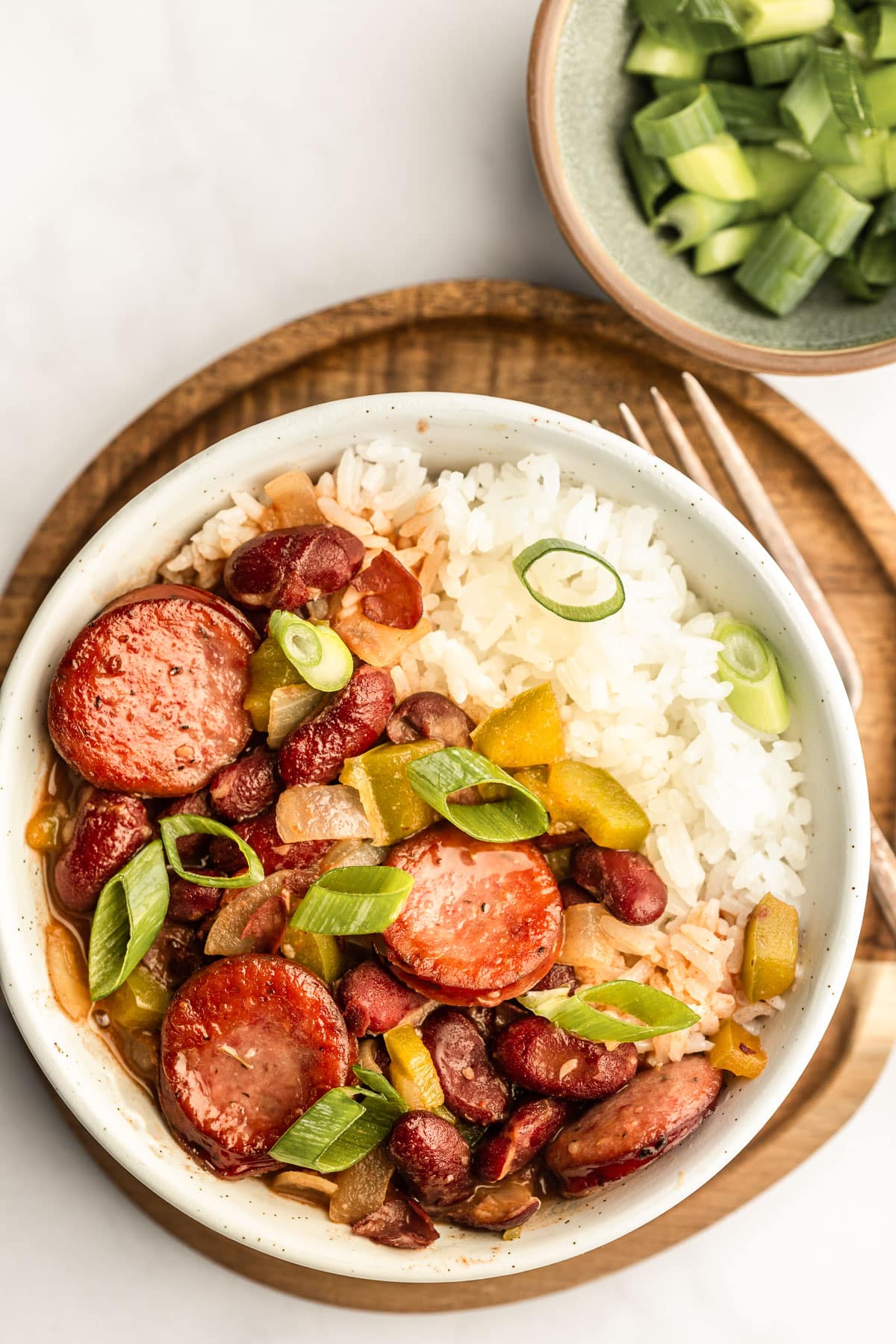 Growing up in Mississippi I was very familiar with Red Beans and Rice. It's a well known creole dish often served in Louisiana. In my home we embraced all kinds of spicy foods and this one was one of my dad's favorites.
When I started working on this recipe I thought I was going to make it in the Instant Pot. But then after multiple attempts that left me not quite satisfied I decided to do it on the stovetop. Friend, it's perfect. So while I love the Instant Pot, you just don't need it to make this dinner quickly.
A traditional version will likely use dried red beans. Red beans are similar to red kidney beans but a little smaller. Of course when you cook any dried bean you're going to need a bit more time so to keep my recipe fast, I'm using canned red kidney beans instead. Works like a charm! The finished dish has that classic creole flavor even if it was all surprisingly easy to make.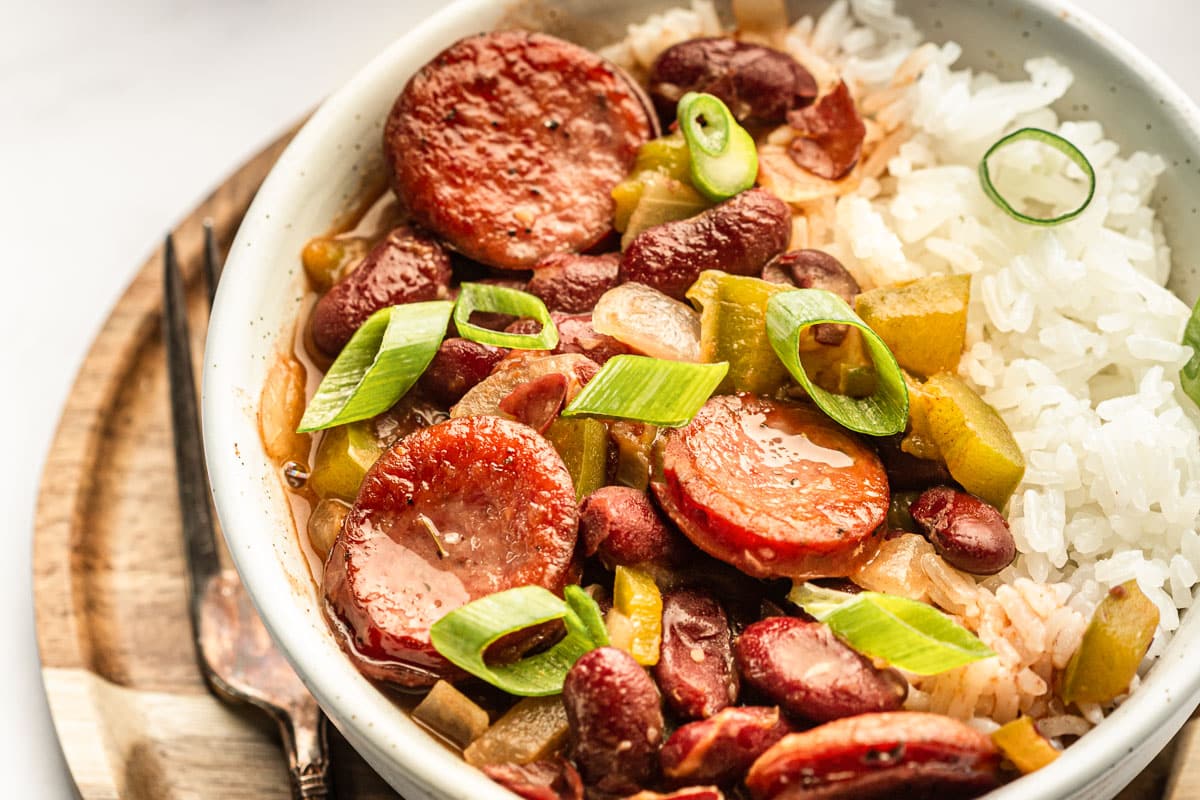 For this recipe you'll need (full list of ingredients and instructions are in the recipe card below):
Olive oil
Sausages
Onion
Green bell pepper
Minced garlic
Canned red kidney beans
Chicken stock
Tomato paste
Worcestershire sauce
Seasonings
White rice
What kind of sausage should you use?
For more traditional red beans and rice you'll want to go with andouille sausage. Any pork, beef, or chicken sausage will work well though.
Is red beans and rice spicy?
My version has a kick for sure. This is red beans and rice after all. But it's not at a heat level that will have you feeling you're in an episode of Hot Ones. (Anyone else a fan of that show? I can't get enough of it.) To reduce the heat, pick a mild sausage. For more heat, add a splash of hot sauce at the end.
How to make this gluten free
If you want to skip the rice simply use cauliflower instead. The red beans and sausage are also delicious over roasted broccoli (try my Easy Roasted Broccoli or Spicy Roasted Broccoli).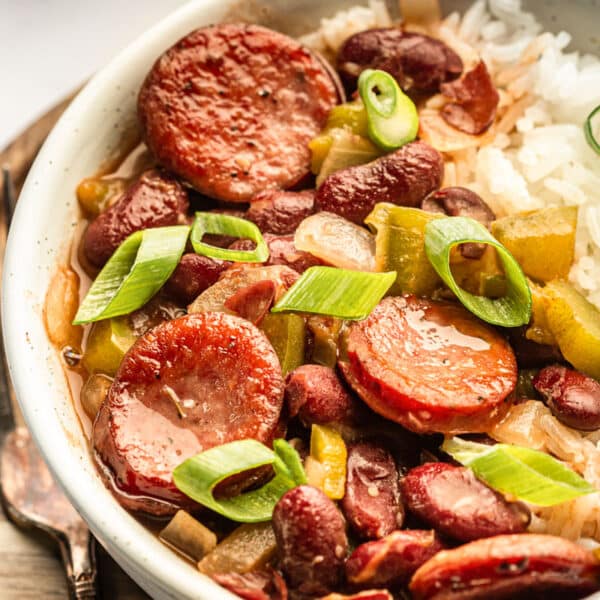 Easy Red Beans and Rice
This Easy Red Beans and Rice is ready in only 35 minutes but has all the big flavor of the classic dish. It's fast enough to enjoy on a busy weeknight!
Ingredients
2 tbsp olive oil, extra virgin
12 oz fully cooked sausages, sliced into circles, can use chicken, beef, turkey, or pork
1 medium white or yellow onion, diced
1 green bell pepper, cored and diced
1 tbsp garlic, minced
30 oz canned red kidney beans, drained and rinsed
15 oz canned red kidney beans, not drained
2 cups chicken stock
2 tbsp tomato paste
1 tbsp worcestershire sauce
1 tsp chili powder
1 tsp dried thyme
3/4 tsp onion powder
1/2 tsp black pepper
1/2 tsp salt
1/4 tsp ground cayenne pepper
Serve over cooked white rice and top with sliced green onion (optional).
Instructions
Heat 1 tablespoon of olive oil in a pot on medium-high heat. Add the sliced sausage. Sauté, stirring frequently for 3 to 4 minutes or until browned. Remove from pot and set aside.

Add remaining tablespoon of oil to pot along with the diced onion and pepper. Sauté, stirring frequently, until onion is translucent, approximately 3 minutes. Add minced garlic and sauté until golden, about 1 minute.

Add two cans of kidney beans that have been drained and rinsed. Add one can of kidney beans with the liquid. Add chicken stock, tomato paste, worcestershire sauce, chili powder, thyme, onion powder, pepper, salt, and cayenne pepper to the pot with the onion, bell pepper, and garlic. Don't add the browned sausage just yet. Bring to a boil and immediately reduce heat to a simmer at medium or medium low. Cover and simmer 15 minutes.

Add the sausage back to the pot and continue to simmer everything for 5 more minutes.

Turn off the heat. Use a slotted spoon to remove 3/4 cup to 1 cup of the beans. Add those to a bowl and gently mash the beans with a fork or potato masher. Place the mashed beans back into the pot and stir until well combined. This will help quickly thicken the liquid!

Taste and add hot sauce or additional salt or pepper if desired. Ladle into bowls over white rice and garnish with sliced green onion (optional).
Notes
Nutrition information does not include white rice.
Nutrition
Serving: 1cup, Calories: 378kcal, Carbohydrates: 42g, Protein: 23g, Fat: 15g, Saturated Fat: 3g, Polyunsaturated Fat: 1g, Monounsaturated Fat: 4g, Cholesterol: 42mg, Sodium: 1510mg, Potassium: 795mg, Fiber: 12g, Sugar: 8g, Vitamin A: 501IU, Vitamin C: 22mg, Calcium: 84mg, Iron: 4mg