Pan Seared Chipotle Lime Salmon
This pan seared salmon gets a beautifully browned crust while the inside is perfectly flaky. Plus it cooks in delicious chipotle and lime flavors. It's a quick entree you'll want to make regularly!
So what ingredients are we using?
Salmon. I recommend wild-caught when available.
A little oil for searing this gorgeous fish.
Salt, black pepper, and chipotle chile pepper seasoning.
Ghee or butter. (Yes, a vegan butter works well too if you're dairy-free.)
Lime juice.
Minced garlic.
Those are simple, right? We can handle that.
We're going to combine these tasty ingredients to create a magical entree. And it's ready in only 15 minutes!
Why wild salmon instead of farmed salmon?
Farmed salmon is fed a processed feed that's high in fat in order to yield very big fish. This dramatically changes the nutritional content for the salmon you eat. Farmed salmon may have a little more Omega-3 and a lot more Omega-6 (most people today eat too much Omega-6 already) but it also has more calories, fats, and sodium.
The big thing for me is that farmed salmon contains 10 times more toxins than wild salmon. Yikes! So go wild whenever possible, friends.
What is that white stuff you see when you cook salmon?
It's called albumin and it's a protein that exists in liquid form inside salmon. As salmon cooks, the albumin solidifies and moves to the surface of the fish. That's why you don't see it when the salmon is raw. Cooking is what brings it to the surface.
If you don't like seeing the albumin you'll want to cook your salmon at a lower temperature which means this particular recipe isn't for you. (We're all about getting that crispy crust here and we need some heat for that.)
The good news is that albumin is not bad for you. At all! And even if you don't see it on the outside of your fish it's still there! It's just hidden on the inside. So don't let it bother you, friend!
Can you pan sear frozen salmon?
No. If using frozen salmon you'll want to thaw it first. But don't worry! Seafood thaws quickly! Just place it in its packaging in cool water for about 15 to 20 minutes.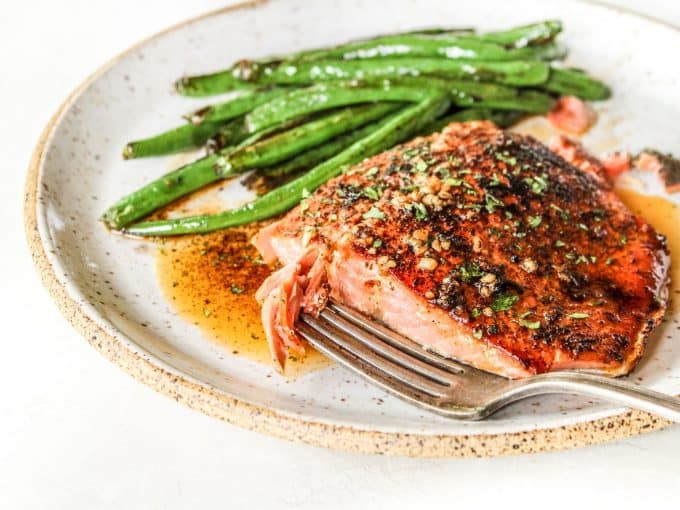 How to avoid overcooking salmon?
Salmon (like most seafood) is easy to overcook. When overcooked it's tough and dry – not pleasant! Perfectly cooked salmon should be opaque and flake easily with a fork. That's what we're going for here.
We're cooking this salmon on medium-high heat to achieve the crispiness we want on the outside. This makes it especially important that you pay close attention to your fish as it cooks because it can quickly get overdone. It takes no more than 7 to 9 minutes in a skillet and the time varies based on the thickness of the fish and how high your heat is.
A few tips to make sure your salmon is just perfect:
Get that oil hot before adding the salmon to the skillet. You should hear a sizzle!
Once you place the salmon in the skillet leave it alone! Don't move it around, don't touch it, and don't even look at wrong until you achieve that beautifully browned crust on the side touching the skillet. This takes no more than 4 to 5 minutes.
Gently flip the salmon.
Now cook for 3 to 4 more minutes. (In this recipe we're also adding a few ingredients for a simple sauce during this step.)
Your finished salmon should be opaque. When you press the top with a fork you'll notice that it starts to flake apart. That means it's ready!
How to serve this delicious salmon?
Thinking of a green side? I recommend my Spicy Roasted Broccoli, Easy Roasted Broccoli, Balsamic Bacon Brussels Sprouts, Garlic Green Beans, Simple Sautéed Cabbage, Roasted Brussels Sprouts, or Roasted Green Beans with Almonds.
Maybe you'd like to add some grains or carbs to make this extra satiating? That works too! Try serving with traditional white or brown rice, Easy Seasoned Roasted Potatoes, Easy Diced Air Fryer Potatoes, or Skillet Breakfast Potatoes. You'll also love my Smashed & Roasted Italian Potatoes, Baked Herb Potato Rounds, Smashed & Roasted Rosemary Garlic Potatoes, Light & Creamy Mashed Potatoes, and Cinnamon Pecan Sweet Potato Rounds.
More recipes like this:
Sheet Pan Lemon Herb Salmon & Veggies
Pistachio Herb Crusted Salmon with Asparagus
Sheet Pan Greek Shrimp & Broccoli
Cajun Shrimp & Cauliflower Rice
Pan Seared Chipotle Lime Salmon
This pan seared salmon gets beautifully browned and a little crispy on the outside. The inside is perfectly flaky. Plus it sautés in delicious chipotle and lime flavors. It's a quick entree you'll want to make regularly!
Ingredients
4 6-ounce salmon fillets
1 tbsp olive oil
3/4 tsp chipotle chile pepper
1/2 tsp salt
1/2 tsp pepper
1/4 cup ghee or butter, Vegan butter also works well if completely dairy-free.
2 tbsp lime juice
2 tsp garlic, minced
1 tbsp fresh parsley, chopped
Instructions
Heat the olive oil in a large skillet over medium-high heat.

Pat salmon dry with paper towels. (This will help get the skin crispy.)

Season the top of the salmon (if your salmon has skin on one side this will be the side without skin) with salt, pepper, and chipotle chile pepper. Gently press the seasonings into the salmon.

When oil is hot, place the salmon skin side up in the skillet. Sauté for 4 to 5 minutes or until the part touching the skillet has a golden brown crust.

Carefully flip the salmon so skin side is now down. Add ghee, lime juice, and minced garlic to skillet. Sauté for another 3 to 4 minutes, until salmon is opaque.

Sprinkle parsley over the salmon when you're ready to serve!
Notes
You'll find tips for perfectly pan seared salmon above this recipe card plus lots of recommendations for sides you'll enjoy with this entree.
Nutrition
Serving: 1fillet, Calories: 376kcal, Carbohydrates: 1g, Protein: 34g, Fat: 26g, Saturated Fat: 9g, Cholesterol: 122mg, Sodium: 382mg, Potassium: 833mg, Fiber: 1g, Sugar: 1g, Vitamin A: 168IU, Vitamin C: 4mg, Calcium: 23mg, Iron: 1mg