Lemon & Thyme Roasted Carrots
Lemon & Thyme Roasted Carrots blend the natural sweetness of carrots with the tang of lemon. These will shatter any ideas you might have that carrots can be boring. There's nothing boring about these, friends. They are rich in flavor and so easy to make!
I've said a hundred times (and will say two hundred more) that roasting is my absolute favorite way to prepare vegetables. There's something so very easy about it, isn't there? Add any veggies to a pan with a drizzle of oil and you're well on your way to a spectacular side.
Lemon & Thyme Roasted Carrots require a few simple ingredients like olive oil, fresh lemon juice, and thyme. Pop them in the oven. You'll have perfectly tender carrots in less than 30 minutes.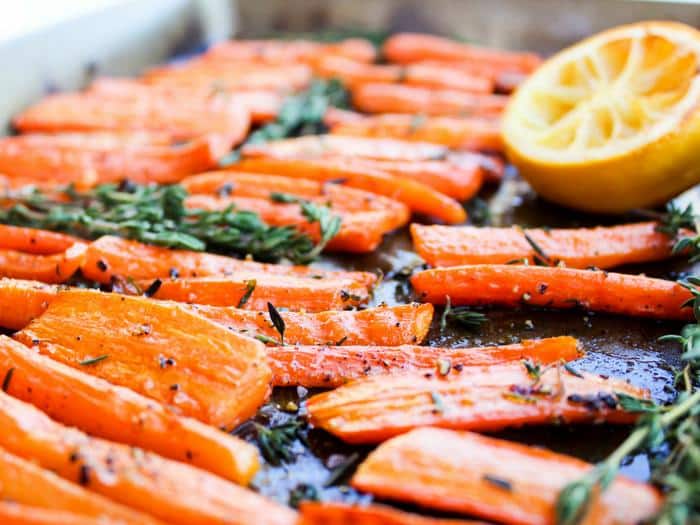 I want to reach into that photo right now and snag one. That color. That shine. Yep. I need to make these again tonight.
When my son was really small he could devour a pile of roasted carrots like nobody's business. The recipe I made most often was my Roasted Parsley Carrots. It wasn't until recently that I began experimenting with different variations. Since I'm obsessed with citrus everything and can't go a day without a fresh herb, these Lemon & Thyme Roasted Carrots were obviously a hit. I'm betting they're going to be a hit with your family too!
Lemon & Thyme Roasted Carrots
Lemon & Thyme Roasted Carrots blend the natural sweetness that comes from roasting carrots with the tang of lemon. Ready in only 30 minutes, these are an easy and delicious way to enjoy your veggies!

Ingredients
1 lb fresh whole carrots
2 tbsp olive oil, extra virgin
2 tbsp lemon juice, equals juice from 1/2 a lemon
several stems of fresh thyme
salt & pepper to taste
Instructions
Preheat oven to 400 degrees.


Peel your carrots. Cut into sticks approximately 2 1/2 - 3 inches long and 1/2 - 1 inch wide.


Place your carrots in a single layer on a baking sheet.


Drizzle olive oil and lemon juice on top of carrots. (I prefer using 1/2 a fresh lemon for the juice because it's infinitely better than the bottled variety. Plus then I can throw the half a lemon on the pan too. That's purely for looks, folks.)


Sprinkle salt and pepper.


Remove the leaves from your sprigs of thyme. To do this just hold each sprig at the top and gently slide your fingers down it to remove leaves. Sprinkle on top of your carrots. (I'm pretty generous with the thyme because the flavor is fairly mild.)


Bake for 25 - 30 minutes. Flip half way through so both sides get nice and glossy. Carrots are done when they're tender.


Remove from oven and serve!

Notes
You can use dried thyme if that's your preference. I enjoy fresh herbs wherever possible because they're so much brighter (in both flavor and appearance) but I use dried herbs when that's all I have.
Nutrition
Calories: 73kcal, Carbohydrates: 7g, Fat: 4g, Sodium: 52mg, Potassium: 241mg, Fiber: 2g, Sugar: 3g, Vitamin A: 12630IU, Vitamin C: 6.4mg, Calcium: 25mg, Iron: 0.2mg
Made these? If you share a photo on Instagram I'd love to see it. Just tag me and I'll check it out! I share reader recipe photos in my Instastories each week.
Want to try another carrot recipe? These Roasted Parsley Carrots are extra yummy!