Ground Beef & Sweet Potato Skillet
This simple one-pan meal is loaded with ground beef (you're welcome to use turkey), brussels sprouts, carrots, and sweet potato. It's a veggie packed recipe that's perfect for a quick weeknight dinner fix!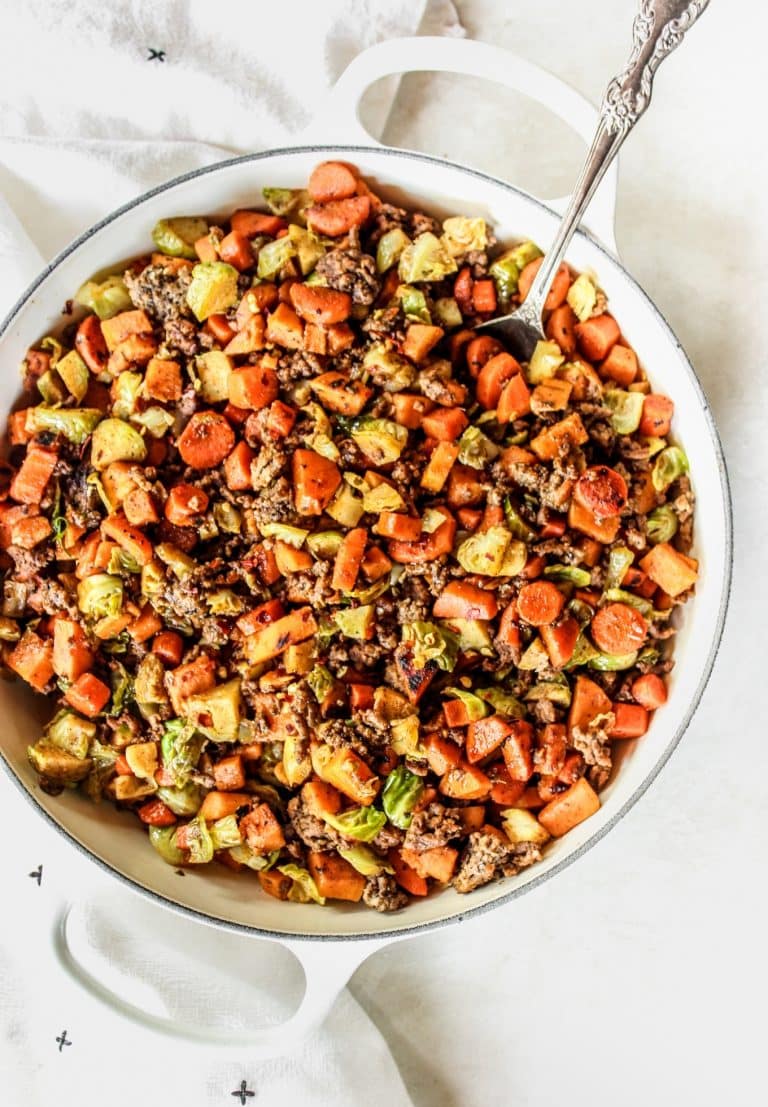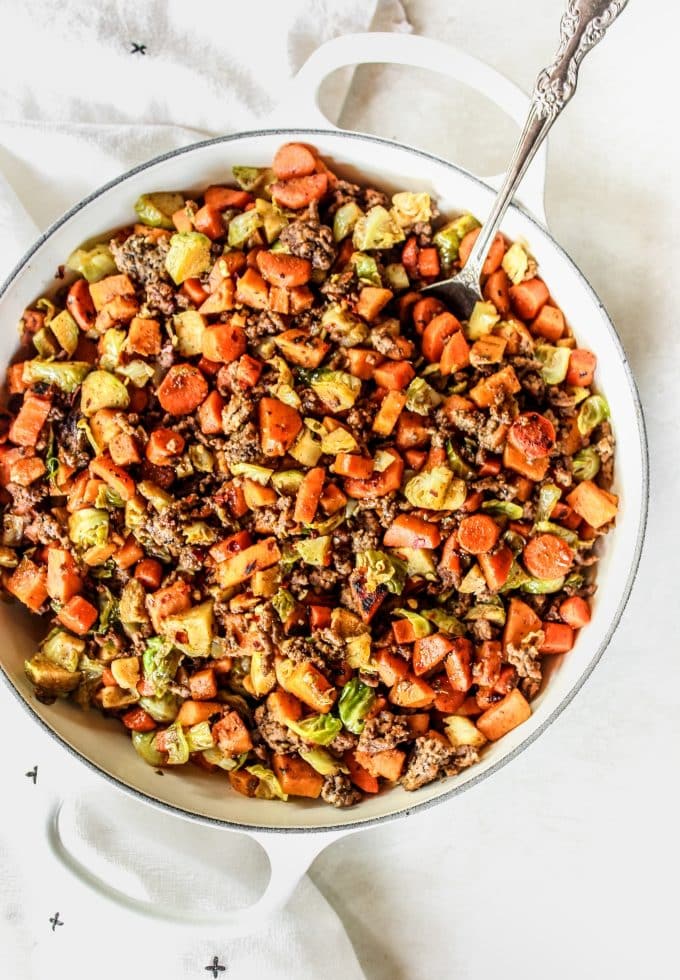 So is it a breakfast or a dinner recipe? Lots of people see diced potatoes and immediately think hash. Their brains tell them breakfast. While I don't disagree that diced potatoes are always delicious for breakfast (see my Skillet Breakfast Potatoes for further proof), I'm a firm believer that potatoes + protein + veggies make for a satiating meal any time of day!
And since dinnertime is usually when I'm particularly low on motivation to cook, this uncomplicated but flavorful dish is especially appealing then.
It's ready in only 30 minutes! The most challenging step is getting the veggies chopped. We can handle that!
For this recipe you'll need:
Ground beef or turkey.
Minced garlic.
Sweet potatoes: Feel free to use yellow, gold, or russet potatoes if preferred. I personally enjoy the mix of sweet and savory here so the sweet potatoes are a yummy addition!
Carrots.
Brussels sprouts: These will be chopped to decrease your cooking time (always a win!) and help them better blend in with the other ingredients. We want everything to be about the same size.
Beef stock or broth.
A little oil.
Simple seasonings.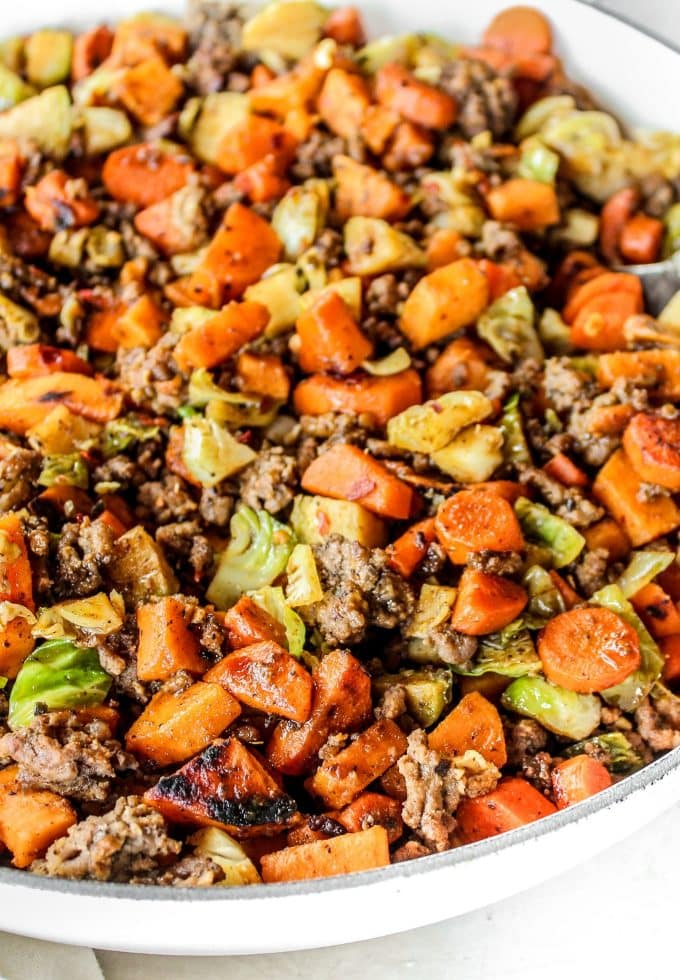 The first thing we'll do to create this quick dish is sauté and season the ground beef. Add the garlic at the last minute to get it golden brown. Season. Then set the meat and garlic aside because we want to use to this same skillet to get our veggies cooked to tender perfection.
The sweet potatoes and carrots sauté in a bit of oil next. They'll get seasoned separately in this step because we're building our flavors here.
Then it's time for the cooked meat to go back to the pan along with the beef stock and chopped brussels sprouts. Let it all simmer to marry your flavors and soften the sprouts.
Aaaand we're done. That wasn't hard at all, was it?
It's a little bit savory and sweet (thanks to the carrots and sweet potatoes) plus it has a nice kick from the crushed red pepper flakes.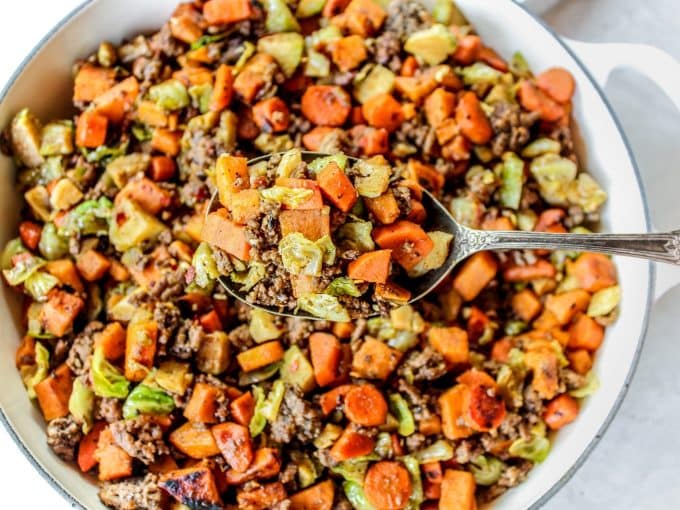 Is this skillet meal spicy?
It does have a bit of heat but it's not overwhelming. To increase the spiciness, use 1/2 tsp crushed red pepper flakes instead of 1/4 tsp. You can also simply omit the red pepper completely if you want to keep it mild.
Can you swap any of the veggies for others?
Of course! Let's chat swaps.
You can easily use yellow, gold, or russet potatoes in place of sweet potatoes.
If brussels sprouts aren't your thing I'd (a) suggest giving them a try because they're amazing and (b) recommend using fresh green beans (halved) or broccoli if you're adamant about avoiding those sprouts. The green beans can be added to the skillet with the sweet potato and carrots. They'll need that extra time to get tender with some charing. If using broccoli add it at the end, cover, and steam for just a few minutes.
How to serve this?
Oh there are so many ways to serve up this easy meal. You can clearly enjoy it as is and it's just perfect. Flavorful. Healthy. Satiating thanks to those potatoes.
But perhaps you want to add something to stretch this dish a bit further? I know I always like extra green on our plates!
Other veggies that work beautifully beside this skillet meal are Easy Roasted Broccoli, Spicy Roasted Broccoli, Garlic Green Beans, Simple Sautéed Cabbage, or Roasted Green Beans with Almonds.
More recipes like this:
Green Chile Chicken & Potato Skillet
Ground Turkey & Potato Skillet
20 Minute Skillet Sausage & Zucchini
Easy Turkey & Zucchini Skillet
Ground Beef & Sweet Potato Skillet
This simple one-pan meal is loaded with ground beef (you're welcome to use turkey), brussels sprouts, carrots, and sweet potato. A veggie packed recipe that's perfect for a quick weeknight dinner fix!
Ingredients
Beef
1 lb lean ground beef, Can use ground turkey if preferred.
1 tsp chili powder
1 tsp dried basil
3/4 tsp salt
1/2 tsp black pepper
1/2 tsp onion powder
1 tsp garlic, minced
Veggies
2 tbsp olive or avocado oil
2 cups carrots, peeled and diced
2 cups sweet potatoes, peeled and diced, This is about 1 large potato or 2 medium potatoes. You're welcome to leave unpeeled if you like.
1 tsp salt
1 tsp chili powder
1/2 tsp ground ginger
1/2 tsp onion powder
1/4 tsp crushed red pepper, Use 1/2 tsp for more heat.
1 cup beef stock or broth
1 lb brussels sprouts, diced
Instructions
Add your ground beef (or turkey) to a large skillet on the stovetop. Use a spatula to crumble the meat. Cook on medium-high heat, stirring occasionally, until browned.

Stir in salt, pepper, chili powder, onion powder, basil, and minced garlic. Sauté for one more minute so garlic is golden in color. Remove beef and garlic from pan and set aside.

Add the oil to the skillet. Once hot, add diced sweet potatoes and carrots. Season with salt, chili powder, ground ginger, onion powder, and crushed red pepper flakes. Make sure you're still at medium-high because we want to get some browning on those veggies. Sauté for 5 to 10 minutes, stirring frequently, until sides of potatoes have browned.

Reduce heat to medium. Add ground beef back to the pan along with beef stock and diced brussels sprouts. Stir. Cover and simmer for 5 to 8 minutes, or until brussels sprouts are tender to your liking.
Notes
This serves 4 people as is or with one side. If you add 2 sides you'll easily get 6 servings from this skillet. Nutrition information is for 4 servings.
Nutrition
Calories: 367kcal, Carbohydrates: 32g, Protein: 31g, Fat: 14g, Saturated Fat: 4g, Cholesterol: 70mg, Sodium: 1347mg, Potassium: 1400mg, Fiber: 9g, Sugar: 9g, Vitamin A: 21456IU, Vitamin C: 102mg, Calcium: 108mg, Iron: 5mg