Grilled Fajita Chicken
It's hot outside and that means more meals should include juicy grilled chicken. This fajita flavored version includes an easy marinade. Trust me, you do not need to be a grilling expert to make this delicious and healthy entree!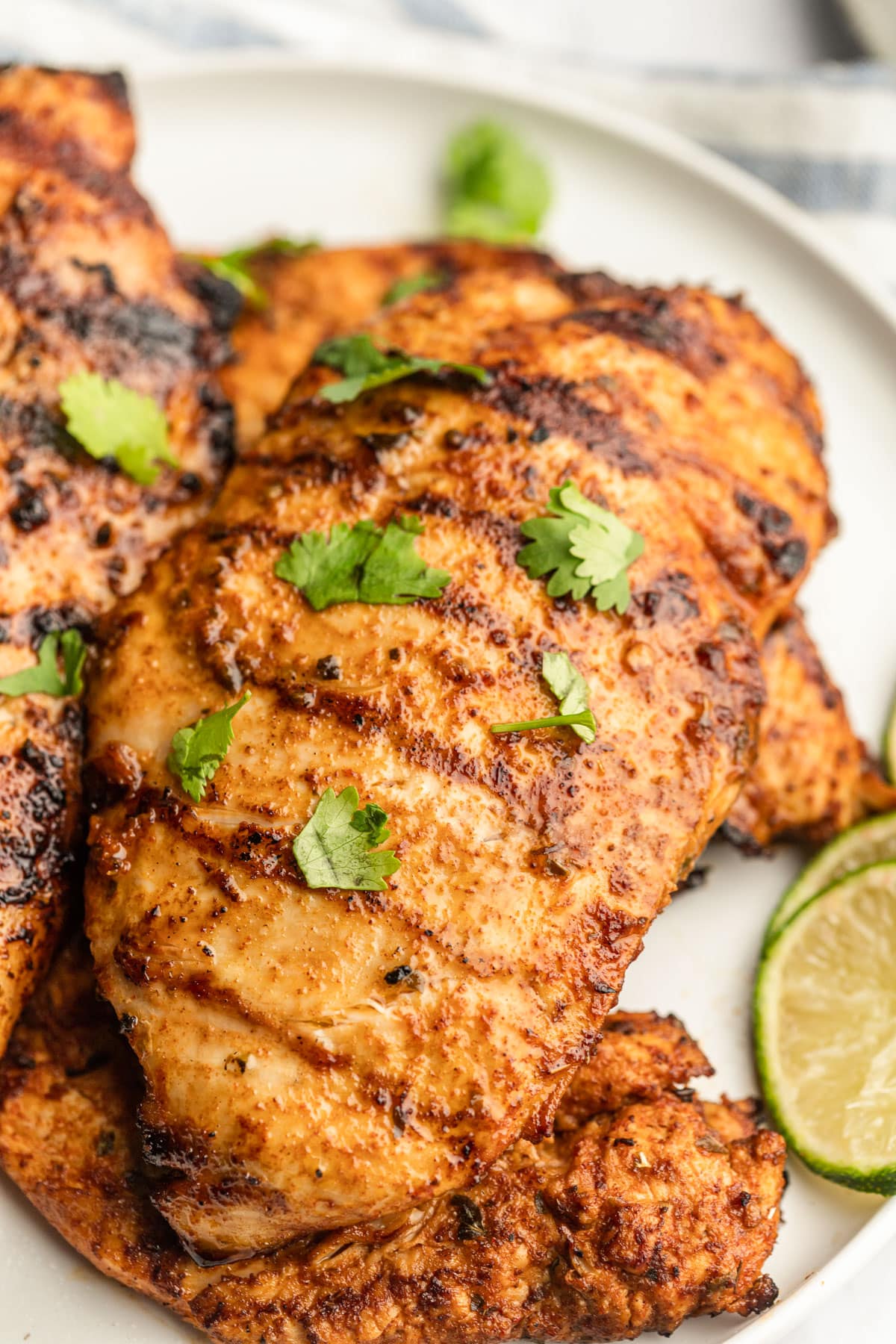 There's so much flavor in this Fajita Grilled Chicken but it's simply flavored with very basic ingredients. Pair this with a side salad, Grilled Vegetables, Grilled Zucchini and Squash, or serve it with tortillas and sautéed peppers to create fajitas.
Grilling is one of my favorite ways to cook. I just love that I can create a meal from the comfort of my backyard while I enjoy some sunshine and a cold glass of white wine. You can't tell me that being in the kitchen is better than that.
If you're not as enthusiastic about grilling chicken let me ease your worries. It's truly so easy to do! The key to perfect grilled chicken comes down to a few things:
Marinade: A yummy marinade makes all the difference! Be sure to give the marinade plenty of time to work it's magic. If you have the time, prep your chicken in the morning so it has 8 or so hours to marinate. At a minimum, try to get the chicken prepped an hour before grilling.
Oil: To prevent the chicken from sticking to the grill don't skimp on the oil. If your marinade has plenty of oil in it then that's great! If the marinade doesn't contain much or any oil, simply oil your grates OR rub oil on the outside of your chicken before adding to the grill.
Meat thermometer: If you find that you regularly overcook chicken I recommend getting a meat thermometer. It's a most accurate way to make sure your chicken is the right temperature when you take it off the grill. For chicken breasts, you're wanting an internal temperature of 165 degrees F.
Rest: Cover the finished chicken with foil immediately after removing from the grill and let it rest for 5 to 10 minutes. This will seal in those juices!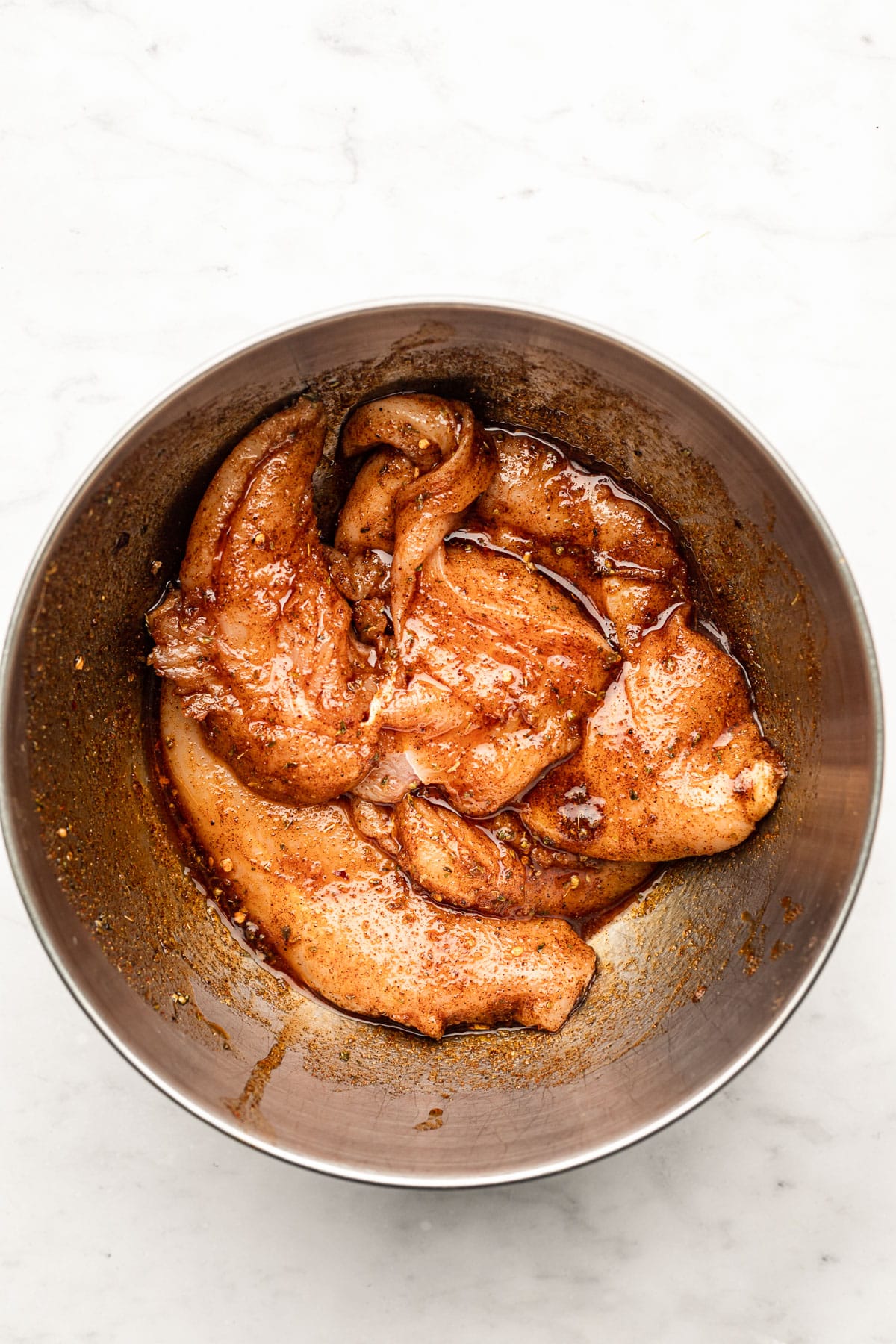 For this recipe you'll need (full list of ingredients and instructions are in the recipe card below):
Chicken breasts
Olive oil
Lime juice
Seasonings
Will this marinade work well with other proteins?
Yes, the marinade is also delicious with steak, turkey, or pork.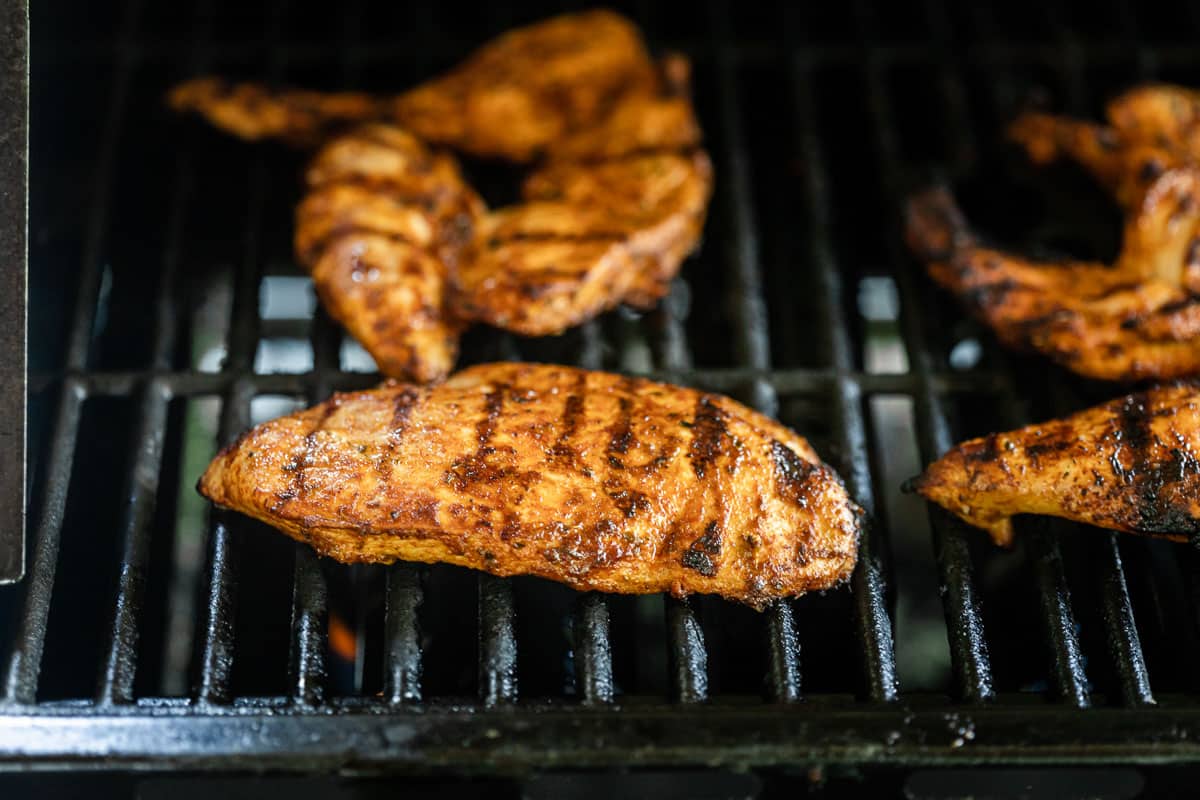 How long should you marinate chicken?
Since lime is a fairly mild flavor I recommend marinating for at least an hour and up to 12 hours. The longer you marinate the more pronounced the lime flavor will be. I don't recommend longer than 12 hours because your meat can start to breakdown and the texture changes if it sits in a marinade for too long. (That goes for any marinade.)
How can you prevent your chicken from sticking to the grill?
This marinade includes a lot of olive oil so you likely won't encounter that problem. When I'm grilling meat without an olive oil marinade I like to add a little olive oil to the outside of my chicken just before placing on the grill.
If you try to flip your chicken and you notice it's sticking a bit just give it another minute before flipping and the chicken will usually release better then.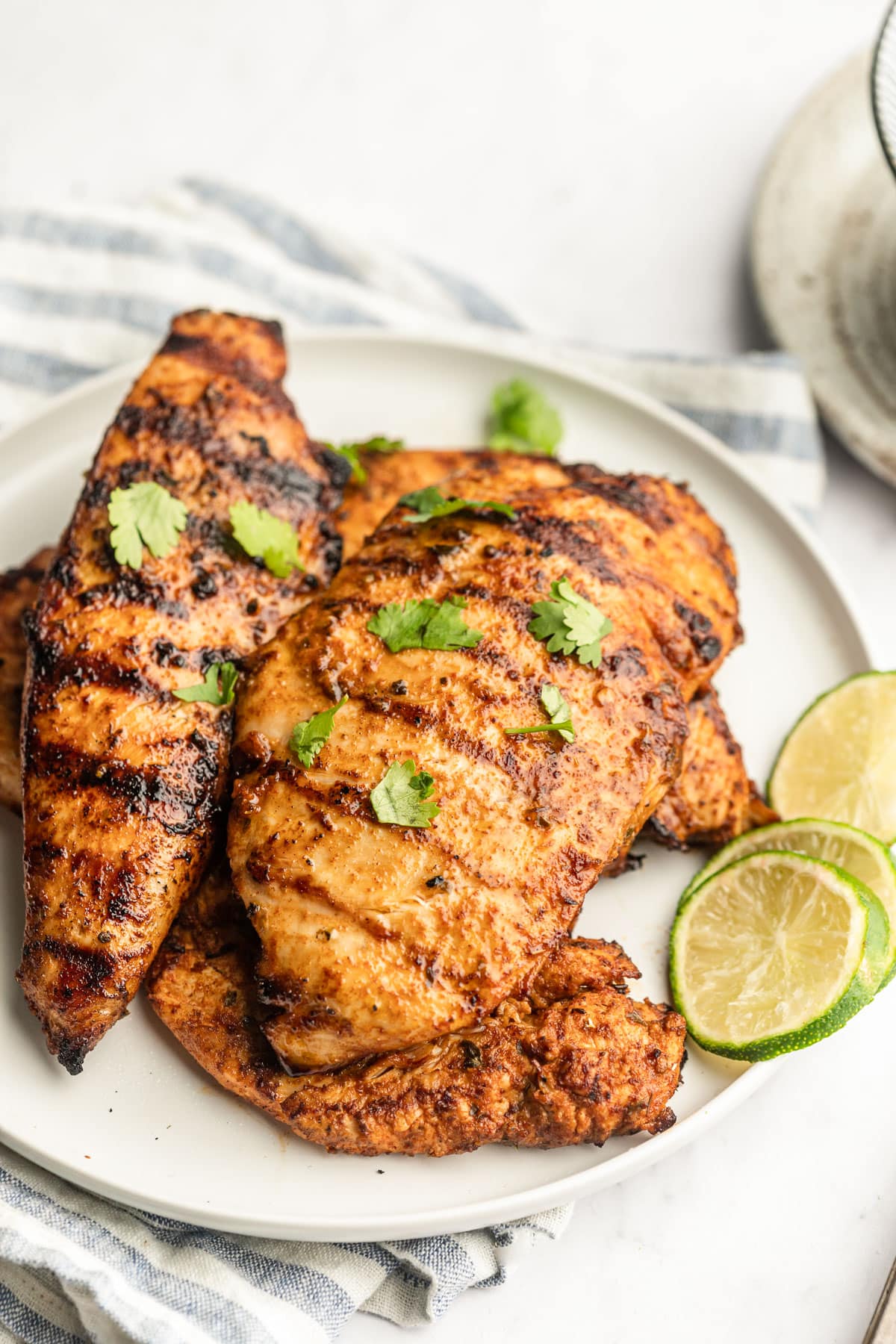 How to serve this
This chicken is delicious with Grilled Vegetables, Grilled Zucchini and Squash, or a simple salad. The fajita marinade also makes this chicken a perfect fit for burrito bowls, rice bowls, tacos, and fajitas.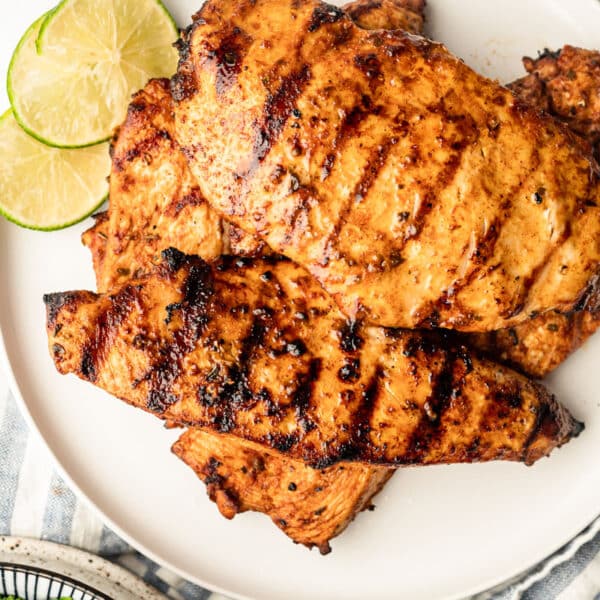 Grilled Fajita Chicken
You'll love how easy it is to make juicy grilled chicken! This version includes plenty of tips and a fajita flavored marinade!
Ingredients
1½ lbs chicken breasts, skinless and boneless, trimmed
Fajita Marinade
¼ cup olive oil, extra virgin
3 tbsp lime juice
1½ tsp dried oregano
1½ tsp chili powder
1½ tsp garlic powder
1 tsp onion powder
1 tsp salt
½ tsp paprika
½ tsp cumin
½ tsp black pepper
¼ tsp crushed red pepper flakes
Instructions
In a gallon Ziploc bag or large covered bowl combine chicken and all marinade ingredients. Let marinade for a minimum of 1 hour or as long as 12 hours. (The longer the better to really bring out the lime flavor.)

Preheat the grill to medium high heat.

Remove chicken from the bag and place the a hot grill. Discard the remaining marinade. Grill chicken, flipping once, until completely cooked through and you've achieved an internal temperature of 165 degrees F. Grilling time is typically around 9 to 10 minutes total but time varies depending on the thickness of your chicken and how hot your grill gets.

Cover the finished chicken with foil immediately after removing from the grill and let it rest for 5 to 10 minutes. This will seal in those juices!
Nutrition
Serving: 1chicken breast, Calories: 263kcal, Carbohydrates: 4g, Protein: 25g, Fat: 17g, Saturated Fat: 3g, Polyunsaturated Fat: 2g, Monounsaturated Fat: 11g, Trans Fat: 1g, Cholesterol: 72mg, Sodium: 729mg, Potassium: 490mg, Fiber: 1g, Sugar: 1g, Vitamin A: 439IU, Vitamin C: 5mg, Calcium: 29mg, Iron: 1mg