Avocado Chili Lime Grilled Chicken
This marinated grilled chicken is served with a homemade chunky avocado topping that always impresses! An easy entree that tastes incredible!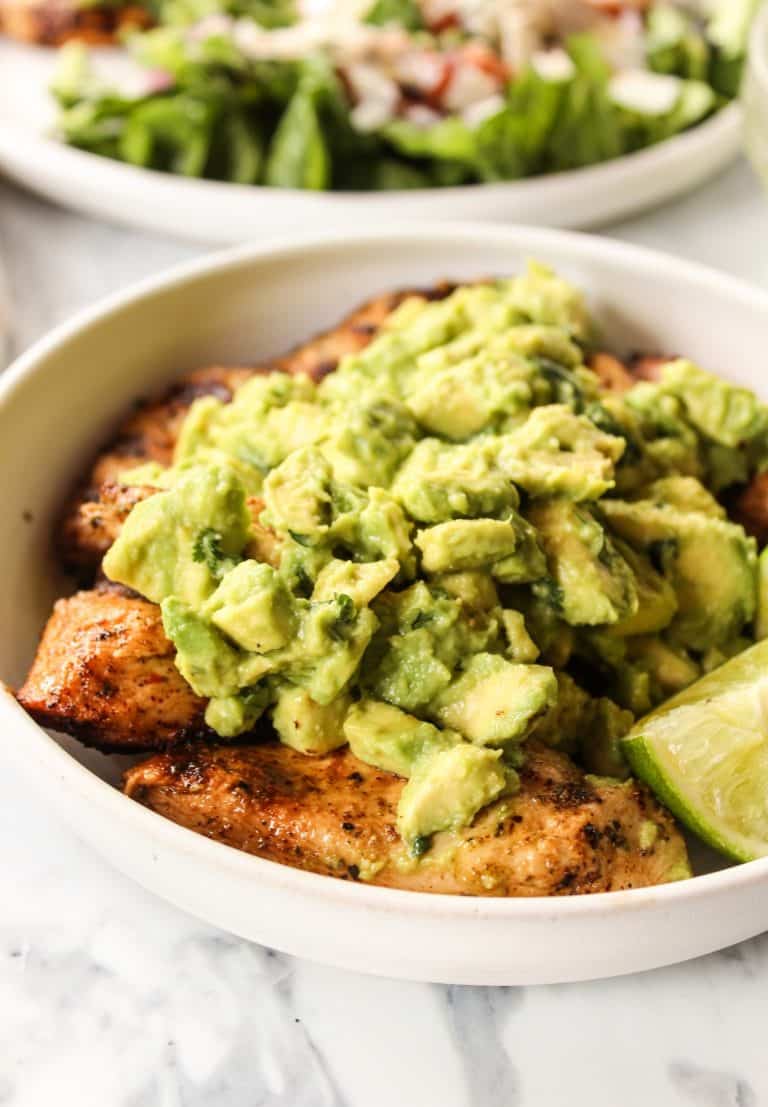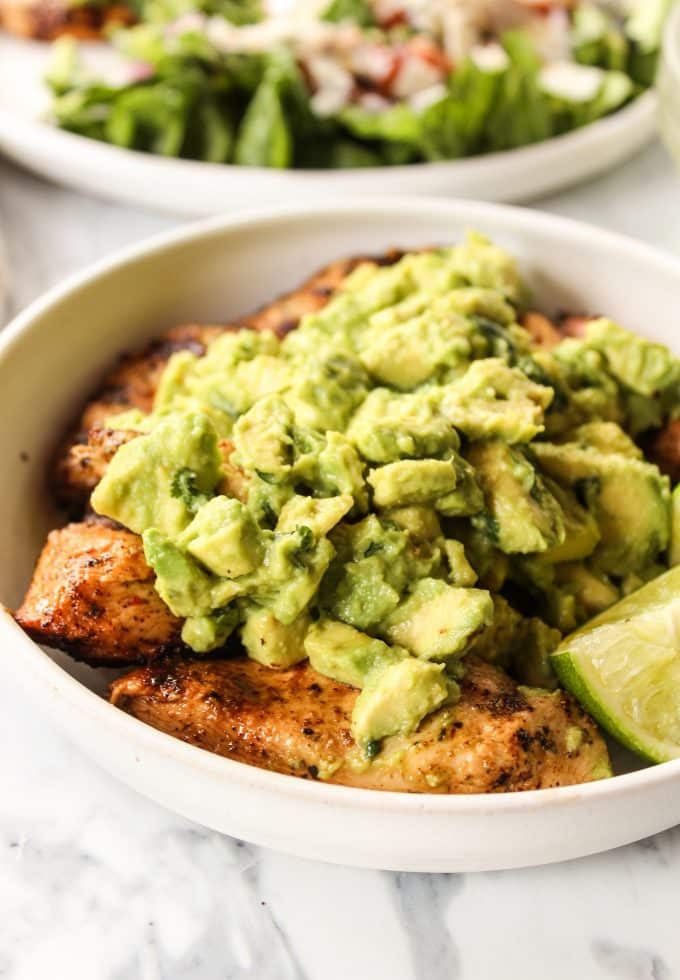 Sunny weather means it's time to jump all in on grilling recipes and if you've been here a while you know I LOVE TO GRILL! I feel like it's my personal mission to show people how easy it is to make incredible food on the grill. Plus (and this is important) grilled entrees tend to require way less clean up. I am always game for less time doing dishes, friend.
This Avocado Chili Lime Grilled Chicken is a fun one! Easy marinade? Check. Easy avocado topping? Check. Delicious entree that celebrates all this beautiful sunshine and gives me an excuse to sit on the back porch with a glass of wine? Oh yeah baby… check and check!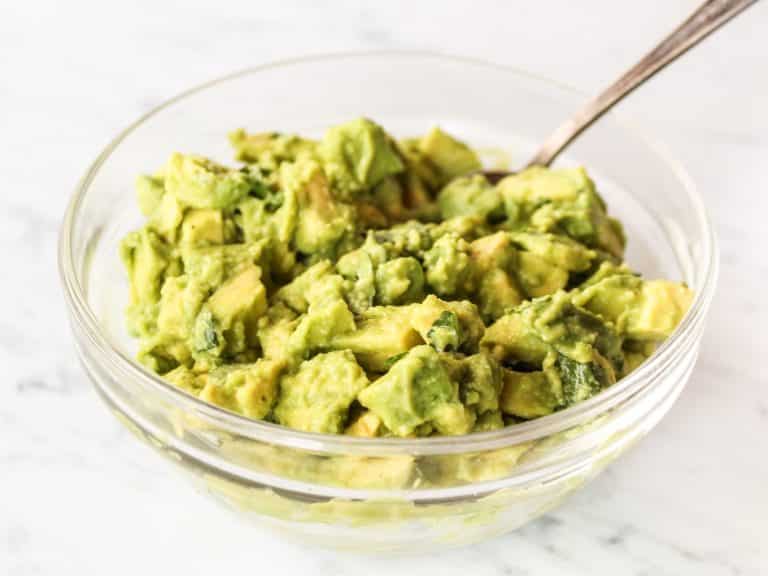 For this recipe you'll need (full list of ingredients and instructions are in the recipe card below):
Chicken breasts
Olive oil
Lime juice
Avocados
Cilantro
Seasonings
To make this recipe you'll first slice your chicken horizontally to create thin cutlets. This helps us cook the chicken faster and gets us better browning on all sides.
Add your chicken and all marinade ingredients to a bag or container. Marinate for at least one hour and up to 12 hours.
Grill or sauté your chicken depending on your preference. (Recipe instructions include how to do both.)
While your chicken is cooking, combine your Chunky Avocado Topping ingredients in a bowl. Stir. That's it! Top each cutlet with the avocado when you're ready to serve!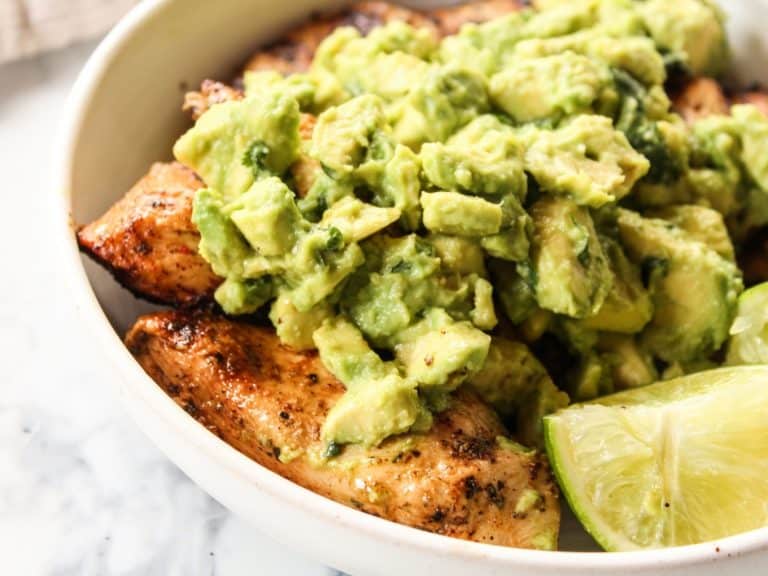 Can you make this chicken without the avocado topping?
Of course! The marinated chicken is phenomenal on its own so skip the avocado topping if you don't have the ingredients or just want to work this marinade into your dinner rotation.
Will this marinade work well with other proteins?
Yes, the marinade is also delicious with steak, turkey, or pork.
How long should you marinate chicken?
I always like to marinate chicken for at least an hour and up to 12 hours. The longer you marinate the more pronounced the flavor will be. I try to toss the marinade in a bag with the chicken breasts in the morning so they can hang out all day together. I don't recommend longer than 12 hours because your meat can start to breakdown and the texture changes if it sits in a marinade for too long. (That goes for any marinade.)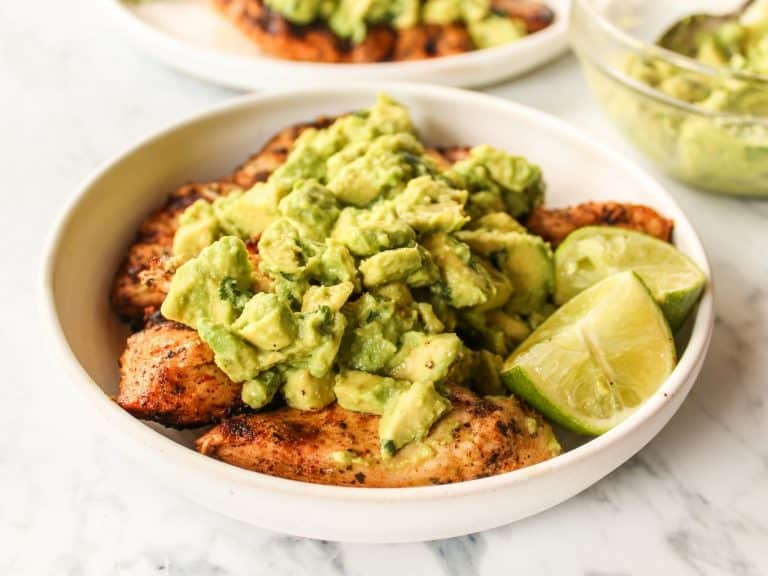 How can you prevent chicken from sticking to the grill?
This marinade includes olive oil so that will help prevent sticking. If you have a history of sticking problems on your particular grill then feel to add another swipe of oil or try a grill spray. If you try to flip your chicken and you notice it's sticking a bit just give it another minute before flipping and the chicken will usually release better then.
Can you store leftover avocado topping in the refrigerator?
I personally wouldn't bother with storing leftover avocado simply because the avocado will brown (yes, even with the lime juice in there). It's pretty unappetizing looking after a few hours in the fridge.
However, you can technically store it in the refrigerator for 1 to 2 days. To minimize browning, use a container that's just the right size (a container that's too big means more oxygen will touch the avocado) and press plastic wrap right against the avocado (again, to reduce the amount of oxygen touching the avocado).
Does this chicken work well for meal prep?
The chicken itself is excellent for meal prep. The avocado topping unfortunately is not because, as referenced in the question above, the avocado does brown. If you want to enjoy this as part of your meal prep I suggest making the chicken as instructed but not the topping. Then when you're ready to eat, just stir together a smaller serving of the avocado topping. That way your avocado is always fresh and green!
How to serve
I like to serve this chicken with a green side + a carb + a salad. If you're thinking veggies, I recommend my Garlic Green Beans or Spicy Roasted Broccoli. Baked Herb Potato Rounds or Rosemary Garlic Smashed Potatoes will make the meal extra satiating. A simple salad with Homemade Croutons will round everything out! Or choose a more impressive salad like my Strawberry Goat Cheese Salad or Balsamic Peach Arugula Salad.
More recipes like this:
Ultimate Marinated Grilled Chicken
Tropical Salsa Grilled Chicken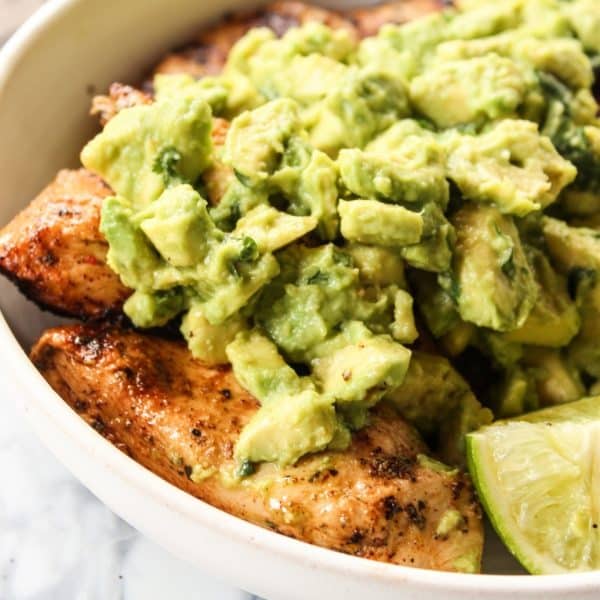 Avocado Chili Lime Grilled Chicken
This marinated grilled chicken is served with a homemade chunky avocado topping that always impresses! An easy entree that tastes incredible!
Ingredients
Chicken + Chili Lime Marinade
2 lbs chicken breasts, trimmed
1/4 cup olive oil, extra virgin
1/4 cup lime juice
1 tbsp dried basil
1 tsp ground coriander
1 tsp salt
3/4 tsp chili powder
1/2 tsp garlic powder
1/2 tsp onion powder
1/2 tsp black pepper
1/4 tsp crushed red pepper flakes
Chunky Avocado Topping
4 avocados, halved, peeled, pitted, diced
2 tbsp fresh cilantro, chopped
3 tsp lime juice
1/2 tsp salt
1/2 tsp garlic powder
Instructions
Slice the chicken breasts horizontally. This will give you 8 thin cutlets so they'll cook faster and more evenly.

Place your chicken cutlets in a gallon Ziploc bag with all ingredients for the Chili Lime Marinade. Seal the bag, squeezing out any excess air. Let the chicken marinate for at least one hour and up to 12 hours.

Grill or sauté chicken depending on your preference. I'm providing instructions for both below.
To Grill
Remove each chicken cutlet from the bag and place on a hot grill over medium heat. Grill chicken, turning occasionally, until completely cooked through. (For perfect grill marks try to only flip the chicken once.) Grilling time is typically around 9 to 10 minutes total but time varies depending on the thickness of your chicken (we're using cutlets here so they're pretty thin) and how hot your grill gets.
On the Stove
Add 2 tablespoons of olive oil or another cooking fat to a skillet on the stove. Heat the oil over medium high heat. (You'll know it's ready when the chicken sizzles as you place it in the pan.) Add each chicken cutlet to the skillet in a single layer. Cook for about 5 minutes. Flip your chicken. Cook for about 4 to 5 minutes. Flip your chicken. Cook for an additional 4 to 5 minutes, or until chicken is cooked through and juices run clear.
To Finish
While chicken is cooking, combine avocado, cilantro, lime juice, salt, and garlic powder in a bowl and stir. Taste and adjust seasonings as desired.

When ready to serve, top each chicken cutlet with the Chunky Avocado Topping.
Notes
Nutrition information is for 1 cutlet (1/2 a chicken breast because we've cut the breasts horizontally to create 2 cutlets from every chicken breast) plus avocado topping. If you're having two cutlets just double the numbers. Nutrition information assumes that you will be grilling the chicken. If sautéing you'll need to account for extra olive oil.
Nutrition
Serving: 1cutlet, Calories: 357kcal, Carbohydrates: 10g, Protein: 26g, Fat: 25g, Saturated Fat: 4g, Trans Fat: 1g, Cholesterol: 73mg, Sodium: 580mg, Potassium: 947mg, Fiber: 7g, Sugar: 1g, Vitamin A: 264IU, Vitamin C: 14mg, Calcium: 35mg, Iron: 2mg