Avocado Salsa Chicken
Beautifully seasoned sautéed chicken is topped with an easy avocado salsa in this quick entree! Ready in only 20 minutes!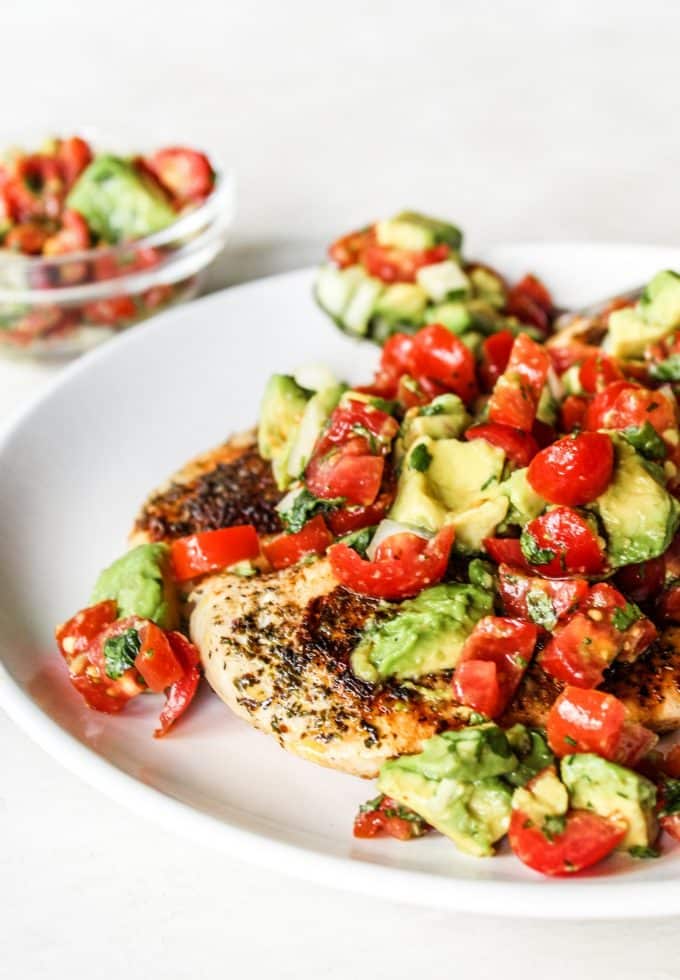 Sautéed chicken cutlets + a flavorful topping = the only kind of math I like doing.
Really though, this entree is so easy. It feels, tastes, and looks like something special. And it is! But don't be deceived, you can truly make this any night of the week!
For this recipe we'll use simple ingredients to yield lots of big flavor:
Chicken breasts.
Olive or avocado oil.
A few seasonings.
Lime juice.
Minced garlic.
Avocado, tomato, onion, cilantro, plus more lime juice and seasoning.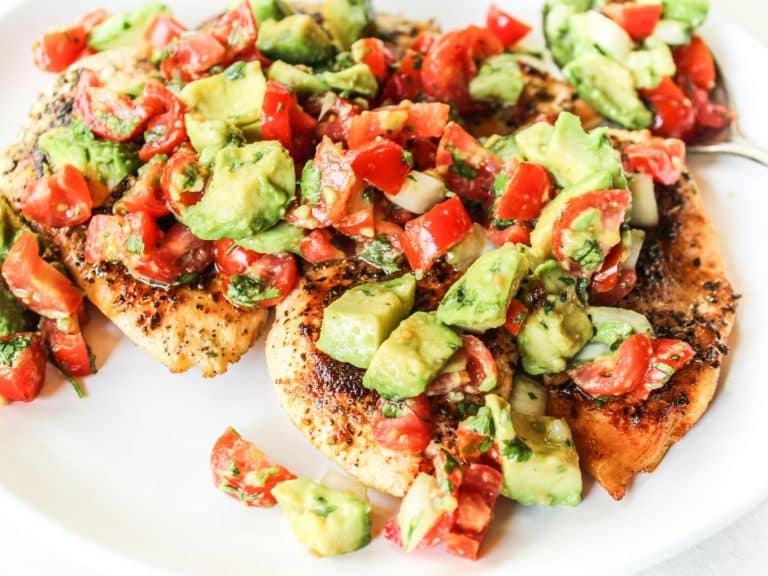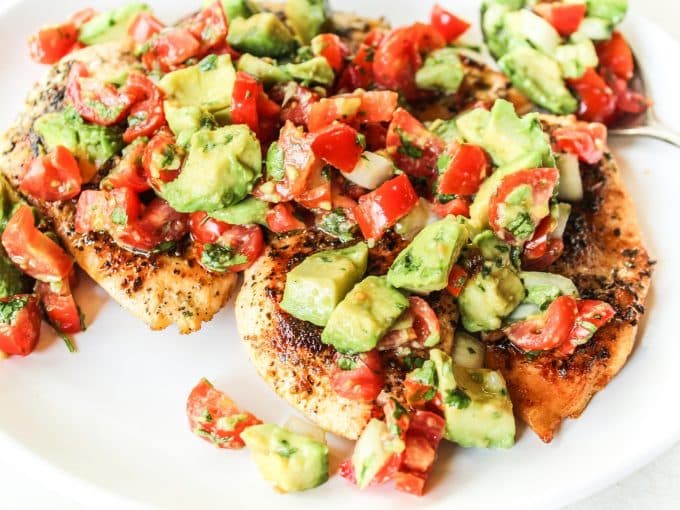 To make this recipe you'll first slice your chicken horizontally to create thin cutlets. This helps us cook the chicken faster and gets us better browning on all sides.
Then pat your seasonings into the top and bottom of each cutlet. This will make your chicken flavorful even without that avocado salsa (but of course we wouldn't dare skip the salsa). You can sprinkle everything on each cutlet or stir them together in a small bowl and then press the seasoning into your chicken. It adds an extra minute or two, but guarantees the chicken is getting a bit of everything.
Get the oil hot in your skillet. Be sure to use a large enough skillet to accommodate all 8 cutlets. If your skillet is too small just sauté your chicken in two batches instead of overcrowding the pan.
Now add the chicken to your hot skillet and sauté, browning each side and searing in all those yummy seasonings!
While your chicken is cooking, combine your avocado salsa ingredients in a bowl.
That's it! Top each cutlet with the salsa when you're ready to serve! It's so simple but looks impressive, doesn't it?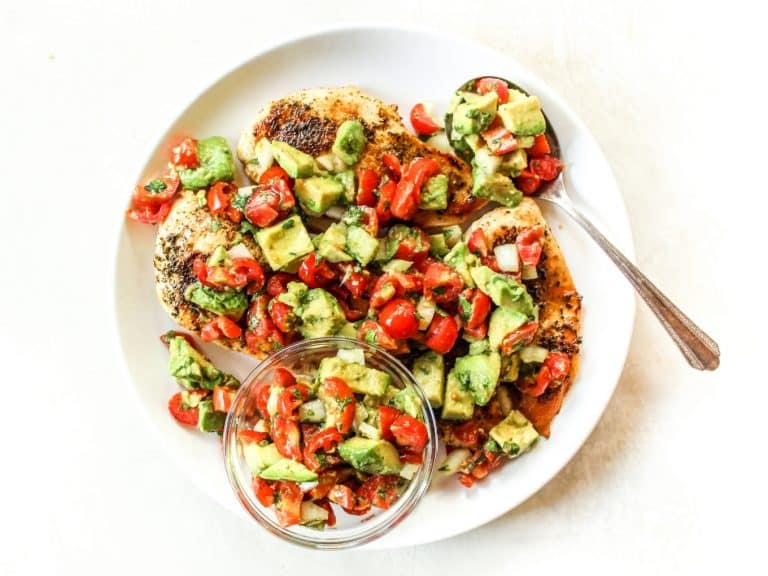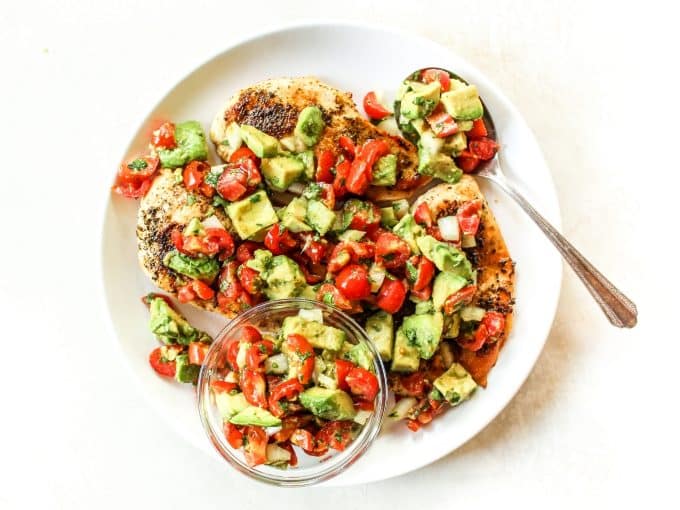 Can you grill this chicken instead of sautéeing?
Of course! Season the chicken per recipe instructions and brush the oil on the outside of each cutlet. (You may find that you need less oil.)
Preheat grill to medium high heat. Place chicken on the grill. Grill chicken, turning occasionally, until completely cooked through. (For perfect grill marks try to only flip the chicken once.) Grilling time is typically around 9 to 10 minutes total but time varies depending on the thickness of your chicken (we're using cutlets here so they're pretty thin) and how hot your grill gets.
How to serve this chicken?
Serving over my Cilantro Lime Cauliflower Rice will keep things ultra light but enable to you sneak in more veggies!
Maybe you'd like to add some grains or carbs to make this extra satiating? That works too! Try serving with traditional white or brown rice, Easy Seasoned Roasted Potatoes, Easy Diced Air Fryer Potatoes, or Skillet Breakfast Potatoes.
Thinking of a green side? I recommend my Spicy Roasted Broccoli, Easy Roasted Broccoli, Balsamic Bacon Brussels Sprouts, Garlic Green Beans, Simple Sautéed Cabbage, Roasted Brussels Sprouts, or Roasted Green Beans with Almonds.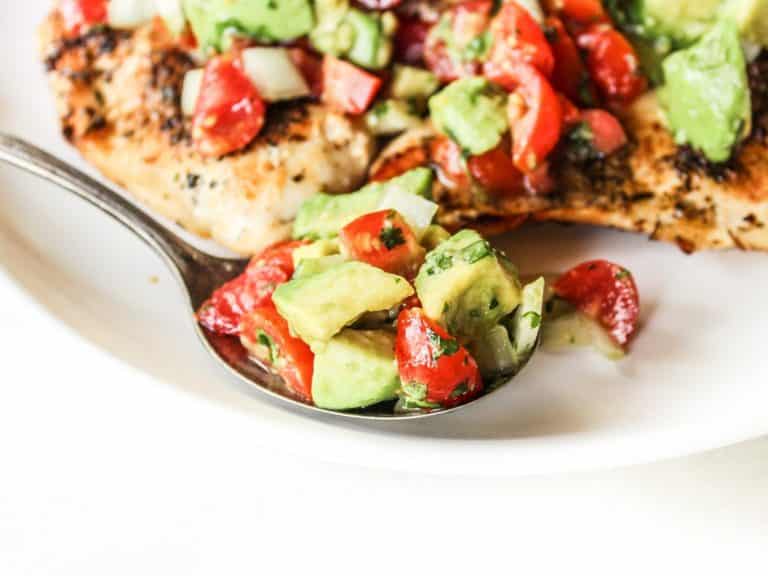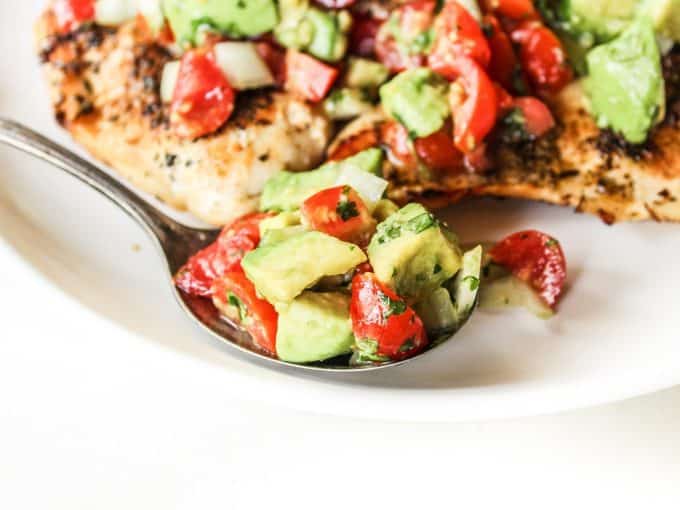 Can you store leftover avocado salsa in the refrigerator?
I personally wouldn't bother with storing leftover avocado salsa simply because the avocado will brown (yes, even with the lime juice in there). It's pretty unappetizing looking after a few hours in the fridge.
However, you can technically store it in the refrigerator for 1 to 2 days. To minimize browning, use a container that's just the right size (a container that's too big means more oxygen will touch the avocado) and press plastic wrap right against the salsa (again, to reduce the amount of oxygen touching the avocado).
Does this chicken work well for meal prep?
The chicken itself is excellent for meal prep. The avocado salsa unfortunately is not because, as referenced in the question above, the avocado does brown. If you want to enjoy this as part of your meal prep I suggest making the chicken as instructed but not the avocado salsa. Instead prepare the avocado salsa without the avocado. Then when you're ready to eat, just add a diced 1/2 avocado to the portion of the salsa you're about to enjoy. That way your avocado is always fresh and green!
More recipes like this:
Tropical Salsa Grilled Chicken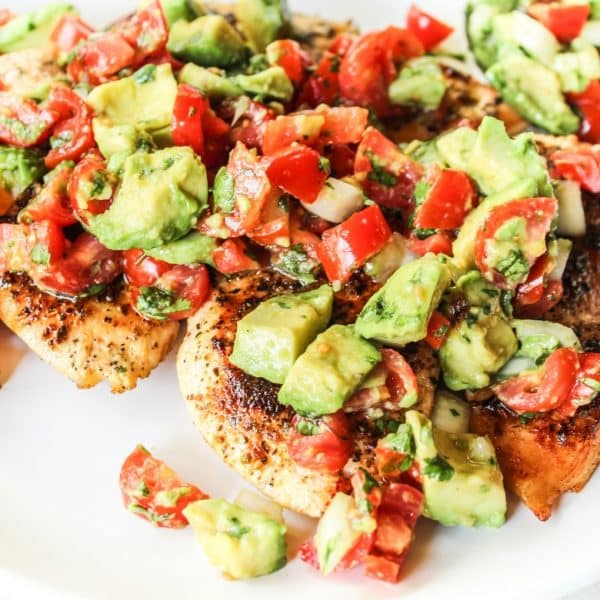 Avocado Salsa Chicken
Beautifully seasoned sautéed chicken is topped with an easy avocado salsa in this quick entree! Ready in only 20 minutes!
Ingredients
4 chicken breasts
2 tbsp olive or avocado oil
1/2 tsp salt
1/2 tsp garlic powder
1/2 tsp dried basil
1/4 tsp black pepper
1/4 tsp chili powder
1 1/2 tbsp lime juice
1 tsp garlic, minced
Avocado Salsa
10 oz grape tomatoes, halved or cut into thirds
4 avocadoes, halved, peeled, pitted, diced
1/4 white or red onion, diced
1 tbsp fresh cilantro, finely chopped
1 tsp lime juice
1/2 tsp salt
1/4 tsp garlic powder
Instructions
Slice the chicken breasts horizontally. This will give you 8 thin cutlets so they'll cook faster and more evenly.

In a small bowl, stir together salt, garlic powder, dried basil, black pepper, and chili powder. Press seasoning mixture into both sides of the chicken cutlets.

Add oil to a large skillet. Heat to medium high heat. Once oil is hot, add the seasoned cutlets. (Depending on the size of your chicken you may need to sauté in two batches. If so, feel free to add a little extra oil when beginning the second batch.) Sauté until the side touching the pan has some browning, about 4 to 5 minutes. Flip. Sauté to brown the other side. When chicken is close to browned and cooked through, another 4 to 5 minutes, add the minced garlic and lime juice. It should sizzle if that pan is hot enough. Stir and cook for another minute so the garlic is golden in color. Then remove your finished chicken from the skillet to plate.

While chicken is cooking, combine tomatoes, avocado, onion, cilantro, lime juice, salt, and garlic powder in a bowl and stir. Taste and adjust seasonings as desired.

When ready to serve, top each chicken cutlet with the avocado salsa.
Notes
Nutrition information is for 1 cutlet (1/2 a chicken breast because we've cut the breasts horizontally to create 2 cutlets from every chicken breast) plus salsa. If you're having two cutlets just double the numbers. Prefer to grill this chicken? Grilling instructions are included above this recipe card.  
Nutrition
Serving: 1cutlet + avocado salsa, Calories: 331kcal, Carbohydrates: 11g, Protein: 26g, Fat: 21g, Saturated Fat: 3g, Cholesterol: 72mg, Sodium: 432mg, Potassium: 995mg, Fiber: 7g, Sugar: 2g, Vitamin A: 501IU, Vitamin C: 18mg, Calcium: 21mg, Iron: 1mg