Sautéed Lemon Butter Mahi Mahi
This mahi mahi sautés until golden and then simmers in a light and lemony butter sauce. It looks restaurant quality but it's actually easy and ready in under 20 minutes!
This delicious entree was inspired by my Lemon Butter Shrimp and the Garlic Lemon Halibut with Sautéed Asparagus in my Clean Paleo One Pot Meals cookbook (page 106). My son's exact words the first time he tried it were "I'd order this in a restaurant!" so it's eleven year old boy approved! And really is there any more coveted approval to receive?! I think not.
I'm using mahi mahi here because it's a mild fish with minimal fishy flavor. You can easily swap it for halibut or cod if that's what you have on hand though.
The fish gets a beautiful golden color by sautéing in a little olive oil before it's time to flip. Then all the fun saucy ingredients go in… butter, lemon, garlic, and parsley. These ingredients all work together to create a light sauce you'll spoon over the fillets when you serve.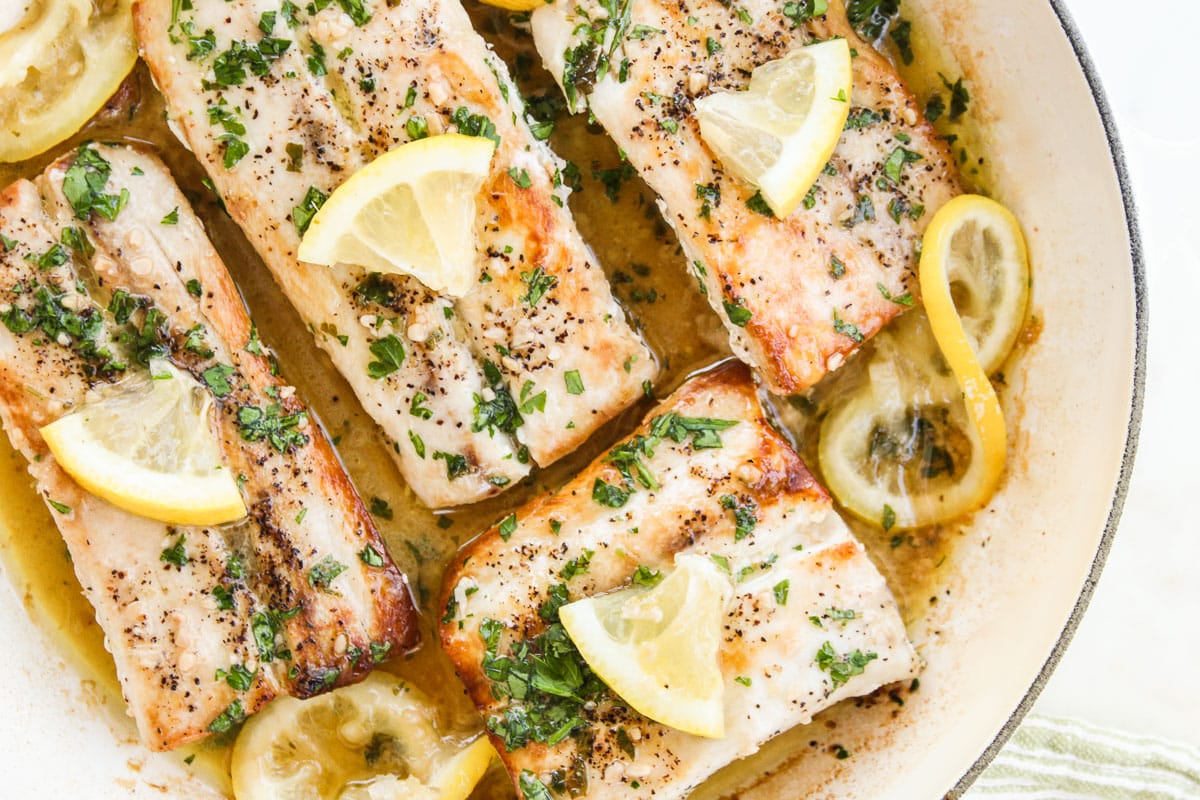 For this recipe you'll need (full list of ingredients and instructions are in the recipe card below):
Olive oil
Mahi Mahi fillets
Butter
Lemon juice
Minced garlic
Fresh parsley
Salt and pepper
What is mahi mahi
Mahi mahi is a lean white fish with a mild flavor. It's known as a dolphin fish (no, it's not a dolphin). You can sauté, grill, or bake mahi mahi. It should be prepared without the skin because the skin is fairly thick and tough.
There are tons of health benefits to mahi mahi too! It's packed with selenium, vitamin B, potassium, and omega 3 fatty acids. While large fish tend to have high levels of mercury, mahi mahi appears to be the exception. It's considered to have low to moderate levels of mercury because of it's shorter life span.
Fresh vs frozen mahi mahi
You can use either fresh or frozen mahi mahi for this recipe. I usually choose frozen because it's a more cost efficient option and readily available.
If using frozen, you'll want to thaw it first. You can thaw it in the refrigerator overnight. To thaw it the same day you'll be cooking it, keep it in its packaging and add it to a bowl of cool water. Let it sit, changing the water if it gets too cold, until thawed, usually about 30 minutes.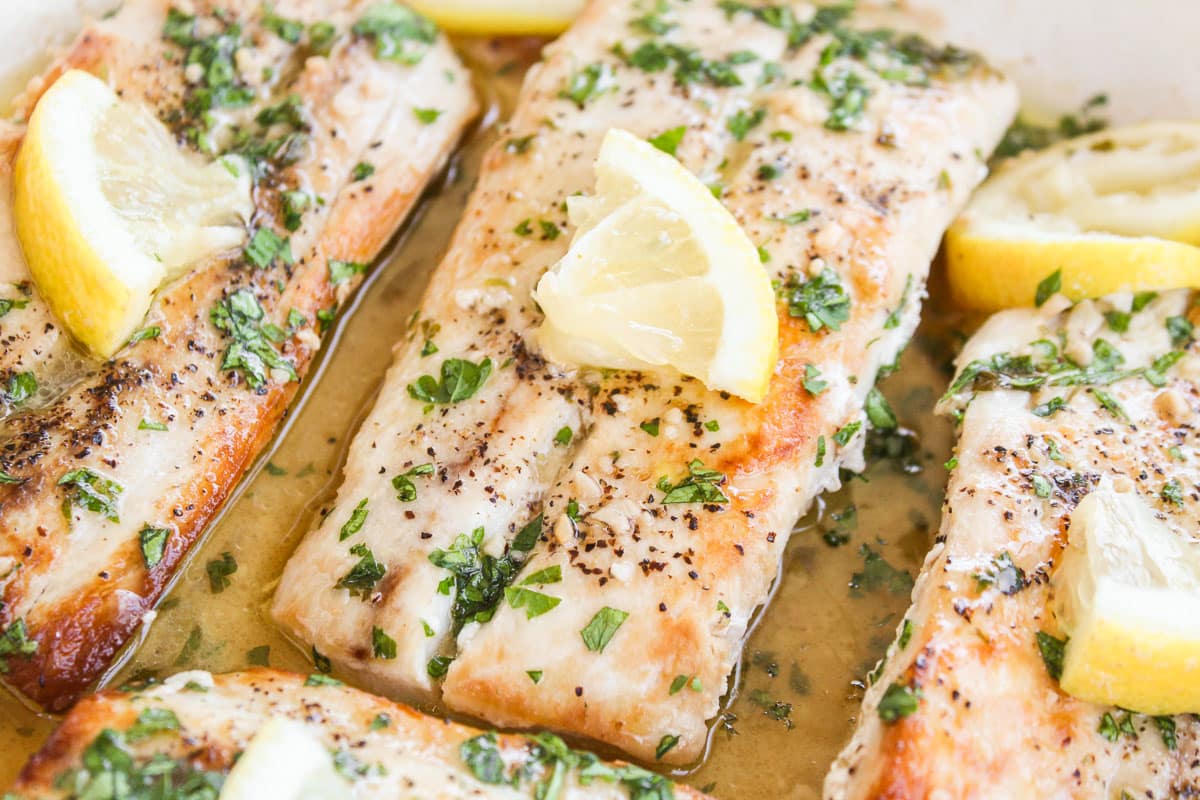 Tips for perfectly sautéed mahi mahi
Make sure to purchase fillets that are close to 6 ounces each. Thinner fillets will cook too quickly. You can make it work but you'll need to adjust your cooking times to avoid drying out the fish.
Pat the mahi mahi with paper towels before sautéing. This isn't a step you can skip! It helps ensure our fish browns and doesn't stick to the pan.
Get the oil hot before adding the fish to the pan. You should hear a sizzle when the fish goes in!
Let the mahi mahi sauté without flipping until the part touching the bottom of the pan is golden in color. Flipping your fish too often can make it fall apart. Flipping your fish too early won't get you the color you want.
Can you use a different fish?
Yes, another mild white fish like halibut or cod would work beautifully in this recipe.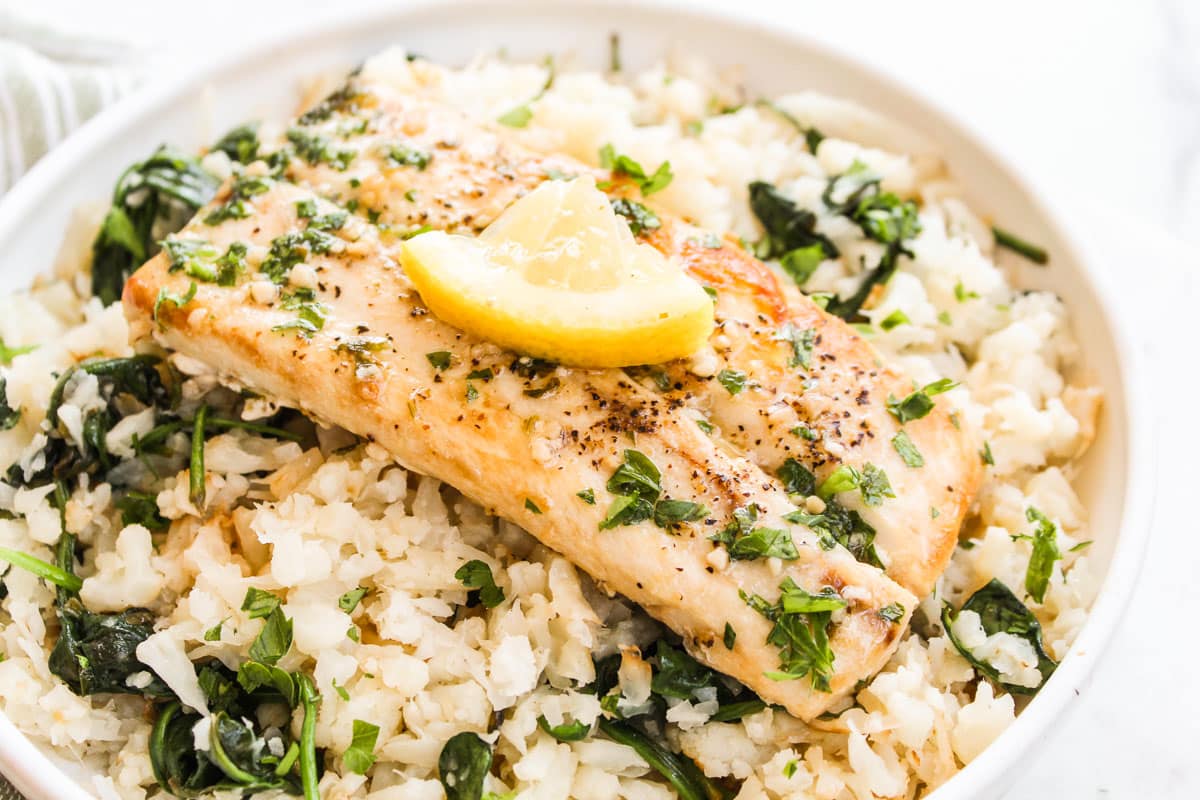 How to store leftovers
Leftovers can be refrigerated in an airtight container for up to 3 days. You can also freeze it for up to 4 months. Note that you may need to add extra sauce when you reheat it from frozen.
How to serve this
This lemony fish is perfect with roasted potatoes or rice and a green vegetable. I suggest my Herb Roasted Brussels Sprouts and Broccoli. I also love it over angel hair pasta. (I wouldn't use a thicker pasta because the sauce and flavor of the fish is very light so a bigger noodle will overpower it.)
In the photo above I'm serving this mahi mahi with sautéed cauliflower rice and spinach. It's not a recipe on the blog yet so if you'd like to make it, simply sauté cauliflower rice with two handfuls of fresh spinach in a little olive oil until cauliflower is softened. Season with salt and garlic powder.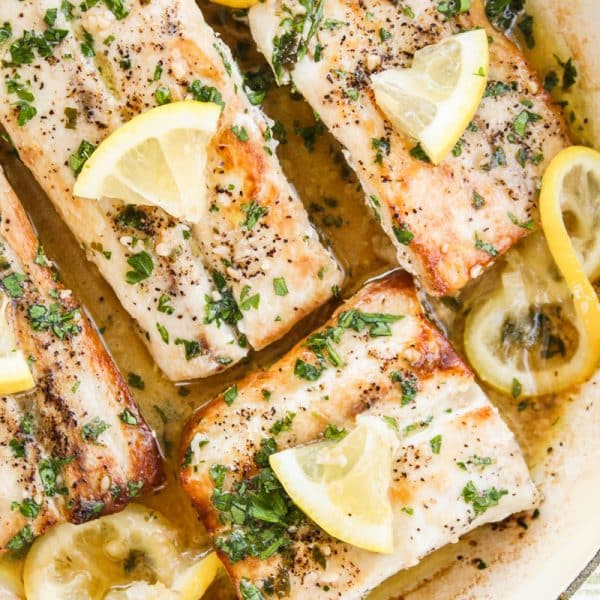 Sautéed Lemon Butter Mahi Mahi
This mahi mahi sautés until golden and then simmers in a light and lemony butter sauce. This dish looks restaurant quality but it's actually easy and ready in under 20 minutes!
Ingredients
4 6-oz mahi mahi fillets
1/2 tsp salt
1/2 tsp black pepper
2 tbsp olive oil, extra virgin
1/4 cup butter, ghee, or vegan butter
2 tbsp lemon juice
2 tsp garlic, minced
2 tbsp fresh parsley, finely chopped
Instructions
Use paper towels to pat the mahi mahi fillets dry.

Sprinkle the top and bottom of the mahi mahi with salt and pepper.

Add the oil to a large skillet over medium-high heat. Once hot, carefully add each fillet to the skillet. Let the fish cook until the side touching the bottom of the pan is a beautiful golden color, about 4 to 5 minutes depending on the size of the fillets.

Carefully flip the mahi mahi. Reduce the heat to medium-low. Add the butter, lemon juice, and garlic. Give the sauce a stir so that it's combined. Cover and let the mahi mahi cook until it flakes easily with a fork, 3 to 4 minutes.

Remove the skillet from the heat. Stir the parsley into the sauce and spoon the sauce over the mahi mahi.
Notes
Recommended cook times are specific to using 6-ounce fillets. If your fillets are smaller (4-ounce is another common size) you'll need to reduce the cook time in order to avoid drying out the fish. 
Nutrition
Serving: 1fillet + sauce, Calories: 313kcal, Carbohydrates: 1g, Protein: 32g, Fat: 20g, Saturated Fat: 9g, Polyunsaturated Fat: 1g, Monounsaturated Fat: 8g, Trans Fat: 1g, Cholesterol: 155mg, Sodium: 543mg, Potassium: 739mg, Fiber: 1g, Sugar: 1g, Vitamin A: 831IU, Vitamin C: 6mg, Calcium: 36mg, Iron: 2mg