Meatloaf Muffins
These individually portioned meatloaves are made in a muffin tin for a fun and easy spin on a classic meatloaf. You'll love this entree for busy weeknights or use for meal prep!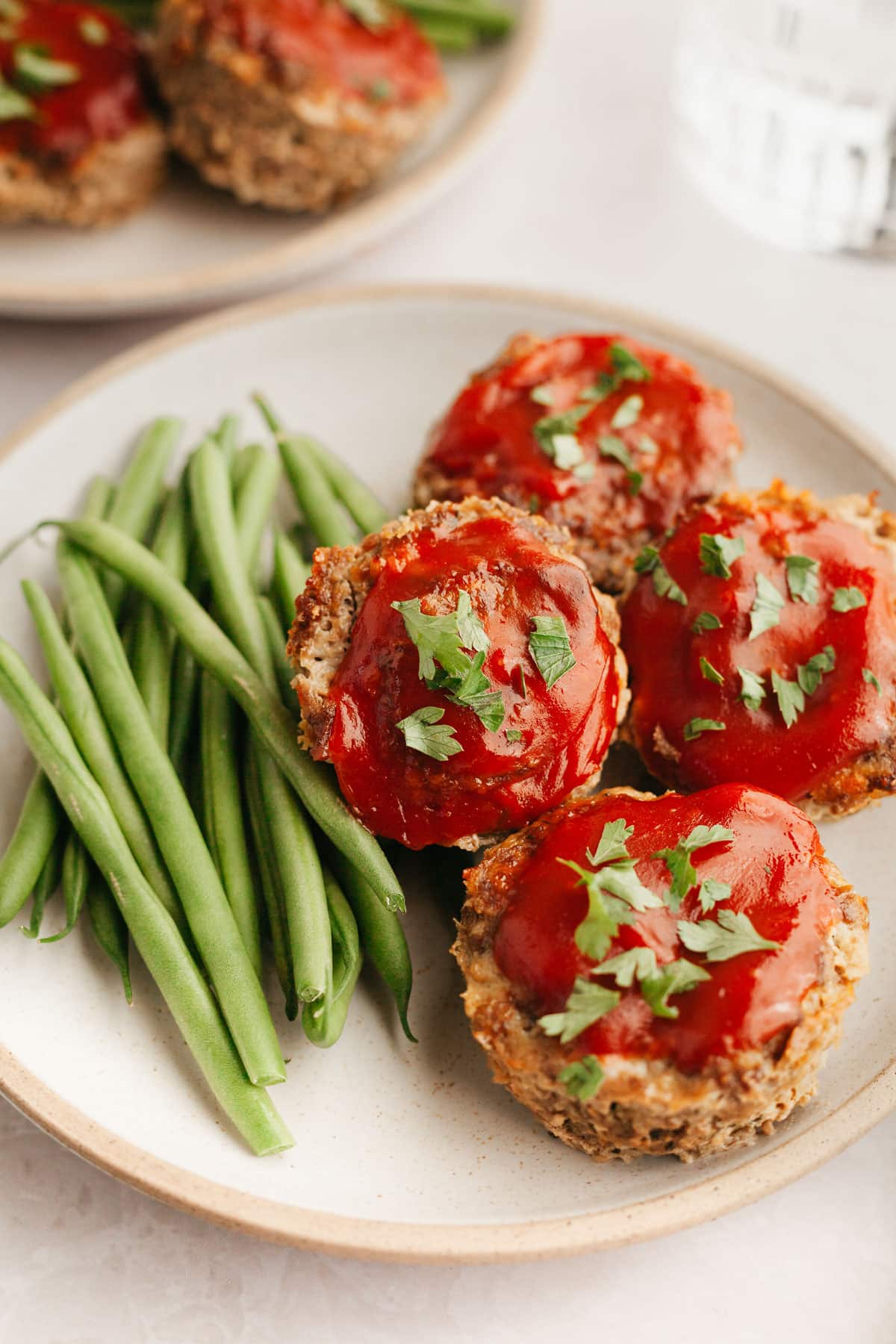 When I was working on my cookbook Clean Paleo One-Pot Meals I created a sheet pan meal with individual meatloaves and a veggie. I loved working on that recipe because those loaves are so cute and yummy. Finally I'm getting a mini meatloaf version on the blog too! Now this version isn't a sheet pan meal so just serve with whatever side you're craving (you can find ideas above the recipe card if you're wanting inspiration).
These meatloaves are made in a muffin tin so you get 12 perfectly portioned servings. I like to eat two at a time but you do you.
Because we're cooking the meatloaf in individual portions they cook faster than making a single large meatloaf. That's always a plus to me!
The ingredient list is simple but the end result is so flavorful, friends.
For this recipe you'll need (full list of ingredients and instructions are in the recipe card below):
Olive or avocado oil
Onion
Minced garlic
Lean ground beef
Almond flour
Ketchup
Worcestershire sauce
Eggs
Seasonings
Can you use ground turkey instead of beef?
I prefer ground beef for meatloaf but you absolutely can substitute ground turkey. I would expect the finished meatloaves to be slightly drier if using turkey (since it's so very lean). I personally like more seasoning when using turkey (in any recipe) so you may want to increase the dried herbs and onion powder if making this swap.
Are these Whole30 and Paleo?
They're not. Simply omit the worcestershire sauce or substitute with coconut aminos and voila they suddenly are!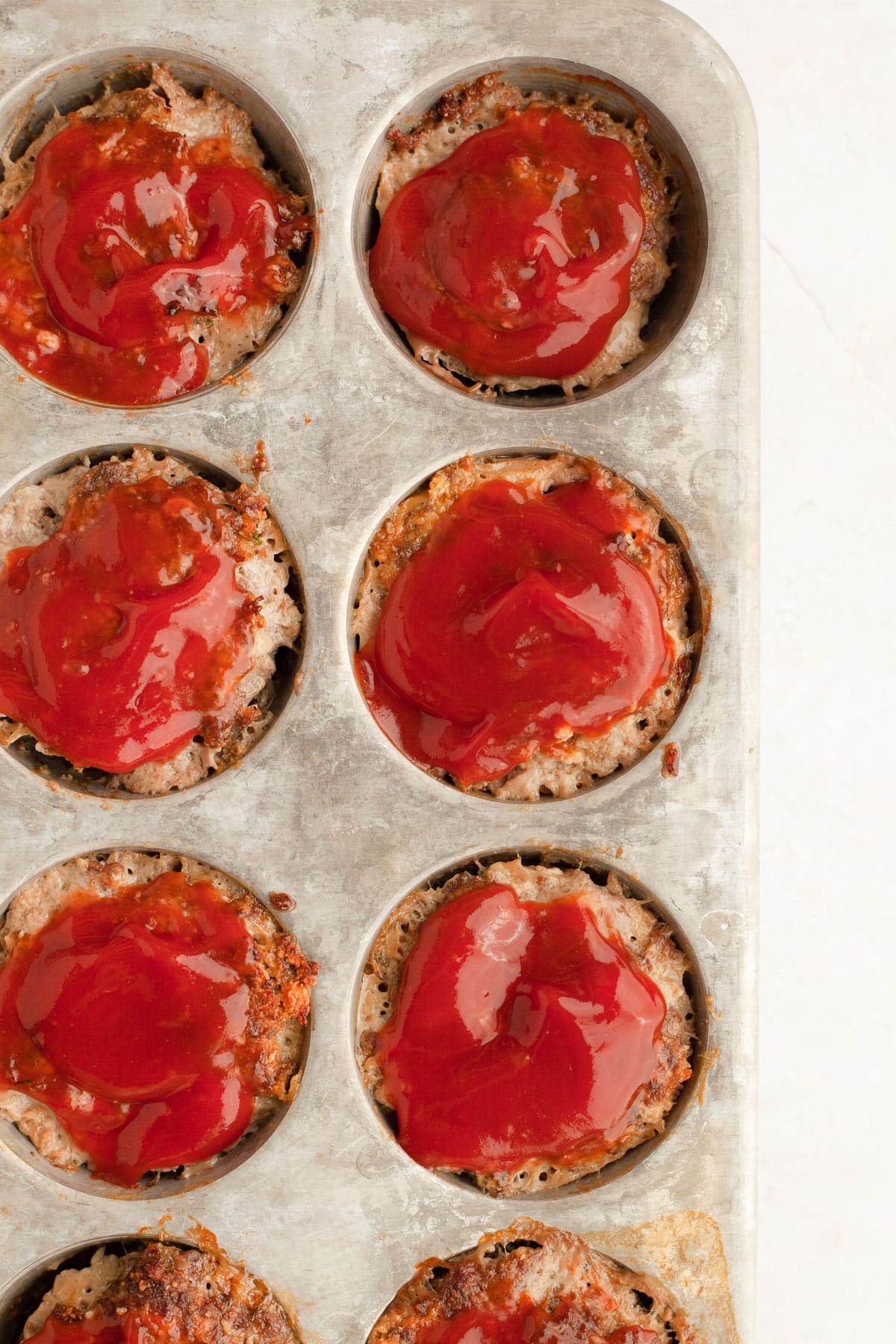 Tips for perfect meatloaf muffins
Dice the onion into small pieces so you don't have big chunks of onion in the muffins.
Don't overmix the meat mixture or your muffins will end up too dense. Just use your hands or a spatula to mix until everything is well combined.
After 20 minutes of cooking time use a spoon to remove some of the grease that will pool at the top of the meatloaves.
Let the meatloaves rest for a few minutes in the muffin tin after cooking time is completed. They'll absorb any liquid that has collected at the bottom of the tin while they sit.
To make your meatloaf muffins really pretty, top with fresh chopped herbs (I like parsley) when serving.
Can you meal prep with these mini meatloaves?
These meatloaf muffins are perfect for meal prep. If you'd like to refrigerate these muffins simply store them in an airtight container in the fridge for up to 3 to 4 days.
I like to freeze mine in a single layer in a freezer ziplock bag without the ketchup topping. I recommend adding the ketchup when you reheat the muffins instead of before freezing for less mess. They'll be good frozen for 2 to 3 months.
How to serve these
Serve with muffins with your favorite green vegetable. I suggest a salad like my Easy Kale Salad with Honey Lemon Dressing. My Garlic Green Beans are another delicious option.
If you'd like to make your meal a bit more hearty whip up my Light and Creamy Mashed Potatoes or Maple Mashed Sweet Potatoes.
For a really good time, pair these meatloaves with Creamy Homemade Macaroni and Cheese.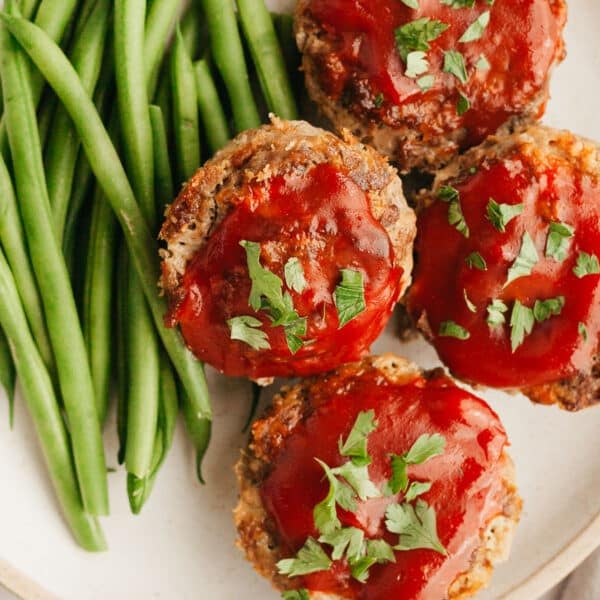 Meatloaf Muffins
These individually portioned meatloaves are made in a muffin tin for a fun and easy spin on a classic meatloaf. You'll love this entree for busy weeknights or use for meal prep!
Ingredients
1 tablespoon olive or avocado oil
½ cup white or yellow onion, diced small
2 teaspoons garlic, minced
1½ pounds lean ground beef, I use 93% or 95% lean ground beef.
½ cup almond flour
3 tablespoons ketchup
2 teaspoons worcestershire sauce
2 large eggs
1¼ teaspoon salt
2 teaspoons dried parsley
2 teaspoons dried thyme
1 teaspoon onion powder
½ teaspoon black pepper
Optional: Additional chopped parsley for garnish when serving.
Instructions
Preheat the oven to 375 degrees.

Add oil to a skillet on the stovetop at medium to medium-high heat. Once hot, add diced onion to the skillet. Sauté until onion is tender. Then stir in garlic. Sauté until garlic is a light golden brown, about one minute.

In a large bowl, combine the ground beef, onion, minced garlic, almond flour, 3 tablespoons of ketchup, worcestershire sauce, eggs, salt, parsley, thyme, onion powder, and pepper. Use clean hands or a spatula to mix everything together until well combined.

Lightly spray a 12-cup muffin pan with your favorite nonstick spray or oil (I use a spray avocado oil).

Add the meat mixture into the sprayed muffin cups. Use your hands or a spatula to pack the meat into each cup.

Bake for 20 minutes.

Remove from the oven. Use a spoon or paper towel to remove any grease that has pooled at the top of the mini meatloaves. Spoon the remaining ½ cup ketchup over the tops of the muffins. Place back in the oven and bake for another 5 minutes.

When finished cooking let the meatloaves rest for a few minutes (they'll soak up some of the liquid in the bottom of the muffin cup during this time). Top with chopped parsley (optional) before serving.
Nutrition
Serving: 1meatloaf, Calories: 144kcal, Carbohydrates: 6g, Protein: 14g, Fat: 7g, Saturated Fat: 2g, Polyunsaturated Fat: 1g, Monounsaturated Fat: 2g, Trans Fat: 1g, Cholesterol: 62mg, Sodium: 428mg, Potassium: 269mg, Fiber: 1g, Sugar: 4g, Vitamin A: 118IU, Vitamin C: 1mg, Calcium: 29mg, Iron: 2mg