Turkey Taco Skillet
This Turkey Taco Skillet is loaded with potatoes, peppers, onion, seasoned ground turkey, homemade pico de gallo, and creamy avocado dressing. It's a complete meal! So tasty and good for you!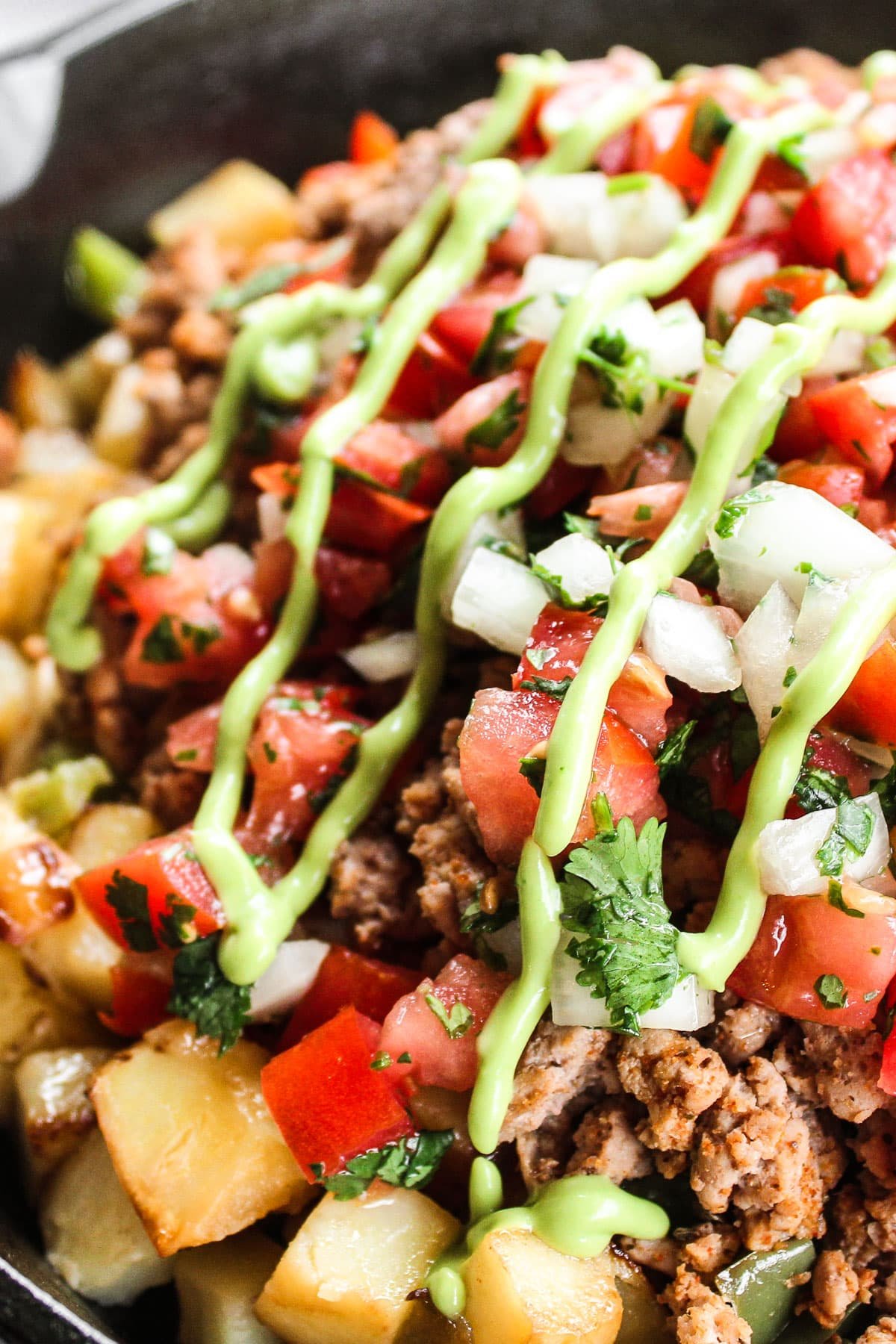 Update: This recipe was originally published in 2019 and has been republished with more FAQ.
Controversial opinion: Sometimes taco night doesn't have to be tacos. I'm telling you this Turkey Taco Skillet is where it's at, friend! You won't even miss tortillas.
This skillet dinner is truly loaded up with big flavors. Plus you can customize it however you like!
First you sauté the potatoes, onion, and peppers. Brown your ground turkey and stir in the seasonings. Layer your turkey on top of the finished potatoes. Add homemade Pico de Gallo and a drizzle of my Creamy Avocado Dressing & Dip. Simple!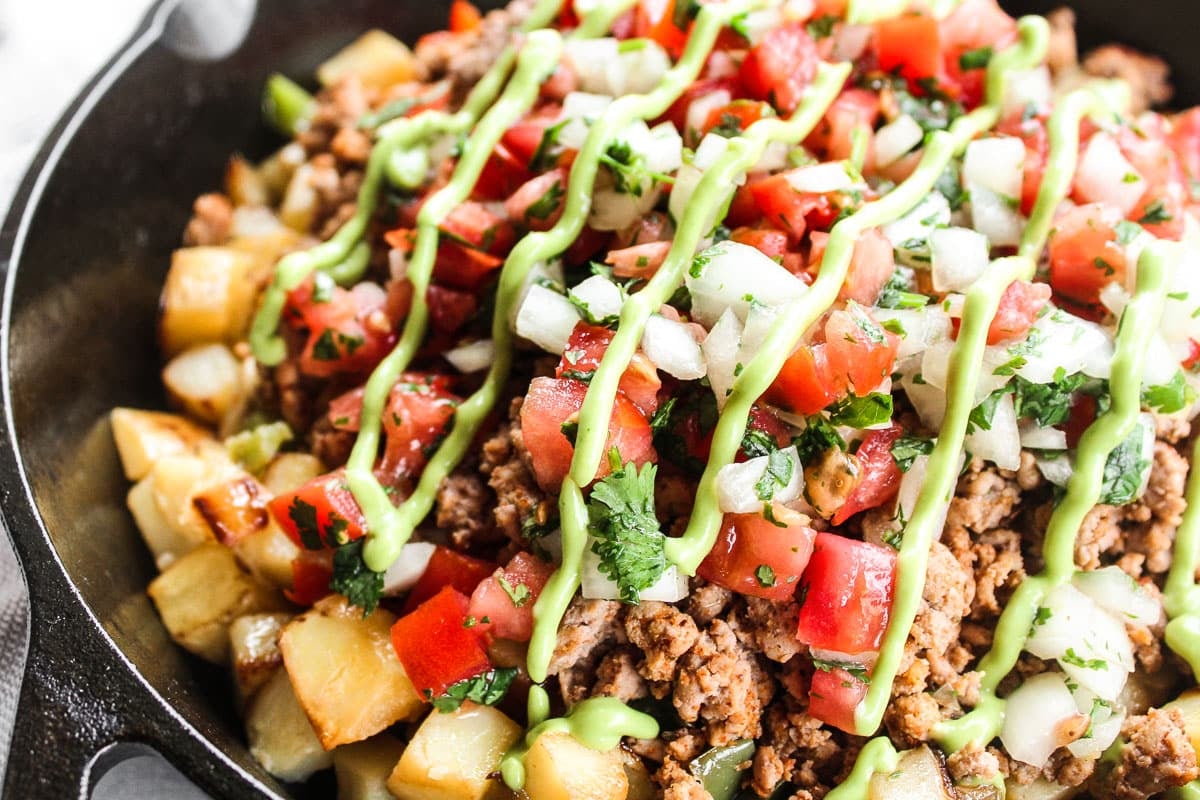 Turkey Taco Skillet Ingredients
Olive or avocado oil: A little oil is necessary to sauté the potatoes, onion, and bell pepper.
Potatoes: I prefer yellow or gold potatoes because of their natural buttery flavor but russet potatoes also work well.
Onion: White, yellow, or red onion all work well.
Bell pepper: The peppery bite of bell pepper really adds to this dish. Use whatever color you like. I prefer 1/2 red bell pepper and 1/2 green bell pepper here.
Lean ground turkey: I usually use 93% lean ground turkey but 99% also works.
Tomato: Tomato is the star of the homemade pico de gallo on top of this easy skillet meal. Any tomato will work. I typically choose a beefsteak tomato but choose whatever looks most delicious.
Lime juice: You can't have great pico de gallo without lime juice.
Cilantro: Fresh cilantro rounds out our pico de gallo and also helps flavor the avocado dressing.
Avocado: Use ripe avocado for the most flavor.
Seasonings: The trick to making ground turkey taste amazing is to use lots of spices and then use even more spices.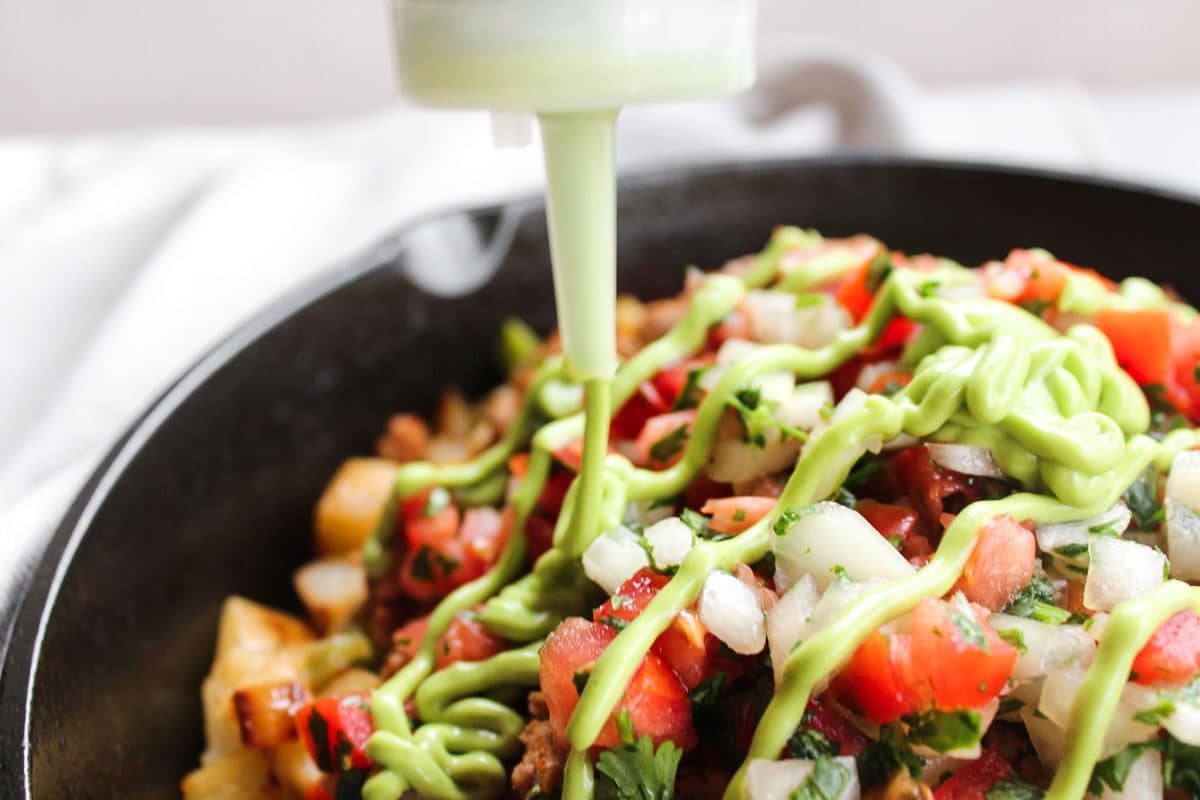 Can you use a different protein?
Yes, lean ground beef also works well here.
Optional Turkey Taco Skillet Toppings
This skillet meal is already loaded with big flavor but you can easily customize this based on what you enjoy. Here are my suggestions for extra toppings:
Shredded lettuce
Black olives
Corn
Store-bought salsa or try my 5-Minute Easy Blender Salsa
Avocado slices
Shredded cheddar cheese
Sour cream
Fresh chopped cilantro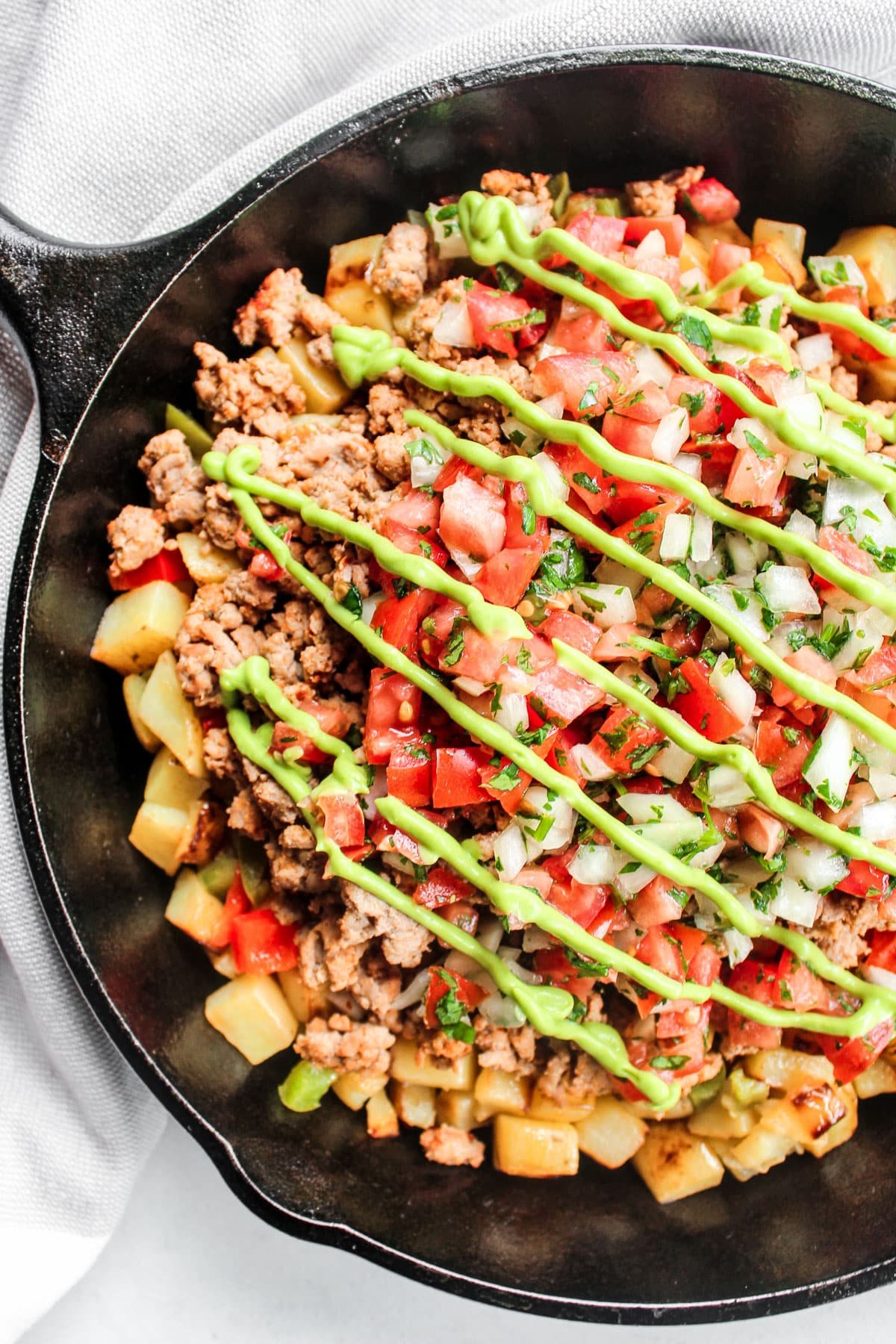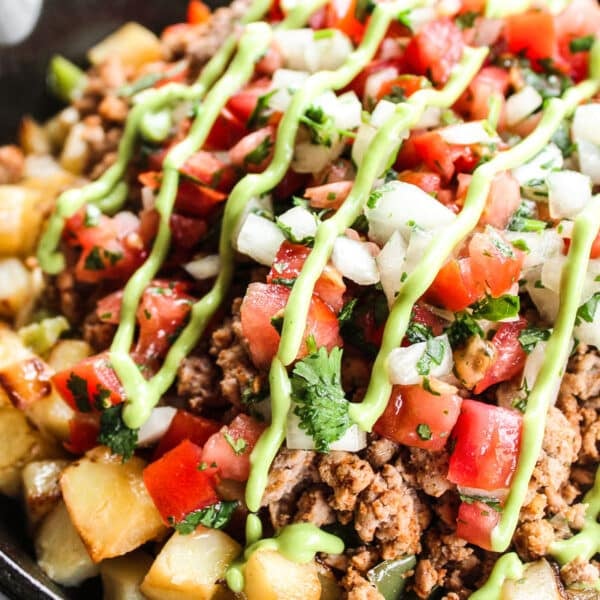 Turkey Taco Skillet
This Turkey Taco Skillet is loaded with potatoes, peppers, onion, seasoned ground turkey, homemade pico de gallo, and creamy avocado dressing. It's a complete meal! So tasty and good for you!
Ingredients
Potatoes
4 medium gold, yellow, or russet potatoes, diced
½ white, yellow, or red onion, diced
1 bell pepper (any color), diced, I use 1/2 red and 1/2 green.
salt & pepper
2 tablespoons olive or avocado oil
Turkey
1 pound lean ground turkey, I use 93/7. You can substitute ground beef if you prefer
1 teaspoon chili powder
½ teaspoon garlic powder
½ teaspoon onion powder
½ teaspoon dried oregano
¼ teaspoon paprika
¼ teaspoon cumin
¼ teaspoon salt
Pico de Gallo
1 medium tomato, diced
½ large white or yellow onion, diced
lime juice to taste
salt to taste
handful of cilantro, chopped
Creamy Avocado Dressing
1 avocado
¼ cup water
¼ teaspoon garlic powder
¼ teaspoon salt
handful of cilantro
Optional toppings: lettuce, black olives, salsa, cheese, sour cream, fresh cilantro, guacamole, and/or avocado slices.
Instructions
Heat the oil in a nonstick pan. Add diced potatoes, peppers, and onion. Sauté on medium high heat, stirring occasionally until sides of potatoes have browned. This can take 5 to 10 minutes depending on your stove and the size of your potatoes. Once potatoes have some good browning reduce heat to medium, cover, and let cook for another 2 to 3 minutes until tender.

While potatoes are cooking combine Pico de Gallo ingredients into a small bowl and stir. Add lime juice and salt a little at a time. Taste and add more until you get it how you like it. Set aside.

Remove potatoes, peppers, and onion from the skillet when finished and set aside.

Add your ground turkey to the skillet on medium high heat. Crumble the turkey using your spatula. Sauté until browned and cooked through. Add all seasonings and stir until combined.

While turkey is cooking combine your Creamy Avocado Dressing ingredients in the blender. Blend until smooth and thick.

If you want to assemble everything in the skillet together: When ground turkey is done remove it from the skillet and set aside. Add the finished potatoes, peppers, and onions back in the skillet. Layer ground turkey on top. Then Pico de Gallo. Then a drizzle of Creamy Avocado Dressing. (It's thick. I use a squirt bottle but you can add a few dollops with a spoon if that's easiest.) Add any other toppings you like and serve!
Notes
I'm using one skillet for this recipe so you'll notice that my directions include removing the finished potatoes from the pan in order to cook the turkey. You can of course use two separate skillets if you prefer. I'm all about trying to have less dirty dishes since I have yet to find a volunteer dishwasher in my home and currently hold the title myself. Nutrition information assumes 4 servings of equal size. Those are fairly large servings so you can probably get 6 servings out of it if you're also offering a side dish.
Nutrition
Calories: 393kcal, Carbohydrates: 31g, Protein: 33g, Fat: 16g, Saturated Fat: 7g, Cholesterol: 62mg, Sodium: 385mg, Potassium: 1458mg, Fiber: 9g, Sugar: 3g, Vitamin A: 740IU, Vitamin C: 54.5mg, Calcium: 73mg, Iron: 7.1mg