Quick Homemade Bruschetta
Homemade bruschetta is the perfect summer appetizer thanks to simple ingredients like toasted bread, fresh tomatoes, basil, oregano, olive oil, balsamic vinegar, and garlic. It's easy to make and so flavorful!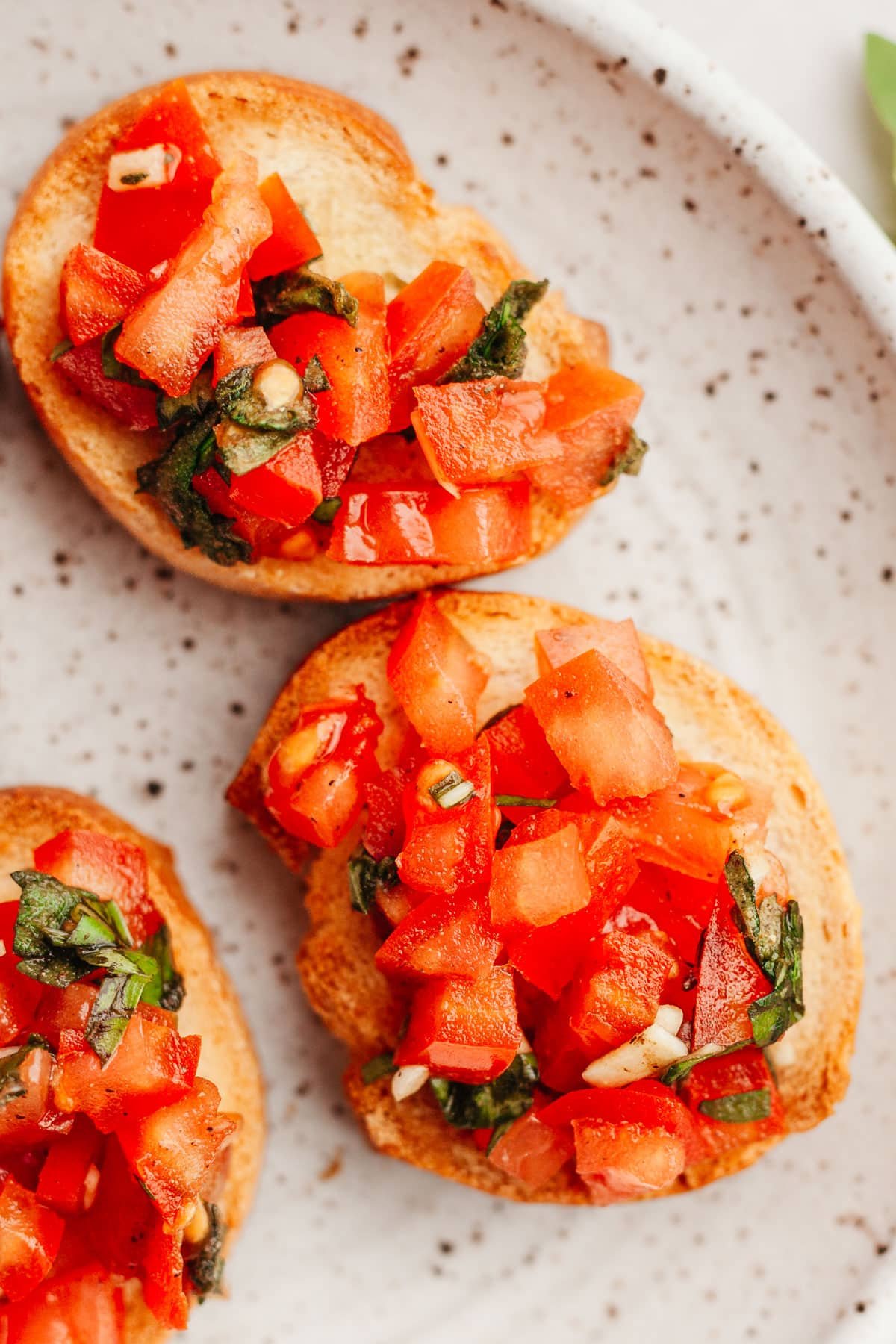 While bruschetta is best in summer when tomatoes are at their peak, you can of course enjoy it year round.
Selecting high quality ingredients is important when the recipe is as simple as this one. That means you want to be sure your tomatoes are beautifully ripened. The basil should be bright green and fragrant. Use good quality olive oil and balsamic vinegar. And don't be stingy with the garlic. (But yes, you can use the jarred minced garlic versus chopping your own.)
For this gorgeous dish, you'll slice and toast the bread. While that's turning a golden brown, do any necessary chopping. Then stir together the tomato mixture ingredients. Serve the finished appetizer by piling the tomato mixture on your perfectly crispy toasted bread.
If you want to enjoy these flavors in an entree give my Healthy Bruschetta Chicken a try!
What is bruschetta?
Bruschetta (pronounced "brew-sketta" and not "brew-shetta") is a popular Italian appetizer consisting of toasted or grilled bread drizzled with olive oil and garlic. Many people associate the word bruschetta with the tomato topping that is often served on the crispy bread. Since that is so common this recipe is actually for the toasted bread with the delicious tomato topping (not just the bread itself).
Quick Homemade Bruschetta Ingredients
Tomatoes: Perfectly ripe tomatoes are the single most important ingredient in an amazing bruschetta. When you press the skin of the tomato it should give a little. Beef steak tomatoes, heirloom, vine-ripened tomatoes, and roma tomatoes all work well. You can even use cherry or grape tomatoes if you like. Just be sure they're ripe!
Fresh basil and oregano: Fresh herbs add so much flavor to this recipe. Dried herbs are not a viable swap in bruschetta.
Minced garlic: Minced garlic is delightful and pungent. You can mince your own garlic or use a jarred variety.
Balsamic vinegar: The most prominent flavor in the tomato topping is the balsamic vinegar. It's tangy and rich!
Olive oil: Extra virgin olive oil is best.
Salt and Pepper: There is no need for any other seasonings in this simple dish!
Baguette: Any good quality bread will work but I prefer a french baguette. Sourdough or ciabatta are also great options. Slice your bread thick enough so it can hold the tomato mixture without getting soggy.
Tips for the best bruschetta
It's all about the ingredients! Select the highest quality to yield the best results. Make sure your tomatoes are ripe. Include a good olive oil and balsamic vinegar. Select bread that's crusty and thick.
Remove the seeds from the tomatoes (or at least some of them). This will improve the finished texture of your bruschetta. It will have less liquid and be more like a salsa.
You can make the tomato mixture in advance (up to two days) but don't prepare the baguette slices ahead of time or they'll be hard. Toast the bread right before serving and enjoy while the bread is still warm!
Can you make bruschetta in advance?
Absolutely! The flavors continue to marry as it sits so the bruschetta topping actually tastes better if it has had some time. You can make it up to two days in advance. I personally recommend serving it within a day. Simply keep it in a sealed container in the refrigerator until ready to serve.
Don't slice and toast the baguette until you're ready to enjoy.
How to serve
I love this as an appetizer while you're grilling dinner. You can also make a meal of this by pairing it with a fun charcuterie board. (I'm a big fan of appetizers for dinner in the heat of summer.)
It's best to serve bruschetta while the bread is still warm. I recommend toasting the baguette slices and then immediately topping with the tomato mixture. Enjoy right away!
Quick Homemade Bruschetta
Homemade bruschetta is the perfect summer appetizer thanks to simple ingredients like toasted bread, fresh tomatoes, basil, and garlic. It's easy to make and so flavorful!
Ingredients
Bread
1 baguette, sliced into ½ inch thick slices
3 tablespoons olive oil, extra virgin
Tomato Mixture
1 pound ripe tomatoes
10 basil leaves, chopped
2 sprigs oregano, chopped
1 tablespoon olive oil, extra virgin
2 teaspoons balsamic vinegar
2 teaspoons garlic, minced
½ teaspoon salt
¼ teaspoon black pepper
Instructions
Preheat oven to 400 degrees.

Brush both sides of baguette slices with olive oil and place in a single layer on a baking sheet. Bake until bread is golden, about 8 to 12 minutes, flipping halfway through.

Core and dice the tomatoes. Remove any excess seeds. (You can do this with a spoon if there aren't too many or use a colander.) Then add chopped tomatoes to a bowl with basil, oregano, olive oil, balsamic vinegar, garlic, salt and pepper. Stir to combine. Taste and add more balsamic, salt, or pepper as desired.

Spoon tomato mixture over toasted baguette slices and serve immediately.