Ranch Chicken Chopped Salad
This chopped salad really shines thanks to ranch seasoned chicken, romaine, tomatoes, cucumbers, avocado, green onion, and pistachios!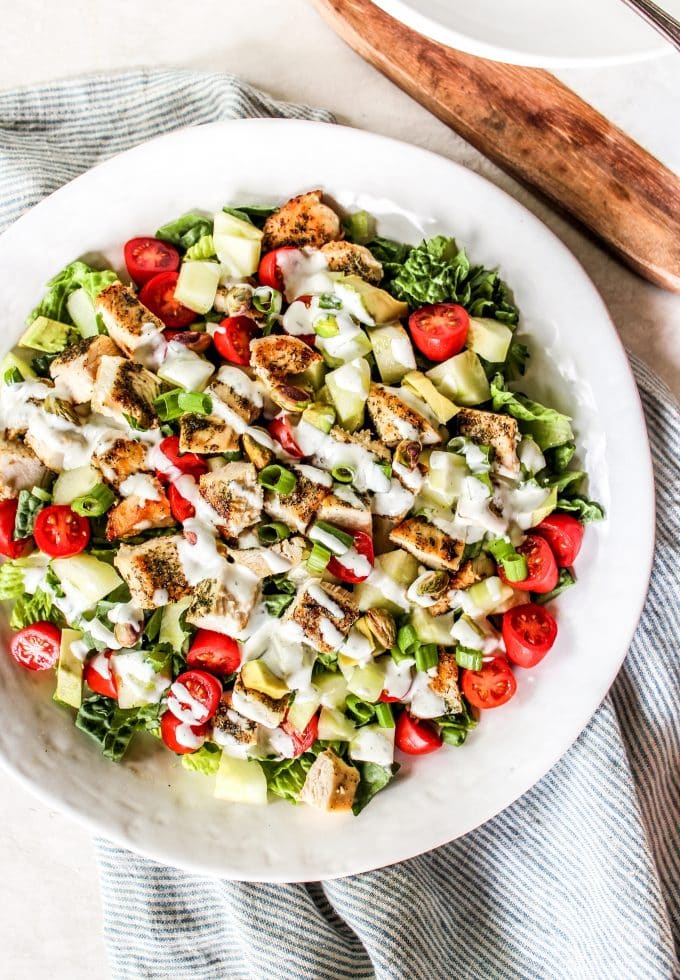 One (of many) pet peeves of mine is when I order a salad in a restaurant and I have to spend 20 minutes cutting up the dang thing because the ingredients are all huge. Anyone else? So it's no surprise that chopped salads are my thing. Cutting everything so it's the same perfect size not only saves me time when I'm actually ready to chow down, it also ensures that every bite has a good mix of ingredients! Needless to say, I'm a fan.
This Ranch Chicken Chopped Salad starts with chicken cutlets that are sautéed with a blend of seasonings. The chicken cooks quickly. Just let it simmer while you create the rest of your salad. Then add that chicken on top and drizzle with ranch dressing.
Want to make your own ranch? I have two options for you! My Dairy Free Ranch Dressing & Dip is thick and starts with a mayo base (so you don't need to blend a raw egg which is the case with most ranch dressings). My original ranch dressing, Easy Ranch Dressing, is my most popular and doesn't start with a mayo. It's also thinner and great for drizzling. So take your pick! Of course also you're welcome to use whatever store-bought dressing you enjoy!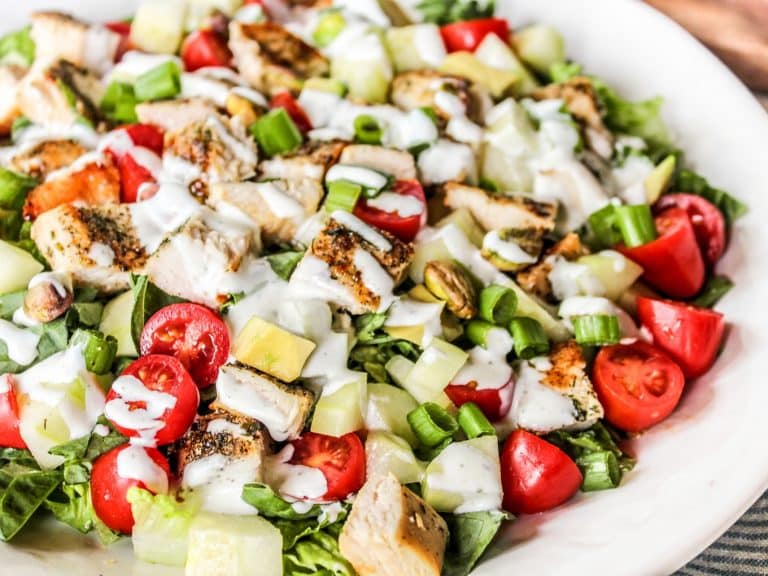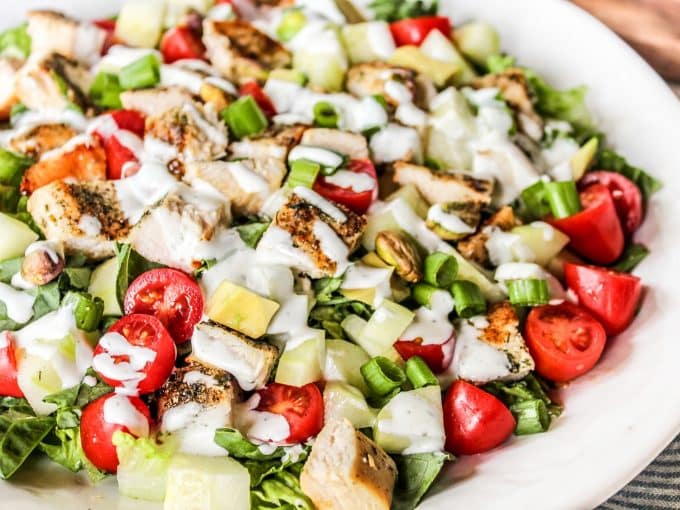 Interested in adding more tasty ingredients? Oh, friend, I have suggestions. Crunchy chopped broccoli, carrots, or celery would be perfect and also add some more veggies to the mix. Shelled peas would be tender and tasty in here too. For a bit of sweetness, try raisins or dried cranberries! Not dairy free, Whole30, or Paleo? You're welcome to add cheese. Cheddar, feta, blue cheese, and goat cheese would all make delicious additions!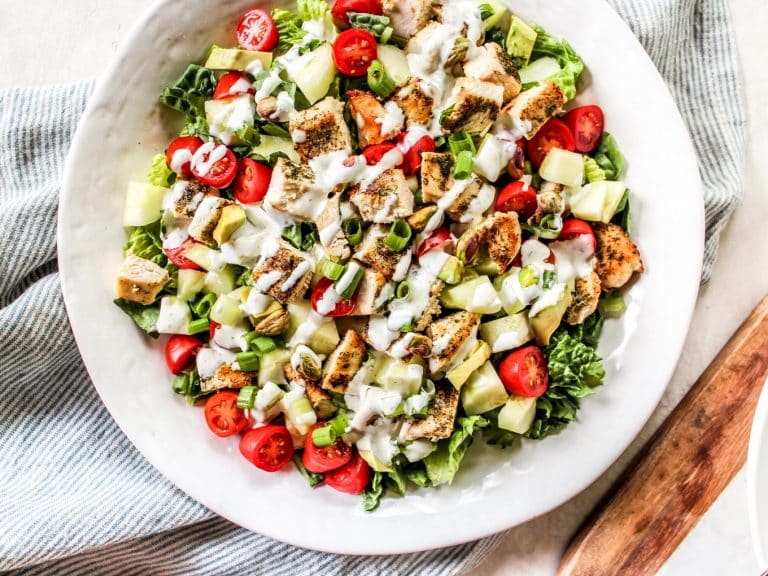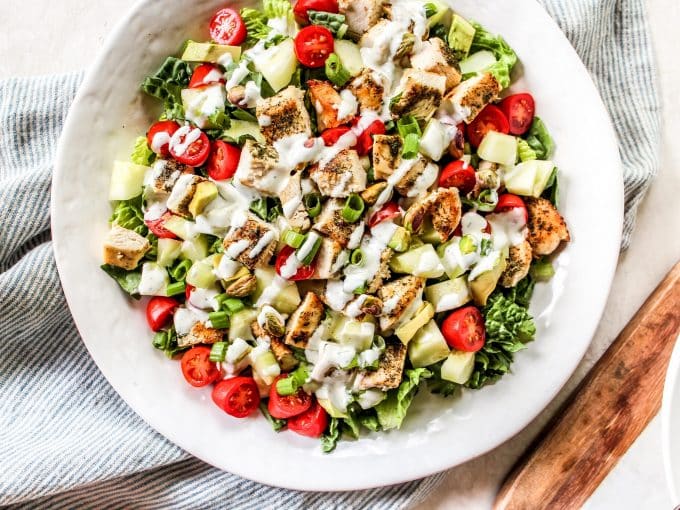 More recipes like this:
Southwestern Steak Salad with Lime Vinaigrette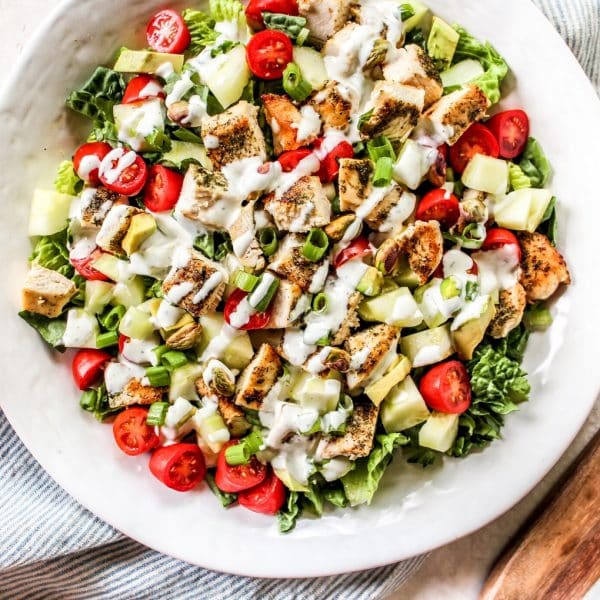 Ranch Chicken Chopped Salad
This chopped salad really shines thanks to ranch seasoned chicken, romaine, tomatoes, cucumbers, avocado, green onion, and pistachios!
Ingredients
Ranch Chicken
2 chicken breasts, skinless and boneless, approximately 1 pound
3/4 tsp salt
1/2 tsp black pepper
1/2 tsp garlic powder
1/2 tsp dried dill
1/2 tsp dried parsley
1/4 tsp onion powder
1 1/2 tbsp olive oil, extra virgin
Salad
3 cups romaine lettuce, chopped
1 cup cherry or grape tomatoes, chopped, can sub 1 cup of any type of tomato
1 medium cucumber, chopped, can peel or leave unpeeled
1 avocado, pitted and chopped
1/4 cup pistachios, shelled
2 stems green onion, chopped
salt, to taste
black pepper, to taste
Ranch Dressing
Optional additional toppings: red onion, peas, celery, broccoli, raisins, dried cranberries, cheese (if not Whole30, Paleo, or dairy free – I recommend shredded cheddar, feta, blue cheese, or goat cheese)
Instructions
Slice the chicken breasts horizontally. This will give you 4 thin cutlets so they'll cook faster and more evenly.

In a small bowl, stir together salt, black pepper, garlic powder, dill, parsley, and onion powder. Set aside.

Add oil to a large skillet. Heat to medium high heat. Press seasoning mixture into both sides of the chicken cutlets. Once oil is hot, add cutlets. Season the top of your cutlets with half of the seasoning mixture. Sauté until each side has some browning and chicken is cooked through, about 4 to 5 minutes per side. 

Assemble salads by layering romaine, tomatoes, cucumber, and avocado in two bowls. Sprinkle with shelled pistachios and chopped green onion. Chop your chicken and add to the top of each salad. Salt and pepper the salads to taste.

Drizzle ranch dressing over the top of each salad.
Notes
This recipe creates two hearty entree sized salads. You could divide this into four smaller portions by using 1 cutlet per salad if preferred.  Nutrition information does not include the dressing since I'm offering two dressing options here. Plus you can easily use a store-bought ranch if preferred!
Nutrition
Calories: 468kcal, Carbohydrates: 19g, Protein: 53g, Fat: 21g, Saturated Fat: 3g, Cholesterol: 145mg, Sodium: 1160mg, Potassium: 1864mg, Fiber: 10g, Sugar: 6g, Vitamin A: 6827IU, Vitamin C: 37mg, Calcium: 76mg, Iron: 3mg