Roasted Rosemary Root Vegetables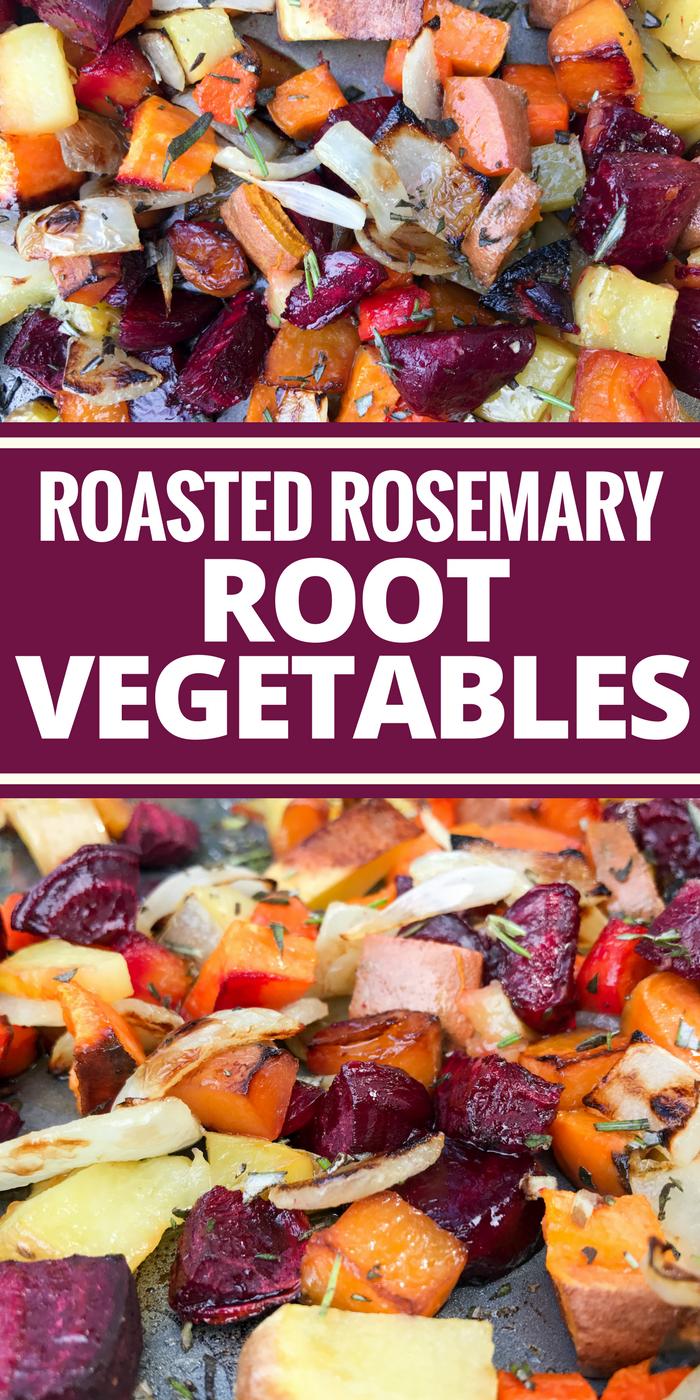 I'm continuing my celebration of all things Fall today with this recipe for Roasted Rosemary Root Vegetables.
This side dish is a feast for the eyes and belly! It's so colorful and gorgeous. I'm such a sucker for colorful food, aren't you?
Roasting brings out so much flavor. It's far and away my favorite way to prepare any and all veggies. If you feel the same you'll want to check out my other roasted vegetable recipes. I'll include links to some of them at the bottom of the page.
Now let's talk beets. Are you pro-beets are anti-beets? Y'all, this is a serious question. I am not a huge fan of beets on their own but I've learned that I do enjoy them when combined with other vegetables. The earthiness of the beet is especially good when paired with the sweetness of carrots and sweet potatoes.
Sweet potatoes, gold potatoes (my favorite), carrots, onion, and butternut squash all complement the beets beautifully.
The preparation for this dish is simple. Just chop and toss on the baking sheet. You can usually find your butternut squash in the produce section already peeled, seeded, and diced! For this particular recipe I totally take advantage of that shortcut and purchase the container of fresh cubed butternut squash.
A little olive oil, salt, and a high oven temperature bring out all the yumminess. Your veggies come out of the oven glistening and a little brown. They're tender to the touch and creamy on the inside.
Top with fresh rosemary and you have a perfect side dish that's sure to brighten up your plate!
Roasted Rosemary Root Vegetables
These Roasted Rosemary Root Vegetables are a gorgeous side dish that's a feast for the eyes and the belly!
Christina Shoemaker:
The Whole Cook
Cuisine:
Whole30, Paleo, Vegan, Vegetarian
Ingredients
1 medium gold potato, diced
1 medium sweet potato, diced
3 beets, peeled & diced
1 cup butternut squash, peeled, seeded, & diced
2 medium carrots, diced
½ white or yellow onion, diced
3 tablespoons olive oil
1 teaspoon salt
1 tablespoon fresh rosemary, chopped
Instructions
Preheat oven to 425 degrees.
Spread all your vegetables into a single layer on a baking sheet.
Drizzle olive oil over your vegetables, stirring the vegetables so they all get a nice a coat of oil.
Sprinkle salt.
Bake for 25 minutes. Potatoes, squash, and carrots should be tender to the touch when finished.
Remove from oven and sprinkle rosemary over the vegetables.
Serve!
Made this dish? If you share it on Instagram I'd love to see it! Just tag me and I'll come check it out!
Love roasted veggies like I do? I have lots of them! Check out my Simply Roasted Apples & Potatoes, Roasted Balsamic Tomatoes & Asparagus, Smashed & Roasted Rosemary Garlic Potatoes, Roasted Red Cabbage, and Parsley Carrots, Roasted Brussels Sprouts.