Vegetable Frittata
This delicious frittata includes two types of cheese and plenty of veggies. It's easy to make but always impresses! Serve with potatoes, a side salad, or fresh fruit.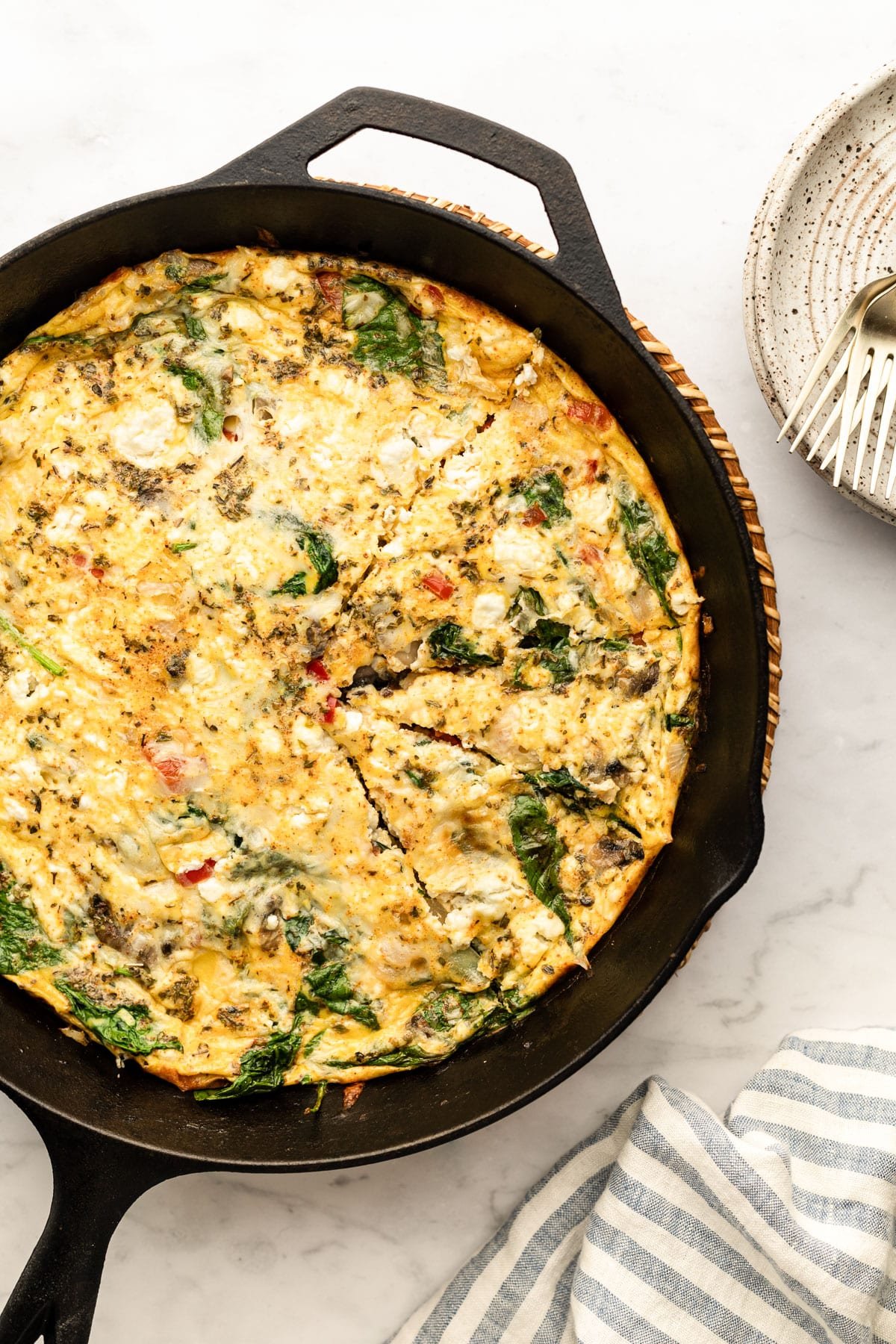 Never made a frittata before? I like to think of a frittata as a crustless quiche or an extra fluffy (and large) omelet. They look fancy enough to serve to guests but they're actually really simple. And of course the possibilities for how to fill a frittata are truly endless!
This Vegetable Frittata includes two types of cheese: mozzarella for the melt we want and feta for saltiness and a great texture contrast. I just love these two together. We're also adding onion, bell pepper, mushrooms, and spinach to really fill this entree out. The end result is full of flavor and so beautiful.
Enjoy this as a show-stopping weekend breakfast, a meal prep weekday breakfast, or the star of brunch when entertaining a crowd!
For this recipe you'll need (full list of ingredients and instructions are in the recipe card below):
Olive oil
White or yellow onion
Red bell pepper
Sliced mushrooms
Spinach
Minced garlic
Eggs
Milk
Shredded mozzarella
Feta
Seasonings
Start by sautéing the mushroom, onion, and bell pepper in a cast iron skillet. Add the spinach and minced garlic at the end. While that's cooking, whisk together the eggs, milk, and seasonings. Then spread the finished vegetables in the skillet. Top with shredded cheese and feta cheese. Pour in the egg mixture. Now it's time to bake!
What size cast iron skillet is best for frittatas?
Cast iron skillets come in a variety of sizes but the most common are the 10-inch and 12-inch. I use and recommend a 10-inch cast iron skillet for frittata recipes. While I love my 12-inch for making bacon, it can make your frittata way too thin so I strongly suggest sticking with the 10-inch here.
Cast iron skillet care
Cast iron is a naturally nonstick surface, so if it's been seasoned correctly food won't stick. However, if your cast iron isn't well cared for then sticking may be an issue. If you're concerned about the state of your skillet, wipe it down with olive oil before using it for this frittata recipe.
After each use, wipe the inside of your skillet with a very thin layer of olive oil, just enough that the skillet is glossy. You don't want any oil to pool and settle when you put the skillet away or it will get sticky. You'll soon start to love your cast iron skillet again!
Can you use a pie plate or other baking dish?
The great thing about using cast iron for this recipe is that it can be used both on the stovetop AND in the oven! I do love not dirtying extra dishes!
Having said that, you can absolutely use a pie plate or 10 x 10 baking dish instead. (I do not recommend a baking dish larger than 10 x 10 because the egg mixture will spread too far resulting in a very thin and likely overcooked frittata.) Since they can't be used on the stovetop you'll need to sauté the vegetables in a skillet first and then transfer it to your baking dish once cooked.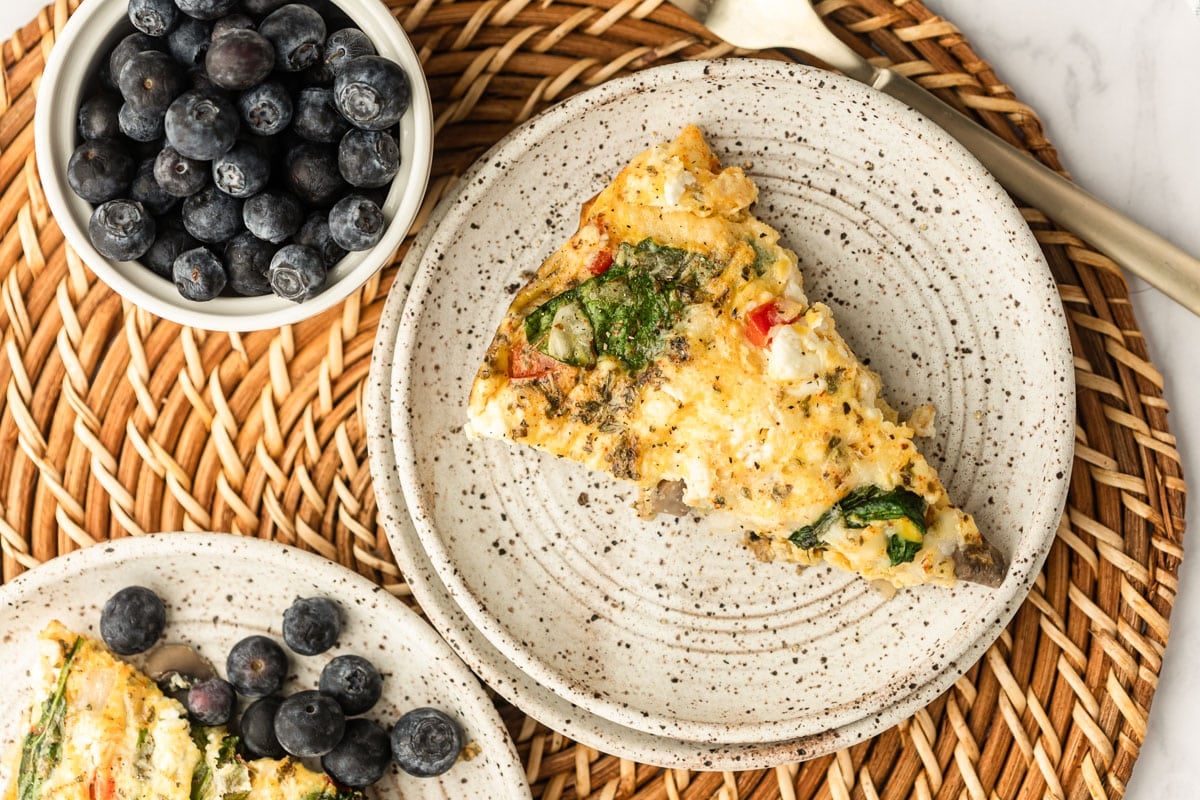 Can you prep this in advance?
Yes! You can make it the night before, refrigerate overnight covered with a lid or foil, and bake the next morning (without the lid or foil).
Can you freeze this frittata?
Absolutely. Some people don't like reheated eggs so whether you do or not is just a matter of personal preference. I personally think the texture of a frittata is excellent whether fresh or reheated.
If you do choose to freeze this, slice it and let it cool. Once cooled, store the frittata slices in an airtight container or freezer bag. Thaw when you're ready to eat. Reheat in the microwave or in the oven at 350 degrees until warmed through.
How to store leftovers
Leftovers can be stored in an airtight container in the refrigerator for up to 4 days.
How to serve this
Serve with a side of potatoes, fruit, or a simple salad.
Vegetable Frittata
This delicious frittata includes two types of cheese and plenty of veggies. It's easy to make but always impresses! Serve with potatoes, a side salad, or fresh fruit.
Ingredients
1 tablespoon olive or avocado oil
½ white or yellow onion, diced
½ red bell pepper, diced
1 cup sliced mushrooms, I prefer baby portabella. If any are large cut them into thirds or fourths.
handful fresh spinach leaves
1 tablespoon garlic, minced
To Finish
8 eggs
½ cup milk
1 teaspoon dried oregano
¾ teaspoon salt
¼ teaspoon ground mustard
¼ teaspoon cayenne pepper
¼ teaspoon black pepper
1 cup shredded mozzarella cheese
½ cup feta cheese
Instructions
Preheat oven to 425 degrees.

Add oil to a cast iron skillet on medium to medium-high heat. Once hot, add mushrooms, onion, and bell pepper to the skillet. Sauté until vegetables are tender. Then stir in garlic and spinach. Sauté until spinach is wilted, about one minute.

Meanwhile, whisk together the eggs, milk, oregano, salt, ground mustard, cayenne pepper, and black pepper.

When the vegetables are done, turn off the stove. Spread across the bottom of the skillet so they're evenly distributed. Layer the shredded cheese and feta cheese on top. Pour the egg mixture over everything.

Bake until the center is just set, 23 to 28 minutes. (This frittata takes longer to cook than my other frittata recipes due to the quantity of vegetables.) Check to make sure the center isn't very wiggly and then remove from the oven. Let it rest for a few minutes before serving. The frittata will bubble a lot in the oven and settle down as it rests.

Slice and serve with fresh fruit and a side salad or potatoes.
Nutrition
Serving: 1slice, Calories: 165kcal, Carbohydrates: 4g, Protein: 11g, Fat: 12g, Saturated Fat: 5g, Polyunsaturated Fat: 1g, Monounsaturated Fat: 4g, Trans Fat: 1g, Cholesterol: 185mg, Sodium: 482mg, Potassium: 174mg, Fiber: 1g, Sugar: 2g, Vitamin A: 660IU, Vitamin C: 11mg, Calcium: 169mg, Iron: 1mg