Easy Oven Baked Salmon with Lemon Dill Sauce
This delicious oven baked salmon is easy and topped with a creamy lemon dill sauce. It's a fast entree perfect for busy weeknights but it looks so impressive you can also serve when entertaining guests!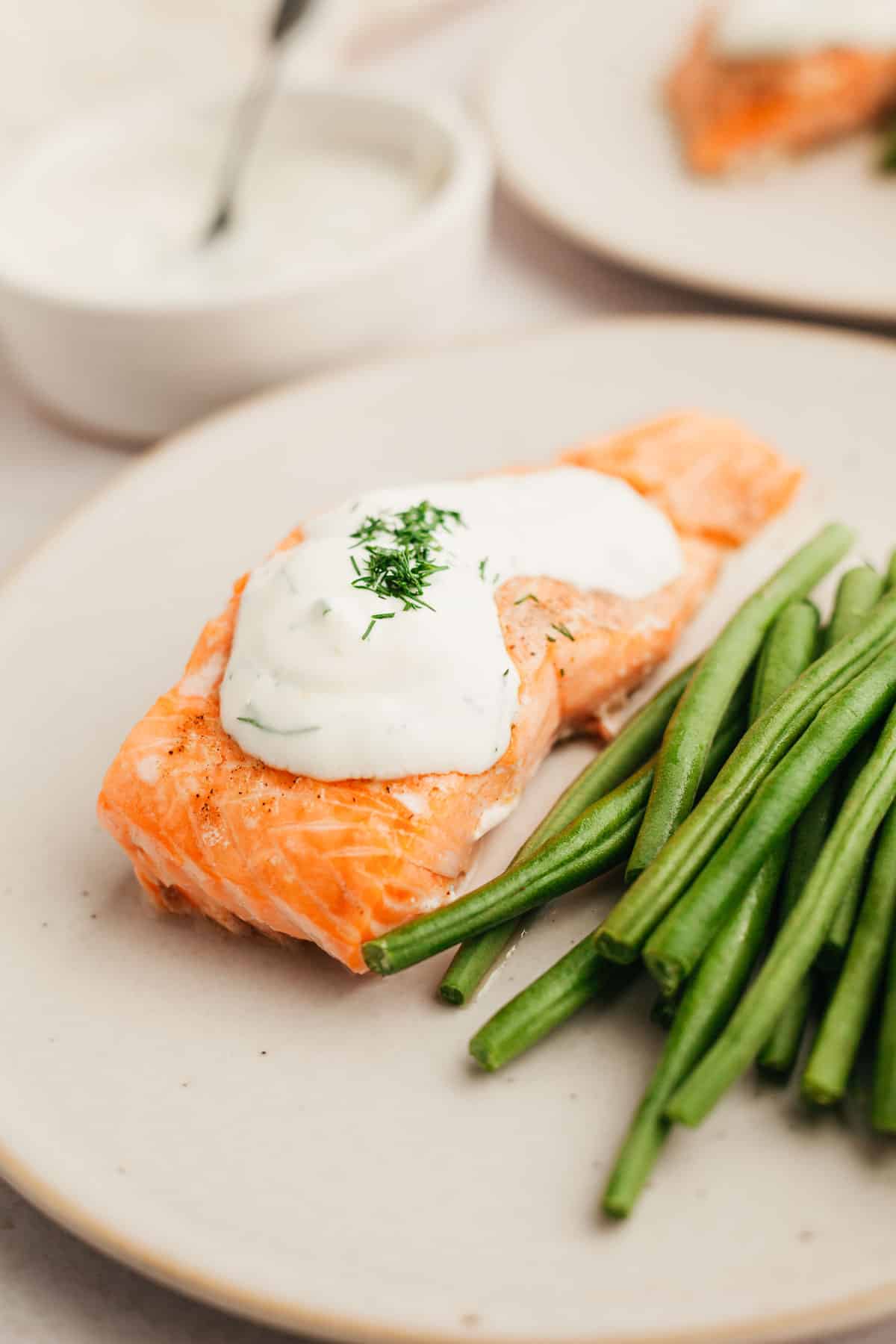 Salmon is one of my favorite entrees to prepare at home because it's so easy but it always looks so impressive. Your family or guests will think its fancy. Let's not tell them that it took less than 30 minutes, okay? Our secret.
The salmon bakes in the oven until perfectly flaky. I often enjoy sautéing salmon like in my Pan Seared Chipotle Salmon, but baking it is my favorite option since its so hands off. Just prep it (its fast) and place it in the oven.
While the salmon is baking simply stir together the ingredients for a delicious lemon dill sauce. When you're ready to serve, top each salmon fillet with the lemony sauce. So easy!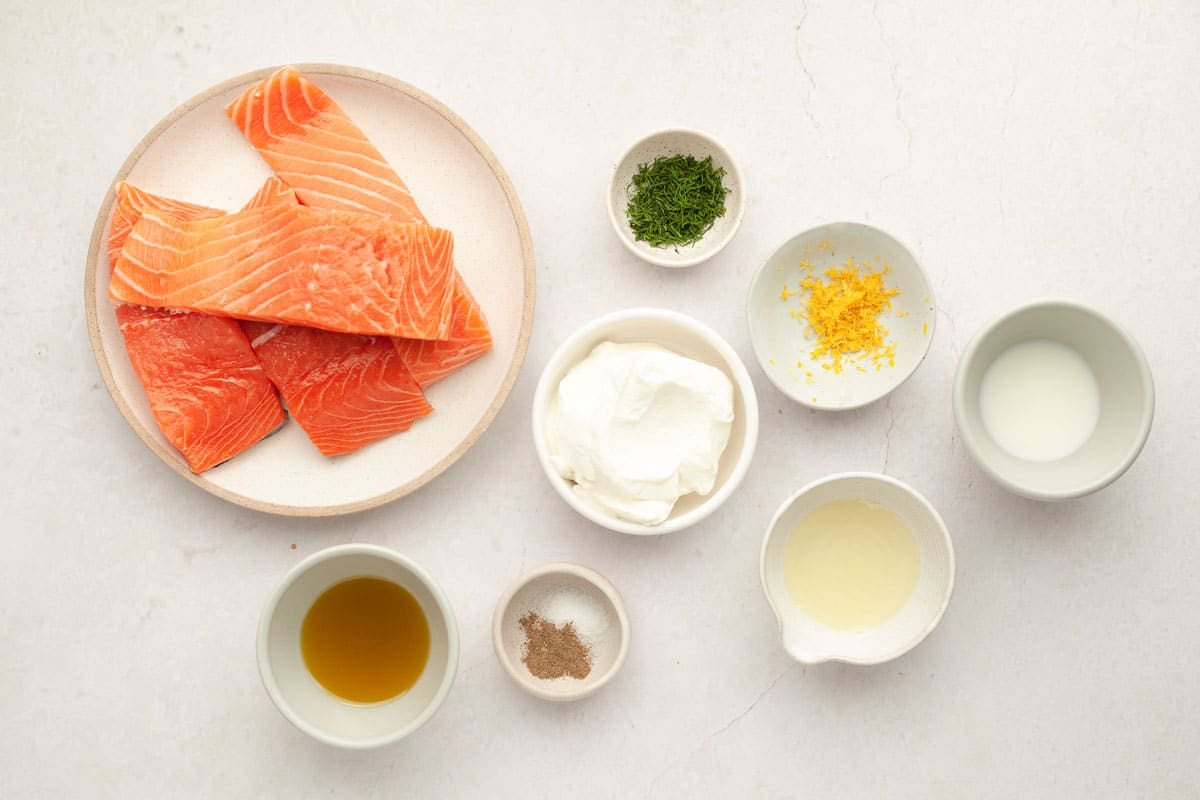 For this recipe you'll need (full list of ingredients and instructions are in the recipe card below):
Salmon fillets: Both fresh and frozen salmon fillets work. If using frozen let them thaw completely first. You also use fillets that have skin on one side or fillets without skin.
Olive oil: I recommend using extra virgin but any kind will work.
Plain greek yogurt: I use non fat but whole milk or low fat greek yogurt will also work. Just be sure that it's unflavored and unsweetened.
Mayonnaise: I prefer a light mayo but any mayo is great.
Lemon juice: This sauce is all about the flavors of lemon and dill. The lemon adds a delicious brightness that pairs so well with salmon. You can squeeze your own fresh lemon or use store-bought lemon juice. Fresh squeezed has a more prominent flavor but both options work well so go with whatever works best for you.
Fresh dill: You want to chop the dill into very small pieces so they really mix well with the other sauce ingredients.
Lemon zest: The zest adds extra lemon flavor to our lemon dill sauce.
Seasonings: For this dish we're using a blend of garlic powder, salt, and pepper.
Is Salmon Healthy?
Yes! Salmon has lots of omega-3 fatty acids which do amazing things for the brain, heart, and joints. Studies indicate that foods with lots of vitamin D (like wild salmon) reduce our risk of cancer.
Salmon: Skin On or Skin Off?
If you're purchasing salmon fillets from the seafood counter in your grocery store you'll most likely find it with skin on one side. If you're purchasing frozen vacuum-sealed salmon then you may see it without any skin. Both options are perfectly good so use whichever is available to you.
The skin on the salmon can help hold in some of the moisture as it cooks. It's easy to remove the skin after cooking.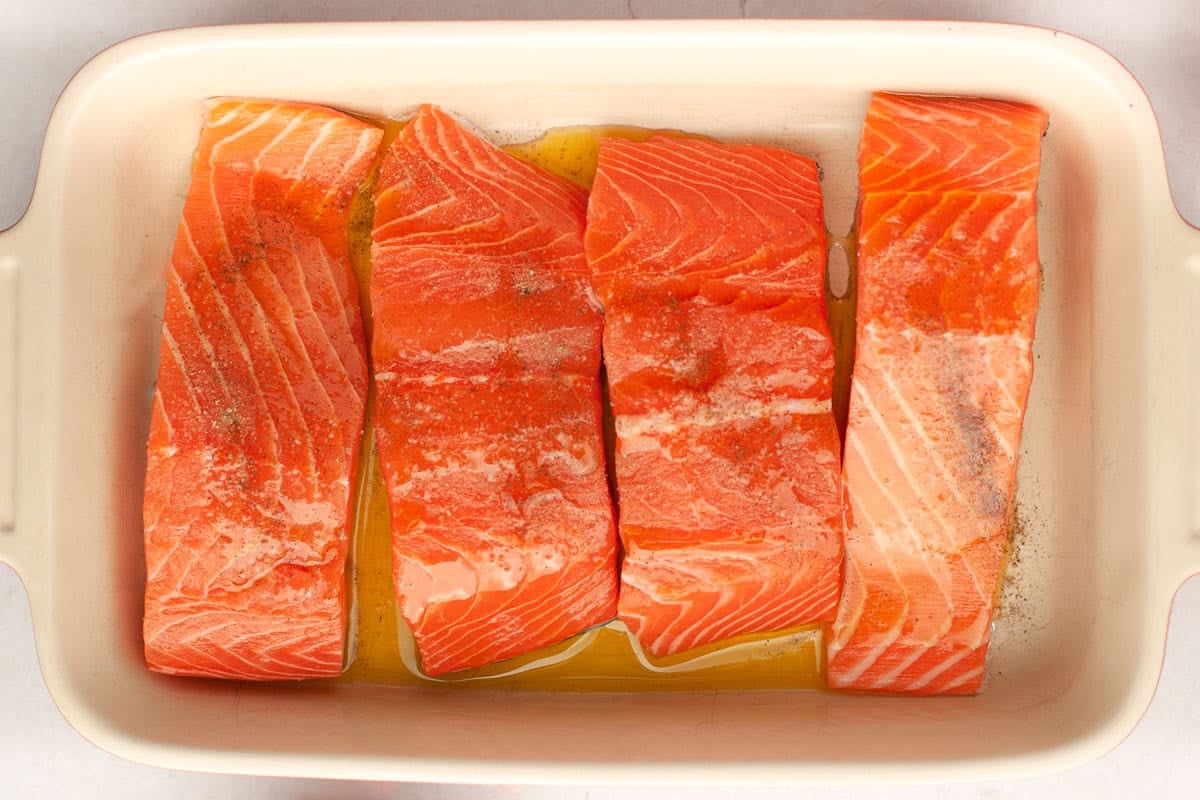 How to Select Your Salmon
Go for wild caught salmon if it's available and within your budget. Farmed salmon is fed a processed feed that's high in fat in order to yield very big fish. This changes the nutritional content for the salmon you eat. Farmed salmon may have a little more Omega-3 and a lot more Omega-6 (most people today eat too much Omega-6 already) but it also has more calories, fats, and sodium. The big thing for me is that farmed salmon contains 10 times more toxins than wild salmon.
Purchase salmon fillets that are similar in thickness so they cook in the same amount of time.
Look for salmon that's bright pink/orange. It shouldn't be pale in color.
Check the ingredient list to ensure no ingredients were added to alter the color of the salmon.
If you can smell the salmon, check for a fishy smell. Fresh salmon should not have a strong fish smell.
If purchasing frozen salmon, opt for the individual vacuum sealed kind when available. If they're properly sealed then you're unlikely to experience any freezer burn. Plus they're easy to separate so you can use only what you need.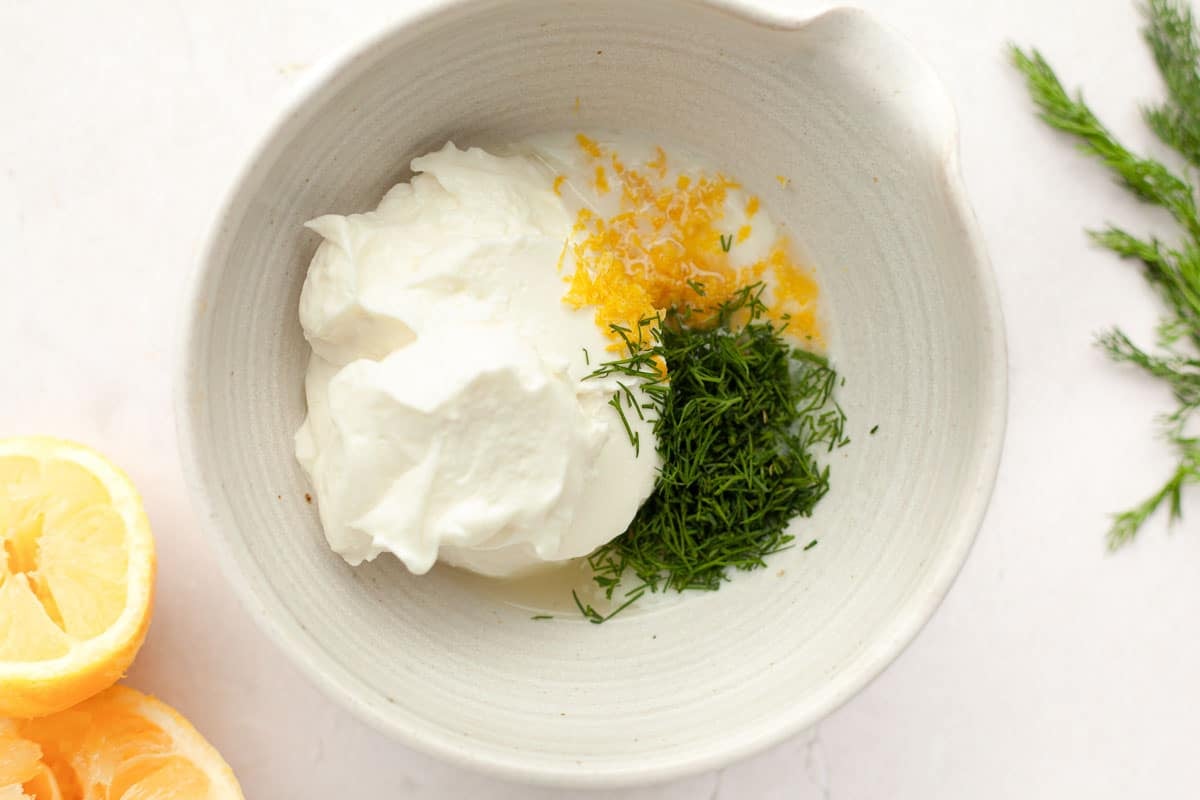 How to Store Leftovers
Leftovers can be refrigerated in an airtight container for up to 3 days. Reheat salmon in the oven at 350 degrees until warmed through.
How to Serve This
My Herb Roasted Brussels Sprouts and Broccoli pair beautifully with this salmon. Other great vegetable options are Roasted Lemon Asparagus, Easy Roasted Broccoli, or Garlic Green Beans.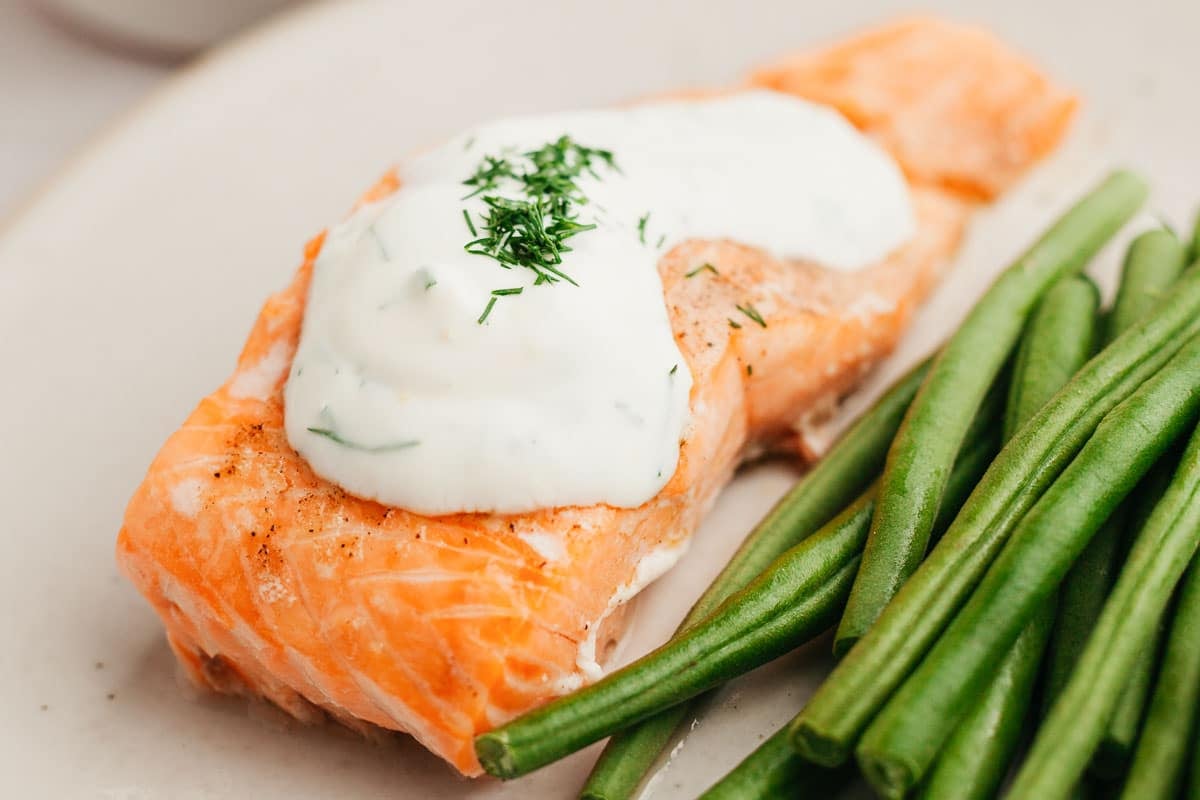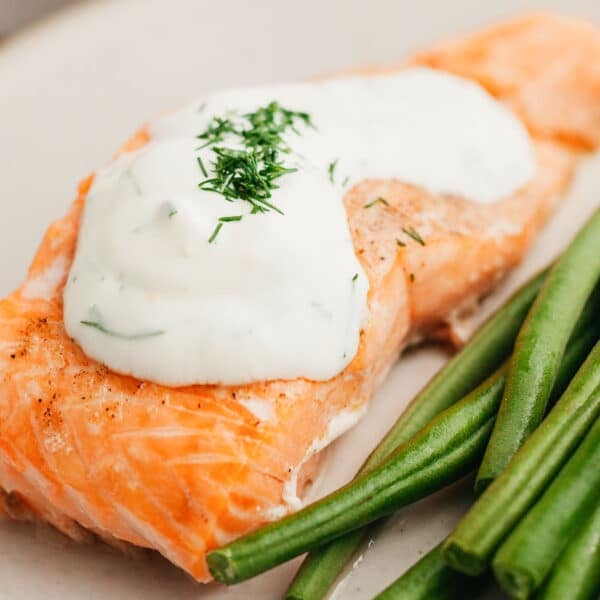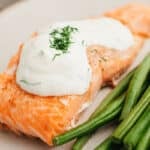 Easy Oven Baked Salmon with Lemon Dill Sauce
This delicious oven baked salmon is easy and topped with a creamy lemon dill sauce. It's a fast entree perfect for busy weeknights but it looks so impressive you can also serve when entertaining guests!
Ingredients
Salmon
4 6-ounce salmon fillets
2 tablespoons olive oil, extra virgin
salt and pepper, to taste
Lemon Dill Sauce
¼ cup plain non fat greek yogurt, unflavored and unsweetened
¼ cup mayonnaise, I use a light mayo
1 tablespoon milk of choice, Whole milk, 2% milk, 1% milk, skim milk, almond milk, and oat milk will all work well
1 tablespoon lemon juice
1 tablespoon water
1½ tablespoons fresh dill, finely chopped
½ tablespoon lemon zest
¼ tablespoon salt
¼ teaspoon garlic powder
Instructions
If the salmon is especially cold let it rest at room temperature for 15 to 20 minutes. Blot the salmon fillets dry with paper towels.

Preheat oven to 400 degrees. Place salmon in a baking dish or on a baking sheet, skin side down. Drizzle olive oil over top of the filets. Season generously with salt and pepper.

Bake for 12 to 15 minutes, until salmon is opaque and flaky when pulled apart with a fork.

While salmon is baking, combine your Lemon Dill Sauce ingredients in a small bowl. Whisk together until well combined.

Serve the cooked salmon with green veggies. Top each fillet with Lemon Dill Sauce and a sprinkle of fresh finely chopped dill or parsley.
Notes
Nutrition information is calculated using a light mayo, non-fat greek yogurt, and skim milk. 
Nutrition
Serving: 1salmon fillet + 1/4 sauce, Calories: 307kcal, Carbohydrates: 2g, Protein: 30g, Fat: 19g, Saturated Fat: 3g, Polyunsaturated Fat: 6g, Monounsaturated Fat: 9g, Trans Fat: 0.01g, Cholesterol: 81mg, Sodium: 621mg, Potassium: 731mg, Fiber: 0.1g, Sugar: 1g, Vitamin A: 87IU, Vitamin C: 3mg, Calcium: 39mg, Iron: 1mg