Healthy Ground Chicken and Broccoli Stir Fry
This ground chicken and broccoli stir fry is healthy and fast! You'll love this saucy weeknight dinner option loaded with lean ground chicken, fresh broccoli, and a deliciously easy sauce.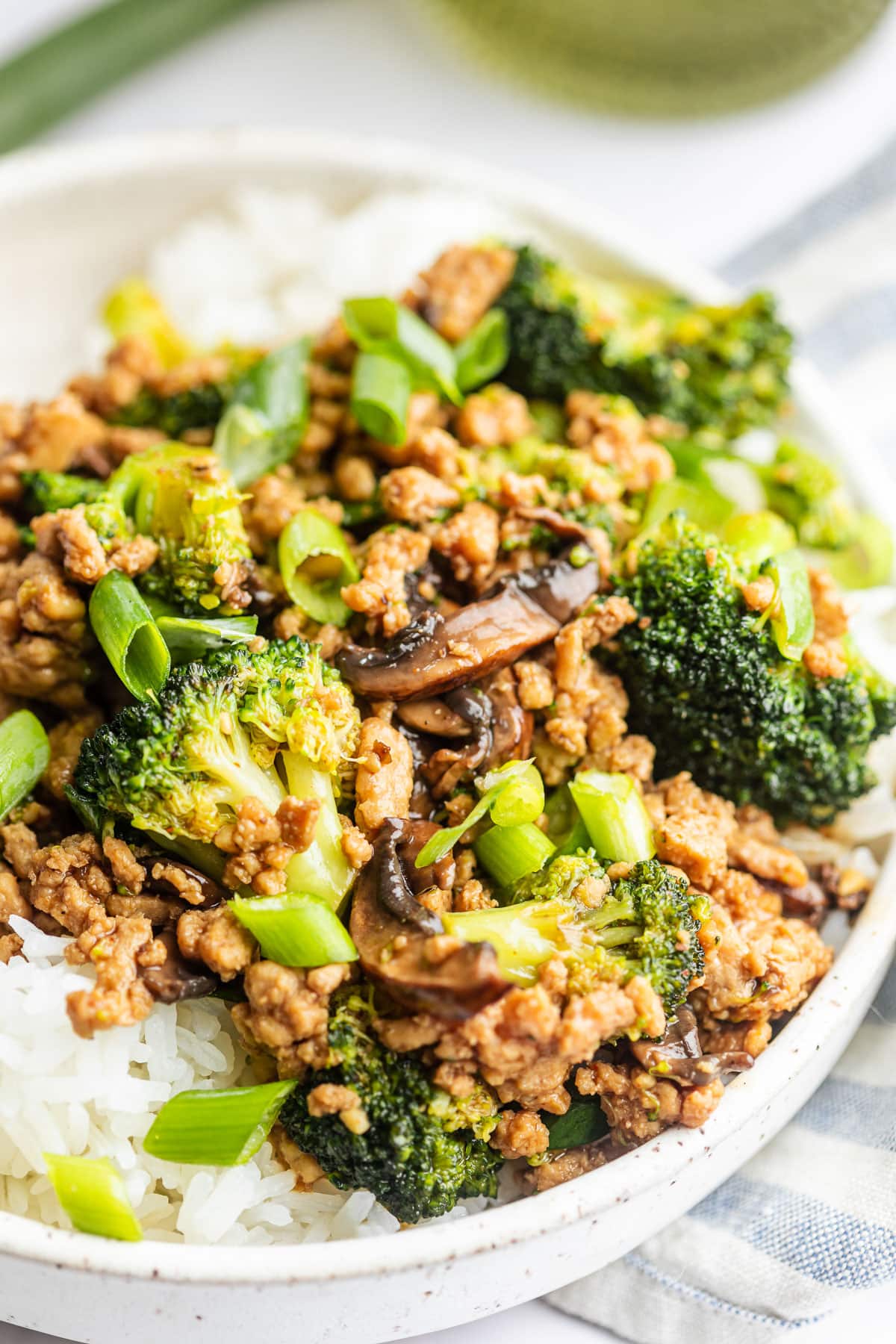 If you love a saucy entree you can serve over rice, this Healthy Ground Chicken and Broccoli Stir Fry is the recipe for you. It's protein-packed and so quick that it's fast enough for busy weeknights.
While you can use any ground meat, I designed this stir fry to feature ground chicken. It's lean and has a mild flavor so it really does well with whatever other ingredients you cook with it.
I love fresh broccoli in this stir fry but you can use frozen if you prefer. Just be prepared to give it another 3 to 4 minutes of cooking time if you do.
This quick and healthy dish deserves a spot in your dinner rotation. I just know that if you make it once you'll start making it on repeat!
Ground Chicken and Broccoli Stir Fry Ingredients
Ground chicken: Both ground chicken and ground chicken breast are lean protein options that work well in this recipe.
Olive or avocado oil: We're sautéing sliced mushrooms in a little oil to get them beautifully browned and tender.
Sliced mushrooms: I prefer sliced baby portabello mushrooms but you can use whatever you prefer.
Broccoli: Fresh broccoli give us our veggie fix in this stir fry. They steam quickly at the end of the the cooking time.
Coconut aminos or low sodium soy sauce: Coconut aminos is a great soy sauce substitute (of course you can use soy sauce if you prefer). It's slightly sweet and contains a lot less sodium.
Rice vinegar: Rice vinegar is made from fermented rice. It's popular in marinades and stir fries because it has that classic tanginess you expect from vinegar but it's a bit sweeter. You can use apple cider vinegar if you need a quick substitute. They're not exactly the same but in small amounts it will work.
Sesame oil: Sesame oil has a rich, almost nutty taste that's a fantastic addition in stir fries.
Minced garlic: Minced garlic is delightful and pungent. You can mince your own garlic or use a jarred variety.
Arrowroot flour: Arrowroot flour is my thickener of choice for sauces. It's less processed than cornstarch and white flour. Plus it's completely flavorless and thickens quickly!
Seasonings: Chili powder, ground ginger, salt, and pepper are the only seasonings you need to give this stir fry great flavor!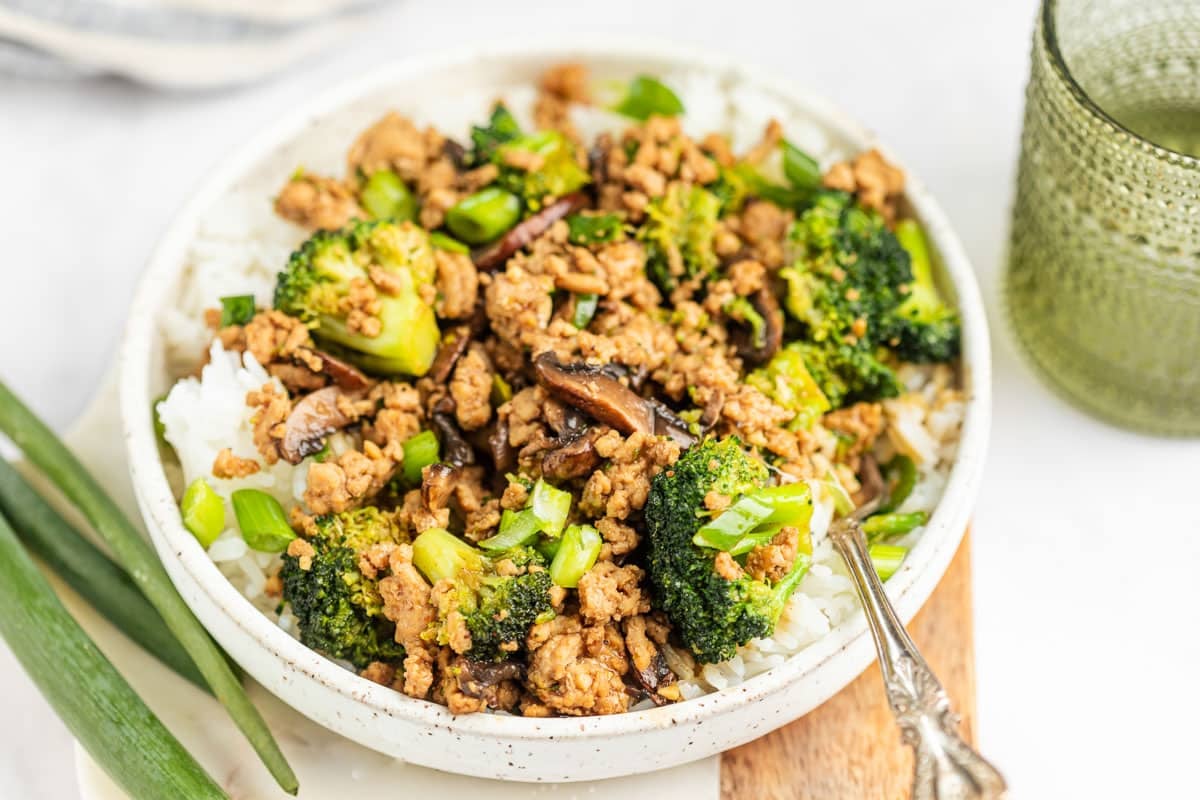 Ground Chicken vs Ground Chicken Breast
Some grocery stores sell both ground chicken and ground chicken breast. Ground chicken is made up of both white and dark meat. It's usually somewhere between 97% and 99% lean so it's a fantastic healthy protein option. Ground chicken breast is made from grinding only the chicken breast.
So which should you choose? If you're making burgers or meatballs I strongly recommend sticking with ground chicken. Ground chicken breast has so little fat that it can be dry in those. If you're using the protein in a stir fry or soup then you can use either. In my experience there's very little difference in the final texture if you're crumbling the meat and serving it mixed with vegetables.
What is Coconut Aminos?
Coconut aminos is commonly used as a soy sauce substitute. It truly tastes like a slightly sweet soy sauce! And no, it's not the same as Liquid Aminos. Also no, it doesn't taste like coconut.
Coconut aminos is gluten-free, vegan, Paleo, Whole30, and low-glycemic. It contains a wide range of minerals including vitamin C and 17 amino acids. It also has as much as 65% to 75% less sodium than soy sauce. (Exactly how much depends on the brand you purchase.)
Learn more about what it is and why it's so popular in healthy recipes here.
What is Arrowroot Flour?
Arrowroot flour is a starch extracted from the arrowroot plant and it is a fantastic substitute for cornstarch or regular white flour for thickening. It's a lot less processed, completely flavorless, and blends into everything. It cannot be used in exactly the same way as other thickeners so be sure to follow recipe instructions so you're using it correctly. In this recipe I shake it in a jar with my sauce ingredients. Then I add that into the skillet at the end of my cooking time.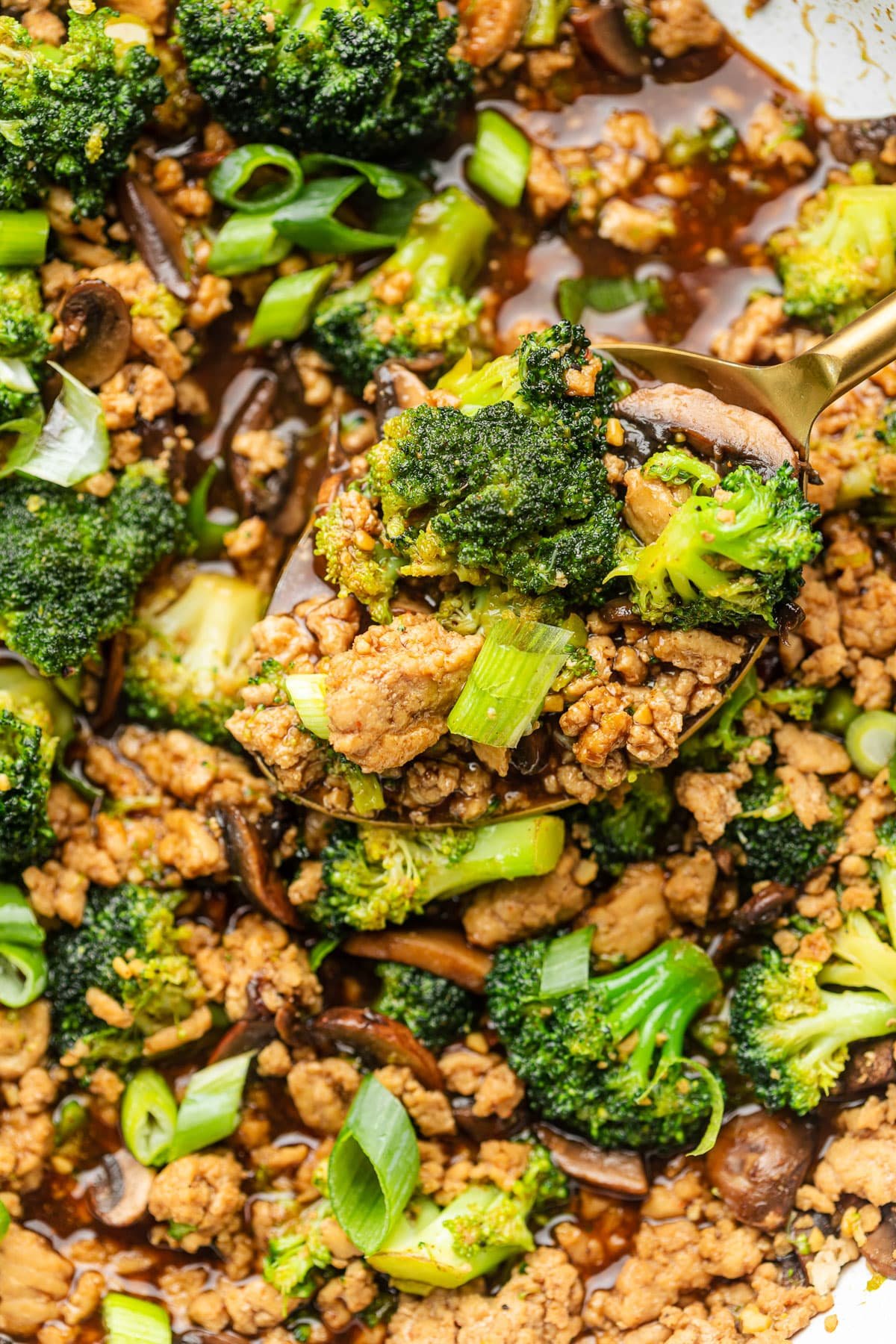 Is this Stir Fry Good for Meal Prep?
This recipe is delicious for meal prep. You can refrigerate in airtight containers in your refrigerator for up to 3 to 4 days. Warm on the stovetop or in the microwave.
How to Serve This Stir Fry
This protein-packed stir fry is delicious over rice (white, brown, or cauliflower). That way you're taking advantage of all the sauce! You could also serve this over my Easy Seasoned Roasted Potatoes or Easy Diced Air Fryer Potatoes.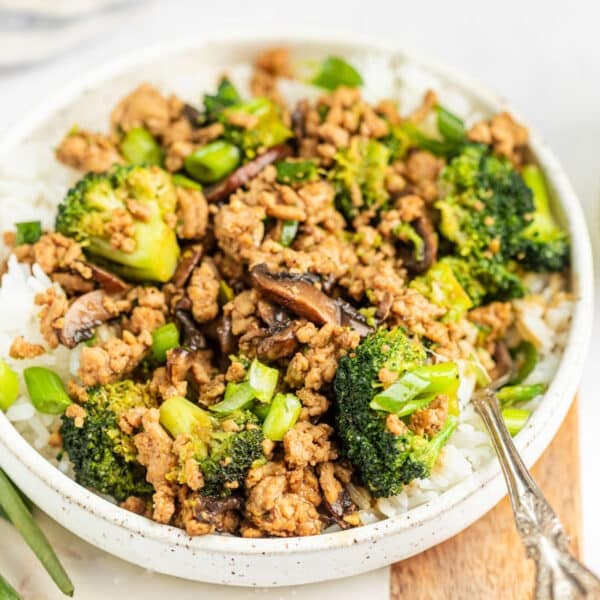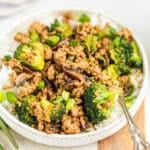 Healthy Ground Chicken and Broccoli Stir Fry
This ground chicken and broccoli stir fry is healthy and fast! You'll love this saucy weeknight dinner option loaded with lean ground chicken, fresh broccoli, and a deliciously easy sauce.
Ingredients
Chicken
1 pound ground chicken
¼ teaspoon salt
¼ teaspoon black pepper
Broccoli + Mushrooms
1 tablespoon olive or avocado oil
8 ounces sliced mushrooms, I prefer sliced baby portabello mushrooms
4 cups broccoli florets
¼ cup water
¼ teaspoon salt
¼ teaspoon black pepper
Sauce
½ cup coconut aminos or low sodium soy sauce
⅓ cup water
1 tablespoon rice vinegar
2 teaspoons sesame oil
2 teaspoons garlic, minced
½ teaspoon chili powder
½ teaspoon ground ginger
2 teaspoons arrowroot flour, can sub cornstarch
Instructions
Add your ground chicken to a large skillet on the stovetop. Use a spatula to crumble the meat. (If it's sticking add a little oil.) Cook on medium or medium-high heat, stirring occasionally, until cooked through and no longer pink. Stir in ¼ teaspoon salt and ¼ teaspoon pepper. Remove cooked chicken from the pan and set aside.

Add one tablespoon of oil to the now empty skillet. Reduce heat to medium. Add the mushrooms. Sauté, stirring occasionally, for 3 to 5 minutes or until mushrooms are tender. 

Add the cooked ground chicken back to the skillet. Stir to mix it in with the mushrooms.

Now add ¼ cup water and fresh broccoli florets to the pan too. Season with ¼ teaspoon salt and ¼ teaspoon pepper. (If you are using a low sodium soy sauce in the sauce instead of coconut aminos don't add salt here. The soy sauce will be saltier than the coconut aminos and you may find you don't need anymore.) Stir it all together. Cover and let the water steam your broccoli for a few minutes. I prefer my broccoli softened but with a little crunch so I only let it cook for about 3 minutes. Water should be cooked out. (If you still see water in the pan leave it uncovered and give it a minute.)

While the broccoli is steaming, add coconut aminos, ⅓ cup water, rice vinegar, sesame oil, minced garlic, chili powder, ground ginger, and arrowroot flour to a jar. Screw the lid on the jar and shake until well combined.

When broccoli is cooked how you like it, reduce the heat to low. Pour your sauce into the skillet and stir for 2 minutes. You should see the sauce thicken immediately.

Ladle into bowls with white rice, brown rice, cauliflower rice, or roasted potatoes. Top with fresh chopped parsley or green onions and serve.
Notes
Nutrition information assumes you used ground chicken. Calories will be less if you elect to use ground chicken breast.
Nutrition
Calories: 296kcal, Carbohydrates: 17g, Protein: 24g, Fat: 15g, Saturated Fat: 4g, Polyunsaturated Fat: 3g, Monounsaturated Fat: 7g, Trans Fat: 0.1g, Cholesterol: 98mg, Sodium: 1076mg, Potassium: 1078mg, Fiber: 3g, Sugar: 3g, Vitamin A: 643IU, Vitamin C: 83mg, Calcium: 58mg, Iron: 2mg