Ground Chicken and Zucchini Stir Fry
Ground chicken and zucchini simmer in an easy sauce for this tasty stir fry. You're less than 30 minutes away from dinner with this quick recipe!
I'm currently a bit obsessed with ground chicken over here.
It's leaner than ground beef or pork with less fat and calories.
Ground chicken is almost flavorless. I like to compare it to ground turkey which is another great lean protein option. But ground turkey has a very pronounced flavor that you have to work hard to cover up. Ground chicken has a light taste and easily absorbs whatever flavors you introduce to it.
It's incredibly versatile. I love using it in stir fries and soups especially because neither dish really relies on the protein itself for it's flavor. So you can let the sauce, veggies, or seasoning have the spotlight.
For this recipe you'll need (full list of ingredients and instructions are in the recipe card below):
Ground chicken
Olive or avocado oil
Zucchini
White or yellow onion
Coconut aminos or soy sauce
Rice vinegar
Sesame oil
Minced garlic
Arrowroot flour
Seasonings
Ground chicken vs Ground chicken breast
Some grocery stores sell both ground chicken and ground chicken breast. Ground chicken is made up of both white and dark meat. It's usually somewhere between 97% and 99% lean so it's a fantastic healthy protein option. Ground chicken breast is made from grinding only the chicken breast.
So which should you choose? If you're making burgers or meatballs I strongly recommend sticking with ground chicken. Ground chicken breast has so little fat that it can be dry in dishes like this. If you're using the protein in a stir fry or soup then you can use either. In my experience there's very little difference in the final texture if you're crumbling the meat and serving it mixed with vegetables.
What is coconut aminos?
Coconut aminos is commonly used as a soy sauce substitute. It truly tastes like a slightly sweet soy sauce! And no, it's not the same as Liquid Aminos. Also no, it doesn't taste like coconut.
Coconut aminos is gluten-free, vegan, Paleo, Whole30, and low-glycemic. It contains a wide range of minerals including vitamin C and 17 amino acids. It also has as much as 65% to 75% less sodium than soy sauce. (Exactly how much depends on the brand you purchase.)
Learn more about what it is and why it's so popular in healthy recipes here.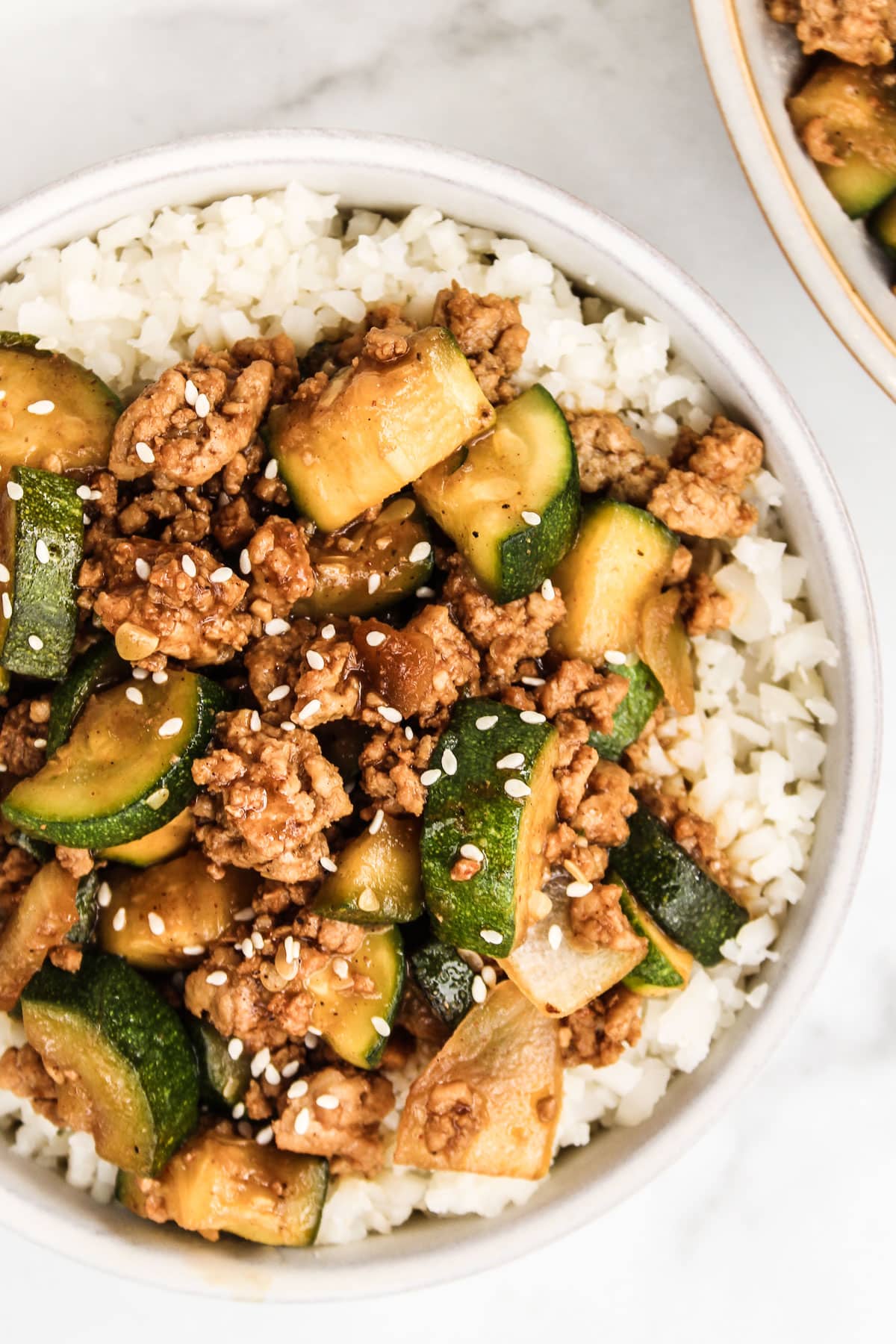 What is arrowroot flour?
Arrowroot flour is a starch extracted from the arrowroot plant and it is a fantastic substitute for cornstarch or regular white flour for thickening. It's a lot less processed, completely flavorless, and blends into everything. It cannot be used in exactly the same way as other thickeners so be sure to follow recipe instructions so you're using it correctly. In this recipe I shake it in a jar with my sauce ingredients. Then I add that into the skillet at the end of my cooking time.
Is this stir fry good for meal prep?
This recipe is delicious for meal prep. You can refrigerate in airtight containers in your refrigerator for up to 3 to 4 days. Warm on the stovetop or in the microwave.
How to serve this
I love a veggie-loaded stir fry like this one with rice (white, brown, or cauliflower). You could also serve this over my Easy Seasoned Roasted Potatoes or Easy Diced Air Fryer Potatoes.
Ground Chicken and Zucchini Stir Fry
Ground chicken and zucchini simmer in an easy sauce for this tasty stir fry. You're less than 30 minutes away from dinner with this quick recipe!
Ingredients
Zucchini
1 tablespoon olive or avocado oil
3-4 zucchini, about 4 cups diced
½ white or yellow onion, sliced into strips
¼ teaspoon garlic powder
¼ teaspoon salt
¼ teaspoon black pepper
Ground Chicken
1 lb ground chicken
¼ teaspoon salt
¼ teaspoon black pepper
Sauce
½ cup coconut aminos or low sodium soy sauce
⅓ cup water
1 tablespoon rice vinegar
2 teaspoons sesame oil
2 teaspoons garlic, minced
½ teaspoon chili powder
½ teaspoon ground ginger
2 teaspoons arrowroot flour
Instructions
Cut the ends off your zucchini and discard. Cut each in half lengthwise through the center. Lay each zucchini half cut side down. Cut down the center along the length of each half. Then cut straight down repeatedly to create small chunks.

Heat oil in a large skillet on medium-high heat. (I recommend a 12" skillet so you have room for everything.) Once oil is hot, add the zucchini and sliced onion. Sauté uncovered for 6 to 8 minutes, stirring frequently, until zucchini has some browning and is tender. Remove the vegetables from the skillet and add to a plate. Set aside.

Add your ground chicken to the now empty large skillet on the stovetop. Use a spatula to crumble the meat. (If it's sticking add a little oil.) Cook on medium or medium-high heat, stirring occasionally, until cooked through and no longer pink. Stir in ¼ teaspoon salt and ¼ teaspoon pepper.

While the ground chicken is cooking, add coconut aminos, ⅓ cup water, rice vinegar, sesame oil, minced garlic, chili powder, ground ginger, and arrowroot flour to a jar. Screw the lid on the jar and shake until well combined.

When chicken is cooked, add the zucchini and onion back to the skillet. Reduce the heat to low. Pour your sauce into the skillet and stir for 2 minutes. You should see the sauce thicken immediately.

Ladle into bowls with white rice, brown rice, cauliflower rice, or roasted potatoes. Top with sesame seeds, fresh chopped parsley, or diced green onions and serve.
Nutrition
Calories: 284kcal, Carbohydrates: 15g, Protein: 22g, Fat: 15g, Saturated Fat: 4g, Polyunsaturated Fat: 3g, Monounsaturated Fat: 7g, Trans Fat: 0.1g, Cholesterol: 98mg, Sodium: 1055mg, Potassium: 1016mg, Fiber: 2g, Sugar: 4g, Vitamin A: 370IU, Vitamin C: 28mg, Calcium: 40mg, Iron: 2mg